By Stevie Grieve
Luis Enrique took over at FC Barcelona in the summer and one of the first things he has done is make sure that the team are much more solid defensively than they have been in previous seasons. Part of this has been to introduce an aggressive offside trap with Gerard Pique and Javier Mascherano; two players who can hold a defensive line high and read when to leave the strikers in offside positions.
There have been various 'trigger's for the offside trap, and I will look at 3 of these triggers to play offside;
• When the opponent is forced back under pressure
• When the opponent is on the counter attack but pressure is place on the ball in midfield and a long pass is expected
• When a pass needs to be played first time and the strikers are running beyond the defence in expectation for a long pass
The key to a successful offside trap is that pressure is on the ball when it is used; often an offside line is held when there is no pressure on the ball, resulting in the player in possession having time to pick the correct pass which catches the defence in a position where they cannot recover.
In Barcelona's case, they offside trap is successful when only 2 of the back 4 are in deep positions, generally with the deeper of the 2 centre backs controlling the line depth.
Against Atletico Madrid, Barcelona secured their first win against the current La Liga Champions in 7 games and the fact that Atletico's direct approach was nullified by the offside trap went a long way towards the solid defensive display.
Barcelona offside trap trigger – 2v1 on the side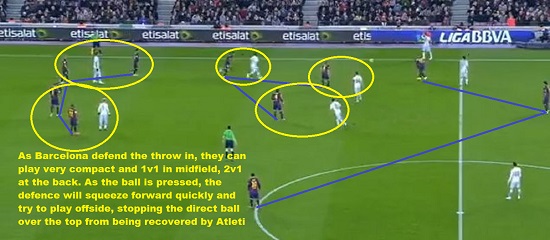 Here we can see the compactness of Barcelona from the
Continue reading