By Stevie Grieve
Traditionally in football, the field was separated into 3 clear areas – wide-centre-wide, meaning the specific positional play in possession was fairly static. With a field around 60m wide, this means that each zone is 20m wide, often resulting in large distances between players, particularly in a traditional 4-4-2 formation.
If we split the field into 5 clear channels, this distances of width of each zone becomes 15m and the 5m reduction of distances help layers cover more ground collectively and individually, so the 'channel' has become a key zone in terms of build-up play and in how to penetrate through defences.
Using the channel draws over players to press diagonally, and normally results in space being opened up either behind the inside central midfielder or the wide midfielder, and often a defensive midfielder will come higher up to cover the space, leaving the zone between the lines free to be exploited, often temporarily hurting the vertical compactness of the defensive block.
To me, there has been a debate among British coaches and European coaches around the term 'halfspace', which is derived from the word 'haufbraum' used in Germany from the 1930s to describe 'the channel' as it was the area usually occupied by a 'halfback', hence the term, 'halfspace'
For me, there is a difference between the channel and the halfspace;
The channel is a set strip of field down the field, like the wing or the centre
The halfspace is a movable space between 2 specific opposition players – wide and centre.
If a player presses out of position to the channel, they press diagonally leaving a space which can be exploited, particularly if the player in possession has 3 clear lines of play ahead of him.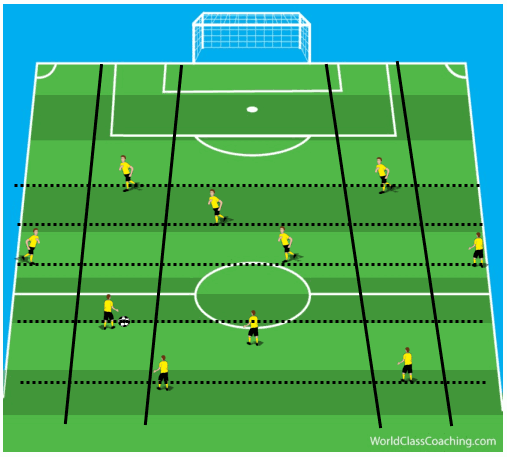 As the ball is switched from channel to channel, the defensive block would need to
Continue reading