By Stevie Grieve
Scotland went into the game against newly crowned World Champions, Germany on the back of a 6 game unbeaten run. New coach Gordon Strachan has assembled a team with a solid work ethic who can follow out his tactical instructions against stronger opposition and win, as shown by home and away victories over Croatia. The set up of the Scotland team has changed drastically over the past 18 months, with the re-introduction of high pressing, a more offensive game plan and the use of Steven Naismith as a CF, who likes to drop off and roam, leaving space for more movement across the front line from midfielders and wingers.
In this match v Germany, we saw another side to the 'new Scotland'; a clear coherent game plan designed to use Germany's ideals against them. Scotland wanted to direct the game to Germany's left and Scotland's right, trying to keep the 'space invader' Thomas Muller from being able to have an impact from the right, while trying to win the ball on the right and leaving a 2v1 on the far side in Scotland's favour if it was switched, to release the rapid Ikecha Anya down the left in transition while maintaining defensive balance with Whittaker covering behind at left back.
Scotland using Germany's pressing against them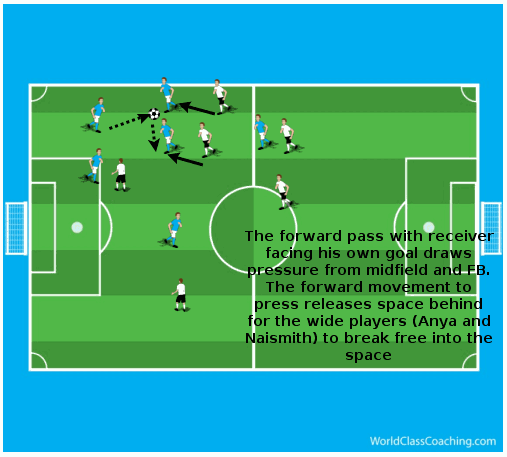 When the ball was won, Scotland would often try to play 2 or 3 quick passes before going forward. Traditionally, Scotland would regain the ball and instantly go forward, but this wouldn't work very often against Germany. Why? Germany are better than Scotland at defensive transitions than Scotland are in attacking transitions from 'base' positions.
To get away from Germany in attacking transition, Scotland needed to draw Germany away from the 'base' position to press (as they usually do) then find a way to attack the spaces they leave to press.
Using a rondo to evade pressure and counter attack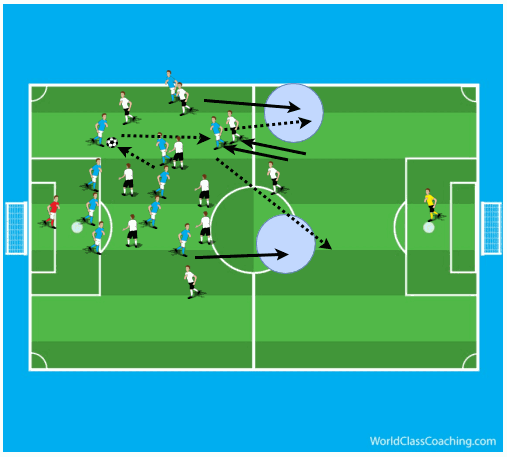 Scotland would often play 2-3 passes before attempting to go forward. In the 1st half it broke down as Naismith isn't a natural back-to-goal player, so in the 2nd half, with the introduction of Steven Fletcher, Scotland now had a player who is comfortable in receiving with pressure from behind as a target man, and is creative enough to find runners behind the defence.
As the ball was to be played forward, he would drop in, dragging the man-marking CB with him, leaving a huge space either side of the covering CB as the FB went to press and other is advanced.
If Anya could get away from his marker after he was pressed, he could have a chance at getting behind the Germany defence and be through on goal, while Naismith could support from the right.
Scotland's equalizing goal; Anya via Fletcher
The ball is regained by Scotland, and they quickly are under pressure from Germany. As the 2 receivers have their back to goal, Germany have a pressing trigger to close them down quickly. Scotland use this to their advantage as the FB stays spare for the eventual pass back.
The key to this attack is that the FB (Black Circle) presses Anya as he receives, leaving space behind. The 2nd player (red circle), will press anything central, again leaving space behind.
Scotland create the space to attack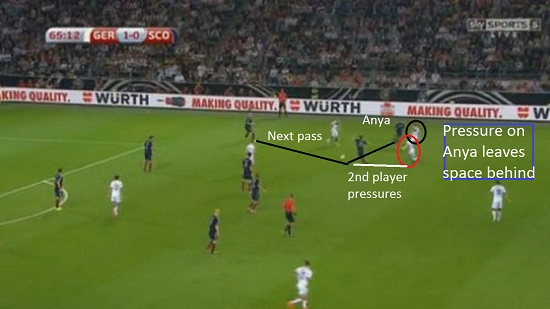 Now that both players who were covering positions are drawn forward, Scotland have more space to use to attack from – both pressing players aren't set to drop back and block the forward passes.
Releasing the attackers after the pressure is drawn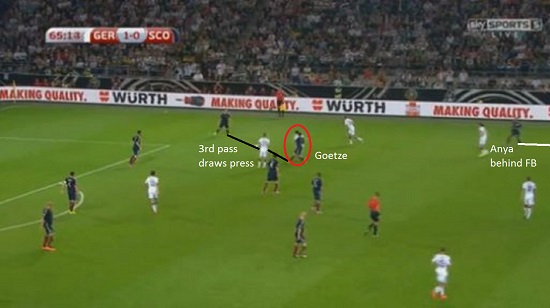 With the 2nd pass, Goetze is drawn in to press. This opens up space that he covered which screened the forward pass to Fletcher. Now that the FB has moved inside and possibly trying to cover the pass into Fletcher, Anya is free from him and able to break ahead of Fletcher. Naismith is ready.
Fletcher draws out the CB and releases more space for Anya to attack behind FB & CB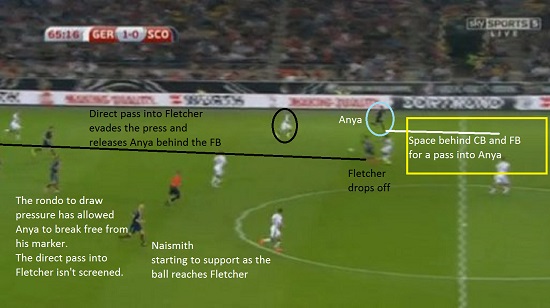 As Fletcher drops off and recieves, he is marked, which is what he wants; the space left behind is for Anya to attack, while Fletcher tries to find the pass into him on the left.
Naismith is trying to get forward but won't win the race to attack the other side, so will arrive late.
Anya goes to goal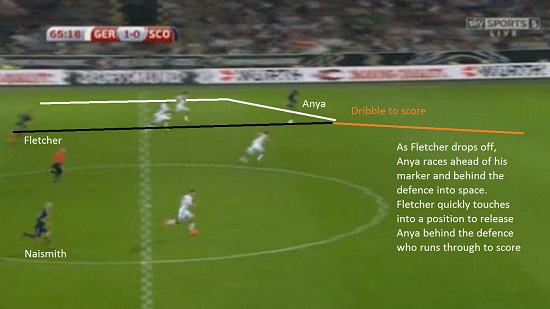 Fletcher takes a good touch away from his marker then releases the pass that Scotland have been looking for all game – Anya behind the advanced FB and run to goal, which he scores from.
Scotland's game plan in the game was undone by 2 pieces of instinctive finishing from Thomas Muller, but the overall game process was excellent and show signs that Scotland may be a force in Euro 2016 qualifying.
By Stevie Grieve. (Follow on Twitter @steviegrieve)  Stevie is also the author Coaching the 4-2-3-1, Coaching the 4-2-3-1 Advanced Tactics and From Futsal to Soccer