By Stevie Grieve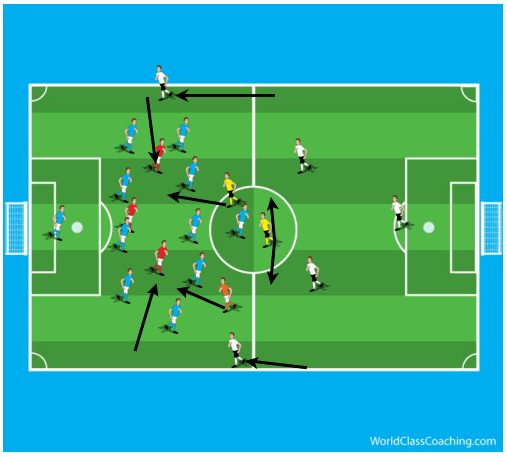 Bayern initial set up – 4-2-3-1/4-3-3 hybrid
With Alonso (yellow) screening infront of the defence and playing laterally, this allows Rode (yellow) and Hojbjerg (orange) to be free to drift between the lines and support if Robben or Ribery (Red) stay wide. If they stay wide, Bernat/Rafinha stay deeper and tuck inside as inverted FB's and help overload centrally to look for forward passes through the defence.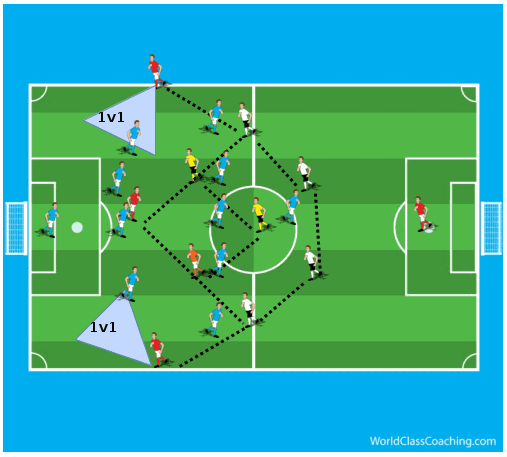 Bayern 4-3-3 with 1v1 zones on the side and inverted full backs
As Robben and Ribery are excellent 1v1 players, staying wide opens up a lot of space in the centre, allowing Hojbjerg and Rode free to drift between the lines on the far side and offer supporting runs in the half spaces. As Bernat and Rafinha stay narrow, the back 4 are in set transition areas to counter-press or drop deep. Alonso can cover infront or between the CB's to make a back 3, 4 or 5.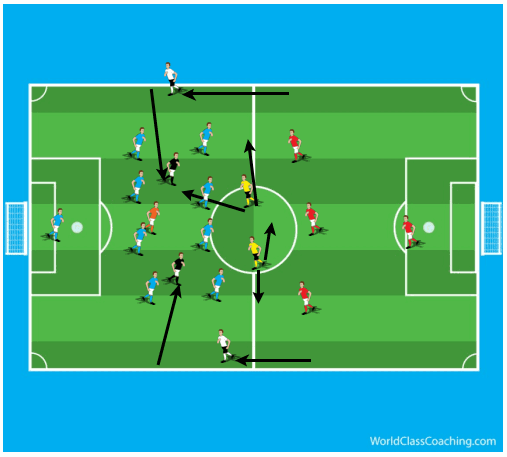 If Alonso (red centre) dropped between the CBs as both FB's were high (white), then Rode and Hojbjerg would play in central midfield with Robben and Ribery (black) drifting between the lines as Lewandowski (orange) stays high, with the FBs on different lines – Bernat deeper on the left than Rafinha on the right.
Bayern down to 10 men – 4-4-1 defence, 2-4-3 attack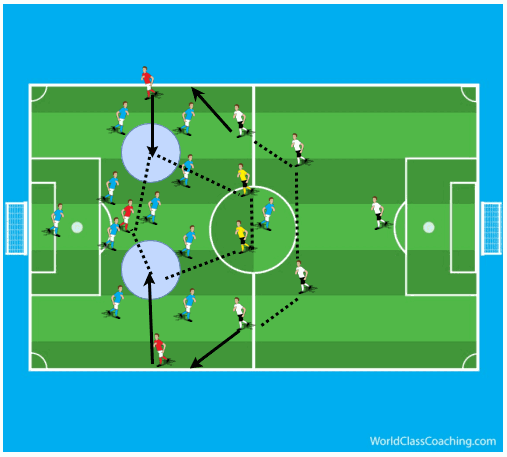 When Bayern lost Benatia, Dante came on for Rode, so Bayern made a pentagonal central shape when the FBs could push high, and become a 2-2-4-1/2-4-3 formation, specifically looking to hit the spaces circled with Ribery and Robben asked to dribble and eliminate players using the outside players as a safety net to keep possession.
Positioning between the lines
With the ball in the back line, we have Alonso dropping deep to receive in the central space, with Rode pulling wider to offer a pass into the half space in the channel to go direct to Robben with a straight pass. Hojbjerg offers a diagonal pass from the centre in the half space in the central zone.
Robben has a good partnership with Rafinha, and will offer a diagonal pass from Alonso with Rafinha likely to run behind to stretch the defence and given Robben time to dribble inside or pass behind.
Players between the lines, diagonally between opponents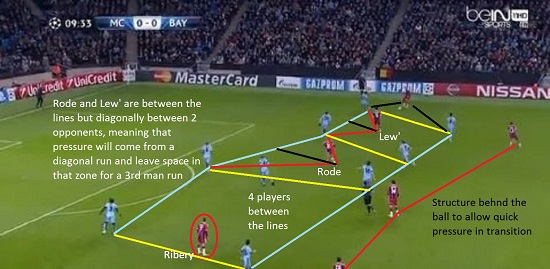 As Rafinha is in possession, he has 3 other team mates between the lines, all diagonally between opponents. This means that pressure comes from a diagonal run, leaving space which can be easily exploited with quick passes that evade pressure and particularly from blindside, 3rd man runs.
The 3 players behind the ball provide structure to allow for a counter-press, while being technically capable of playing in possession this close to the opponents, who will likely drop back as Rafinha passes inside.
Diamond structure from the centre of the field while offering penetration between the lines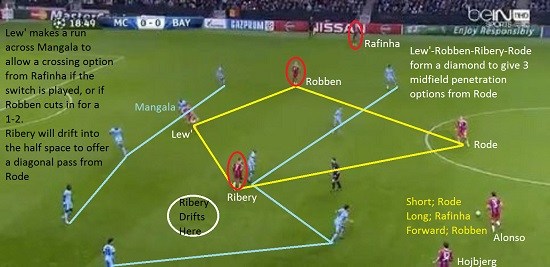 As Alonso is in possession in the channel, Rode occupies the centre with the best range of attacking passes available to him. Alonso has 3 clear options; a short pass to Rode, Long to Rafinha or forward to Robben via a chipped pass or between the central midfielders if he drifts inside a little more.
If the ball is switched, Lewandowski is already on the move to play on the blindside, leaving space for a 1-2 from Robben or if Rafinha receives, to give Robben more room to dribble into diagonally, or to offer a crossing option from Rafinha.
Ribery is already marked but if the ball is passed to Rode, he will drift into the gap circled, leaving a new passing angle into an area where Ribery's 1v1 ability can prove decisive.
[wpsharely id="2988"][/wpsharely]
Lewandowski goal – Rondo to switch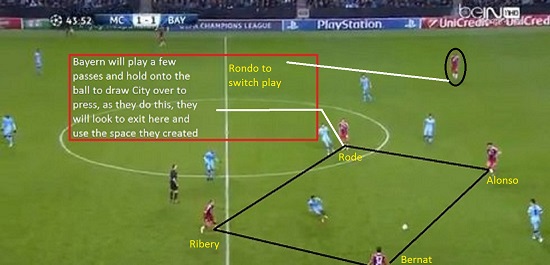 With Benatia sent off, Bayern need to eliminate the extra man that City have while in possession. Here, they move the ball wide and play extra passes to draw over pressure, then switch to the far side. Here, Rode drifts away as the 3v2 is made, with Rode between the lines, City drop deeper. This leaves space for the switch to Boateng who receives and crosses for Lewandowski v Sagna who scores.
A key feature of Bayern's play is the positioning in the channels to receive and penetrate via the half spaces, while every player knows which zones need to be occupied to provide overloads centrally, while the distribution of Alonso and Boateng from deep, particularly into Ribery and Robben who has excellent dribbling abilities, which often prove decisive against tight defences.
Against Man City, their control of possession with 11v11 was to be expected, but with 10v11 it shows the level of bravery of Guardiola to continue looking for solutions and a way to score more goals.
By Stevie Grieve. (Follow on Twitter @steviegrieve)  Stevie is also the author Coaching the 4-2-3-1, Coaching the 4-2-3-1 Advanced Tactics and From Futsal to Soccer