By Stevie Grieve
Last season, Atletico Madrid won La Liga on the back of a strong defensive unit, good individual players and speed in transitions in both attack and defence. After losing GK Courtois, LB Felipe Luis and CF (and talisman) Diego Costa to Chelsea, they have struggled to recreate the attacking transitions that provided so many goals for Diego Costa, while being much less organised in defensive play, particularly in both horizontal and vertical compactness.
In the last 7 games against Atletico, Barcelona have struggled as Atletico's game plan was simple – reduce space between units, stop Barcelona from being able to get players between the lines to receive and reduce the space on the side of the ball as much as possible. This did not happen.
Good Compactness in a situational 3-4-3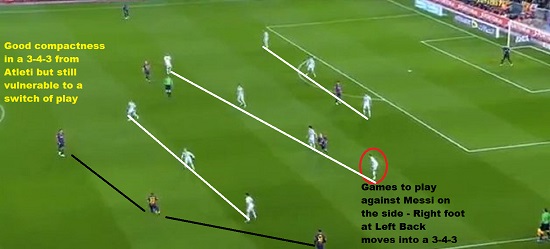 Here, Games is to press and play 1v1 against Messi who plays as a right winger while Suarez stretches the play in a central position. Games can press out of defence and into midfield to double up with the wide midfielder, Saul Niguez.
We can see here that Atletico have good horizontal (LB-RB and LM-RM) compactness, and vertical compactness (FWD-MID-DEF) to reduce space between the lines.
Leaving space between units for Barcelona to exploit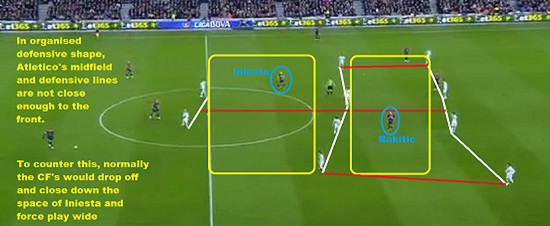 Last season, Atletico's centre forwards would drop off and reduce the space Busquets would be able to play in, or the midfield line would push up, especially in a 4-5-1 or 4-1-4-1 with coverage between the lines.
Compared with last season (below), this season there seems to be a struggle with the forwards wishing to stay high and press while the midfield from last season wanting to stay closer to the back 4 but needing to squeeze higher to close the space behind the forwards.
Busquets adapts his position to allow Iniesta to roam between the lines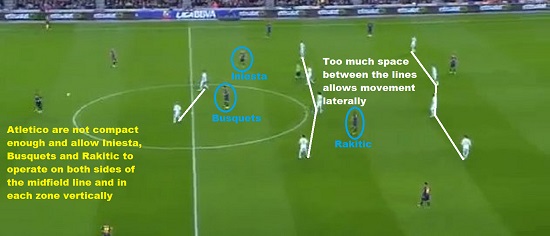 As Busquets can see Atletico have a lack of compactness between the 1st 2 lines, he adapts his position to allow Iniesta to drift wider into the channel to connect the centre and left to support Able and Neymar on the left, leaving Rakitic to drift between the lines and connect the side of Messi and Alves, who is already very deep to give Messi the ball earlier.
The space between defence and midfield is large enough for Neymar or Suarez to drift into, aswell as Messi who could move inside more if Rakitic shifts to the left side a little more and leave Alves free.
Atletico leaving space behind the full backs that could be exploited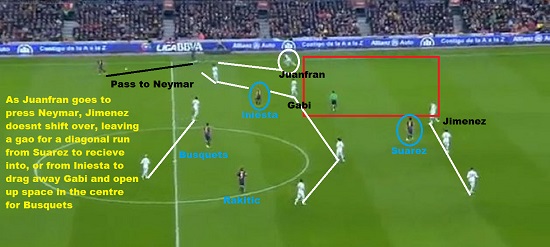 Here, Neymar is passed to from a deep position, triggering the press from Juanfran. As this happens, neither Jimenez nor Gabi drop a little to allow quicker movement into that space if the ball is passed over the defence into the space.
If Suarez or Iniesta could make a run into the space, to offer a pass into the red box – this was a run Suarez would make for Liverpool regularly last season – it could disrupt the Atleti defensive shape.
Even if the ball isn't played forward, if Iniesta makes the run, Gabi will have to run with him, winning some space in the centre for Busquets or Neymar to move into.
No reaction to the return pass and the open space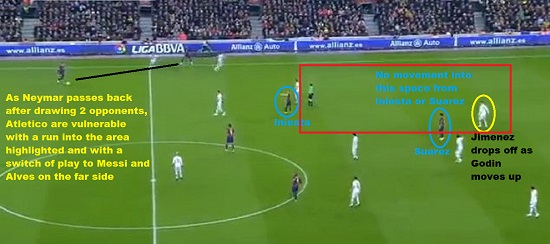 Luckily for Atletico, neither Suarez nor Iniesta made a run into the gap, while Jimenez is the only player to react as he expects the pass to go into the space, while Godin waves him to push up.
Defending on the side in the final 3rd with minimal compactness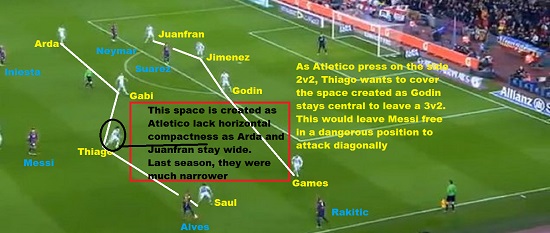 Here, Atletico have the same problem as they had in the previous 2 seasons – the coverage of the channel and how much space is available to play through if there is someone ready to move into it. Here, Thiago recognises the space as he expect Alves to combine with Rakitic to find a way through there, but this leaves Messi free in a dangerous position to attack diagonally while he loves to do from the inside-right channel.
When we compare the shape to last season (below) we can see that the spaces between players are much smaller as the horizontal and vertical compactness (block compactness) has much less space between players and compared to above there are more supporting players around the ball, particularly as the 2 strikers have dropped deep to help compact as much space as possible, which hasn't happened. The positions of Juanfran and Arda on the far side may be a slight tactical alteration as Atletico were vulnerable to the switch of play but this gives Barcelona more central space to attack into as they are naturally less compact from wider positions.
Here we see all 10 outfield players in the same image, showing great block compactness and almost forcing Barcelona to go over them or force difficult passes as dribbling will result in double pressure and high percentage chance of losing possession.
[wpsharely id="2988"][/wpsharely]
Lack of co-ordination and attention from the front players to cover key spaces

As Griezmann is forced to drop deep and help the defence, particularly in the zone of Messi, Mandzukic needs to react and cover the space, particularly as there are both Iniesta and Busquets available inside in the red circle. As the white circle would be a good defensive position, either Griezmann is too wide, while Mandzukic would be too high. A pass into the red circle can release Suarez between the CM's and attack the centre with Atletico vulnerable.
This season, Atletico have shown to be a team in transition, with Diego Simeone trying to make the team more expansive in their attacking play, yet defensively solid. The base of the team from last season hasn't changed much, only Luis and Costa (great players) leaving, while the knowledge base of the other 8 players will still be fresh from previous seasons.
I feel that it is only a matter of time before the new players such as Griezmann learn how to play in the Atletico style and learn how to recognise how and when to compact spaces from CF rather than as a left winger, while there may be a temporary shift to 4-5-1/4-3-3 when Koke returns, releasing Griezmann to play wider with Turan higher with more central security with Koke, Thiago and Gabi in CM with Raul Garcia often playing between units as the situation dictates.
By Stevie Grieve. (Follow on Twitter @steviegrieve)  Stevie is also the author Coaching the 4-2-3-1, Coaching the 4-2-3-1 Advanced Tactics and From Futsal to Soccer