HOW THE MATCH WAS WON by Keith Scarlett
Champions League
December 10, 2014 
Nou Camp
Barcelona 3 v 1 Paris St Germain
So, are there any more undefeated teams in Europe? Nope, especially after the first half hour of this match, where PSG fell against FC Barcelona. A goal from Neymar before the break unraveled PSG and in the second half, they completely lost track of their doings, while conversely Barca found its rhythm and the steady drumbeat of its 4-3-3, as usual.
Here is what I thought were the key tactical aspects that played into the outcome of this match. What are your thoughts? Please let me know what you think and what other tactics you think were a factor in this match in the comments section below.
Luis Enrique surprised everyone with his starting lineup. The Spanish coach had hinted at a press conference to expect a surprise replacement for Daniel Alves. Adriano, or even Bartra were expected, but the former coach of Roma completely changed his system. Barça presented in a formation that housed three central defenders, with Busquets and Mascherano holding the middle with Neymar and Pedro on the wings framing Iniesta, Messi and Suarez.
On the PSG side, Laurent Blanc also responded with a surprise, as his team did not show up in their usual 4-3-3. From the first minutes of play, they showed a 4-4-2, which was clearly a tactical decision coming in. Taking the place of Pastore, Matuidi found himself in the left, central midfield role, a role that he also played during this same double confrontation in 2012-13.
The first few seconds of the match revealed what exactly Enrique intended defensively. In the first line, Messi and Suarez would share the responsibility of marking Thiago Motta, David Luiz and Thiago Silva. The primary objective was to have a player constantly in the area of Thiago Motta, with the other applying pressure on the ball.
Then came the second line with Neymar, Iniesta, Busquets and Pedro. In the axis, Iniesta was responsible for pressing Verratti; sometimes he would find himself isolated in one vs one situations out wide. In these cases, Busquets would abandoned Matuidi to go back inside, leaving Pedro to recover into the midfield, which would only release Maxwell on the opposite side.
Mascherano and Pique led the last line. The Argentine undertook Ibrahimovic while Piqué covered. On the sides, Bartra found himself facing Cavani and Mathieu fronting Lucas Moura.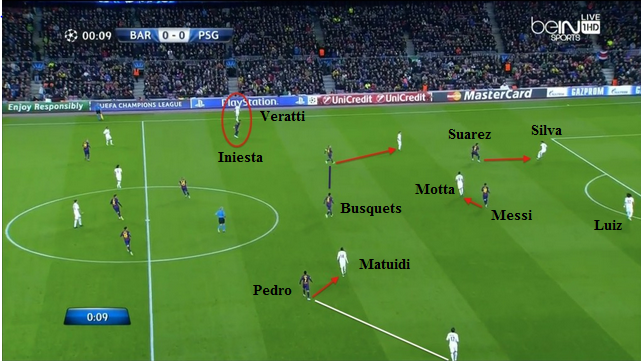 Suarez is pressuring Thiago Silva, the ball carrier. Messi is in contact with Thiago Motta and leaving David Luiz unopposed. Iniesta has been pulled out wide and isolated in a 1v1 situation with Verratti, which Barca does not want, so Busquets drifts back centrally which in turn pulls Pedro back towards the middle from his wide position on the right to take Matuidi.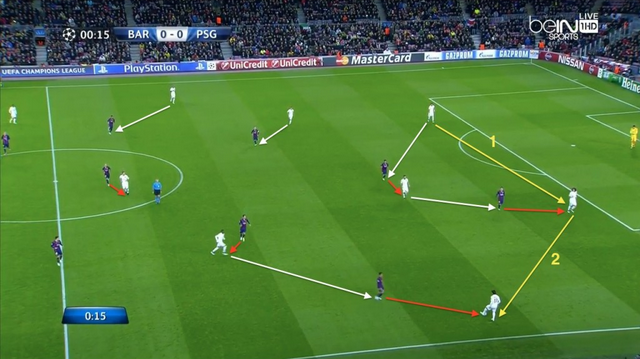 (1.) Thiago Silva recognizes he has no options down the right side, changes direction and plays the ball to David Luiz. Messi and Suarez change roles with Suarez collecting Thiago Motta as he drifts over to support and Messi now applying ball pressure. (2.) David Luiz sees the same thing that Silva saw and decides to hit Maxwell. This activates Pedro to step-out and pressure which brings Busquets back to Matuidi and all others shifting accordingly in behind.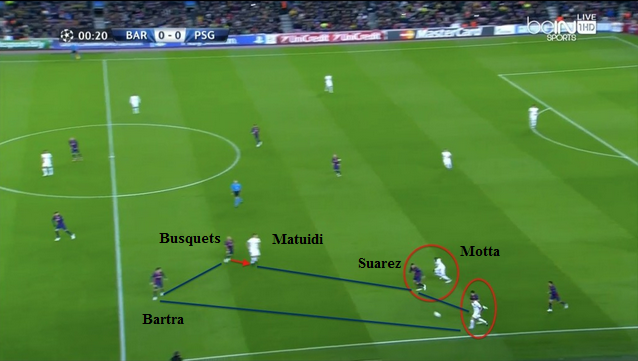 Thiago Motta moves out of the middle to try to release his mark, but Suarez remains in contact, as does Busquets with Matuidi, while Bartra is providing coverage.
In their first meeting, Javier Pastore played a crucial role in how PSG dealt with Barça. Positioned in the centre of the park, he spent the evening isolated with Busquets in front of the central defenders. However, this time, PSG was forced to deal with two central players for Barcelona: Busquets on the right and Mascherano on the left. Paris responded with two strikers, who performed the same task as Pastore: Move to the passing lanes between the Barcelona defenders and midfielders.
With PSG having reduced the influence of Mascherano and Busquets, Barcelona was now forced to find new drivers. Up step Iniesta and Messi. They were able to capture the space up to the center circle, but Lucas Moura (or Verratti) and Matuidi would lock them up and then prevent them from going back. This, combined with the pressure Pedro and Neymar found themselves under from the Parisian side, was all dependent on the position where they received the ball.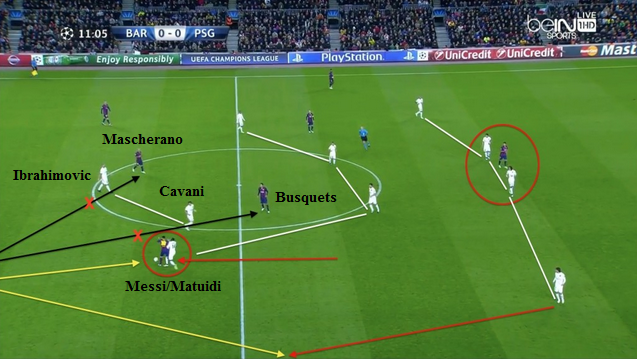 Ibrahimovic and Cavani cut off Mascherano and Busquets as options, while Messi wins the ball. Matuidi however denies him the turn.
In the end, as was the case in the first leg, the Parisians left the home side's central completely free. Having so much open space to work with benefited Pique, who, along with Bartra and Mathieu, was able to cross the centerline without being pressured. In response to their advancement, Paris would slide over which would then allow them to release Lucas Moura or Matuidi to pressure the ball carrier.
Sometimes, on the left flank, Matuidi was left out to dry against Bartra. When this would happen Thiago Motta would recover to mark Messi, Pedro would collect Maxwell and David Luiz would manage the movement of Suarez. On the opposite end, Van der Wiel dealt with Neymar, while Thiago Silva and Suarez pushed Verratti and Iniesta. In the middle, Ibrahimovic and Cavani would hold back to keep Mascherano and Busquets under wraps.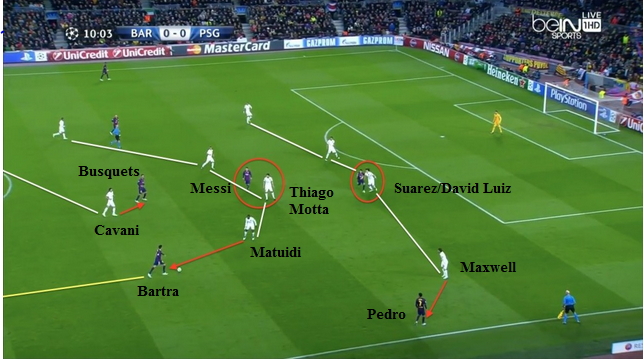 Even though Bartra may be able to cross the midline without being pressured, the number of available options diminishes quickly in the final 30 metres. Matuidi pressures the ball, Thiago Motta is with Messi, Cavani with Busquets, Pedro with Maxwell and Suarez with David Luiz.
The beginning of the match foreshadowed an advantage for PSG, at least defensively. Laurent Blanc's men responded numerically in such a way that Barcelona was always forced to beat two or three opponents with the ball in order to make a difference individually. Neymar was the first to hold sway over his 1 vs 1 battle but could not follow it up by finding an viable outlet to release to because Suarez, Messi, Iniesta, etc… were all difficult to reach. In the same way, Messi also found himself without options when chased by Cavani or Matuidi.
Barca did manage to get some interesting set pieces, mainly by engaging PSG players at the edge of the area, but it was actually PSG who were the first to show their teeth as soon as the Catalan pressing began to loosen. Specifically loosen, when Messi stopped holding his frontline role alongside Suarez. For PSG, the exit door was opened when Messi ceased to stay in contact with Thiago Motta.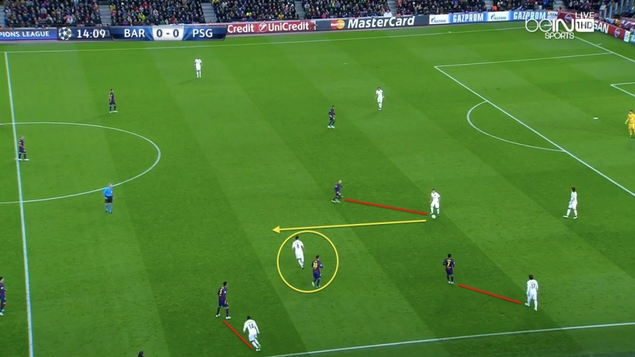 Because Messi is loose in his marking of Thiago Motta, he (Motta) becomes a release valve for Verratti.
Once PSG managed to get rid of the Catalan pressing, it was all on the Barcelona backside to reorganize. Positioned in front of the back four, Mascherano was forced to retreat to protect it. Sometimes he would even integrate with the defensive line to ensure better coverage of width. As a result of his defensive withdrawal, his direct opponent when he was able to play up; Ibrahimovic, finally found spaces to touch the ball in the midfield and allow PSG to actually have a piece of the match.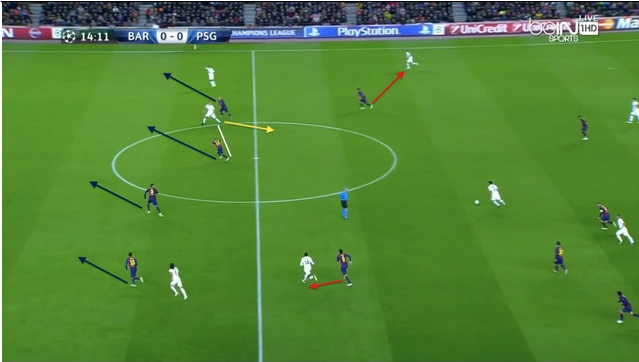 Thiago Motta has the ball, control of the match and not a single Barca player close to him. Thus, Barcelona's' back-line falls back, especially to dictate the match to Lucas Moura as long as they possibly can. Mascherano is also recovering back towards his defensive line, leaving Ibrahimovic.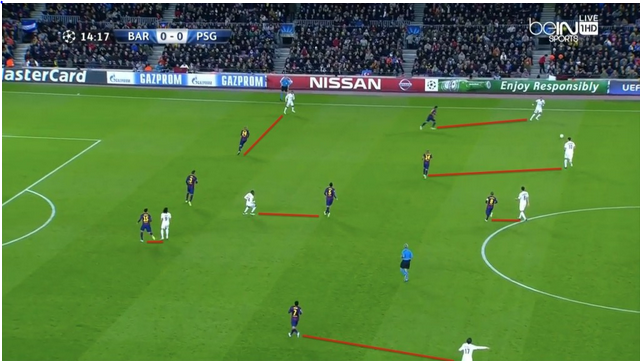 Here, we see Ibrahimovic play laterally to Van der Wiel because Barca is set-up defensively. Mascherano is with Busquets in the middle while Iniesta is tracking Matuidi in the same general area that Thiago Motta tends to roam. Out wide, Pedro and Neymar are dealing with Maxwell and Van der Wiel, respectively.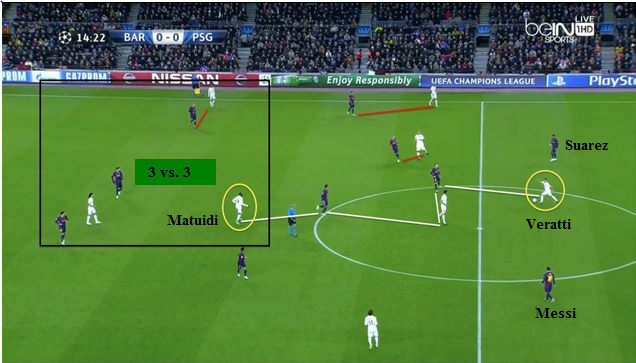 The problem for Barca came from the absolute denial of effort towards their defensive responsibilities from both Messi and Suarez. Verratti makes himself available, but both Messi and Suarez stand and watch as spectators. This is a problem because Barca are evened-up 3 vs. 3 in the half-space, but because neither of them pressure Verratti, Matuidi is left in between the lines and becomes a dangerous option that PSG eventually finds leading to their opening score.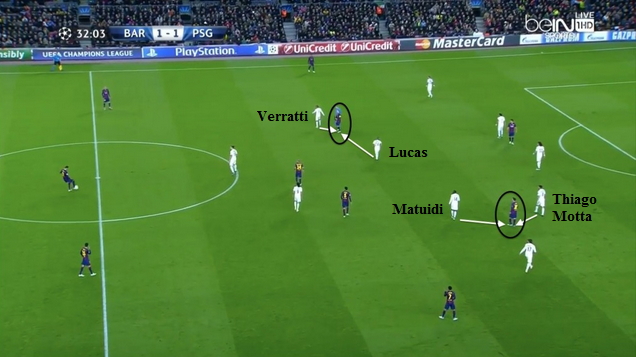 During the first half-hour. PSG was able to limit the influence of Messi and Iniesta by doubling them down with the likes of Matuidi and Thiago Motta on one and Verratti and Lucas on the other.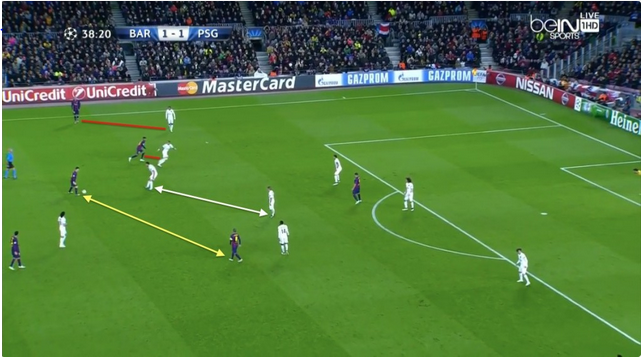 However, when Barcelona began to switch, PSG struggled to adapt.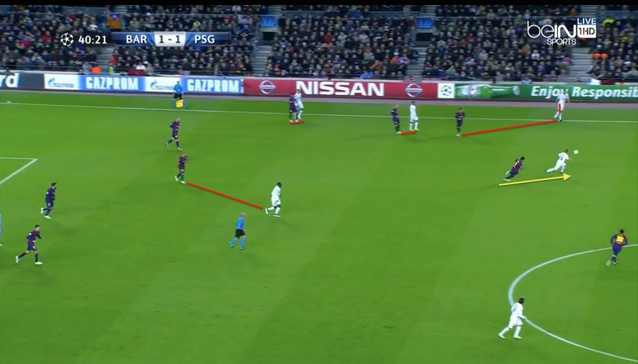 …and then when Suarez does make the effort to pressure, PSG is in trouble.
…Barcelona's pressing and simply their individual superiority was How The Match Was Won!
I would love to hear your thoughts about this or other tactics of the match that were an important factor in its outcome. Let us discuss it below in the comments section.
What do you think?
I would love to hear your thoughts about this or other tactics of the match that were an important factor in its outcome. Let's discuss it below in the comments section.
HOW THE MATCH WAS WON by Keith Scarlett, Assistant Women's Football Coach – Perth Glory FC, Australia, former U.S. Soccer National Staff, follow him on Twitter @keithscarlett and catch his personal blog, "An American Coach Down Under:" http://keithscarlett.blogspot.com