By Stevie Grieve
In the Copa Del Rey final, Real Madrid went into the game against Barcelona confident of a win, even without Cristiano Ronaldo who mass missing due to injury, but with Bale and Benzema both capable of defending from the front and causing problems on the counter attack, Ancelotti set his team up to defend against Barcelona's main attacking areas, and exploit Madrid's pace on the counter attack.
Madrid counter-pressing in the opening minutes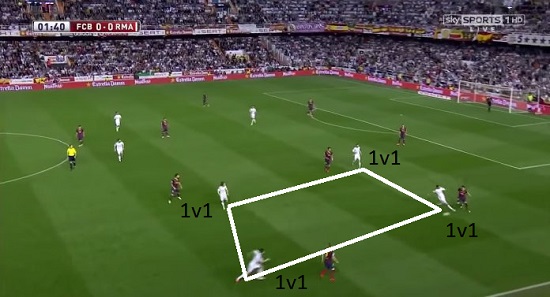 Here, we can see that Madrid, having just lost possession, are reluctant to simply drop deep and defend, instead they go to play 1v1 and win possession quickly.
Madrid retreat after 5 second of pressure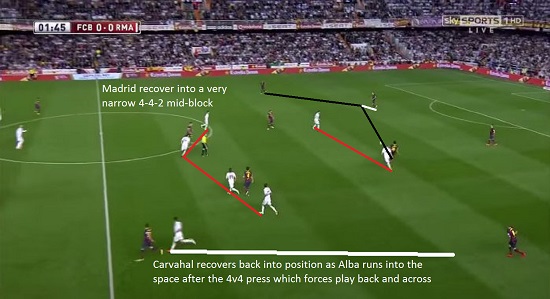 As Madrid don't win possession, we can see them now in an organised defensive shape, with Carvajal running back into position with Jordi Alba. We can see that the organised defensive shape of Real Madrid is a 4-4-2-0, I say this as there are no strikers pressing the centre backs, instead they work as dual number 10s, picking up Xavi and Busquets where normally there would be a 2v1 (Xavi drops to help Busquets when he is marked, freeing Busquets as Xavi is pressured).
Madrid's flexible back 4 width as the midfield 4 are very narrow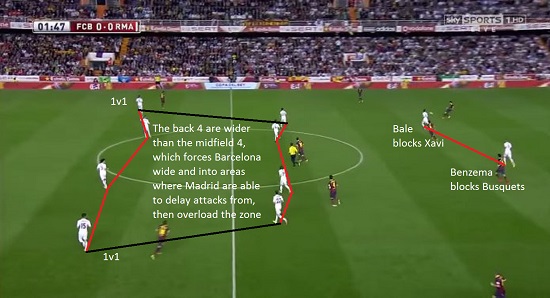 By Stevie Grieve. (Follow on Twitter @steviegrieve)  Stevie is also the author Coaching the 4-2-3-1 and Coaching the 4-2-3-1 Advanced Tactics
[wpsharely id="2988"][/wpsharely]