HOW THE MATCH WAS WON by Keith Scarlett
La Liga
Celta Vigo 1 - 3 Real Madrid
After exposing Barca 4-1 just a few weeks prior, Celta Vigo hosted Real Madrid for another La Liga top of the table clash. Eduardo Berizzo pushed another Spanish League behemoth to its limits. Real escaped, however, through cold realism and a high level of play from Keylor Navas in the first half.
Here is what I thought were the key tactical aspects that played into the outcome of this match. What are your thoughts? Please let me know what you think and what other tactics you think were a factor in this match in the comments section below.
Against Barcelona, Celta proved they were capable of beating the best teams while playing their own game. Individual marking is one of their key principles and set the stage for a great battle against Real Madrid, especially in the midfield between Augusto Fernandez and Wass, and then Kroos and Modric.
Rafa Benitez organized his charges to block the short recovery options of Celta. Celta's strength is based on the quality of possession in their own half allowing them to create counter-attacking opportunities before opening things up for Nolito and Orellana or even out wide. Their game is then organized around two wide players in the last 30 meters.
Behind Ronaldo and positioned between Cabral and Gomez; Jesé, Kroos, Modric and Lucas Vasquez form the first line for Real Madrid that applies pressure on any short outlet presented to one of the Celta defenders (Mallo, Wass, Augusto Fernandez or Jonny). The same thing takes place at the other end with Pablo Hernandez and Casemiro dealing with Marcelo Orellana, Danilo and Nolito. Tucked-in behind Ramos, Varane shares the marking responsibility with Aspas.
Celta's aim is to prevent Real from making progress on the ground. Applying pressure behind the block which is positioned ahead of Modric, Ronaldo and Kroos forces them to turn to the long game.

Individual Celta defending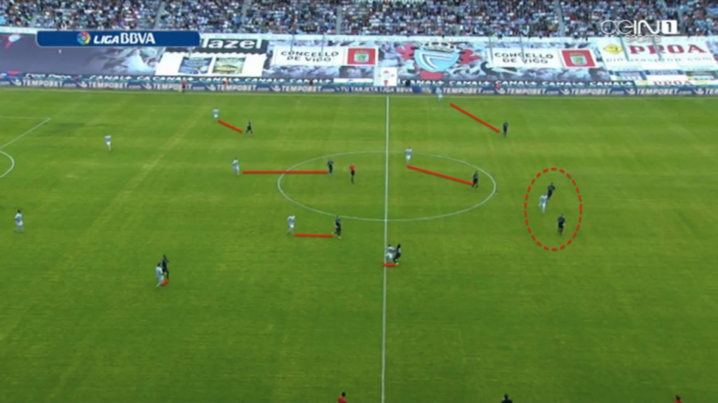 Real defending
The man-marking of Celta in their defensive-half early in the match offered up a high intensity affair. There were only a few long phases of possession which actually boiled down to a sequence of transitions, not because of technical deficiency (the ball still remains in play) but because of the tactical approach chosen by both teams. It created a lot of duels where the ball was played.
When talking about possession, two factors need to be considered: the individual quality of players on the ball and their movement off the ball. In this case, it is Real Madrid who shows this advantage early in the match.
Unused as a substitute in their previous match against PSG, Luka Modric makes the difference in these first minutes. Instead of staying centrally where he facilitates control of his opposition, the Croatian roams free within the spaces abandoned by the individual marking of Celta. He often takes the ball out on the right flank to exploit space behind Lucas Vasquez.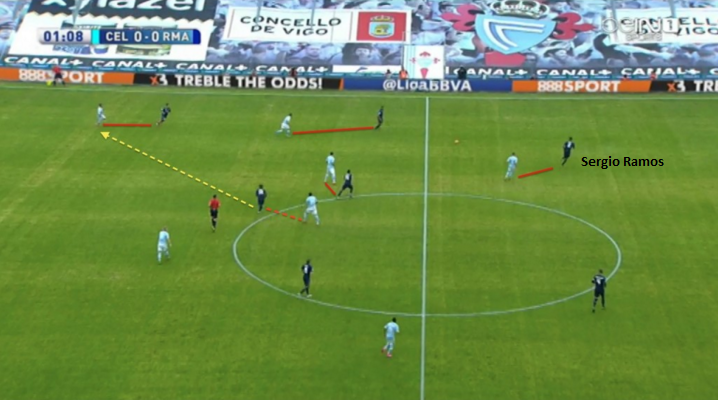 Blocked from going down the right, Real is forced to recycle it back through Sergio Ramos.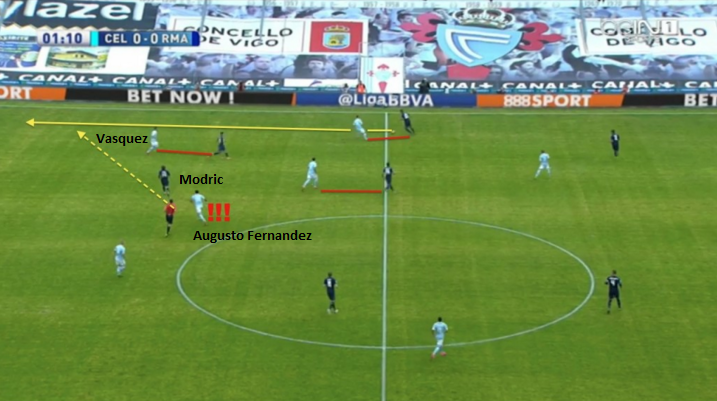 A step ahead of Augusto Fernandez, Modric exploits the space behind Vasquez and helps Real to advance forward.
If it's not Modric changing zones and getting in behind Lucas Vasquez, Real Madrid may not have scored their first goal. This movement behind the Galician midfielders managed to open a gap where they could find Ronaldo.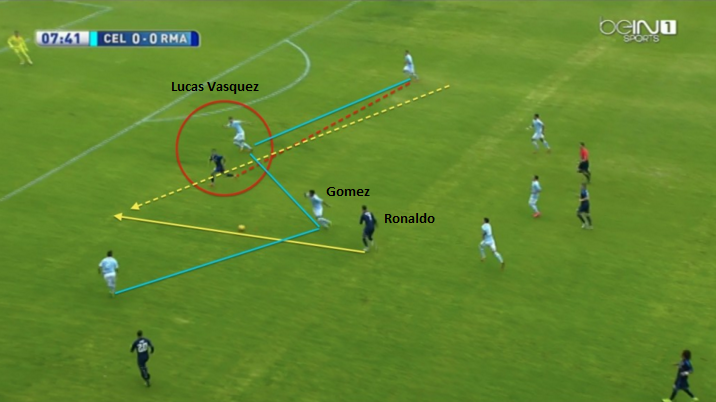 Ronaldo receives the ball in between lines and Gomez steps up to pressure it while Lucas Vasquez slides over behind him to support.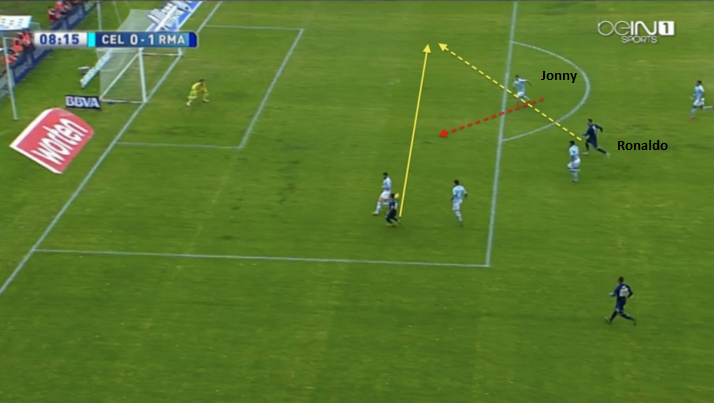 As Jonny slides over to offer even more support, Ronaldo is able to slip in towards the back-post.
The opening goal for Real Madrid destabilized Celta Vigo who continued to try and develop something in midfield. Real Madrid aided this cause by slightly relieving their level of pressure when in their attacking half.
Modric is a key element in the surgence of Real Madrid with his ability to efficiently change zones. Orellana put in the same type of effort for Celta, leaving his home out on the right to support more centrally. This allowed Pablo Hernandez to slip-out of Casemiro's zone and provide additional support when in recovery.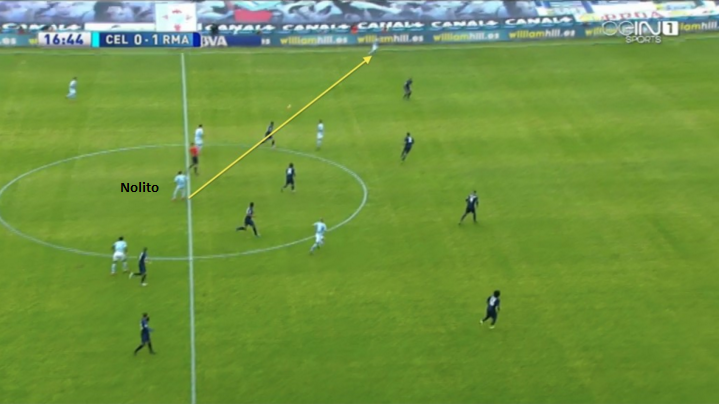 Nolito helped Celta prevent a Real transition by his responsiveness to loose balls.
Eduardo Berizzo enjoyed one of the weaknesses of the Real Madrid 4-1-4-1 when he was forced to defend within 40 meters. Celta was able to take advantage of the non-working Ronaldo and exploit the spaces around Casemiro, who was positioned between Madrid's lines to find Pablo Hernandez or Orellana near the penalty area.
This weakness of Real Madrid also allows Celta Vigo to turn up the pressure in the attacking half. Whether it's through the loss of possession or through build-up play and thanks to individual marking, it poses problems for the Merengues.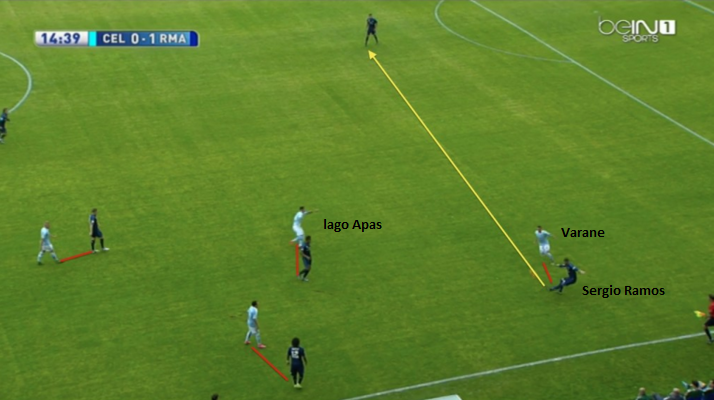 Able to lock in Real Madrid by pressing on the side led by lago Aspas, Sergio Ramos decided to switch the field on Varane instead.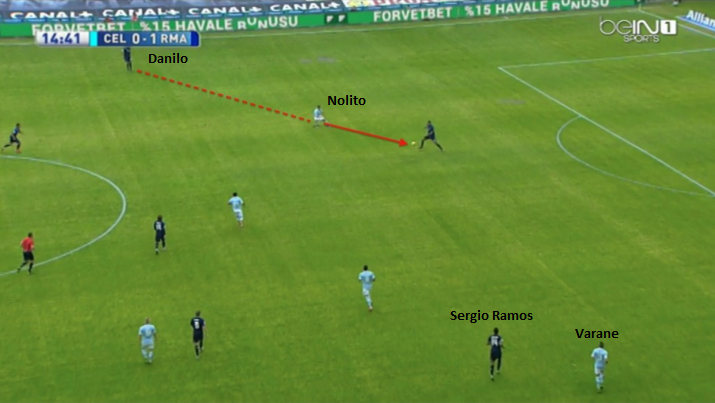 Under pressure from Nolito, who left Danilo to apply the pressure. Long passes from Ramos allows him enough time to get on Varane.
…and that's How The Match Was Won!
I would love to hear your thoughts about this or other tactics of the match that were an important factor in its outcome. Let us discuss it below in the comments section.
What do you think?
HOW THE MATCH WAS WON by Keith Scarlett, Former Assistant Women's Football Coach – Perth Glory FC, Australia, former U.S. Soccer National Staff, follow him on Twitter @keithscarlett and catch his personal blog, "An American Coach Down Under:" http://keithscarlett.blogspot.com