HOW THE MATCH WAS WON by Keith Scarlett
UEFA Champions League
March 22, 2015
Camp Nou
Barcelona 2 - 1 Real Madrid
All level at the top of La Liga just a few weeks ago, Barca did not miss the opportunity to push themselves 4 points ahead of their rivals by winning the second Clasico of the season. A victory that was built in pain, as Real Madrid had opportunities to take the lead after once again conceded the opening goal. It was the second goal from Suarez and much more solidarity from Blaugrana after the break that dashed their hopes.
Here is what I thought were the key tactical aspects that played into the outcome of this match. What are your thoughts? Please let me know what you think and what other tactics you think were a factor in this match in the comments section below.
Barcelona's came out in a 4-3-3 and faced the same from Real Madrid, a system introduced last season by Carlo Ancelotti. Real's 4-3-3, however, turns into 4-4-2 in the defensive phase.
After a very complicated start to the year, Real has been recently helped by the return of Modric, who is able to gets up into the midfield alongside Kroos and Isco. On the Barcelona side, Busquets is also back from injury, but he only starts on the bench. He has been replaced by Mascherano who positions himself in front of a central defense consisting of Pique and Mathieu.
Real Madrid's midfield is far too passive when it comes to Barcelona's attack. The center of the pitch, however, is well contained by Kroos, Isco and Modric. Mascherano is even picked-up quite well when under pressure.
Unable to play through Mascherano, Barça's advancement is based on the quality of service from their central defenders (Piqué and Mathieu) to exploit the space out wide and fuel Messi or Iniesta up high. At times, there were also seams available in between Real's attackers midfielders (Ronaldo Isco-Modric and Bale).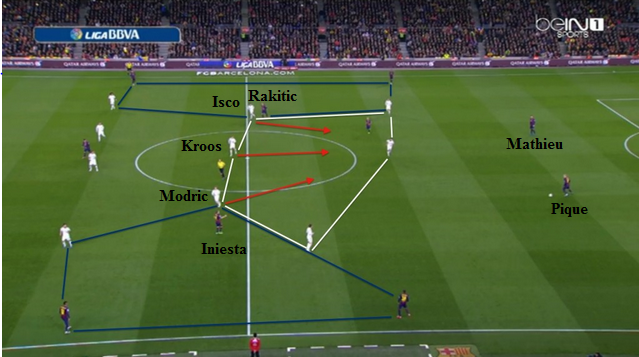 Real Madrid's organization leaves Pique and Mathieu without pressure. In the midfield, facing Rakitic and Iniesta, the trio formed by Isco, Kroos and Modric has put pressure on the ball carrier that takes it into the center. Barcelona is trying to get it out wide.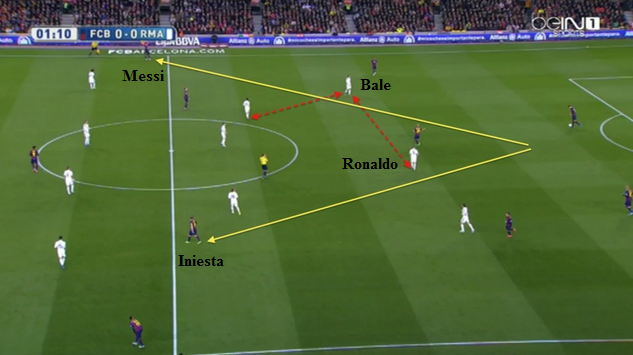 Ronaldo and Bale are there to block these line passes, but the lack of pressure on Pique and Mathieu early on in the match gave the Barcelona center-backs more than enough time to move the ball and find the right angle to find Messi or Iniesta.
Defensive switching from the center backs to the outside backs was used to chain-up Barca on the sides, as well as eliminate the desired through ball options to Messi. However, what it did leave were options to combine through Neymar, Iniesta or Jordi Alba. Barca also found an avenue to enter the opposing area using Suarez as a relay.
The Uruguayan was definitely on top of his game. Always moving the ball from side to side, offering himself as a relay where needed, each time forcing Pepe and Ramos to follow him very closely as not to give him the opportunity to turn around. These build-up phases were quite intriguing as Barca came up against a Real Madrid side positioned up evenly in their defensive phase (4-4-2) and only conceded just a few opportunities.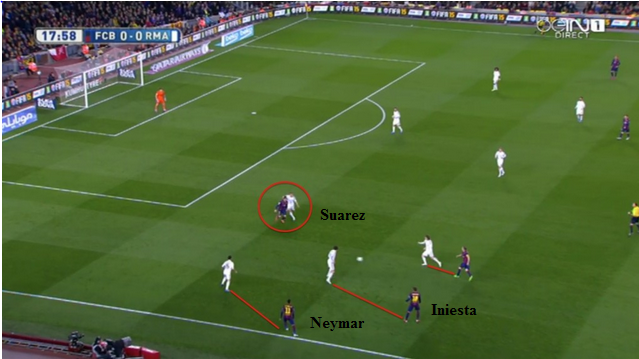 Iniesta provided insertion balls for Suarez (his primary option) and Neymar (his secondary option).
The times when Real Madrid aggressively responded to intense pressure from Barca was when the home-side withdrew. Barca entered the match by exploiting the absence of opposing pressure, thus they prefer a defensive withdrawal when faced with raw adverse possessions.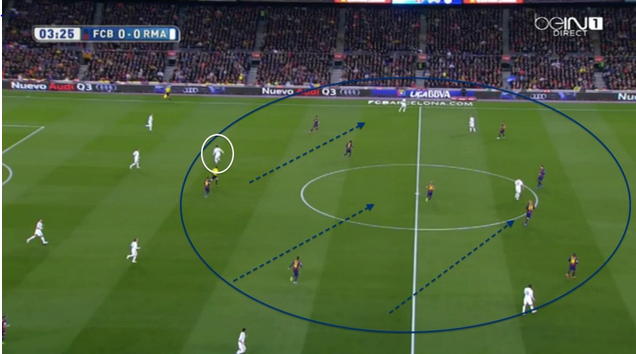 Real Madrid are still on Barcelona's side of the field, but the Catalans are already retreating ball-side.
Barcelona's repositioning defensively is far from being flawless and Real Madrid exploit this to be the first to create danger. On the left side, Marcelo was a real poison pill. To make matters worse, Messi's decline in defensive effort afforded Marcelo even more time and space. During the first quarter of an hour left Suarez drops in to help his midfielders, but too often finds himself working in the same shaft as Kroos and Modric. Rakitic and Daniel Alves - despite using Mascherano – are already occupied by the movements of Isco and Ronaldo and thus continue to struggle with the movement of Marcelo.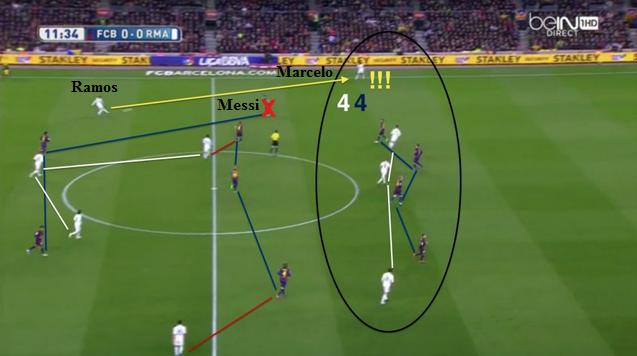 Real Madrid's first real opportunity came from Marcelo, here being played in by Ramos. Messi is completely out of position leaving Real in a 4v4 scenario with Barcelona's back-line.
During halftime, these were mounting problems that needed to be addressed by the Catalan defense. It was the action of Messi becoming more involved that would pay dividends. His mere presence near Rakitic or Daniel Alves would make it easier as there would be less space for Marcelo to exploit.
This marks the beginning of a reversal in the face of the match. Now positioned higher and now more active in the face of initial passes, Real blocks attempts to change the point of attack via Barça's central defenders. The first Barcelonan passes are lateral (Piqué to Daniel Alves, for example), which makes it easier for Real to cut the field in half. Isco can pressure ball side, while Marcelo blocks Messi with help from Kroos and Modric on the inside.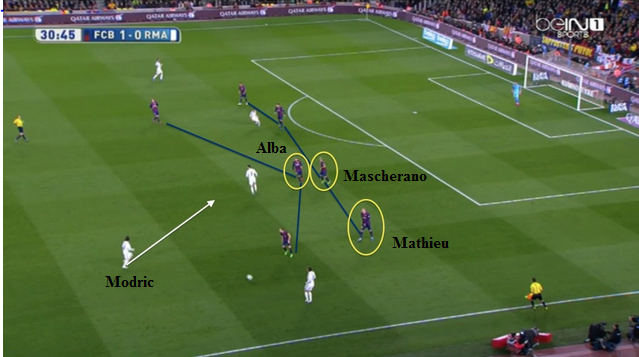 Here we see Barca twisted out of shape defensively while caught in transition coming off a corner. They're defending with seven and their 4 + 3 is in place, but not everyone is in their proper place; Jodi Alba and Mascherano have switched positions and Mathieu is caught out wide to the left.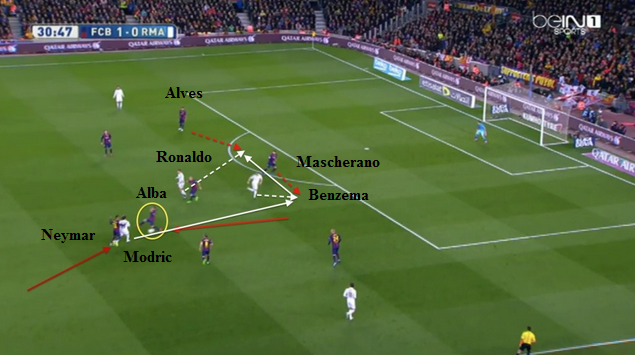 Not only was Neymar late in recovery to pressure Modric, but there were also several other errors made by Barcelona to open the door to Real Madrid. Jordi Alba steps out to close down Modric, but does not prevent the pass. This opens up space for Benzema to run into which cause Mascherano to slide over. Ronaldo then slips into that space which forces Alves to slide inside to cover.
How do you explain such a deviation from the Barça defensive form we've seen before? The strength and advance of the Madrid block is one reason, but the simple abandonment of and systematic decline in the team's effort in their half of the field is another. Barça defended much better in their own half in the second stanza and were ultimately able to get out of the Clasico with the three points.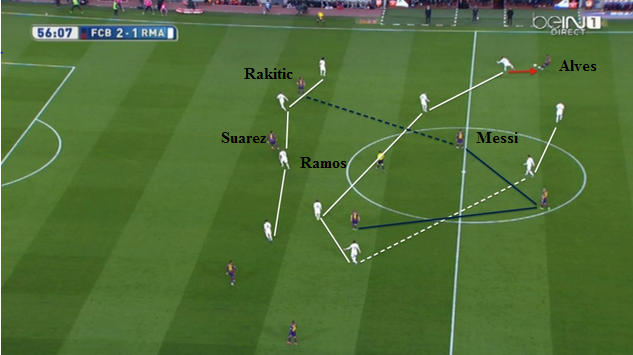 Daniel Alves serves long towards Suarez who is not offside and is being covered (very loosely, I might add) by Sergio Ramos. Note the switching of Rakitic and Messi. This was left over from a defensive adjustment to try and compensate for Messi's lack of effort up high.
Determined not to let go of this new-found advantage, Barcelona put forth much more effort to disrupt Real Madrid's build-up. Now, when Real wants to press forward, they face a Barcelona side positioned higher up the pitch and forcing them to play wide.
Seeing the effectiveness, the Catalans then became much more active defensively, pressing wide and back passes allowing much less space to the ball carrier. The cohesion between the various lines allows them to adjust more effectively. Rakitic finds help from Messi or Suarez in dealing with the Marcelo problem, sometimes also from other teammates to block that corridor.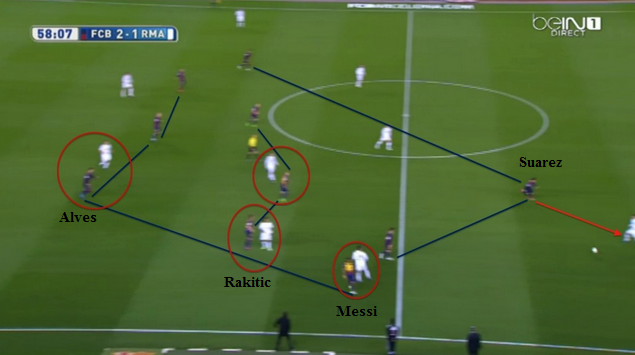 More players behind the ball = a better defensive shape = more opportunity to take advantage of opponent's mistakes. Here we see Barca has locked up the left flank with Alves, Rakitic and Messi which forces Isco to play back to Ramos who finds himself pressured by Suarez.
Barça's renewed defensive effort increased their defensive efficiency. The players were closer to each other and their defensive block now covers more ground, which leaves Madrid with less space, both centrally and out wide.
Barcelona's ability to deal with Modric, Kroos and Isco also reduces Madrid's ability to play vertical. Benzema is forced to work harder to be available and Real Madrid played much less inspired in the last 20 meters.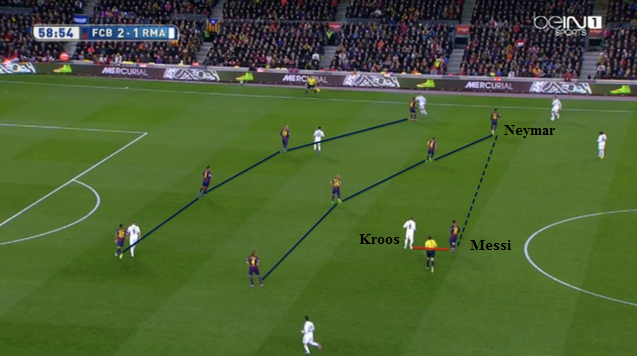 Neymar recovering back to defend. Note the position of Messi; in contact with Kroos.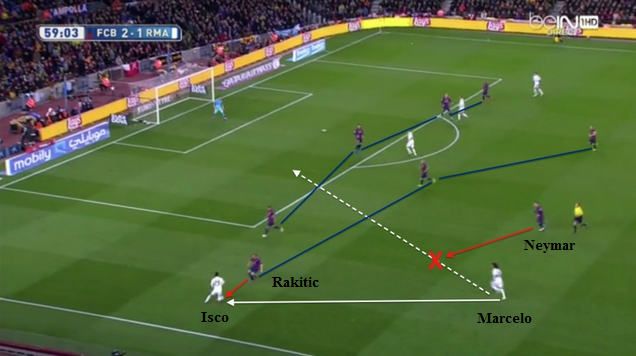 Rakitic contains Isco on the flank, which opens up a seam for Marcelo to run through, but he is picked up by Neymar instead.
This was a hard fought victory for Barca, but one that should sound a warning for upcoming fixtures. Luis Enrique is doing great things with this team, which now seems to be able to vary between playing on the counter and possessing the ball. However, this evolution will only be validated at the highest level if all the players are all on the same page, specifically everyone defending. Clearly, for Barcelona to attack; Messi, Neymar and Suarez cannot forget to do their share of the "dirty work" defensively.
…Barcelona's good start and regaining control of their own half of the pitch was How The Match Was Won!
I would love to hear your thoughts about this or other tactics of the match that were an important factor in its outcome. Let us discuss it below in the comments section.
What do you think?
HOW THE MATCH WAS WON by Keith Scarlett, Assistant Women's Football Coach – Perth Glory FC, Australia, former U.S. Soccer National Staff, follow him on Twitter @keithscarlett and catch his personal blog, "An American Coach Down Under:" http://keithscarlett.blogspot.com