HOW THE MATCH WAS WON by Keith Scarlett
Champions League
Paris SG 2 v 1 Chelsea

Victorious over Chelsea at Parc des Princes, PSG has done half the work in leading them through the Champions League quarterfinals. After a dominating, but uninspired, first half, the Parisian club accelerated after the break and undermined Chelsea's game plan. Everything, however, was not mastered and it took the greatness of Kevin Trapp to prevent Chelsea from leaving for home with a greater chance of qualification.
Here is what I thought were the key tactical aspects that played into the outcome of this match. What are your thoughts? Please let me know what you think and what other tactics you think were a factor in this match in the comments section below.
Laurent Blanc had fun preparing for this match! He announced that Verratti would be on the bench for this match before-hand. Other notable changes: Marquinhos takes the place of Serge Aurier on the right side of the defence and Lucas is preferred to Cavani.
For Chelsea, Hiddink must cope with the absence of Terry in central defence as well as Zouma and Matic in midfield. The result is a revamped defence with Ivanovic and Cahill centrally and Fabregas forced to play back down in the midfield. So, it is Willian who is now the No. 10, framed by Hazard and Pedro. A very offensive formation!
All the opponents of PSG who have had trouble against them in Ligue 1 share one common denominator: that of having to disrupt the Parisian possession in midfield. From Toulouse to Marseille to Saint-Etienne the chosen systems of play were marked by a compact midfield to condense the central area where PSG is used to keeping the ball.
Guus Hiddink made the opposite choice! Instead of asking Hazard and Pedro to defend centrally lending a hand to Fabregas and Mikel, the Dutch coach asked them to position themselves in relation to Marquinhos and Maxwell on the flanks. The result of this tactical choice was a very difficult start for the Blues with two midfielders not mobile enough and so overwhelmed by the flow of the Parisian game.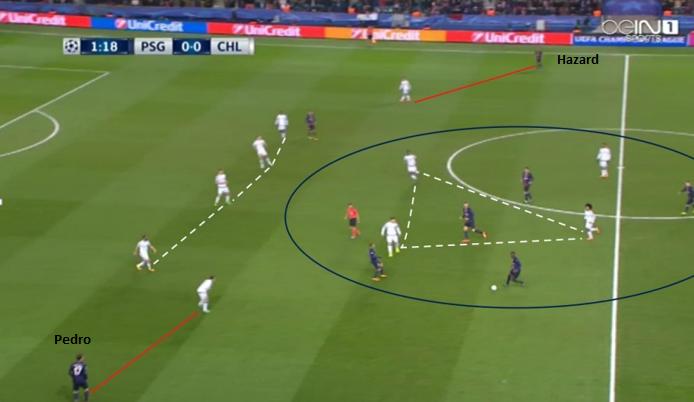 Hazard and Pedro do not help their midfield, who find themselves outnumbered and therefore unable to pressure effectively.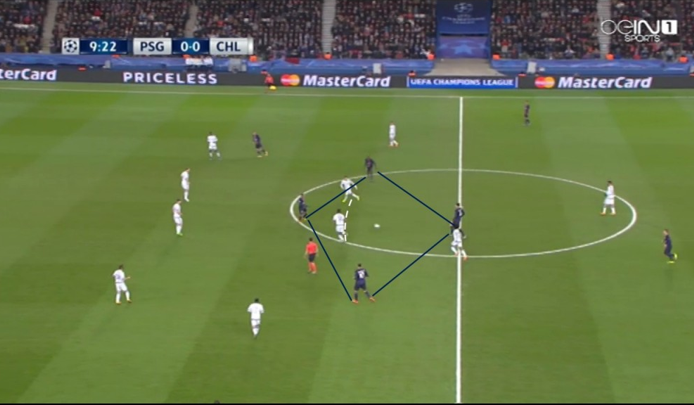 The PSG ball carrier suddenly has many options available around him.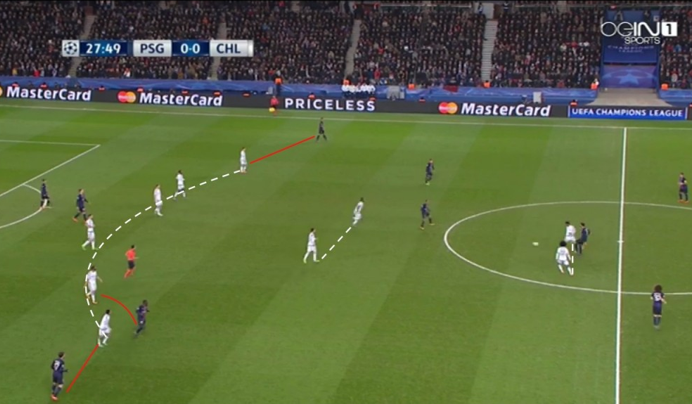 Chelsea's system resembles a 6-2-2 or even a 6-3-1.
While Willian's recovery lends them a hand, Mikel and Fabregas cannot do much while surrounded by so many PSG players. Besides Motta, Matuidi and Verratti; Ibrahimović, Di Maria and Lucas drop in turn to pressure both Chelsea midfielders.
With this type of organization, Chelsea is unable to possess the ball in the midfield. The Blues are forced to defend very low, especially in the 15 minutes when the Parisians dominance goes unchallenged.
For them to defend in such situations requires rigorous management of depth and space across the back. The lack of help from the midfield offers enough space and time to Ibrahimović, Verratti, Motta or Di Maria to lift their heads and look for options going forward.
This is where the job of Pedro and Hazard falling back is paramount: the two flank players cover Maxwell and Marquinhos who bring breadth and depth. In central defence, Baba Rahman and Azpilicueta must be alert to attempted combinations between the midfield and the Paris front-runners.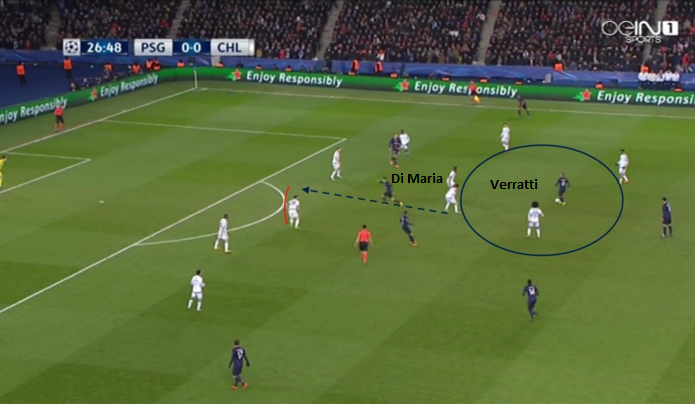 Verratti looks to put in Di Maria.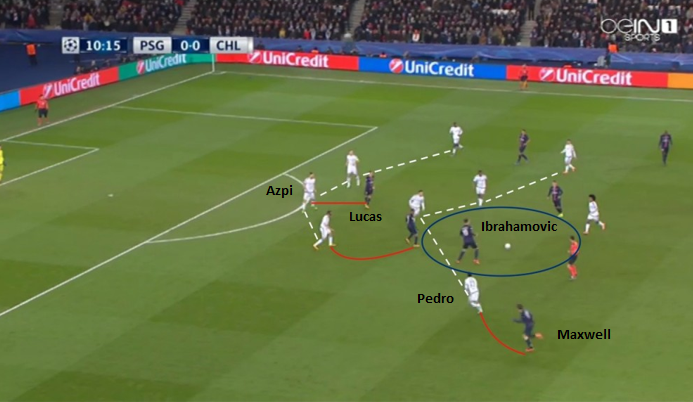 Azpi tightens up his marking on Lucas to keep him from combining with Ibrahimović who is not pressured. Pedro is doing his part in picking-up Maxwell.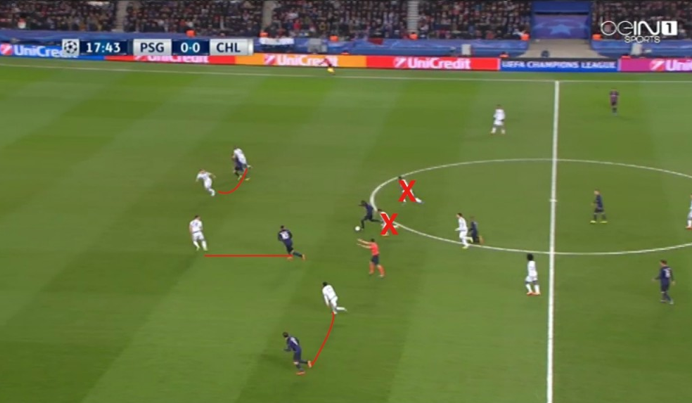 For Chelsea, the other danger was being outrun up the middle. If their midfielders weren't there to slow-up the Parisian attack and provide depth, the defence is unable to control these types of runs.
Despite their apparent difficulties, we must recognize that Chelsea was still doing pretty well in the first half: certainly, the Blues conceded 10 shots, but only one came from inside the penalty area. Paris also only managed a single pass inside the opponent's box during the first 45 minutes.
Di Maria was notably below his level. He was active in midfield, but incapable with Mikel and Fabregas struggling. Lucas was also a little rough when he approached the left.
…and that's How The Match Was Won!
I would love to hear your thoughts about this or other tactics of the match that were an important factor in its outcome. Let us discuss it below in the comments section.
What do you think?
HOW THE MATCH WAS WON by Keith Scarlett, Former Assistant Women's Football Coach – Perth Glory FC, Australia, former U.S. Soccer National Staff, follow him on Twitter @keithscarlett and catch his personal blog, "An American Coach Down Under:" http://keithscarlett.blogspot.com