HOW THE MATCH WAS WON by Keith Scarlett
Champions League
2nd Leg (0-0 aggregate)
Wednesday, 30 April, 2014
Stamford Bridge
Chelsea 1v3 Atletico Madrid
What we had on display in Atletico Madrid's 3-1 win over Chelsea in the 2nd leg of their Champions League Semi-Final on 30 April, 2014 at Stamford Bridge was nothing short of a tactical master-class between the managers of both clubs.
On one side we had Jose Mourinho and his tactical brilliance leading Chelsea and on the other side we had Diego Simeone attempting to match his counterpart's tactical experience and lead his club, Atletico Madrid. The first leg of this tie settled nothing ending in a nil-nil draw in Madrid. So, the second-leg in London needed to produce some positive results.
Before we go any further, it's important for us to understand the thought process behind why Jose Mourinho chose the tactical approach that he did for this leg of the tie.
In his controversial biography, Diego Torres explained the code Mourinho came up with when he was at Real Madrid for handling games against high-class teams:
1) The game is won by the team who commits fewer errors.
2) Football favours whoever provokes more errors in the opposition.
3) Away from home, instead of trying to be superior to the opposition, it's better to encourage their mistakes.
4) Whoever has the ball is more likely to make a mistake.
5) Whoever renounces possession reduces the possibility of making a mistake.
6) Whoever has the ball has fear.
7) Whoever does not have it is thereby stronger.
This is exactly how Mourinho had his side come-out for both legs of this semi-final tie. However, Diego Simeone approached the match from a completely different school of thought.
In contrast, Simeone was of the philosophy that the team which makes the most mistakes will win the match and wanted his side to take the most chances and to have as much of the ball as possible.
Thus, before we even look at the match played between the lines, we already have an intriguing tactical chess match going on in the minds of both managers. This is important to understand, as it has a direct correlation to how the match was affected and ultimately won by Atletico Madrid.
In the first leg, as Chelsea sat back in two defensive lines, making their half compact, Atletico Madrid were forced into playing long balls and crosses which Chelsea more than dealt with. That strategy favoured Chelsea as they are generally good at dealing with such situations while also, as a compact side they would be able to keep the situation considerably under control.
In addition to that, Atletico really only looked threatening just a few times when a long ball was played into Raul Garcia's path as the Spaniard was making a run from outside the box, across the field from the far post. He was able to win a couple of headers that way but the knock-downs yielded nothing.
With space opening up in the second leg due to Chelsea being spread out defensively, the same long ball strategy would prove to be much more successful, despite Raul Garcia not starting the game.
Instead, Atletico Madrid implemented a similar tactic to devastating effect. In the first leg, Atletico Madrid had more of the ball, but they seemed hesitant to want to score and seemed more likely to not want to concede the away goal. They were much more content to maintain possession and played negative as much as they played forward. The percentage of their passes that were within 5-10 metres was more than double than their passes of distances of 15-20 metres or further. To a large extent, this is to be attributed to the tactics employed by Mourinho. The Chelsea manager realised Atletico were a bigger threat off the ball and containable while in possession. Mourinho thus decided to take the draw and expected to beat Atletico at Stamford Bridge.
However, in London; Diego Simeone's men displayed immense quality on the ball. They showed a different mentality and they wanted possession, but they wanted possession with a purpose. Simeone had them applying faster, more intense and immediate pressure on the ball this time around which made the game much more open in the second leg.
Notice in the following visual how Chelsea appears to be the first to the 50/50 ball.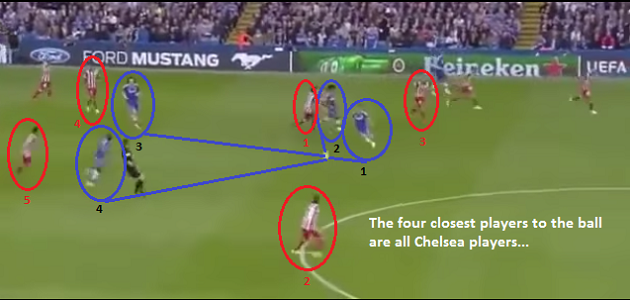 However; different than in the first leg, Atletico has increased their pressure and speed of closure on the ball and are now the first ones to challenge almost every ball.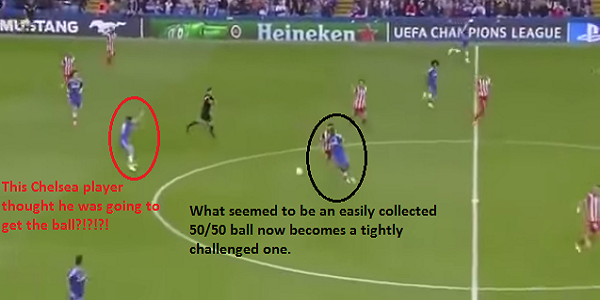 Atletico Madrid surprisingly wins possession consistently in this leg where they did not in the first. Also note: the readily available short negative pass 5 meters to the Atletico player's right, whom also has a wide-open option on the right-flank which would indirectly get the ball wide from Atletico Madrid.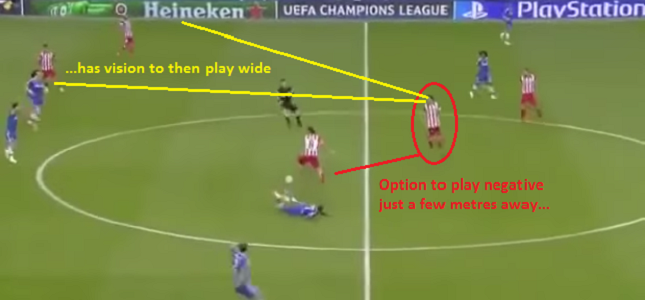 In addition, Atletico Madrid seemed more efficient with the ball. Knowing Mourinho would have his charges organized tightly defensively in the heart of the park, Simeone had his men play every ball forward as fast as possible hoping to catch Chelsea out of shape and also playing every ball wide in order to stretch Chelsea from East to West making it very difficult for them to stay compact and organized defensively. This would also open up seams and allow room for Atletico players to run into or play the ball into.
We can see this in the next visual where the Atletico player doesn't even consider his short negative option after winning possession of the ball and instead turns forward looking to play positive quickly.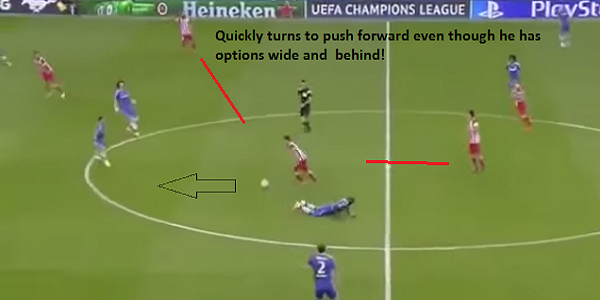 He quickly finds an option and within 3 touches has played the ball both forward and wide to his left.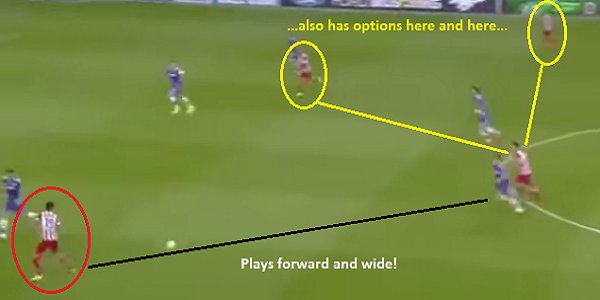 Credit has to be given to Atletico's midfielders for establishing the pace and overall rhythm of the match because otherwise Chelsea would've settled in quite assured defensively. However, the home side should be criticised for failing to deal with this approach as almost all of Atletico's secondary runs forward were unmarked and seemed to come out of a largely unthreatening situation. Hazard, specifically, was guilty of letting Adrian make a run for the first, while the entire Chelsea defence seemed to have shut off for the third.
Chelsea, knowing they would have to score, would have to eventually venture forward. This would also open up additional space and allow Atletico to play direct passes between them which would be a different approach than at the Calderon, where they looked rather lost with possession. They seemed more assured and confident on the ball once they were able to release Chelsea into a less compact position and this came from their willingness to take risks from the first whistle.
Mourinho did get it right in the first leg where he took the draw. He expected to win at Stamford Bridge, but unknowingly ended up playing to Atletico's strengths and forcing them to make a tactical change that Mourinho didn't expect. Atletico Madrid was better than Chelsea on the ball at Stamford Bridge. This bit of mis-calculation cost Chelsea.
HOW THE MATCH WAS WON by Keith Scarlett, Assistant Women's Football Coach – Perth Glory FC, Australia, U.S. Soccer National Staff