HOW THE MATCH WAS WON by Keith Scarlett
La Liga
Real Madrid 5 v 0 Deportivo la Coruna

Almost the entire world of football had their eyes on Madrid to see Zinedine Zidane on the Real bench. In what was a successful outing with a victory over La Coruna. Nevertheless, despite the score largely in their favor, not everything was perfect and what wasn't is rather simple.
Here is what I thought were the key tactical aspects that played into the outcome of this match. What are your thoughts? Please let me know what you think and what other tactics you think were a factor in this match in the comments section below.
Compared to the Benitez era, Zinedine Zidane made three changes. In central defence, Pepe replaced Varane. On the right side, Carvajal replaced Danilo. Finally in midfield, as was expected, Casemiro remained on the bench and was replaced by Isco.
The first minutes of play brought back memories of when Ancelotti was still at the helm of the team. Against La Coruna, Real Madrid and Zidane began with the same system (4-3-3): Benzema was charged with running the central, while Bale and Ronaldo were tasked with playing between the lines and sides, tightening to the inside when necessary. Centrally, Modric and Isco were positioned to handle Depor.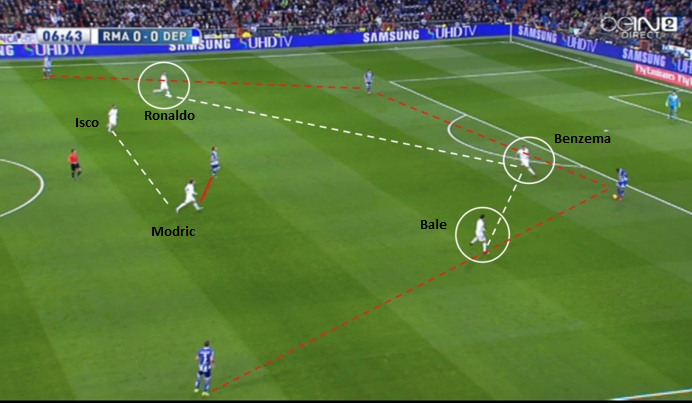 The difference with the system Ancelotti ran compared to what Zidane is asking was a little more from his team in terms of possession. While Benzema used to stop a few meters past the center circle in the Italian system, now he's initiated a few meters higher the visitors' defense. With only two central defenders and a goalkeeper, the Frenchman, however, needed his support to not run dry in a vacuum of space.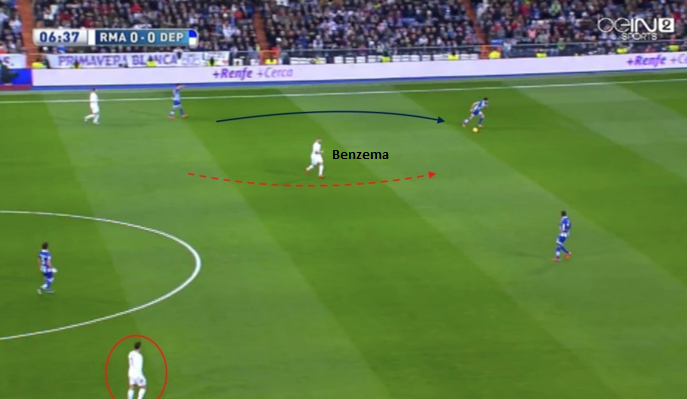 Real presses Coruna hard in the final 30 meters. Benzema makes the effort to apply pressure on the home side's central defense.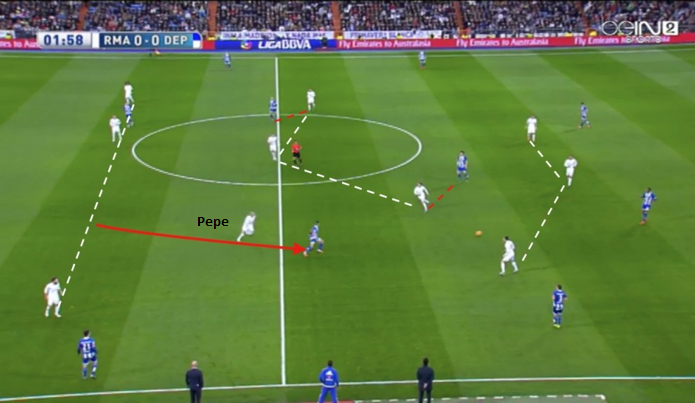 However, Bale does not accompany him and is too far away to apply adequate pressure on Sidnei.
This is precisely one of Real Madrid's problems: improper pressing on some sequences. The illustration above is more revealing of this because it's a classic example. While the two central players move with the ball, Bale, who is normally pressed up on Sidnei, is too far from the action to help Benzema. Within seconds, Real has been surpassed in midfield and forced to transition to defense in their own half.
Ronaldo was just as lax on the opposite side, which forced Real Madrid to also deal with the foot of the goalkeeper, who played the ball long and was able to skip the erratically pressing attackers.
Pepe was a surprise for Zidane and if his play becomes contagious it may just bring a little more credence to a more aggressive Real Madrid under the command of Zidane. The Portuguese man's defense allowed him to fill several gaps in the middle, especially in coverage for teammates.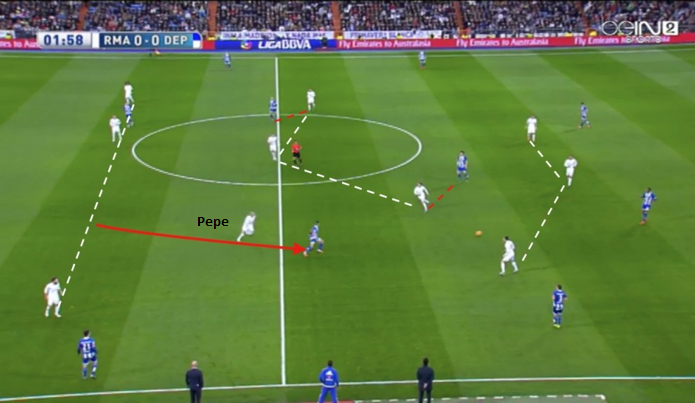 Pepe did not hesitate to step forward and fill gaps caused by Madrid's lack of shape.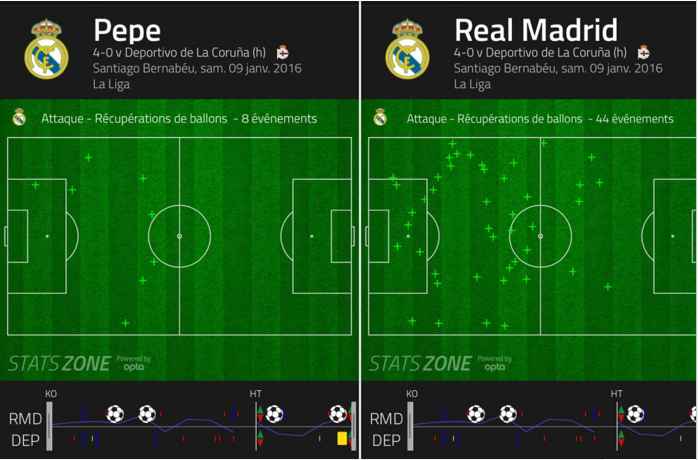 Balls won by Pepe (left) and Madrid overall (right)
It just so has it that Real needed Pepe's quality work as they quickly found themselves running out of options when in their own half. When Deportivo was able to get through the middle and into the final 40 meters, they often found themselves in favorable situations to create.
Kroos and Modric played close to Pepe and Ramos but the entire quartet had to carry too much of the house. This was contrary to what Zidane had hoped for during the pre-match press conference where he said, "…a team that defends and attacks together…."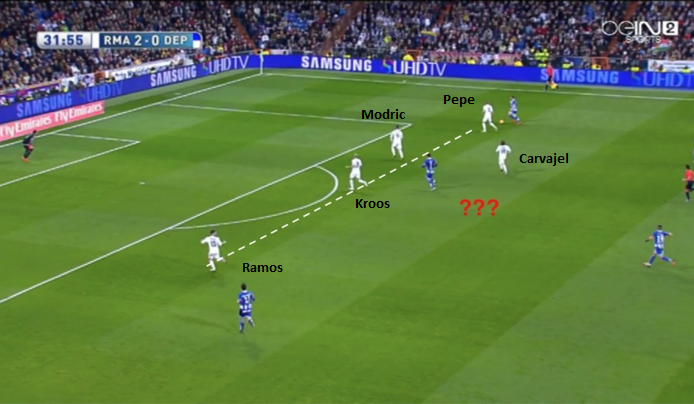 Ramos, Kroos, Modric, Pepe and Carvajal are in position, but can only "contain" the advancement of Deportivo failing to "stop" it.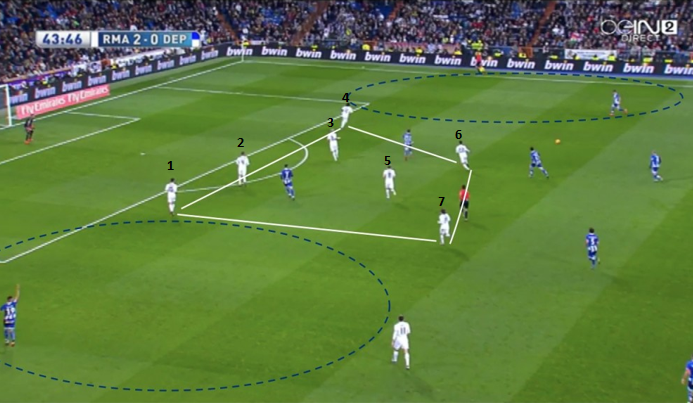 Real often found themselves defending with 7 centrally around the top of the penalty area condensing the middle throughout the first half.
…and that's How The Match Was Won!
I would love to hear your thoughts about this or other tactics of the match that were an important factor in its outcome. Let us discuss it below in the comments section.
What do you think?
HOW THE MATCH WAS WON by Keith Scarlett, Former Assistant Women's Football Coach – Perth Glory FC, Australia, former U.S. Soccer National Staff, follow him on Twitter @keithscarlett and catch his personal blog, "An American Coach Down Under:" http://keithscarlett.blogspot.com