By Stevie Grieve
One element in tactical development is the ability of players to do the unexpected to open up scoring chances. Tactics allow for the team to have a structured playing style which leads into a game process to find a way to win a game, but often a game is won by players in attacking areas making a chance to score from a piece of inspired play, often in tight situations.
Origi creates a chance for Chadli

De Bruyne dribbles inside to look for a diagonal pass into the feet of a player between the lines or into the last line of the defence. As he has Fellaini and Chadli infront but marked or screened, space needs to be created.
Chadli makes the space for Origi to receive

Chadli is marked between the lines, so drifts to the side of the ball, with his marker, creating a passing lane into the feet of the striker, Origi. As Origi drops in, Chadli will look to go behind.
Origi's creativity finds the final pass to create a scoring chance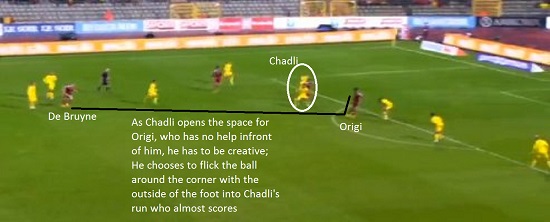 As Origi drops, Chadli is on the run beyond the defence. He expects that he has pressure from behind so passes quickly with an outside of the foot flick to add spin onto the ball to roll infront of Chadli behind the defence. The CB stays away as he must be expecting Origi to take a touch, then force him back and away from goal, then get the defensive line higher up.
Instead, Origi's 1st touch is perfect and takes out the defence, but Chadli' misses his chance to score.
Bale creativity to create a scoring chance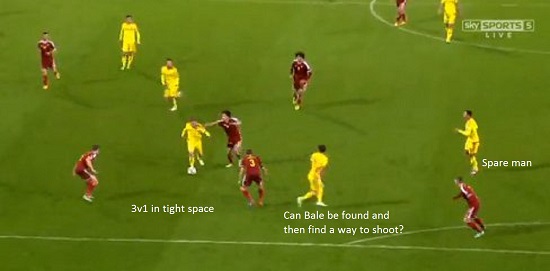 From a long ball, Bale knocks it down then peels away from his marker, his team mate recovers the ball but is in a tight 3v1 situation, and must release the ball. How can a scoring chance be made?
Bale finds the spare man in a shooting position with a Cruyff Pass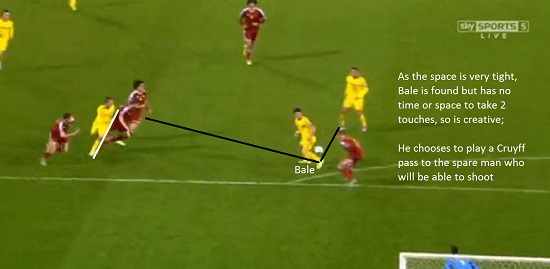 As the pass is made, Bale has to release the ball with one touch, as he has no time for 2. He reacts quickly and uses his high technical level to find a Cruyff pass to the spare man who has a chance to shoot from 20m, which results in a good shot on target which Courtois does well to save.
In this 0-0 against 2 well organised defences, the way through the defence was coming from a piece of unexpected flair to create a scoring chance, from both Origi and Bale.
In tactical development, coaches should embrace the players who have flair and can do the unexpected as these are the players who can win a game for the team from nothing.
By Stevie Grieve. (Follow on Twitter @steviegrieve)  Stevie is also the author Coaching the 4-2-3-1, Coaching the 4-2-3-1 Advanced Tactics and From Futsal to Soccer