By Stevie Grieve
Jose Mourinho's Porto won the UEFA Cup in 2003 then the UEFA Champions League in 2004. They did this on the basis of having a very strong defence, very organised in midfield with fast attacking transitions.
When I organised possession, they would play direct and often lose possession but look to recover the second ball while the opponent were unorganised and exploit space that they leave to press.
This week, I will look at the counter attacking phase and how Deco was the main attacking outlet in short pass counter attacks with plenty of support running at pace ahead of the ball, knowing Deco was good enough to find most passes in even the tightest of areas.
Deco initiates the counter attack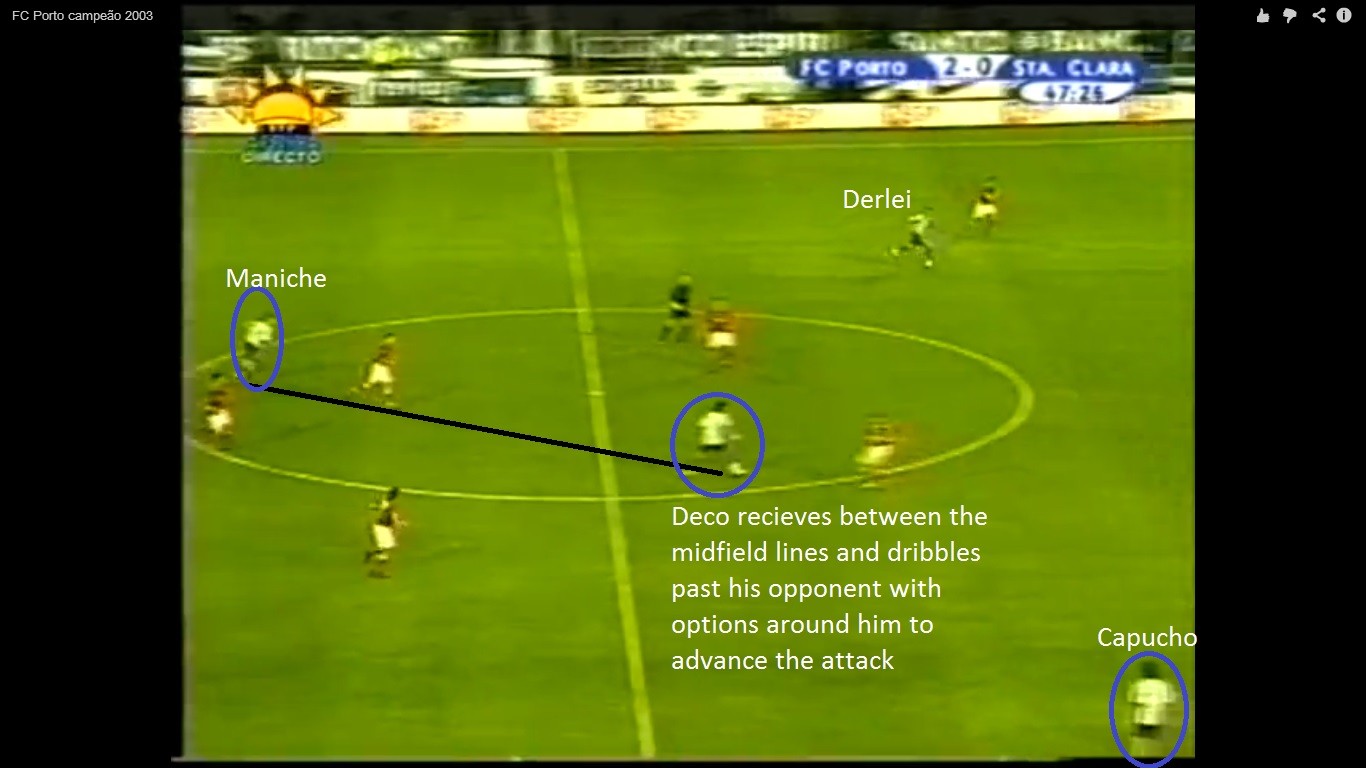 Here, Costinha wins the ball and passes to Maniche, who splits the midfield with a 1st time pass to Deco who is between the lines with Postiga (out of image) Derlei and Capucho ahead of him. This is a rare example when Porto have played a 4-3-3 (4-2-1-3) instead of a 4-1-2-1-2, but Deco plays more as a number 10 with Maniche helping out Costinha in deeper areas .
As the ball reaches Deco, he has his eyes up and on the half turn ready to attack the next line, He knows that if he can eliminate this player with the dribble, then he will be up against the last line of defence with support around him in Capucho, Postiga and Derlei.
The three main parts of this counter attack are;
The position of Deco to allow the 1st time pass which gives him more time as it arrives
Deco's pre-scan to take pictures of the play and plan ahead when he is in possession
The wide and central positioning of the forward players to open the central space and provide wide passing options should the attack be delayed
Deco eliminates the defensive line and can look for final penetration to go to goal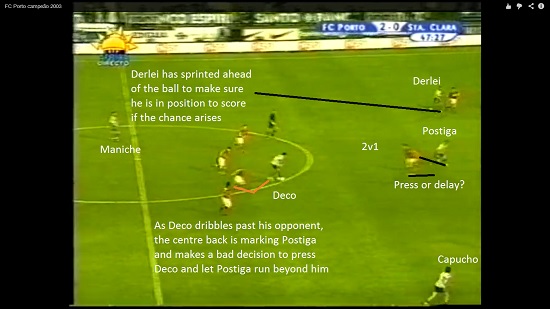 As Deco dribbles past his opponent, Derlei starts to run inside – why? If he is too wide, the pass won't get him into a scoring position within 3 touches (receive, shift past opponent, shoot). Another reason is that if the ball is passed to his opposition side, he takes up a position inside the box to receive a cross or rebound from Postiga or Capucho.
Postiga makes a clever decision to peel away from the marker to the right side – from this position, he can turn and use Capucho on the overlap, or slide in Derlei who will be in a scoring position. This gives Deco 2 options, fake the pass and cut inside or use Postiga and eliminate another player.
Positiga in the final 3rd; 3v3 and 2v1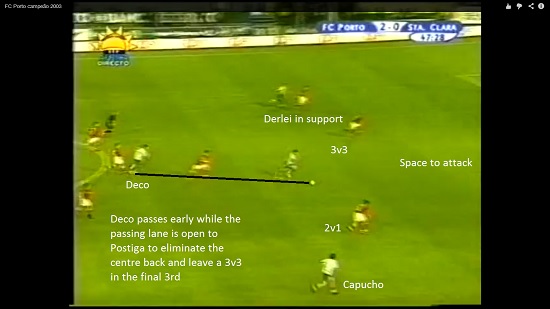 Deco makes the best choice to release the ball into Positga who can turn and attack the goal, with space to attack infront of him. The recovering full back will likely tuck inside so he can either burst away at speed or release Capucho who is on the outside but unfortunately, isn't very quick and can't offer a direct pass behind the defence and go to goal himself.
Postiga eliminates another defender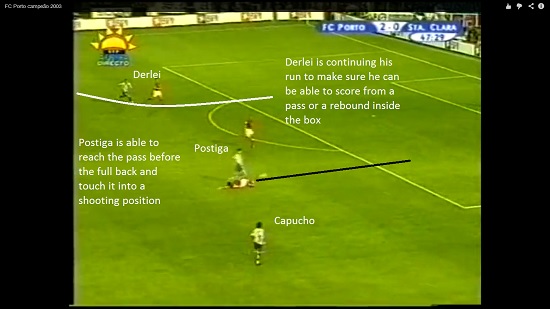 In this attack, Maniche took out 3 players with one pass, Deco 3 players with a turn, dribble and pass, and now only 7 seconds later, Porto are through on goal.
Derlei scores the rebound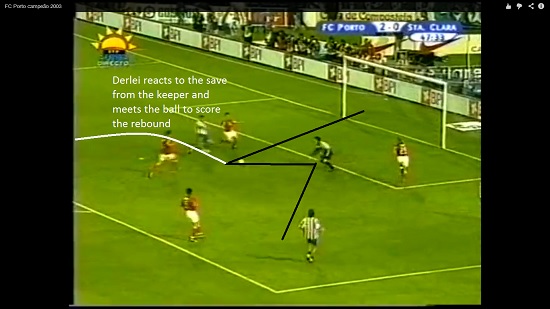 Postiga does well but shoots when he could continue into the box (after shooting he runs wide with his hands over his face) but Derlei follows up brilliantly and gets to the ball 1st with opponents around him.
This break from one end of the field to the other from winning the ball on the edge of the box to scoring took 9 seconds! This has been a Mourinho trademark since his Uniao de Lieira days as coach, and something he showed with brutal regularity with Real Madrid when winning La Liga.
High press counter attack results in another rebound goal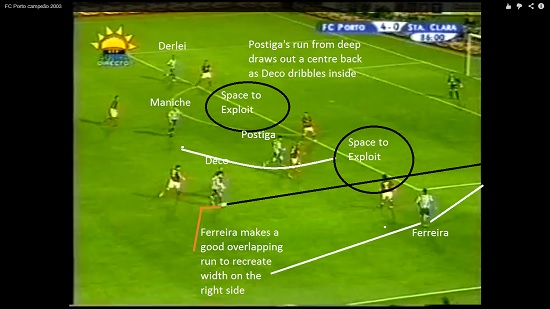 Again, Costinha wins possession and finds Deco in a wide central position, where he has Ferreira on the overlap, This allows Deco to cut inside into a position where he can find passes into Maniche, or behind the defence either to Postiga or Ferreira, with Derlei keeping the centre of the defence open.
Postiga sets up an easy chance for Derlei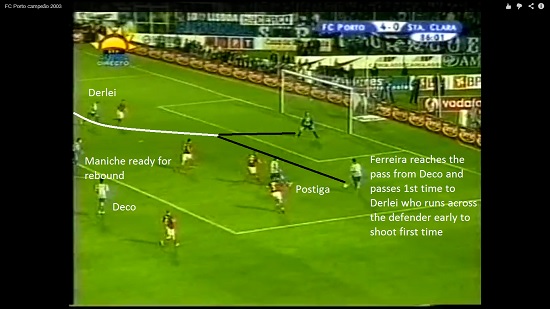 As the pass from Deco is perfectly weighted, angled and timed, Postiga is in a great position to pass across goal to Derlei who has a great chance to score. Had he moved in early, the pass may not have been available, so his decision to stay wide and wait for the best time to run is great attacking play.
[wpsharely id="2988"][/wpsharely]
Postiga scores the rebound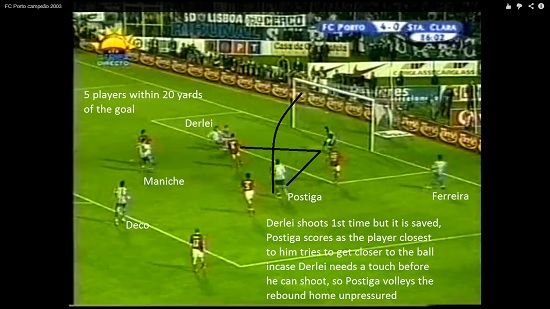 Even though Derlei does well to get into the scoring position, he misses. Luckily, Porto have 5 players within scoring range and the ball lands at Postiga who curls the ball into the top corner for 4-0.
The key parts of this counter attack were;
The initial overlap from Ferreira to help make space for Deco and open up the space between centre back and full back
Postiga's diagonal run into the space created by Ferreira's position on the side
Derlei's excellent forward play; staying wide and keeping the space open to attack the pass
By Stevie Grieve. (Follow on Twitter @steviegrieve)  Stevie is also the author Coaching the 4-2-3-1 and Coaching the 4-2-3-1 Advanced Tactics