By Stevie Grieve
In the opening match of the FIFA World Cup, Croatia played against hosts Brazil, and were tipped to struggle against one of the favourites for the tournament. Croatia can always feel confident against any team boasting a midfield of new Barcelona signing Ivan Rakitic, Real Madrid playmaker Luka Modric, and Inter Milan attacking midfielder Mateo Kovacic, they have a slight defensive imbalance as despite all 3 being able to play as a playmaker or a number 10, none of the 3 are natural holding or defensive midfielders, and in this game it showed with the distances and angles of defensive support and lack of speed to reshape in defensive transition, particularly from Modric and Rakitic.
Brazil's opening goal – Rakitic and Modric are too far apart as the ball breaks loose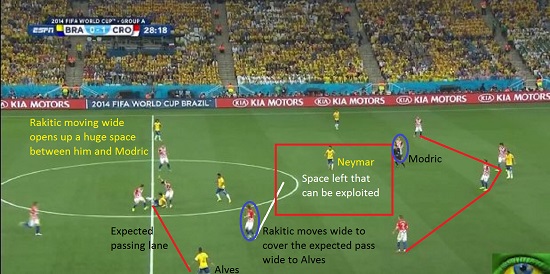 Brazil and Croatia are battling for a loose ball in midfield, Croatia should win it but don't which leaves the midfield open as Rakitic shifts wider to intercept/press Alves. In doing so, this leaves a huge space between Rakitic and Modric – as Rakitic shifts wide, Modric should pick up Neymar, and try to delay anything in that zone.
Ball breaks free, Modric and Neymar can't delay the attack and leave space to exploit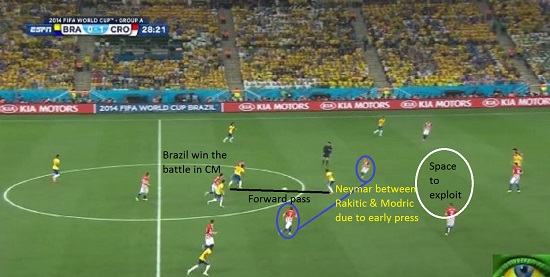 As Brazil somehow get away with the ball in the battle for possession, Rakitic now has to recover into his original position which could've forced the attack backwards and allowed Croatia to reset the defensive shape, with Modric and Rakitic close together infront of the defence.
Modric presses, Rakitic covers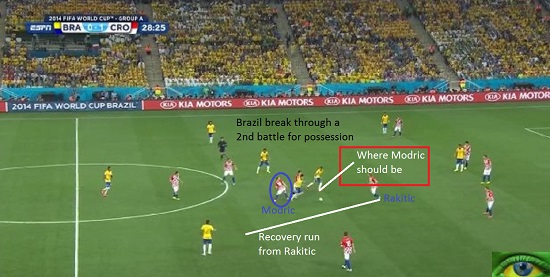 As Modric presses Neymar, he gets caught in a 2v1 for a loose ball and doesn't win possession, as Rakitic drops back to cover, but can't get in far enough (another 3m to the right to get between CB's would be better) which leaves a space to attack where Modric should be in an ideal defensive shape.
Neymar cuts into the space outside of Rakitic and scores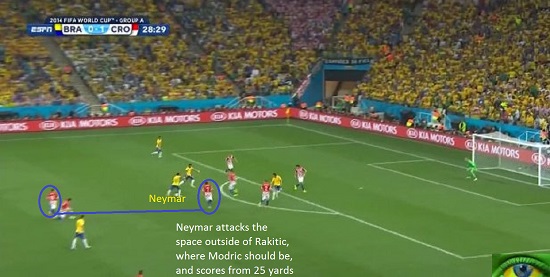 As Neymar cuts inside to the space that Modric should be in, Modric and Rakitic are too far apart and leave the defence exposed. There is a possible pass to the left to Marcelo on the overlap which would get him into a scoring/cutback/pass across the goal position, but Neymar scores.
I think that had Rakitic waited for the loose ball, then pressed Alves if it arrived, could've prevented this goal. Modric could've won the loose ball with Neymar and started a counter attack, but both battles were lost, while Neymar was slightly lucky that Pletikosa didn't move his feet before diving.
Neymar chases a loose ball as Rakitic has no support from his midfield colleagues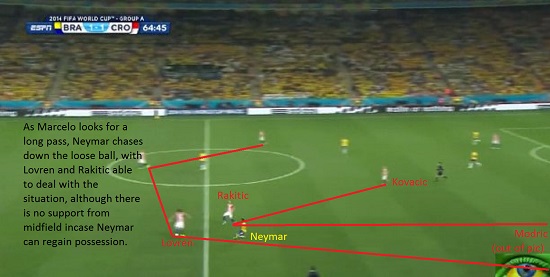 As Marcelo plays the long pass, Neymar chases down Lovren and Rakitic. As this is a transitional action, Kovacic should get into a supporting position for an outball from Lovren or the other centre back, and allow Modric to stay higher which would conserve his energy as he needs to sprint back.
Neymar pounces on a loose pass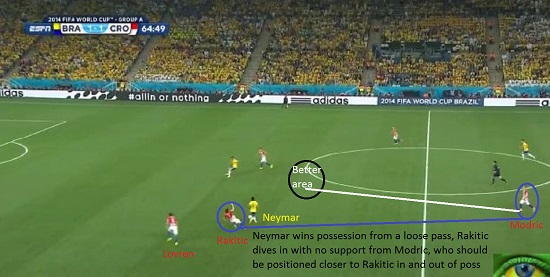 Now that Neymar has won possession, Kovacic is nowhere to be seen – he should be in the black circle, this is a position that could stop Neymar from getting into a good position. Instead, Modric knows this is his responsibility now as Kovacic isn't tracking back.
I think that Modric at 1-1 should maintain a supporting role in central midfield, and keep shape to control possession and force Brazil back, instead of leaving massive spaces in defensive transition such as this one. Once Brazil are forced back, and the distances between the lines are smaller, then Modric can support the play with shorter runs from his position into attack, making it easier for Rakitic to balance the team in a holding role, while Modric choses his attacking runs better.
[wpsharely id="2988"][/wpsharely]
Ramires and Oscar play 2v1 on Rakitic, resulting in a goal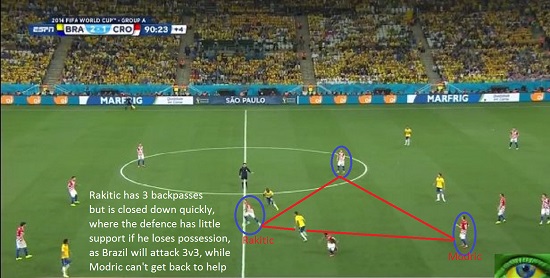 As the ball is passed back to Rakitic, he needs to play quickly but gets caught taking a touch as his forward passing options are blocked, forcing him back. As he takes the touch, Ramires shuts him down and makes a great tackle, releasing Oscar to score. The problem here for Croatia is that Rakitic can't use Modric as the passing lane is blocked by Oscar, while Ramires blocks to Kovacic, forcing Rakitic back.
Croatia are chasing the game, and despite being in good positions in midfield, Brazil have done well to win the ball in such a dangerous position.
Overall in this match, Croatia were the better team but had a problem with their defensive balance, and defensive transitions. In the next matc to fix this, they could possibly benefit from changing to a 4-1-2-1-2 with a specialist holding midfielder to release Modric, Rakitic and Kovacic, or possibly change to a 4-2-3-1 with Kovacic on the left and Rakitic as the #10, giving Modric a holding midfielder who would be more naturally suited to giving the team a better defensive balance for the next match.
By Stevie Grieve. (Follow on Twitter @steviegrieve)  Stevie is also the author Coaching the 4-2-3-1 and Coaching the 4-2-3-1 Advanced Tactics