HOW THE MATCH WAS WON by Keith Scarlett
FIFA 2014 World Cup, Brazil
Tuesday, 8 July, 2014
Germany 7 v 1 France
In what will go down as one of the most incredible matches in World Cup history, this ridiculous score line was an entirely fair reflection of Germany's dominance.
While Brazilians still talk about 1950 with disappointment and horror, what transpired at the Belo Horizonte will bring nightmares to the South Americans for years to come.
Jogi Low named the exact same starting XI that had just narrowly run-out over France in the quarter-final to begin the semi-final against the host Brazilians.
Luiz Felipe Scolari was without the backbone of his side; suspended Thiago Silva and the injured Neymar. Dante was the obvious replacement at the back, while tricky winger Bernard was quite the surprise as a replacement for Neymar, with Oscar moving inside to become the number ten. Luiz Gustavo returned from suspension which forced Paulinho out. Yet, on this day, Scolari could've started Superman, Batman and Harry Potter and played with the Sorcerer's stone and it wouldn't have mattered…more on that later…
What is more incredible than the actual outcome itself is the fact that this match was finished after just 30'…when it was 5-nil and the only thought running through Brazil's mind was, "How do we avoid any further embarrassment?"
In addition to securing a place in this year's World Cup Final, the German's were also able to avenge their 2002 World Cup final loss to Brazil in quite a convincing fashion; that is if you consider a complete a total battering of the host nation at the Estadio Mineirao convincing enough?
Germany played to their strengths and scored four first-half goals within a span of 300 seconds in what proved to be a relatively straightforward tactical match.
Here's what I thought were the tactical implications that allowed for such a devastating German showing. What are your thoughts? Please let me know what you think and what other tactics you think were a factor in this match in the comments section below.
Pressure Didn't Make Them
Brazil: enormous pressure, inflamed anticipation, a nation's obsession and hysteria amassed; all placed upon the shoulders of a fervent, useful but ultimately imperfect team. There was no doubt what happened; they snapped under the stress, but there was more to this situation than just pressure or flawed tactics or team selection or incompetent positional play or even a top-form German squad filled with players slicing incisive passes and finishing as composed as if they were school kids on the streets of Berlin. Yes, it was all of those things and yet still it was even more. A first-half blitzkrieg of goals saw Germany up 5-nil before Twitter could even finish tweeting about the first goal. Miroslav Klose procured his record-breaking 16th strike at the finals and the cruelty prolonged into the second period with Schürrle coming off the bench and bagging a brace. Mesut Özil missed a one-on-one to make it 8-0 just moments before Oscar netted a consolatory tally in the final minute of the first semifinal of World Cup 2014. Unfortunately; as it was, in 30 obscene, backwards and twisted first-half minutes, the Brazilian dream was over.
It was nothing less than a ruthless master class of German efficiency which was on full display in the first-half and specifically within that six minute period where the Germans tallied a quadruplet. This 300 seconds completely summed up a night of shambolic defending and pure embarrassment for the Brazilians. Germany opened the scoring in the 11th minute through a Thomas Muller volley, after he was left unmarked on a corner.
Before the 10th minute, the first signs of nervousness in the Brazilian camp were visible. Marcelo's poor first touch sets up a big counter by Germany. This one doesn't lead to a goal, but Brazilian players lose their footing and get caught out of position and do concede a corner.
It was on this resulting corner where David Luiz isn't defending in the middle of the box and Thomas Müller takes Kroos' service out of the air first time to score, as we see in the following image.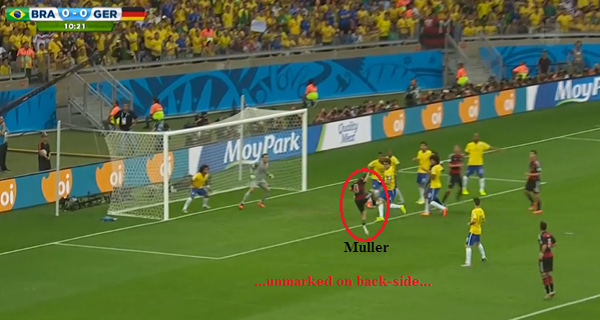 Muller then turned provider for Miroslav Klose, who followed up his initial parried shot.
In the next image we see how Kroos uses the space he has been given to pass forward to Klose, who then takes a shot which rebounds back to him of which he then sends that; his own rebound into the net.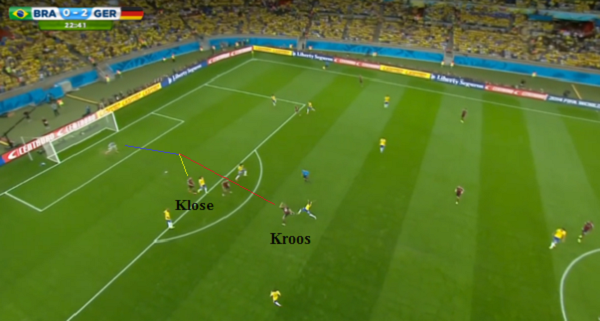 The German calmly converted and in doing so became the all-time leading World Cup goal scorer with 16 goals; surpassing who else, but Brazil's own Ronaldo and his record of 15. However, there was still more to come. Klose's strike instigated a Brazil implosion where they conceding four goals midway through the first-half. Toni Kroos rifled his effort on goal to make it three and before Brazil could even absorb the situation the ball was in the back-of-the-net again, courtesy who else; Kroos once again.
Lahm was just given way too much room to work with here where in this image we see him playing a ball into the middle where it ends up at Kroos' feet after a Müller miss. Kroos beats Cesar easily.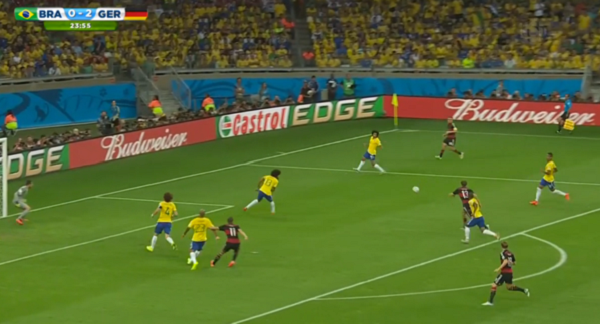 By the time a quarter of an hour had passed, this match was all about moods. The Germans were calmly going about their work while the Brazilian panic level began to peak.
Kroos steals the ball easily from Maicon, then passes to Khedira who gets little coverage from Dante and none from David Luiz. He cuts back to Kroos, who scores.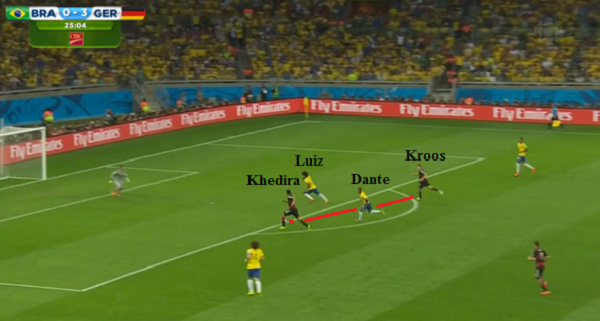 For all intents and purposes, the match was all but over when the score hit 3-0 with Brazil never looking threatening as the Seleção capitulated further as each minute on the clock ticked by.
While Brazilians still talk about 1950 with disappointment and horror, what transpired at the Belo Horizonte will bring nightmares to the South Americans for years to come.
Possession with NO Purpose
The Germans set out in a solid 4-1-4-1 which morphed from the 4-3-3 they started with, hardly even pressuring the Brazilian defenders when they had possession of the ball. This meant that Dante and David Luiz were on the ball quite a bit very early in the match from deep areas, however they had no options available to play to within their visual range, so they opted to just start lobbing long diagonal balls into Bernard and Hulk and they just kept on missing.
It wasn't that bad of an idea, really, as it was a page ripped out of France's book: going with the long ball early against Philipp Lahm perhaps in hope that their speed would allow them to find holes that the French couldn't. In the next image we see the end result of a Luiz to Hulk effort where Neuer is called upon to intervene.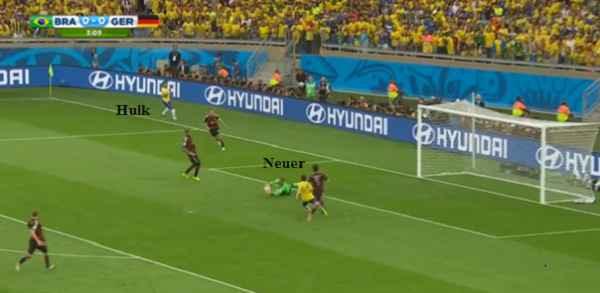 The Selecao's passing looked particularly horrid after an upsetting first 30 minutes, with passes being completed between the centre-backs and being played into the holding midfielders, but that's where they would stop. It was easy to see that more than half the passes Brazil attempted were just worthlessly thrown forward, finding nothing and in turn just turning the ball over. Germany, in contrast, looked to be the embodiment of effectual and thrifty distribution. They moved with fluidity, crafted interchanges outside the box and played unselfish, savvy football.
Being down 5-nil, Brazil had still seen appreciably more of the ball than Germany, but they had been forced to operate mainly in their own defensive half where they also committed more errors.
Regardless of the score line, Brazil is still a good side and Germany was well aware of it. Mesut Özil plays the counter pressing game to perfection here where he forces Luiz Gustavo to change direction and pause his forward progress for a moment.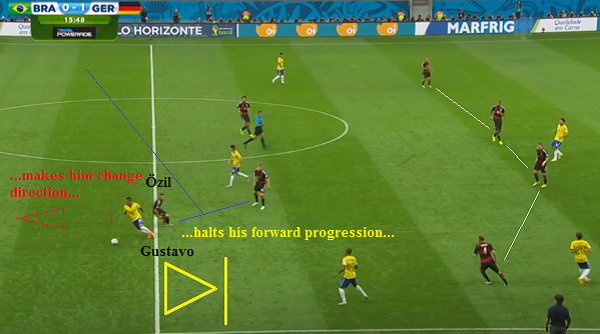 While Scolari's men continued to surge down the flanks, Löw's team were strangulating them across the middle.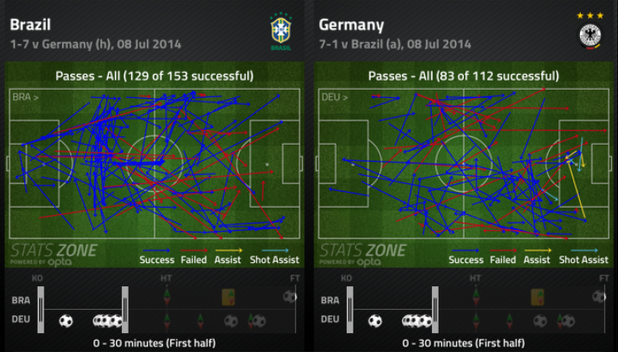 While Brazilians still talk about 1950 with disappointment and horror, what transpired at the Belo Horizonte will bring nightmares to the South Americans for years to come.
Broken Brazil
For Brazil; as the first-half that shall not be remembered came to a close the complete dysfunction in Brazil's side was absolutely incredible. They were staggered like a youth team playing 11-aside for the very first time: six defending, four attacking and no linkage in between. The six were unable to get the ball to the four and the four did absolutely nothing to help the six win the ball. It was the perfect example of a classic broken side and not something usually witnessed at this level of the game.
Scolari made some adjustments at the break bringing on Paulinho and Ramires for Hulk and Fernandinho, respectively. If anything, simply hoping to inject some energy into a listless group of men. He also had his charges switch to modified version of a 4-3-3, with Gustavo dropping back behind Ramires and Paulinho.
While Brazilians still talk about 1950 with disappointment and horror, what transpired at the Belo Horizonte will bring nightmares to the South Americans for years to come.
To be truthful, this is the shape that Scolari really should've have started the match in and to be fair, Brazil did rally at the beginning of the second half finally forcing Manuel Neuer to actually work for his day's wages.
The most important adjustment made at the break came from the Germans, however. Andre Schurrle came on for Klose and just as he did in the Quarterfinal match vs. Algeria, he played upfront and brought pace to get in behind, which was absolutely perfect because Brazil was going to pile men forward and leave space wide-open at the back.
Scolari's final change was replacing Fred with Willian and playing without a striker. This was once again an attempt to bring more energy to his side, while although to be honest; here was so-much more that Brazil really did need. So much more that Oscar's 90th-minute goal wasn't even a consolation.
It was simply due to a last-minute lapse in concentration from Germany. A long ball was served out to Oscar on the left and Boateng doesn't do much at all to cover him. Oscar cuts inside and shoots past Neuer, who is not happy about not having his clean sheet.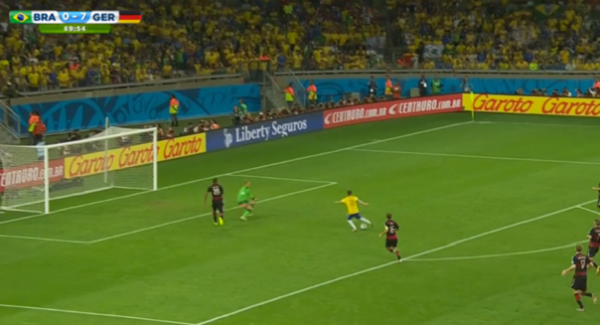 While Brazilians still talk about 1950 with disappointment and horror, what transpired at the Belo Horizonte will bring nightmares to the South Americans for years to come.
Brazil's Twisted Time in Their Terrible Third
While Brazil's defence was already causing themselves enough problems, the few chances that their midfield could create ended up being wasted away due to Fred's poor ball control and his lack of pure football instinct.
This complicated the issue as the hosts tried to get back the equalizer. Löw's troops continued working hard to prevent just that. For example, the next image shows a perfect tackle from Lahm on Fred which prevented Fred from creating a scoring chance; frustrating him and his teammates, who were coming to the quick realization of what they were up against with this German side.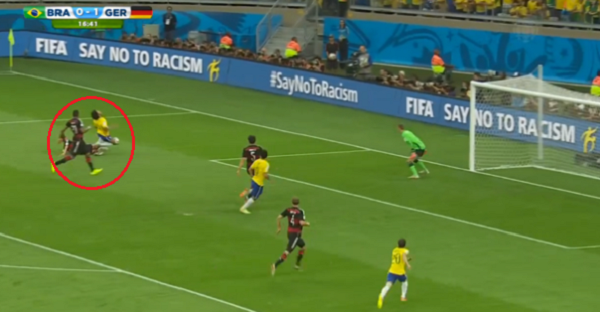 This performance, once again, raises questions about the desertion of that attacking thrust the Seleção used to possess. Hulk, once again, seemed uncomfortable playing out wide on the left. Lahm completely cut him off in the first 45' and his contribution was so negligible that he was replaced by Ramires at half time. While his normally tremendous work rate was stored away in the same hidden location as the rest of the Brazilian's game, Oscar was still left isolated and with very little options available to go forward. Brazil's dismal first half performance was more than enough for the Germans to put this match to bed.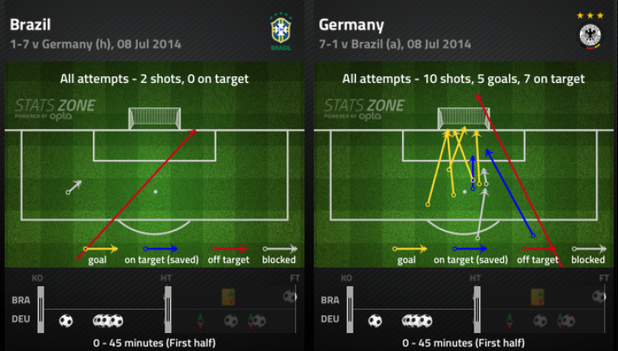 As impressive as Germany's ruthless and selfless counter-attack was, it was the methodical manner of which they prevented Brazil from playing through the midfield.
The Germans bunched up in the middle, ahead of the area while Brazil try to get something going. The Germans have the hosts outnumbered and they easily cut off any Brazilian passes. Notably thanks to a deep-lying Bastian Schweinsteiger who wins the ball in the following image.
That high line that was so perilous in Germany's 2-1 victory over Algeria…well…it was just perfect against Fred; a slow striker who didn't offer any threat of running in behind the opposition. He always wanted to check-back short and Germany were had no problem pushing up with him and using an even higher line.
What this did was allow the midfield a free license to press with Kroos marking Fernandinho and Khedira pushing up on Gustavo. The fourth goal summed up this simple strategy perfectly: Kroos caught Fernandinho in possession, swapped passes with Khedira (who was also pushing forward) and scored the fourth. Khedira netted the fifth after David Luiz had charged out to challenge and left Dante isolated.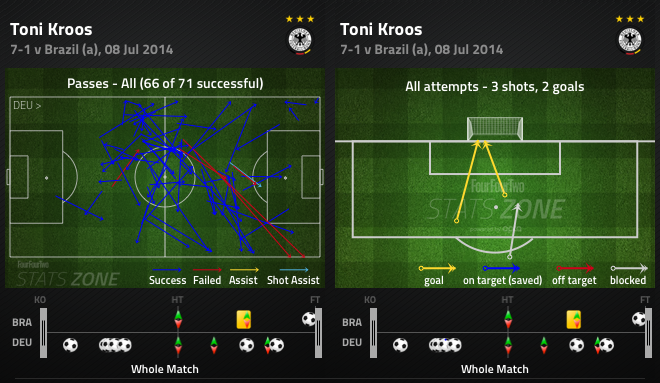 Germany's simplistic midfield press gave the Brazilian backs nowhere to go with the ball. Fernandinho and Gustavo were being tracked, while Oscar tried to collect possession in very advanced positions in behind Bastian Schweinsteiger. For some reason it took Oscar surprisingly long to realize he needed to drop deeper and work the ball forward at a more gradual pace.
This next graphic shows the passing over the initial 30 minutes. All Brazil did was just simply play the ball back and forth across their defense, while Germany worked it forward quickly: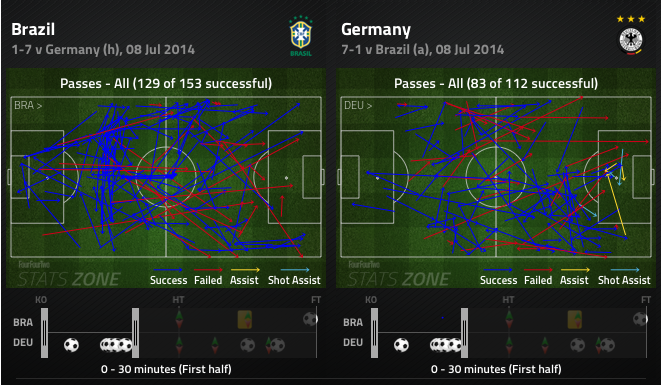 There came a certain point, however, where Brazil's players had just completely lost all confidence and their midfielders just simply stopped looking for the ball.
One of the reasons Germany had such success in the first half was the shape they were able to maintain when they lost possession. Low's side would drop back into a 4-1-4-1 when they didn't have the ball with Sami Khedira pressing Luiz Gustavo, Toni Kroos tracking Paulinho and Bastian Schweinsteiger monitoring Oscar's movement.
By dropping back into the classic 4-1-4-1, German could play it safe and keep things simple. Müller and Özil would stay wide like they were supposed to. Khedira and Schweinsteiger handled the central midfield duties, with defenders across the back. Kroos and Klose could roam to create space as needed, with Lahm and Höwedes providing support. As classic as it gets.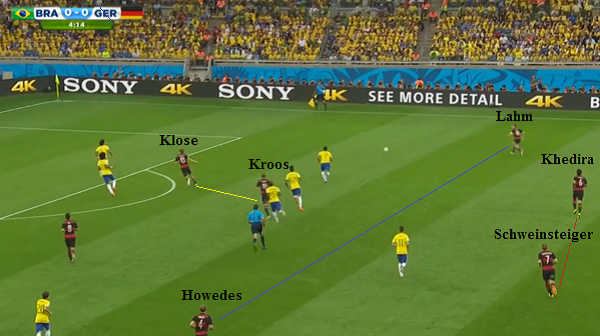 Staying in close proximity to the Brazilian midfield, the Canaries centre-backs had no passing options available and were forced to play direct. Low's side negated the host's threat in the heart of the pitch and without any midfield runners and also combined with Fred (who's not renowned for his pace) upfront, the German back-line was free to play higher up the pitch.
Brazil left this space to the Germans all day long. In the next image take a look at Maicon, one of Brazil's attacking threats, who is too high on the right flank. His midfield compatriots don't fare much better because the German midfielders have all the room they need to operate and go forward to create chances.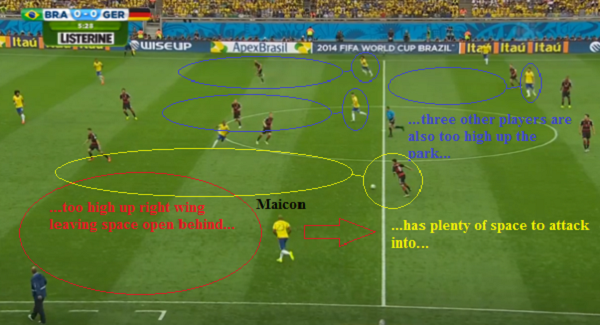 Brazil encountered some identical issues throughout the tournament themselves, yet they insisted on relying on quick transitions to score goals and with Neymar unavailable, it just always felt that a moment of brilliance from a set piece would be their only, single and solitary outlet for generating a goal. Sad isn't it.
16
Paging Luiz…David Luiz…
With all of the issues that Brazil was dealing with in the match, at the crucible of them all was one man: David Luiz. He had one of those matches that some pundits will use to bolster the idea that maybe he's "not a proper central defender" and the evidence on display from this one match would be a pretty gruelling argument for even Johnny Cochran to dispel. With the absence of Silva, Luiz was called upon to be the key man in defence but he was absolutely miserable! He was out of position more often than he was in it and as things became more and more, he began intensifying his runs forward resulting in a plethora of errors of which the Germans retaliated harshly and even though that's to be expected while chasing a game, he did this way too often for comfort.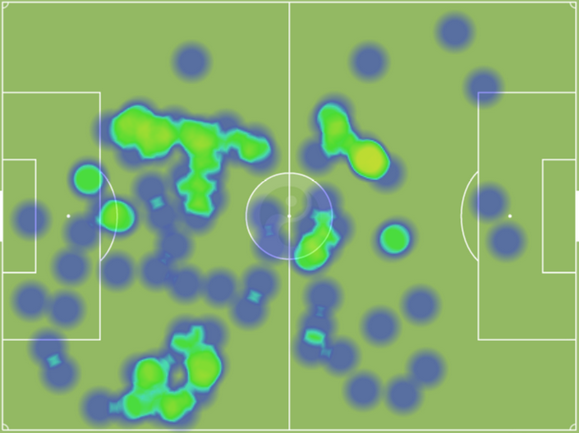 David Luiz' Heat Map
What's so odd about David Luiz's performance is not that he completely lost his head after half-time, but that he did so after being the only Brazilian to really make anything happen in the first-half. Passes into the midfield zone simply weren't an option, so it was entirely natural that he hit accurate long balls and attempt to dribble forward.
He did hit some excellent long diagonal balls to the left; usually finding Hulk and went on a couple of mazy runs, which actually worked out nicely because the Germans were so effectively man-marking in the midfield this forced someone to leave their man to try and stop David Luiz. Klose, in fairness, worked very hard as well, often battling back and even at one stage receiving David Luiz's elbow in his face when trying to make a tackle.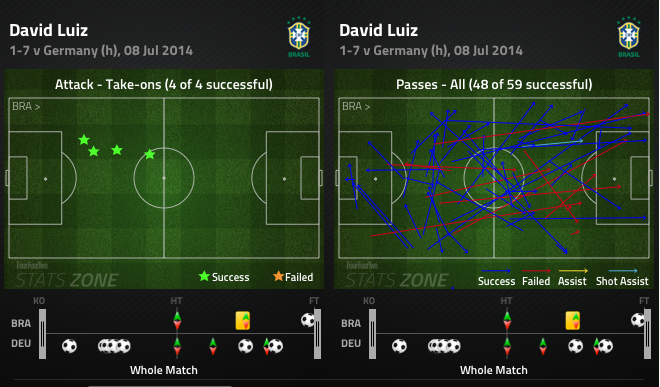 Brazil's capitulation can be attributed to David Luiz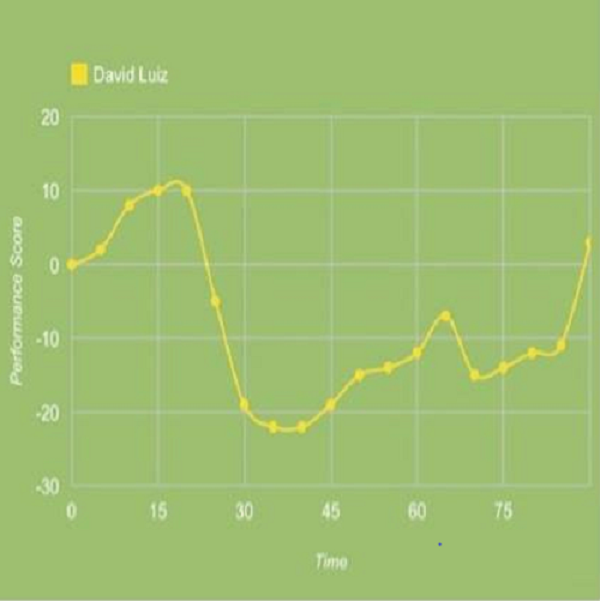 David Luiz Performance Index
This should be regarded as one of the most historic defeats the game of football has ever seen: the hosts, pre-tournament favourites and the most successful side in the history of the World Cup were excruciatingly humbled 1-7 in their own country and in the World-Cup semi-final. It was an absolute thrashing.
So, to summarize: there were two key reasons Germany won. First; Muller (and Khedira and Lahm) broke in behind Marcelo, who endured a horrendous opening first half hour. Second; the midfield pressing was intense, enabled by the high defensive line and Germany refused to let Brazil play through the midfield.
Everything was carried out brilliantly, but it wasn't actually a particularly complex approach from Germany and I sense that they even had another gear if it was required. By the second half, they were surely saving themselves for the final, with substitute Schurrle attempting to play his way into the starting XI.
Everything went completely wrong for Brazil. The selection of Bernard sums it up best; it was a surprising decision and I have to wonder whether it was made because Bernard is a Belo Horizonte boy and received a tremendous reception from this crowd when he played in this stadium at the Confederations Cup last year? Maybe Scolari was trying to replace Neymar's popularity, rather than his attacking impact. The effect on the pitch, of course, was that Brazil were horrendously broken into two sections; not that Bernard was, individually, at fault.
While Brazilians still talk about 1950 with disappointment and horror, what transpired at the Belo Horizonte will bring nightmares to the South Americans for years to come.
Or then again…maybe it was just that simple in the aspect of How The Match Was Won!
What do you think?
I would love to hear your thoughts about this or other tactics of the match that were an important factor in its outcome. Let's discuss it below in the comments section.
HOW THE MATCH WAS WON by Keith Scarlett, Assistant Women's Football Coach – Perth Glory FC, Australia, former U.S. Soccer National Staff, follow him on Twitter @keithscarlett and catch his personal blog, "An American Coach Down Under:" http://keithscarlett.blogspot.com