HOW THE MATCH WAS WON by Keith Scarlett
FIFA 2014 World Cup, Brazil
Monday, 19 June, 2014
Uruguay 4 v 0 England
In a World Cup Final where England finally lacked expectations heading into the tournament, they still somehow managed to find a way disappoint; and this time coming off a match where they showed positivity even in defeat against Italy. The expectations were at the minimum for England to build upon their showing in their first match and continue to impress in their second match of the Group Stage vs. Uruguay. Unfortunately, they put in a lacklustre performance.
Uruguay weren't entering this match with the highest level of momentum themselves. They too had suffered defeat in their opening group match and were expected to do the same as England in this outing. The only difference would be the fact that they would be encouraged by the return of Luis Suarez.
Here's what I thought were the major tactical aspects that gave Uruguay the edge over England. What are your thoughts? Please let me know what you think and what other tactics you think were a factor in this match in the comments section below.
Initially, I wasn't quite sure how this match would play out. Would these two sides go after each other's throats or would the opening be a cagier affair? Unfortunately, it was the latter and it was only after an early period of caginess that it became evident of England's different approach this time compared to their opener against Italy. In this game England would be looking to play from the back, be patient during build up, trying to lure Uruguay into a press and be looking to play in-between their lines. This was quite different to the counter attacking style implemented in their first group match which seemed to really enhance England's best quality; speed. This counter-attacking play was used in an attempt to exploit the space quickly upon transition while also protecting the back four, whom are quite vulnerable when left exposed. Knowing this, it did appear rather odd to change tactics from those used in such a promising showing in their opening run-out.
Early in the match England found themselves consistently playing 6v3 against Uruguay in a patient attempt to play from the back. This was an early indicator of problems this tactical change would eventually prove evident. Soon after, the English found themselves with a large divide between their front four and their back six, partially due to Wayne Rooney playing too high which resulted in hopeful services from depth, but also by the double pivot being way too deep. The front three from Uruguay were able to disrupt England much too easily by pressing high and forcing aimless clearances and negative play.
In the following image we'll see an example of Uruguay's front three disrupting things for England, as they make it difficult for 5 England players to release the ball forward and in turn a large gap of space is left wide-open for the taking in the center of the park: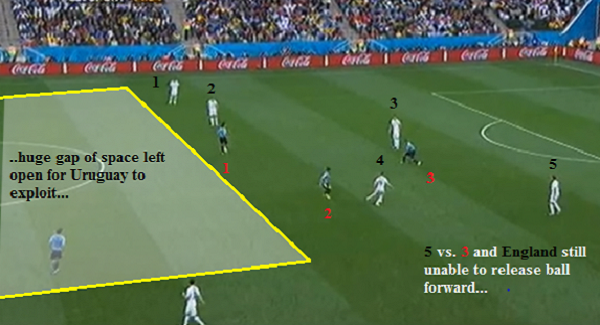 Roy Hodgson's plan for this tournament was to field a fluid attacking quartet that could interchange positions and create unpredictable fast-paced attacks while still maintaining a coherent defensive structure. Uruguay's defensive approach was nothing more than a simple response to this plan: flood their own defensive third with bodies and deny England the space to operate.
What followed was more than even Uruguay could have hoped for. England's attack became so disjointed that many wondered whether different attackers were given different game-plans for this match? Every time one of England's front-runners dropped back to help start an attack, the central movement in-front of them disappeared entirely. This left the Three Lions with no options but to play the ball out wide before trying to re-enter the Uruguay-dominated centre of the park.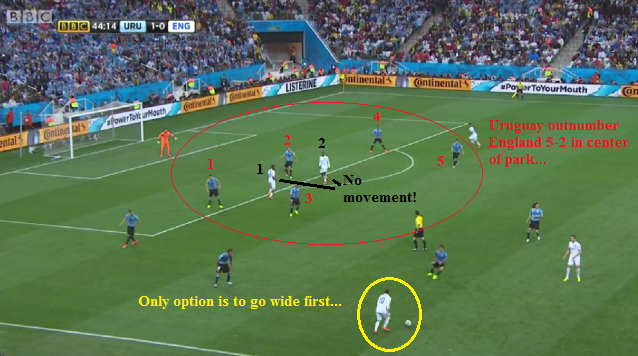 All the talk coming in to this match surrounding the England camp was about Wayne Rooney's positioning. The United man played the previous match out wide in a pretty awful performance despite setting up England's goal. Raheem Sterling, who played the central role vs. Italy, was moved to a wider position this time out, which allowed Hodgson to accommodate Rooney in that No.10 role.
However, despite finally ending his World Cup duck and achieving a personal goal; Rooney once again, was pretty awful. He didn't inject himself into the game enough, failed to provide a creative threat and his influence on the side was remarkably low. A chance from right underneath the post was sent begging, he missed two other incredible opportunities, his passing was lacking and with him playing a role that involves rotating possession rather than creating chances as a No.10 he just struggled to put his fingerprint on the match. A smarter player would have done more to find space to turn and pose problems for Uruguay.
In the next image we see just that: Rooney is locked-up by three Uruguay defenders, but has space to check into on both his left and right…and Uruguay has yet to apply ball pressure so the time is right for him to release from his marks, but he has not done so and has rendered himself obsolete.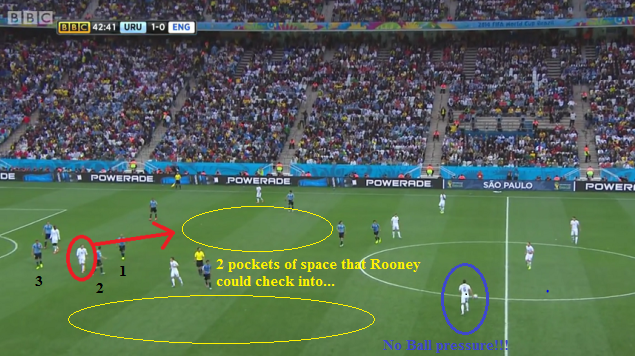 The game-plan Oscar Tabarez laid-out had a clear defensive mind-set; one which utilized midfielders in good positions who could blow-up England's play and prevent their attackers from having any sort of impact on the match. He tasked each player with a specific responsibility in their respective zones; a simple defensive scheme that worked perfectly.
It was the responsibility of Alvaro Gonzalez and Cristian Rodriguez to prevent the wide players of England (Welbeck & Sterling) from contributing to the attack. Nicolas Lodeiro was charged with marshaling the Uruguay defense that was positioned just ahead of them in order to prevent Gerrard and Jordan Henderson from influencing play. The only task Rios had was to prevent Wayne Rooney from putting his thumbprint on the match and he stuck to this task (and man) throughout the length of the contest.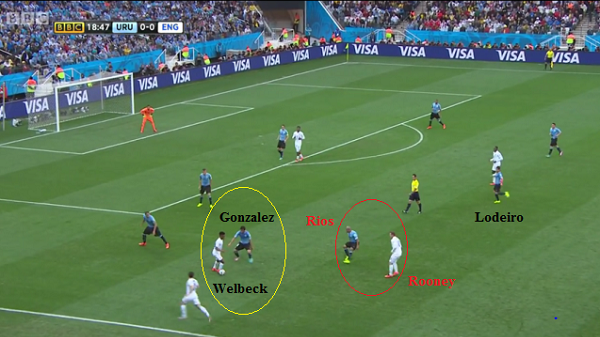 Tabárez intended to keep his defensive game-plan simple and in-turn easy to implement: flood the defensive third, be the first one to every ball and afford England as little space and time as possible. Not only was this game-plan simple, he also had committed and mentally strong players to carry it out to perfection.
There were times when Rooney had to drop-back in an attempt to help build-up play through the different thirds of the field, but when that would happen he would drop too deep and get pressed hard by Uruguay. This would then force him to often play negative or end up losing possession all together.
England's best chance of playing through this initial press from Uruguay was via a flanking midfielder checking inside to receive the ball and if the next line of pressure wasn't high enough then Welbeck and Sterling would receive the ball in space and then turn.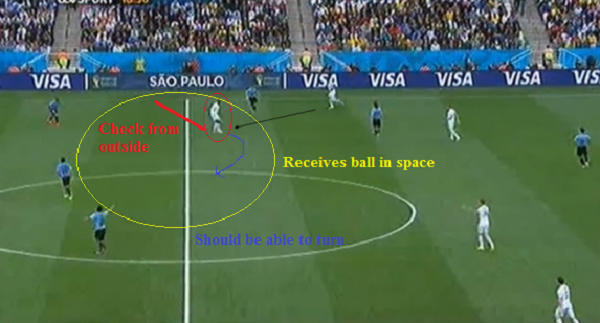 What this would do is serve as a trigger to engage both outside backs to advance and if Rooney stayed high or looked to receive the pass then that is when England would have their best chance of success when going forward. In addition, Sturridge would also need to move into the space beyond the wide midfielder and help combine in those wide areas. Unfortunately, this option of playing from the back wasn't used often enough against Uruguay.
When Uruguay had possession, no serious issues seemed to derive from a deep organized structure. However, England's lack of ability to deal with a negative transition became evident. Uruguay consistently looked to play forward as soon as possible with quick combinations and a ball in behind to Suarez as their initial thoughts. With both centre-backs usually pressed high, the defensive qualities of these two centre-backs and the 'so-called' "double pivot" to deal with the large amounts of space were heavily tested time-and-again.
Uruguay came out of the locker-room and applied heavy, constant pressure for the first five minutes of the second-stanza as England tried once again to build up from the back. Uruguay's pressure re-activated England's problems and caused them to have to play longer passes. These lengthier balls were usually intercepted by Uruguay who were looking to transition quickly, punishing England when they caught them out of shape. England's failure to deal with Uruguay's pressure led to several chances.
The image below shows England's shape just 8 seconds after the ball is played towards their most advanced player. The lack of midfield presence alone is troublesome in the 4v5 scenario, but the back four's inability to adjust and deal with defending space allows a simple one-two between Suarez and Cavani that results in a shot on goal…and…that is extremely problematic.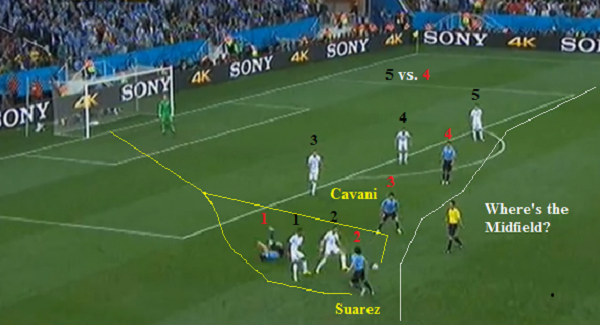 In the final half hour, England began to advance Gerrard and Henderson in more forward areas looking to help support the linkage between the back four and the front four. Both were used to support outside backs in wide areas as the flank midfielder was looking to play inside. This helped with combination play in wide areas and resulted in several crosses including a quality chance for Rooney. The image that follows shows Gerrard advancing beyond Rooney with both outside backs providing width.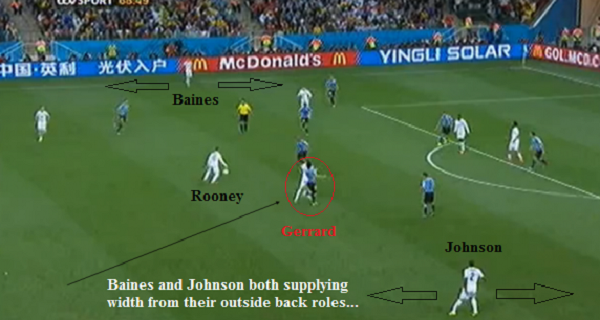 With the win, Uruguay increased their chances of progressing and held their fate in their own hands with one final group match against Italy in the cards. Tabarez' men disappointed against Costa Rica in their opener, but were certainly impressive against England, a match which put emphasis on their defence rather than their attack; and that is How The Match Was Won!
What do you think?
I would love to hear your thoughts about this or other tactics of the match that were an important factor in its outcome. Let's discuss it below in the comments section.
HOW THE MATCH WAS WON by Keith Scarlett, Assistant Women's Football Coach – Perth Glory FC, Australia, former U.S. Soccer National Staff, follow him on Twitter @keithscarlett and catch his personal blog, "An American Coach Down Under:" http://keithscarlett.blogspot.com