HOW THE MATCH WAS WON by Keith Scarlett
FIFA 2014 World Cup, Brazil
Monday, 16 June, 2014
Germany 4 v 0 Portugal
Controlling? Definitely!
PLUS
Quick. ...as fire.
PLUS
Decisive. …as rain.
PLUS
Dominant.
Equals Germany.
Undisciplined. Definitely!
PLUS
Slow. …as smoke.
PLUS
Sloppy. ...as slush.
PLUS
Subordinate.
Equals Portugal.
This World-Cup opener for both of these World Powers was more like watching Dr. Jekyll and Mr. Hyde play each other for 90 minutes than it was a showcase of the #2 and #4 ranked teams in the world. One side stepped between the lines on the beautiful pitch in Salvador fully prepared for the World Cup and one was as ill-prepared as they could be for the same occasion. For the Germans; it was utter euphoria and for the Portuguese; it was utter embarrassment. Thomas Müller's hat trick and Hummels' fourth of Germany's four goal tabulation was added up so easily as if Portugal never looked like they had even wanted to show up to the match.
Here's what I thought was the major tactical piece that allowed Germany to be so dominant. What are your thoughts? Please let me know what you think and what other tactics you think were a factor in this match in the comments section below.
Throughout this tournament, the Germans were always going to be a unique tactical bunch, as they planned to run-out most of their matches without an all-out recognizable striker; called playing with a "False Nine."
Now, before we can really go any further, we first need to address what exactly is a "false nine" and be sure that we understand it because if we don't then it becomes quite difficult to properly analyse Germany's World cup tactics.
So, what is a "False Nine?"
The term "false nine" has entered into or football vocabulary within the course of the last decade. It's a term that is used to describe a player whom is positioned as a striker, but functions more as an attacking midfield playmaker than a regular striker.
Francesco Totti is generally considered to be the first plyer to play the role of what modern football is considering a "False Nine."
It was while Totti was playing for Roma under Luciana Spaletti that he found himself in what at the time neither he nor Spaletti could've imagined would become such an innovative tactical adjustment of the football mindset.
Totti was never a striker, but was a creative playmaking midfielder, however Spaletti was suffering from a shortage of strikers so he decided to place Totti up-front, but give him license to drop back and help create play.
In the following diagram we'll look at how Germany set themselves up in attack against Portugal incorporating what Spaletti and Totti first implemented at Roma. In this set-up Muller is playing the role of the "False Nine":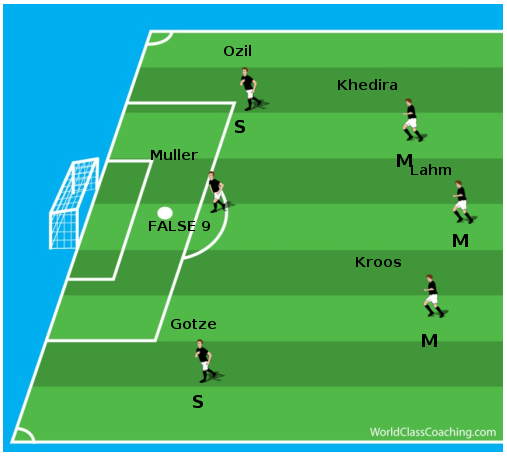 On many teams and in many tactical systems, Muller would be the player who would look to stay as a fixed reference point at the head of the attack and look to get himself into the box to get on the end of crosses.
However, Muller; instead, looks to drop off the front and link-up with the midfield; as the following diagram shows: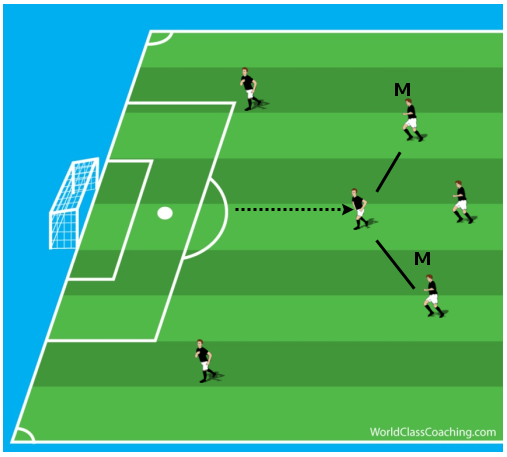 Now, what this did was make the central defenders for Portugal, Alves and Pepe, unsure of themselves as to whether or not to follow Muller when he dropped back into deeper areas.
Whenever they did choose to drop with Muller, it created space for German midfielders to run in behind them and even in behind the entire Portuguese defence.
The following diagram shows how Muller continued to pull Alves back with him and out of position which opened-up that space not for a teammate to run into and it also left Coentrao isolated on an island (discussed later in article):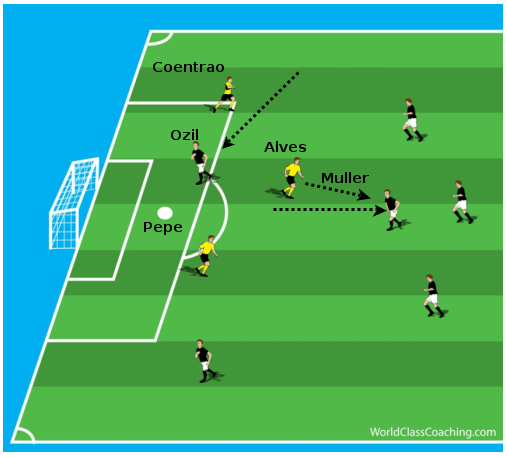 This next image from the actual World Cup match against Portugal itself shows the exact same situation. Muller has come back into the middle to receive a ball from Lahm and has sucked both Alves and Coentrao up with him (Pepe had already been ejected at this time). He simply returns the ball back to Lahm while Ozil makes a run into the space behind Coentrao of which Lahm finds with a nifty through ball.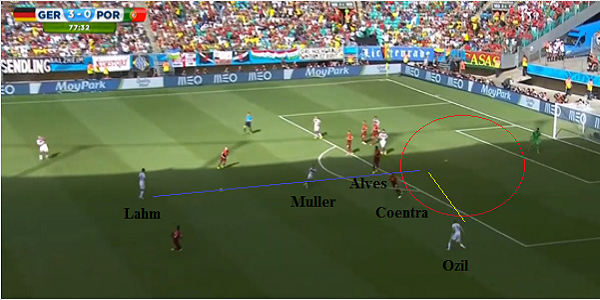 This tactical concept called a "false nine" has become the new "it" thing in football of recent years and very few teams have been able to make it look quite as appealing as Germany did against Portugal. Müller played in a more central role and he had Götze and Ozil on either side of him.
In the next image, Muller has checked back, pulled Moutinho up with him, received the ball, turned with it and then finds Ozil running in behind the Portuguese defense.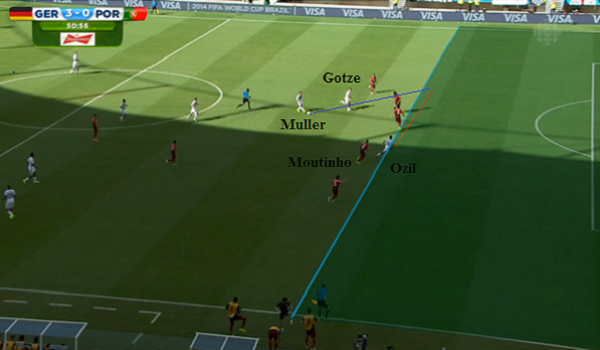 This comprised the German front three that spent the arvo terrorizing Portugal's meandering back-line. Sharp and unpredictable in their movement, they combined with the midfield triplets; Khedira, Kroos and Lahm, whom were more than happy to reward these runs with such accurate insertion balls from the midfield with such precision that only a surgeon could truly appreciate.
There is no better example of this than the third goal that Germany scored on Portugal. Kroos had the ball on the left-side and found himself with so much open grass he could have started a ranch because Portugal was too busy trying to figure out how to track, mark, stay with, see, find…whatever…the three German strikers who were running around in what appeared to be chaos to everyone else but was completely organized to the German side (Organized Chaos). He ends up finding Muller making a clever run through a seam in the middle of the Portuguese back-line with a killer pass…and…well, Kroos delivers and Muller puts the match out of reach: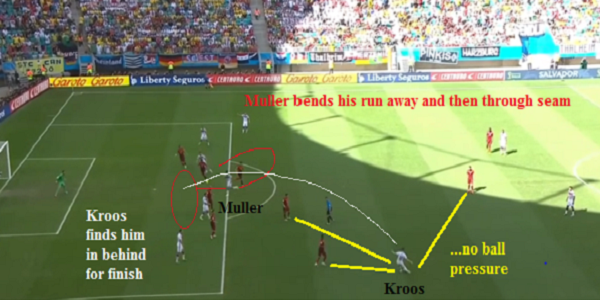 Now, to be fair, we really need to give the German's the same credit defensively as we are offensively for the grotesque attacking show of form from Portugal. See, with the Germans, everything begins with a solid foundation based upon Hummels and Mertesacker as the two gargantuan pillars in the heart of the back line.
In the next image, besides Hummels and Mertesacker, also note both the defensive shape Germany is able to maintain while in transition as well as the ball pressure applied and the lack of space they are allowing any of the Portuguese players to have.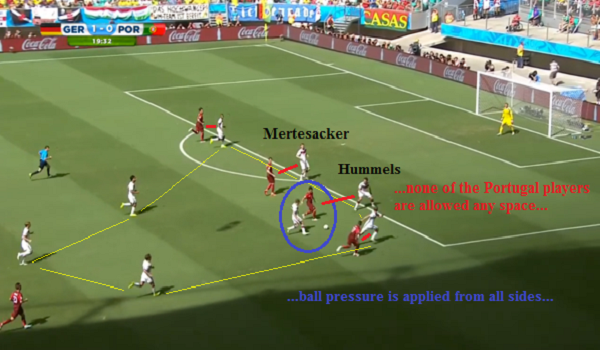 Boateng was on their right and did something that so many right backs have lost their careers trying to do but have failed; he kept Ronaldo handcuffed and was able to get forward into the attack. He knew that Ronaldo would not track back much. Ronaldo and "tracking-back" are two words that will never be synonymous. He knew this and he exploited this. That space in behind Ronaldo that was left exposed when Ronaldo didn't track-back; that's what Boateng took and took at will.
We'll see in the next image how Ronaldo went, Ronaldo lost ball, Germany won ball, Ronaldo stopped, Boateng took space, Germany found Boateng, Ronaldo walked back, Boateng attacked at will: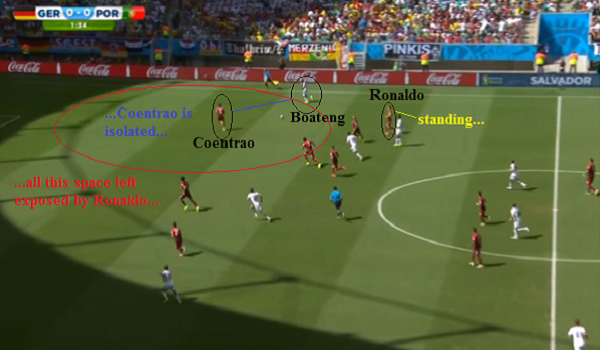 Then to compound the situation for Portugal, these advanced runs from Boateng caused issues for Coentrão who was left isolated all alone on the left-side.
This issue is magnified in the next image where not only do we see Coentrao isolated all alone defensively on Portugal's left-side, but we also see the aftermath of such isolation as he has been beaten and Germany is attacking the space behind him.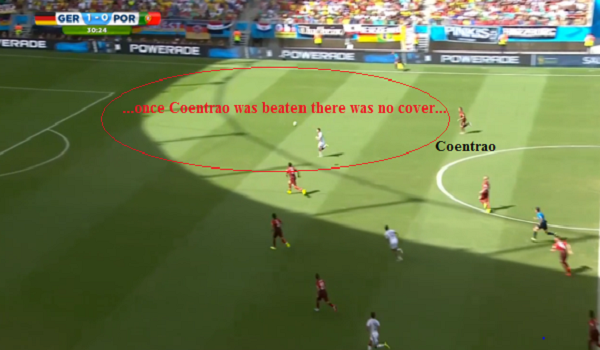 However, they weren't the only Germans in fine form that day. The entire German squad deserves an equal amount of credit across the board as they all played an equal role in the demolition of the #4 ranked Portuguese.
The Germans whether in attack, transition or in defence was a thing of beauty. In particular is when they were defending that they were putting on a master-class as it was then when they would often set up walls; or layers, if you prefer.
They would establish a Midfield layer, followed by a defensive layer. In the following image Portugal's Nani is uncovered on the bottom right, but Germany isn't worried about it. Because the Germans refused to give the Portuguese a chance to operate in the middle they were conceding the fact that Nani might eventually carry it on the right.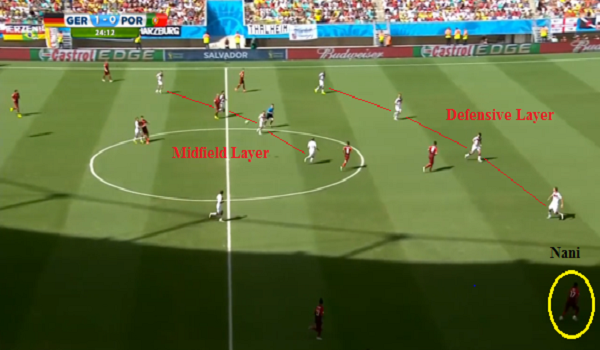 With anticipation that Portugal will end-up trying to find Nani, the German Defenders are more than ready to give some space to the ball carrier's support, as long as he is well covered. In the next image, we see this as Nani's passing angle is very poor and he has a German defender up in his grill. All of Nani's options look bad.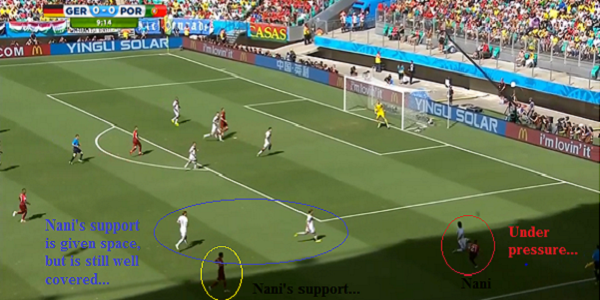 This is the type of defending that Germany would need in a tournament where even the top teams looked suspect on defense, because on this day…this is How The Match Was Won!
What do you think?
I would love to hear your thoughts about this or other tactics of the match that were an important factor in its outcome. Let's discuss it below in the comments section.
HOW THE MATCH WAS WON by Keith Scarlett, Assistant Women's Football Coach – Perth Glory FC, Australia, former U.S. Soccer National Staff, follow him on Twitter @keithscarlett and catch his personal blog, "An American Coach Down Under:" http://keithscarlett.blogspot.com