By Stevie Grieve
When Real Madrid played at home v Bayern Munich, many pundits (including myself) felt that Bayern would arise from their recent slump in form since winning the league and turn it around against Real Madrid.
Carlo Ancelotti however, has experience of multiple Champions League semi-finals and knows how to navigate his team to win against a difficult opponent. He knew that Bayern would come to dominate possession, so he wanted to do two things – leave minimal space between all of the lines across the field to stop Bayern from penetrating and getting into dangerous positions, then win possession and use the blistering pace of Ronaldo, Bale, Benzema, Di Maria and Coentrao to hit Bayern Munich on the counter attack, with Modric and Alonso staying to screen in transition.
Benzema Goal – Ronaldo finds Coentrao behind the defensive line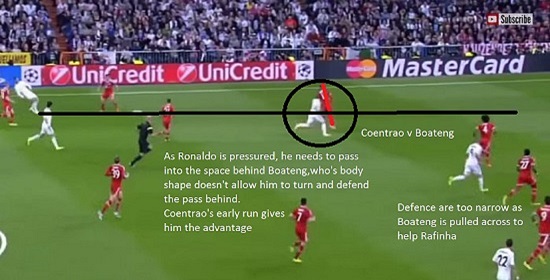 Fabio Coentrao is an exceptionally fast full back, and outside of being a good 1v1 defender, he is also dangerous in attack, particularly on the break with Ronaldo on the left, where they play together for Portugal. As Ronaldo is in a deep position and with players around him to slow down his attack, Coentrao makes the penetrating run to the space behind Boateng, who is isolated from Dante as he is drawn over to help defend Ronaldo's side – but he is too narrow to defend against this attack as the ball is on one side, and Coentrao is on the other.
Coentrao finds Benzema who pulls away at the correct time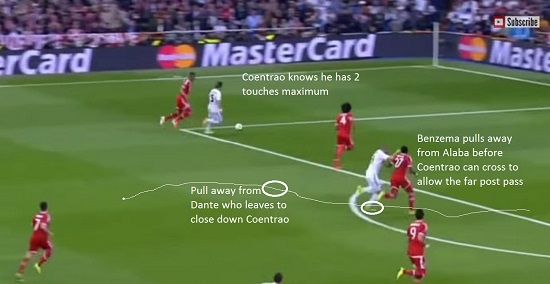 As the ball behind Boateng isn't able to be defended as his body shape wasn't in the correct position as the ball was played behind him. As the ball is played, Benzema pulls away at the right time from Dante onto Alaba, and then from Alaba to the space he wants the ball in.
Benzema's tap-in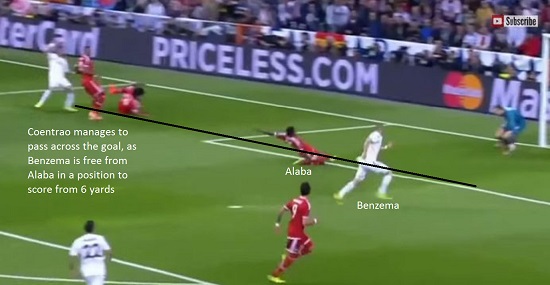 As Benzema pulls away early from Alaba, is makes it easy for Coentao to decide where to pass to, and as Alaba was so narrow to help cover Dante, the space at the far side is open for a goal.
Real Madrid again Counter behind Boateng and Rafinha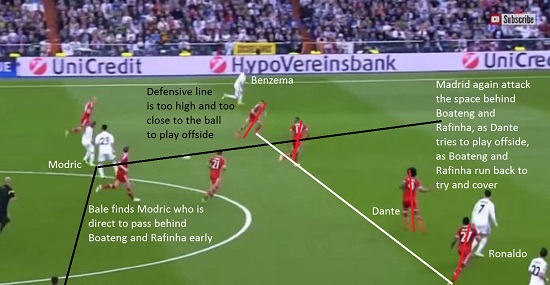 [wpsharely id="2988"][/wpsharely]
As Madrid win possession, they play diagonally to get behind the far side space through Benzema, with Ronaldo and Di Maria in dangerous positions.
The defensive line needs to retreat as there is no pressure on the ball to allow an offside trap to be effective, but Dante hasn't realised this and keeps Benzema clearly onside, resulting in Bayern scrambling to get back and deal with the impending goal scoring chance.
Ronaldo misses a clear chance to score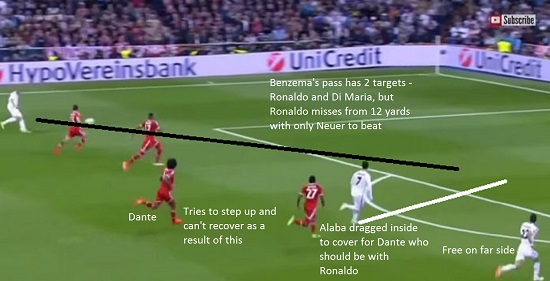 As Benzema plays the early pass, this stops Bayern from being able to recover and get behind the ball. Alaba is forced inside to try and catch Ronaldo, which he is unable to do. We can see Dante hasn't recovered from trying to step up, while Di Maria is free incase the pass is heavy.
Real Madrid went on to win the home leg 1-0, and put themselves in a great position for the 2nd leg, where they would use a similar game plan, which I will show in a future blog post.
By Stevie Grieve. (Follow on Twitter @steviegrieve)  Stevie is also the author Coaching the 4-2-3-1 and Coaching the 4-2-3-1 Advanced Tactics