HOW THE MATCH WAS WON by Keith Scarlett
Bundesliga
August 29, 2015
Bayern Munich 3 - 0 Bayer Leverkusen
Bayern Munich's first real test of the season was against one of their more serious rivals in Germany, Bayer Leverkusen; a team feared for their pressing. Yet, they were able to get by with their technical quality and a lot of availability.
Here is what I thought were the key tactical aspects that played into the outcome of this match. What are your thoughts? Please let me know what you think and what other tactics you think were a factor in this match in the comments section below.
Facing a possession team like Bayern, the opposition promised much, in the field and tactically. Boateng was suspended and Benatia was injured so Pep Guardiola had to rethink his defense to prepare for this match.
Guardiola preferred to play with a defense consisting of three; Lahm, Alaba and Bernat. Three players that have the technical skills to outwit the opposition's pressure. These three were supported by Xabi Alonso.
Roger Schmidt's players, however, did not deny their own gambling principles and maintained a high first line of defense. Kiessling and Calhanoglu framed Xabi Alonso in the middle, leaving Alaba in possession. These two "attackers" positioned themselves centrally, just outside the defensive third of Bayern.
Behind them, Bender and Kramer found themselves in two-against-two situations while still having to deal with Thiago Vidal. Same thing for defenders against the Bavarian offensive quartet (Wendell and Robben; Tah and Lewandowski; Papadopoulos and Muller; Hilbert-Douglas and Costa).
Alaba would find positioning in the corridors where Lahm and Bernat had more field to work with. The objective of Bayer was precisely to leave enough space to encourage Alaba to play towards one or the other. In response, Mehmedi or Bellarabi would pressure and the entire Bayer block is then set in motion to accompany it.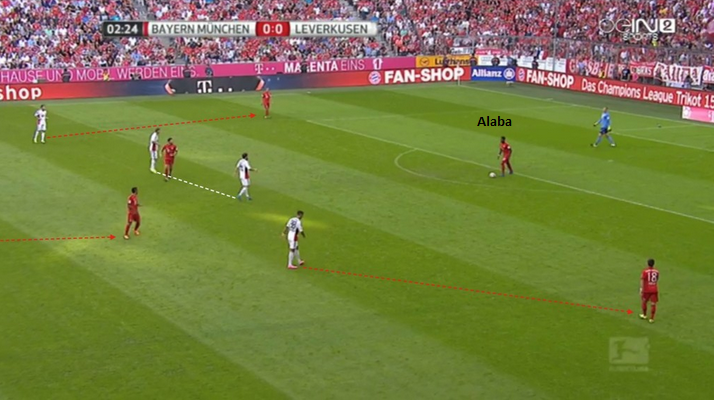 Early in the match Alaba is not attacked, as Bayer players await his pass to trigger the pressure.
Carrying the ball is not a solution to relieve the pressure applied by Leverkusen. Once the pressing is triggered, decision time is reduced very quickly. A few tenths of a second of hesitation is more than sufficient to put the ball carrier in a delicate situation.
For the Bavarians, Bayer offered them 30 meters of "breathing space" (see above) to build-up. However, from the moment of the first pass, Guardiola's players were asked by Bayer to give the same kind of effort in order to exploit the spaces left by the players applying pressure.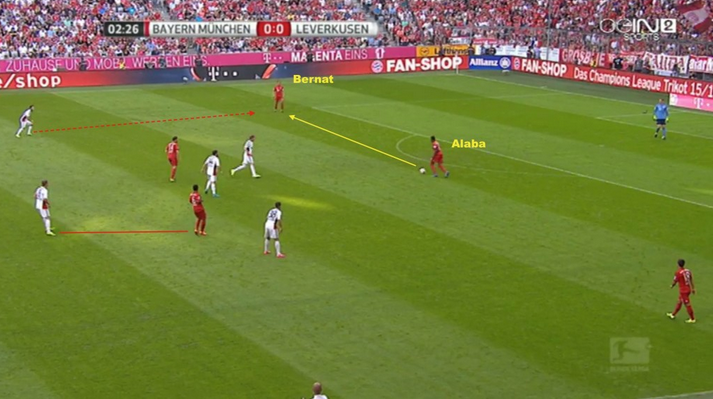 Alaba plays to Bernat which triggers the pressure from Mehmedi.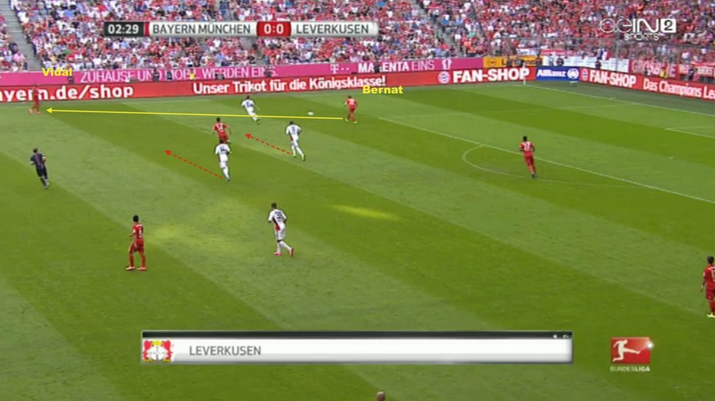 Bernat plays to Vidal on his right whom is in behind Mehmedi.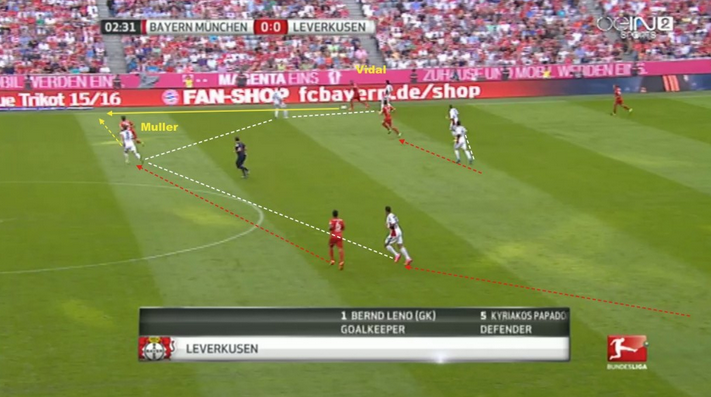 Muller then offers an option for Vidal, which pulls Kramer out of the middle.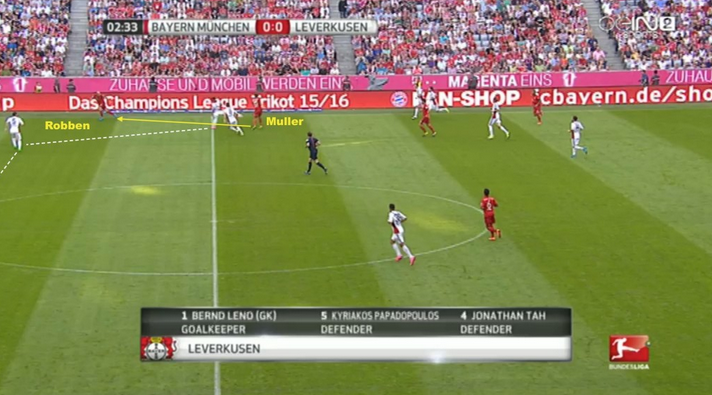 Robben then offers the same option for Muller and just like that; Bayern Munich had solved Bayer's pressure.
Bayern's passing game was effective, especially when their progress was blocked in their own half of the field by Bayer Leverkusen.
The idea was simple: to ensure that the ball carrier always has an option so that the ball can still circulate.
If Bayer was able to maintain their pressure until the end, Manuel Neuer was the backup solution. Always excellent with his feet, the German doorman worked as an 11th player as he was forced to step-up at 4 times throughout the match.
If the ball does not go all the way back to Neuer, the importance of the passing game is evident for Bayern. The Bavarians do not panic and exploit the space behind Leverkusen to move away and be able to create opportunities.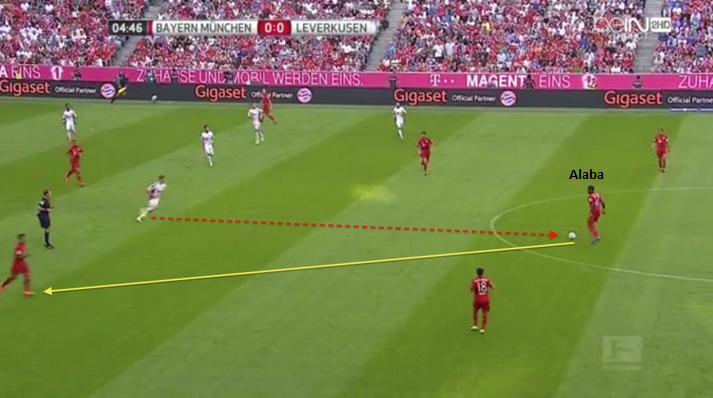 Bayer has just cleared it and Alaba has the ball back.
Either forward or backward, the Bavarians were spoilt for choice as long as they did not stay in the same area.
Obviously things changed during the second half. Leverkusen suffered physically and thus their pressure was applied more slowly and not as high.
…and that's How The Match Was Won!
I would love to hear your thoughts about this or other tactics of the match that were an important factor in its outcome. Let us discuss it below in the comments section.
What do you think?
HOW THE MATCH WAS WON by Keith Scarlett, Former Assistant Women's Football Coach – Perth Glory FC, Australia, former U.S. Soccer National Staff, follow him on Twitter @keithscarlett and catch his personal blog, "An American Coach Down Under:" http://keithscarlett.blogspot.com