HOW THE MATCH WAS WON by Keith Scarlett
Bundesliga
January 30, 2015
Volkswagen Arena
Wolfsburg 4 - 1 Bayern Munich
The 4-1 victory of Wolfsburg over Bayern Munich came from two sources: Wolfsburg's sharp teeth and Bayern's ability to bite itself. Bavarian losses are rare and they always warrant an explanation. This time the defeat was spectacular and it requires two of them. They are easy to understand, however, if we take a closer look at them.
Here is what I thought were the key tactical aspects that played into the outcome of this match. What are your thoughts? Please let me know what you think and what other tactics you think were a factor in this match in the comments section below.
How Wolfsburg Bit Bayern
Dieter Hecking was able to pull off a trick that only one other side (Dortmund) has been able to pull off successfully thus far this season. He was able to cut-off Xabi Alonso which automatically increases your odds of winning. Because Bayern plays without Thiago, Javi and Lahm, he is the centerpiece of their passing game. Normally it just sounds like a washed-up statement, but it really is never truer than when you really are able to shut him down.
Note how a pair of green attackers cut him off from the rest of the team in the middle of the following screenshot. A pass to Alonso has little potential in such situations. He has such little space to work with and so few options available to him to advance the ball forward.
Wolfsburg played with intelligence even when Jerome Boateng would carry the ball forward. Dante and Sebastian Rode are available laterally, but the defenders don't bite and remain focused on the master passer whom is known for spraying the ball everywhere at will.
In the following image, Wolfsburg has dictated to Boateng that he will either have to pass to his left, to his right or play the ball long; which is something he did quite often in the initial 10 minutes of the match.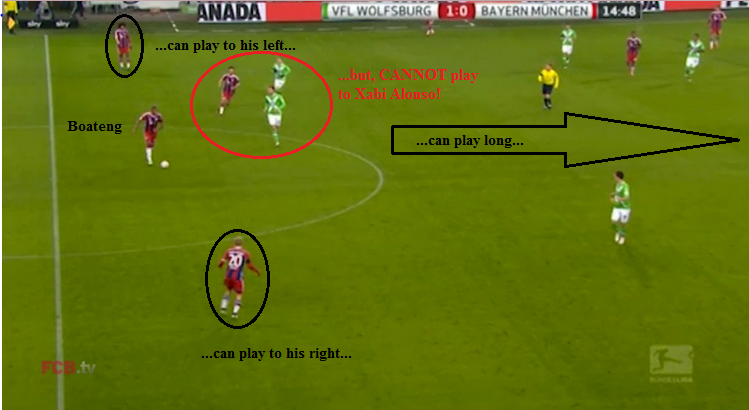 Wolfsburg's objective was to gain a strong grip on the midfield. They jammed up and dominated that space, outclassing Bayern in most situations. Even when support was provided, Alonso could do little except commit even more mistakes than usual.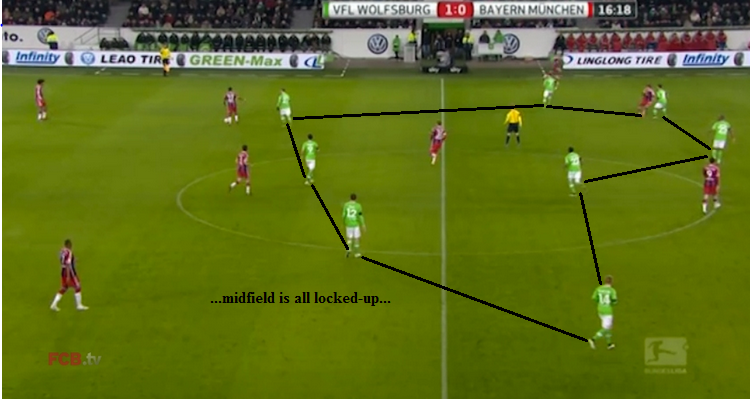 It did not matter if a creative force such as David Alaba had the ball with additional foot speed at his disposal. Wolfsburg would just reshape to adapt. How could Thomas Muller, Robert Lewandoski and Arjen Robben receive passes? The only way would have been via dribble penetration and then one-touch passes, a riskier tactic against Wolfsburg than against anyone else in the Bundesliga at the time. A tactic that Bayern just didn't seem to have the stomach for on this particular day.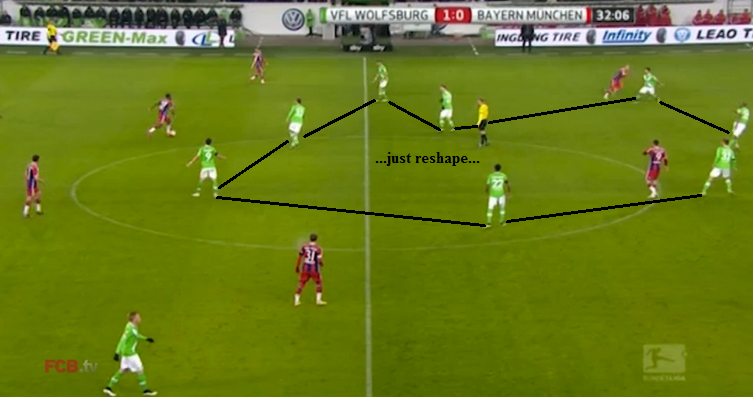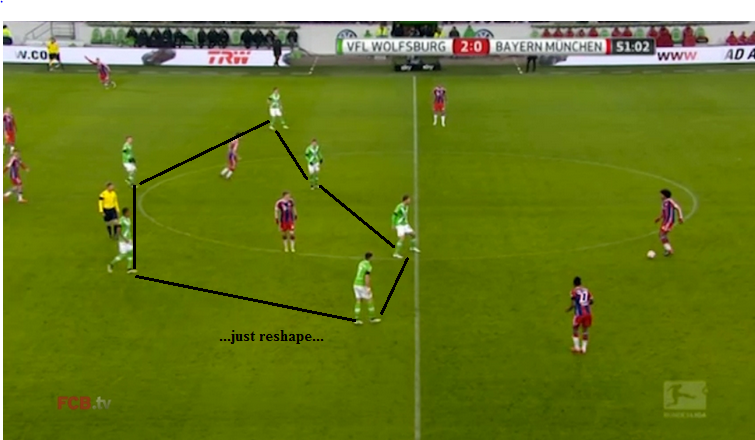 The only easy way to advance the ball forward ended up being the long ball. Boateng tried to make this happen, but Wolfsburg reaction was tactically superb. Their central defenders tracked with ease, staying with their marks adequately enough to prevent any scoring opportunities.
Look closely at the above graphic. Many of the interception spots are located on Bayern's left flank and at the beginning of the final third. This is where many passes were broken up, leading to dangerous counter-attacks.
Now, let's take a look at that graphic in a similar fashion, but using a real life screenshot.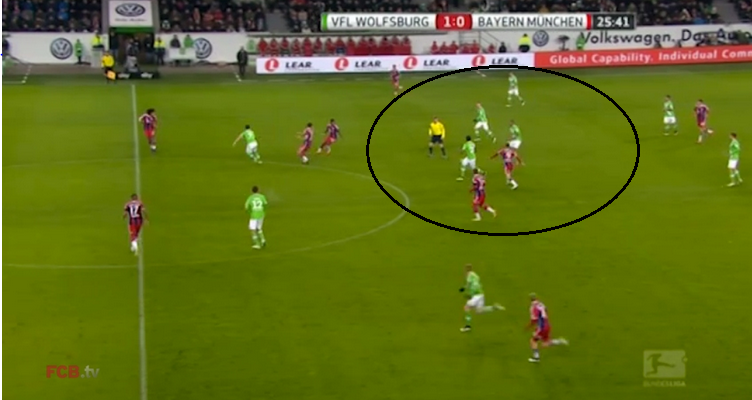 Wolfsburg steals the ball where a good counterattack is the most dangerous. There is enough room forward to press and Bayern always plays that high back-line which provides a perfect scenario to create scoring chances.
How Bayern Bit Themselves
Although the Wolves deserve a tremendous amount of credit for their tactics and execution, Bayern did make a number of uncharacteristic mistakes.
Wolfsburg steals the ball where a good counterattack is the most dangerous. There is enough room forward to press and Bayern always plays that high back-line which provides a perfect scenario to create scoring chances.
One example was Wolfsburg's first goal. Bastian Schweinsteiger lost his footing and thus possession going forward. Wolfsburg turns on a dime and launches a fast counter. Bayern's defense isn't positioned deep enough to prevent it and the Wolves take off.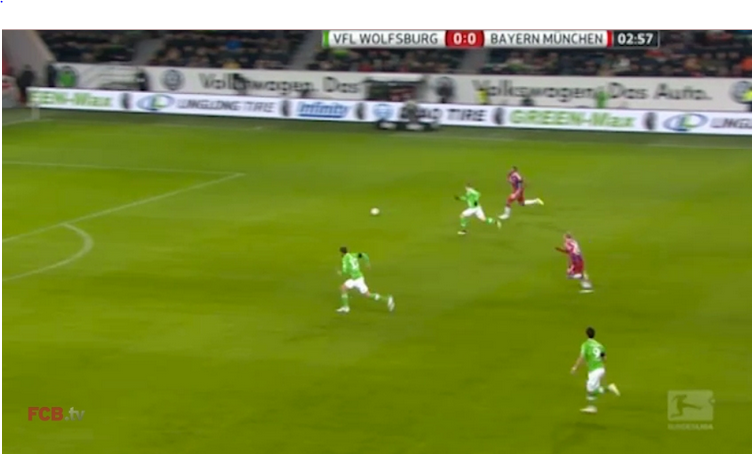 Again on Wolfsburg's third goal, the high-line of Bayern bites them once more. They lose the ball, but their defenders just stay there or keep going forward. Kevin de Bruyne is able to run forward, receive a pass from distance and score.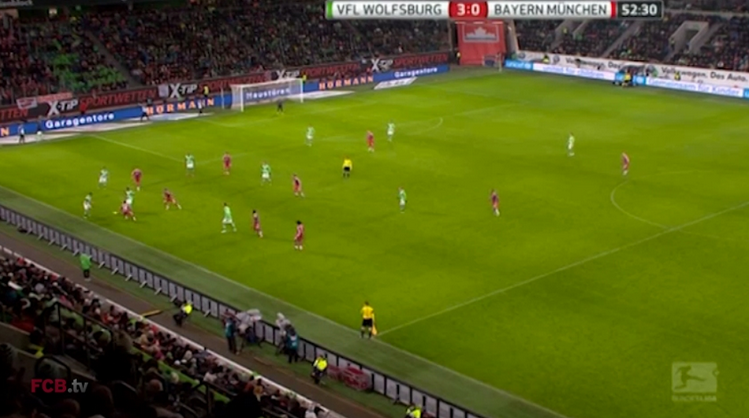 Not only did Bayern allow the Wolves to counter, but Dante also consistently made bad decisions. On the fourth goal, he dances around instead of challenging de Bruyne to take angles away from him. He leaves Neuer hung-out to dry.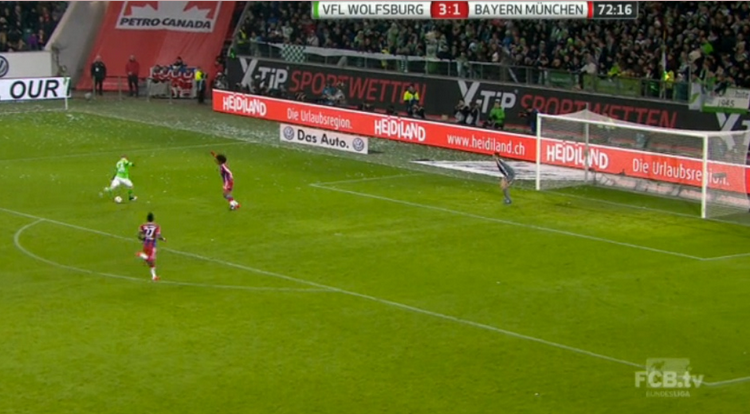 …Wolfsburg biting Bayern and Bayern biting themselves is How The Match Was Won!
I would love to hear your thoughts about this or other tactics of the match that were an important factor in its outcome. Let us discuss it below in the comments section.
What do you think?
HOW THE MATCH WAS WON by Keith Scarlett, Assistant Women's Football Coach – Perth Glory FC, Australia, former U.S. Soccer National Staff, follow him on Twitter @keithscarlett and catch his personal blog, "An American Coach Down Under:" http://keithscarlett.blogspot.com