Bayern Munich's attacking movement to lose markers from crossing position - By Stevie Grieve.
Arsenal played Bayern Munich for a long period with 10v11, and defended fairly well against possibly the most fluid attacking team in Europe. Pep Guardiola teams play high possession football with total freedom of movement within specific areas of the field for each player.
Each player has 3 or 4 team mates that they make rotations in tandem with depending on ball position and team mate position, similar to Barcelona under Guardiola, but Bayern Munich have the ability to score goals from crosses, a weapon Barcelona didn't have, which makes if more difficult to defend against this Bayern team as they can go over a defence, as well as through.
Muller Goal – Intelligent movement to cross over a low block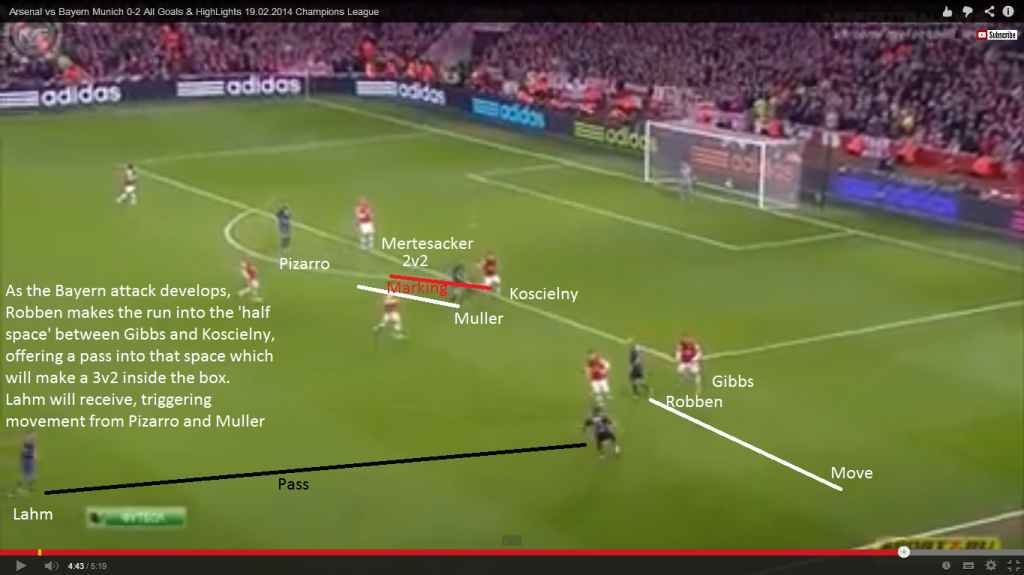 Here, Kroos has Muller and Robben moving between the lines looking for a way through the defence, either by little combinations or pass between Gibbs and Koscielny.
Pizarro and Muller take up central positions, playing 2v2 with Mertesacker and Koscielny, meaning that there is always a possibility to make a space for a team mate with clever movement.
A feature of Guardiola's Barcelona was that 2 players would make diagonal runs to drag away 2 players then the player on the far side from deep or on the far side would make a 4th man run into the space created, the attack here is a more lateral rotation version of the same idea.
Commonly, Lahm has 2 options which change very quickly, as we will see in the following images.
Muller checks away to trigger the 3rd man run from Pizarro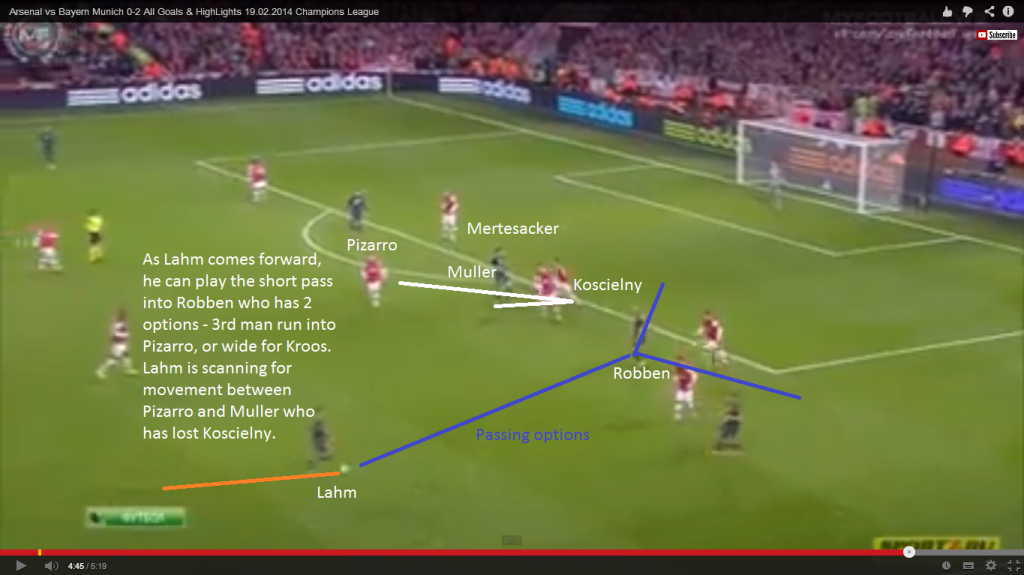 As Lahm brings the ball forward, Robben drifts into the 'half space' where he would have 2 possibilities should he receive, while Lahm is scanning for other movement ahead of him, specifically from Pizarro and Muller. Muller checks away and loses Koscielny, which triggers the 3rd man run from Pizarro into the gap behind Koscielny.
The body shape of Muller as he moves is interesting, he doesn't make the more common attacking spin run, but instead back pedals to be able to see the play and accelerate quickly.
Lahm again has 2 choices, hold onto the ball for more movement, or find the pass into Robben who could use the 3rd man run of Pizarro, or use Kross on the overlap.
Kroos position is now on the right where Robben started, so now when Robben moves inside, Kroos could potentially receive 3rd man in a crossing position where Bayern already have 2 good aeriel attackers in Pizarro and Muller, with Robben able to shoot 1st time from rebounds under pressure.
Pizarro's 3rd man run triggers the move into the space created for Muller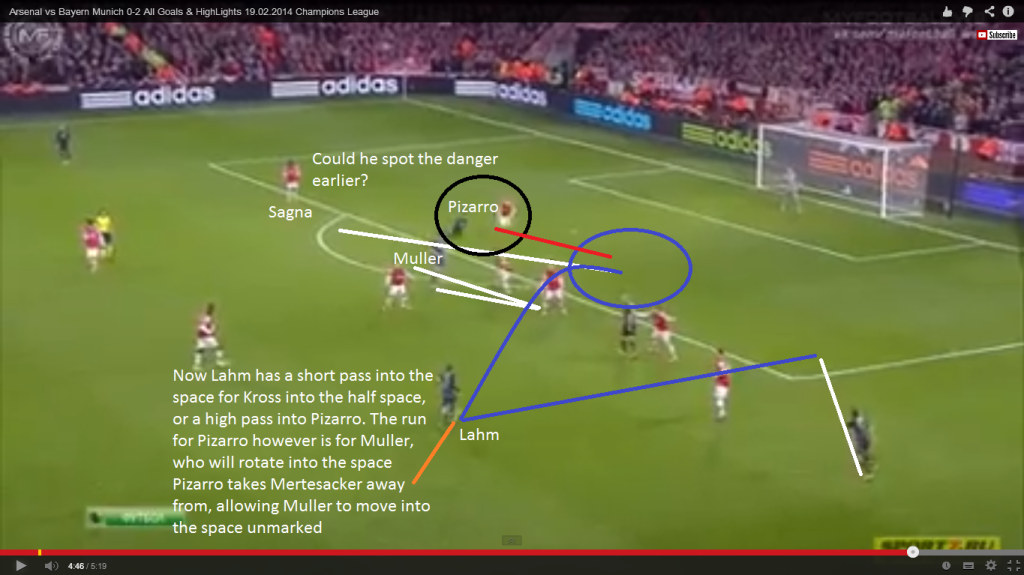 As Lahm has multiple passing options from Pizarro's run – he can chip the ball over Koscielny into Pizarro, which would be a dangerous ball as he could potentially protect and spin to shoot, or the pass into Kroos who has made the blindside run into the 'half space', which would leave Bayern with an overload inside the centre of the box for a possible cutback goal.
Kross could maybe go for goal himself, but as we know from Guardiola teams, finding a cutback while inside the box for a 1st time finish is something that is worked on often (as we saw from Kroos' unbelievable 1st time strike akin to Fabio Rochemback's famous goal for Barcelona).
If this pass was played through the 'half space', the 1st thought of the attackers would be to find a position to receive a cutback for a 1st time finish from inside 18 yards would be a positive scenario to be in for Robben, Muller and Pizarro.
Muller exploits the space created by Pizarro behind Mertesacker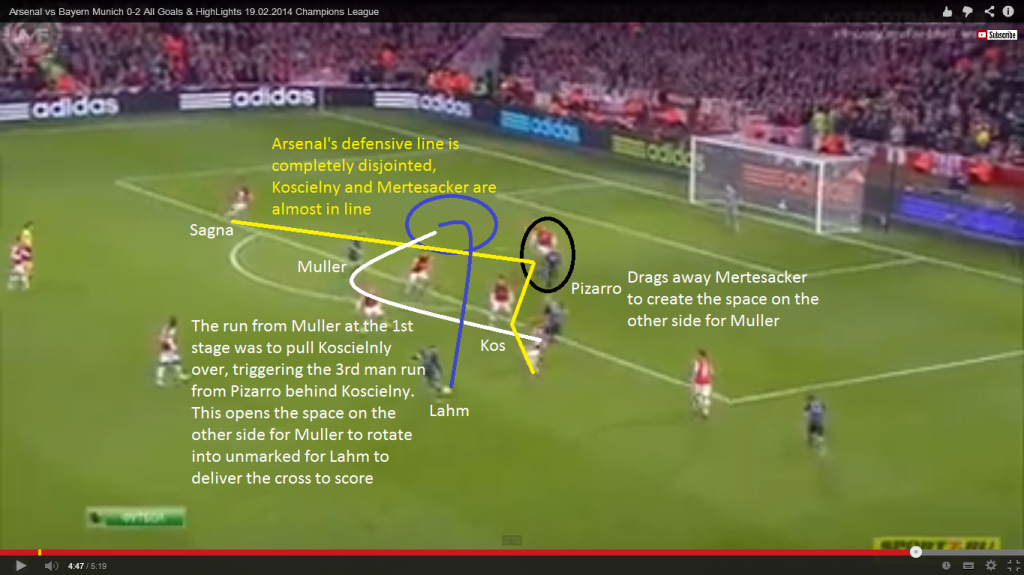 [wpsharely id="2988"][/wpsharely]
As Lahm scans for a final decision, his best option is to cross into the run of Muller who has exploited the space created by Pizarro's clever run across the defence, which takes away Mertesacker.
The initial run from Muller across Koscielny would be a training ground movement, as with 2 players in central crossing positions, Guardiola teams don't play percentages or hopefully passes, every movement and decision is made with precision, and here, the movements will have been well rehearsed, particularly as centre backs will want to man-mark so dragging both centre backs so that they are almost in line but with no width, is a favourable scenario.
Sagna should've identified the danger and made sure they had a 3v2 in the centre of the box, but if Bayern can't go through, there is a high chance that they would've switched the attack and attacked the other side with a switch, hold for deep run penetration, then a release behind the defence where Sagna may well have been overloaded 3v2 on that side, especially as Bayern had an extra player.
Overall, Bayern deserved to win the game, the attacking movement to play in the half spaces, and between the lines is almost impossible to contain, and I hope for the future of football, that they retain the Champions League.as
This style of play that Guardiola implements in each club he joins is the future evolution of the game, and we should all adopt this style at grassroots level all the way into professional football.
I say this as I believe that this is the style of the future in 5-10 years and 'universal' players will be needed who can play this style, playing in every area of the field will be a requirement and players will be developed by adopting this style of play. To achieve this, we must implement this playing style at grassroots level to produce players who are ingrained in this philosophy to be ready for the future game, in both domestic and international football.
By Stevie Grieve. (Follow on Twitter @steviegrieve)  Stevie is also the author Coaching the 4-2-3-1 and Coaching the 4-2-3-1 Advanced Tactics