HOW THE MATCH WAS WON by Keith Scarlett
English FA Cup Final
Saturday, 17 May, 2014
Wembley
Arsenal 3v2 Hull City
The 2005 FA Cup. Just a tad shy of nine years. Almost a full decade. Yet a complete generation in terms of football. A total of 3,283 days since Arsenal had last won any major silverware. However, on a Saturday arvo in May of the year 2014; that long, arduous wait for silverware finally ended for 'The Gunners.' The clock eternally ticking down the time since Arsenal last won a trophy is now reset and the city of London has been painted once again.
No, it wasn't easy. In truth, it was far from it. The gamut of emotions that ran amuck at Wembley that day were not only juicing through the veins of the Arsenal faithful, but those laced up and clad in the Arsenal kits and stepping between the stripes, as well. Euphoria to shell-shocked and then back to euphoria again; it was against a bullish Hull City side led by former Manchester United player, Steve Bruce, that Arsenal plunged themselves into Dante's Inferno within the first 25 minutes before rising back up from the ashes to kiss the silver in extra-time from a stunning goal off the boot of Aaron Ramsey.
Attrition…
This match was more about a war of attrition than anything else. Arsenal was deeper, but Hull City had nothing to lose. Arsenal was more talented overall from top to bottom, but Hull City had overachieved and weren't even supposed to be here. There weren't any spectacular tactical moves in this match that wound up making the difference either way, but yet a simple formational switch in the 61st minute by Arsenal from their base 4-5-1 system to a more traditional 4-4-2 that ended-up being How The Match Was Won.
However, to better understand how this simple tactical adjustment paid off so greatly for Arsenal, we must first back-track to the beginning of the match.
Flashback…
Arsenal began in a 4-5-1 and Hull City kicked-off in their tried and true signature formation: 3-5-2.
Arsenal in their 4-5-1: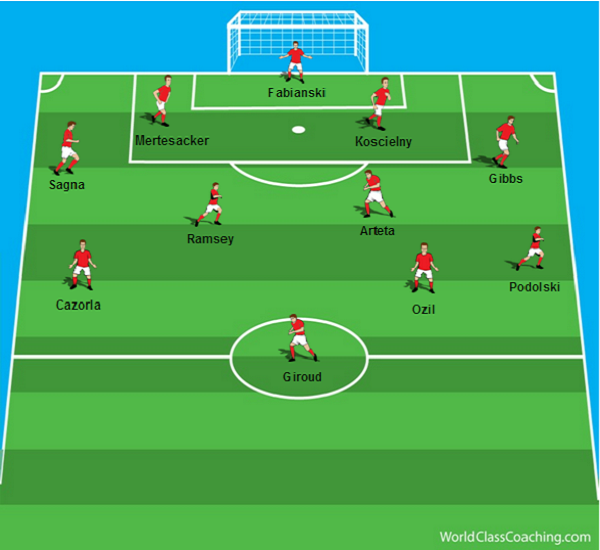 Hull City in their 3-5-2: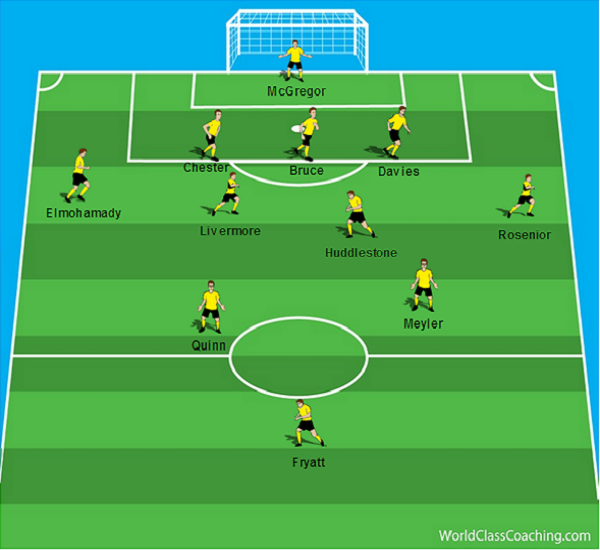 Steve Bruce deployed it with a malicious attempt to prevent Arsenal from pressing forward with their slick passing game.
Steve Bruce's tactics were evident from the first whistle. They were three-fold: 1.) increasingly frustrate Arsenal, 2.) contain Arsenal and 3.) wait for the opportunity to counter.
The Hull City wing-backs, Ahmed Elmohamedy and Liam Rosenior, were bullish when they pushed forward and were very successful in containing Gibbs and Sagna; which limited the space Arsenal needed to open up their attack. With Giroud isolated as the lone-man up high, he was comfortably manhandled by Hull City's three-man back-set.
Hull City was feeling confident that Arsenal's threat up front was nullified and began to release their retracted players forward more successfully.
Shockingly, Arsenal were delivered a stunning blow as Hull went up 2-nil within the first ten minutes.
Bereft of pace and dominant spells of possession, Arsenal patiently continued attempts to press up front and eventually were able to settle into a groove. Never-the-less, Arsenal was in dire need of a goal and at the 17 minute mark they found it, when Santi Cazorla drove a free-kick past the outstretched Allan McGregor.
From this goal on, the match became a battle of perseverance for either side, as Arsenal managed to settle into a groove, while Hull kept trying to surge ahead on the counter. Arsenal was able to gradually generate a few additional nervy moments as time ticked on; one in particular was with Ozil missing a chance after Podolski put him nicely in the box.
Yet, nothing further could be added to the 17' tally before the break except for the patient probing and pecking that Arsenal had begun to slowly layer upon Hull City.
Old School…
The 2nd half didn't start any better as Arsenal were still unable to find space but yet they still remained steadfast and kept pressing on to wear down the Tigers.
Let's take a quick peek at one of the key weaknesses of the 3-5-2: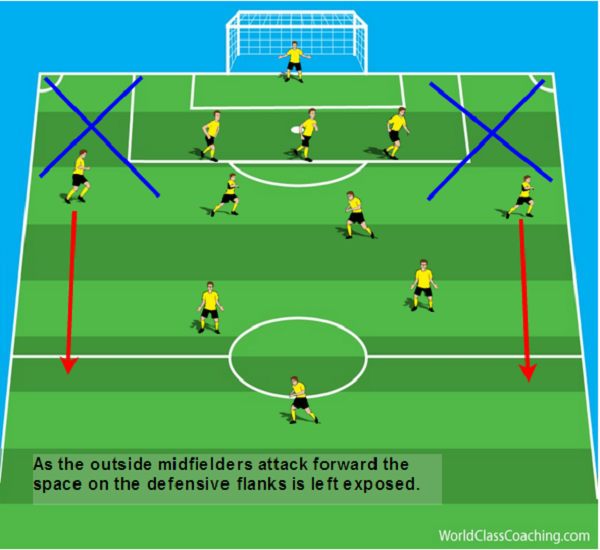 It was when Yaya Sanogo was summoned to the pitch in the 61st minute for Lukas Podolski and the Gunners switched to a 4-4-2 that they were finally able to get their fingers around the handles of the match.
With Santi Cazorla and Ozil running the show from the flanks and now in partnership with the new pairing of Sanogo and Olivier Giroud upfront Arsenal could now stretch Hull's defense and give Giroud a newfound freedom from the manhandling of Hull's three man defense.
Here we can see the space, time and vision that Ozil was awarded from his new position out wide left: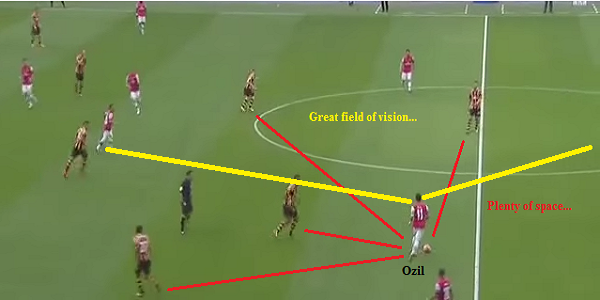 Santi Carzola found that he was blessed with an almost equivalent amount of space, time and vision on the right flank as his midfield counterpart, Ozil had on the left: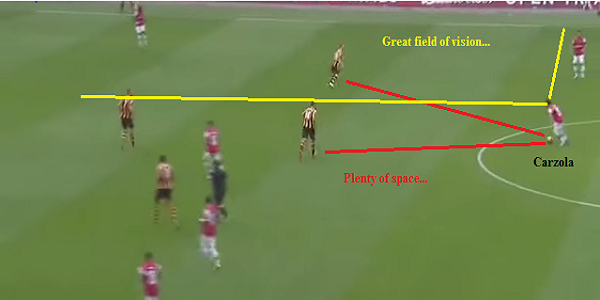 Yaya Sanogo was a spirited option up front, running the channels and giving Arsenal the pace they had been so desperately craving.
Here Yaya Sanogo shows his explosive pace and creative flair by taking on 6 Hull City players and almost generating a chance Gibbs: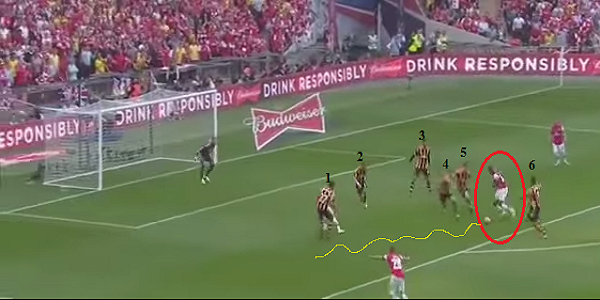 Gibbs and Ozil teamed up on the left flank and were eventually able to force Elmohamedy into tracking backwards.
This aerial view shows a perfect example of Gibbs finding Ozil in the space behind Elmohamedy who was used to pushing forward: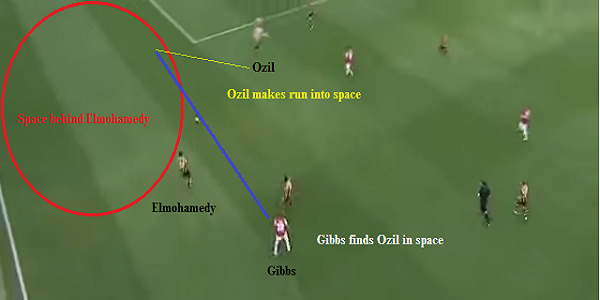 Mikel Arteta and Aaron Ramsey continued to run the show from the middle of the park combining in attack with the strikers.
Here we can see one example of the extra amount of room that Aaron Ramsey had to work with after the formational change when he found Cazorla from 30 metres away: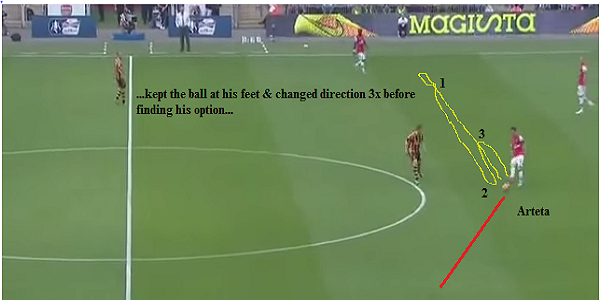 Mikel Arteta had to feel as if he was playing an afternoon round of golf with the large amount of green he had to work with. Here we can see him cover 20-30 metres with the ball at his feet, change direction 3x and still be able to make the best decision available: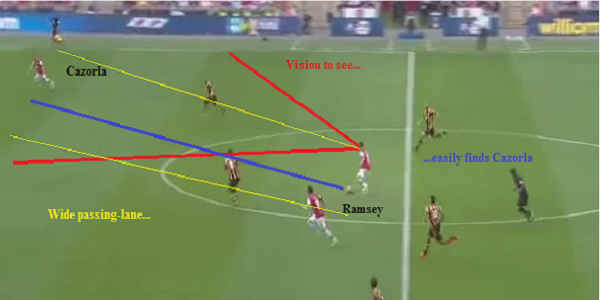 Arsenal continued patiently applying the pressure and eventually equalized from a corner. Still, Arsenal continued to surge forward, pushing Hull City into withdrawal until full-time came to pass.
…as shown here: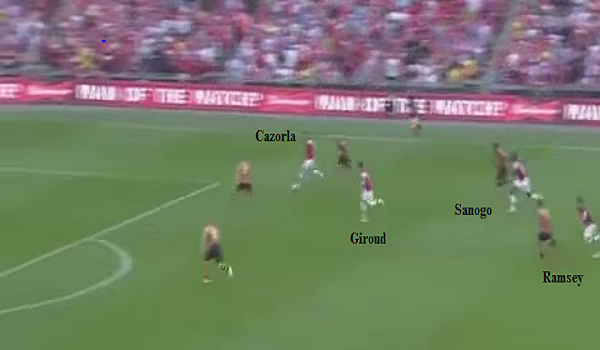 It was in the second 15' of extra-time when Wenger finally pulled the trigger and replaced Cazorla and Ozil as his midfield maestro's had tired from their efforts. He inserted Tomas Rosicky and Jack Wilshere, whose fresh legs brought immediate help to The Gunner's cause.
Rosicky and Wilshere; both of whom are known for their technique on the ball and their respective abilities to control tempo of a match played the puppet-masters of the second stanza, generating numerous chances. Eventually it was Wilshere whom sliced an insertion ball to Sanogo with surgical precision, who then played it to his compatriot upfront only for Giroud to back-heel it to the on running Aaron Ramsey for the game-winning finish.
Patience…Tactical Formational Adjustment…and…Great Timing and Use of Substitutions…is…
How The Match Was Won!
HOW THE MATCH WAS WON by Keith Scarlett, Assistant Women's Football Coach – Perth Glory FC, Australia, U.S. Soccer National Staff