By Keith Scarlett
This activity works on defending, timing of tackles, covering angles and decision-making.
In this crucial section of the pitch, defending needs to be precise and perfect! One of the biggest things that players need to learn is how crucial interceptions are to keeping the ball out of the net. There aren't too many better ways to teach this aspect of the game than to simply throw them into the deep-end with an activity like this.
Set-up:
The playing area is 44 x 18 metres (basically the size of the penalty area; can use the penalty area if you choose). Place a regulation sized goal in the middle of one of the long (44 mtr) end-lines (similar to where it would be if using a penalty area).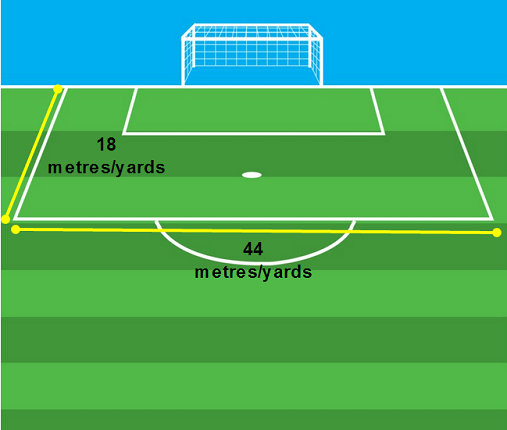 The attacking team has 5 players which include 3 midfielders (M) and 2 strikers (S) while the defending team has 4 players made up of 3 defenders (D) and a goalkeeper (G). There are 2 support players on either flank outside of the playing area/penalty area and a third support player is stationed off the pitch and opposite the goal (or at the top of the penalty area). Only one ball is in play at a time.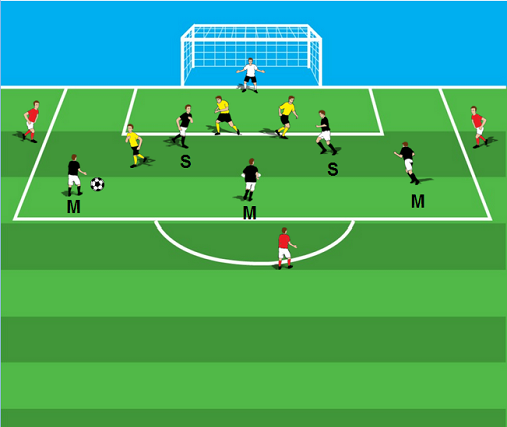 How it Works: The game basically requires the attacking team to maintain possession of the ball and get a shot at goal in an attempt to score. The defending team needs to try and win the ball back and prevent the attacking side from scoring.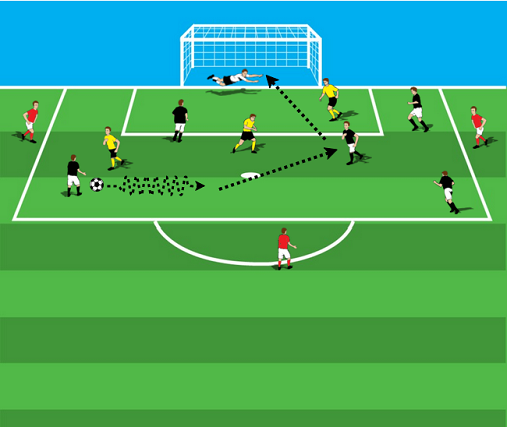 If the defending team wins the ball, they need to pass it out to a support player as quickly and accurately as possible.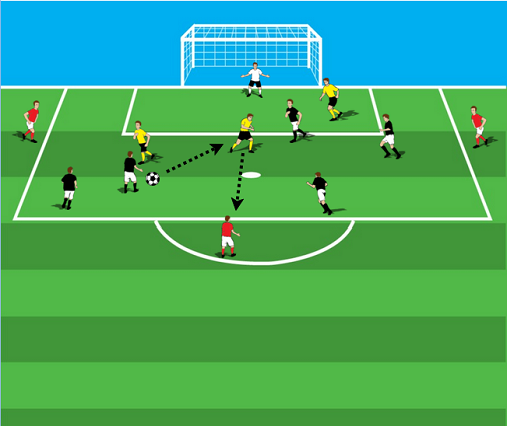 The attacking team needs to try and prevent the defenders from getting the ball out to the support players.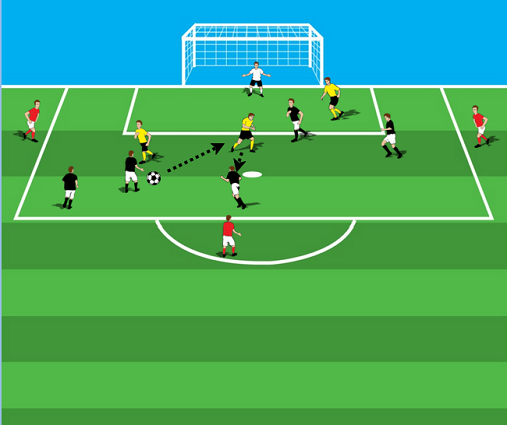 The support players aren't allowed to enter the playing area, but are allowed to move up and down the sides of the playing area around their positions.
[wpsharely id="2988"][/wpsharely]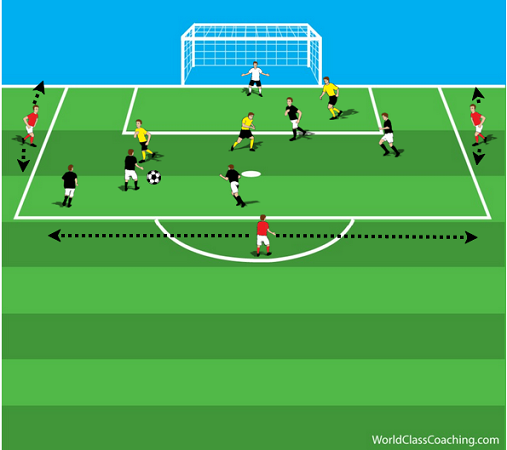 After a fixed number of rounds, rotate the support players with the attacking/defending teams in such a way that every player gets to play in every position.
Progression:
Enforce 1-touch or 2-touch passing.
Allow a support player to "fall-back" after a set duration of time to force the attacking team to hurry-up.
You can also add another defender (4v5) to diminish the ratio so defenders will really have to choose who they will leave open.
Coaching Points:
Verbal and non-verbal communication must be clear and precise.
Passing needs to be quick.
The attacking team needs to create chances as quickly as possible.
The defenders need to practice "SWITCHING to STICKING" and "TRACKING to TACKING."
Defenders should remain patient and not dive-in to tackles.
Passing out to the support players needs to be accurate and sharp, with as few touches as possible.
Players of both sides need to be alert for transition of possession.
By Keith Scarlett
Assistant Women's Football Coach - Perth Glory FC, Australia, U.S. Soccer National Staff