HOW THE MATCH WAS WON by Keith Scarlett
UEFA Champions League
September 16, 2014
Signal Iduna Park
Dortmund 2 v 0 Arsenal
Pierre-Emerick Aubameyang and Henrikh Mkhitaryan had enough chances, but Borussia Dortmund could not turn their superiority into more goals. Nevertheless, Dortmund kicked off their Champions League campaign with a resounding 2-0 win over Arsenal in the opening duel of Group D.
Here is what I thought were the key tactical aspects that played into the outcome of this match. What are your thoughts? Please let me know what you think and what other tactics you think were a factor in this match in the comments section below.
Borussia Dortmund went with a lineup that surprised many. Playing in a 4-2-3-1 and dropping Shinji Kagawa to the bench (probably because Jürgen Klopp felt he would not be able to play with the intensity he needed to get the counter [gegen] pressing going) he made sure that the German side had an abundance of pace. With Per Mertesacker the obvious target for the German side, Klopp made sure that Aubemeyang, probably the fastest player in Europe now, targeted that side of the Arsenal defense instead of sticking to the right hand side of the midfield.
Jürgen Klopp had to make a couple of changes due to injuries. Therefore, the Dortmund coach shuffled the midfield a bit. Both holding midfielders Sebastian Kehl and Sven Bender were in the starting line-up playing behind Pierre-Emerick Aubameyang in a 4-4-1-1/4-4-2 hybrid. Ciro Immobile moved up front while Erik Durm replaced Łukasz Piszczek on the right side, with Marcel Schmelzer coming back and playing as left outside back.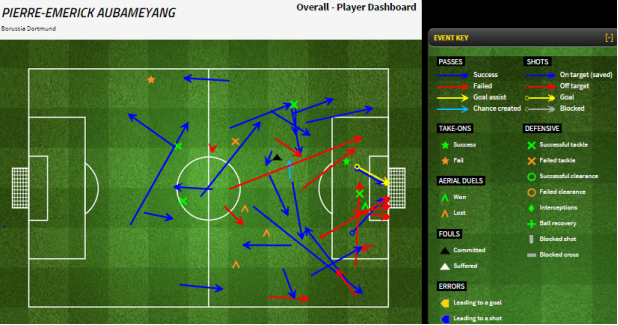 For Arsenal, Arsène Wenger also had to rearrange his squad. The 19-year-old Héctor Bellerín started in place of the injured right outside back Mathieu Debuchy. Mathieu Flamini had to make way for Mikel Arteta, who operated in behind Jack Wilshere and Aaron Ramsey. Wilshere tried to ensure connection between defense and attack, usually dropping deeper than Ramsey does during the initial build-up play.
Arsenal went into this match with the customary 4-1-4-1 formation which they have gone with all season with Mikel Arteta the sole defensive cover to the back four and Jack Wilshere and Aaron Ramsey playing in the middle. This meant that the much-maligned Mesut Ozil started out wide once again along with Alexis Sanchez and Danny Welbeck starting upfront.
Dortmund's domination
Arsenal was unable to live with the intensity and speed of Dortmund during the first half. The Germans dominated the centre with a tight formation. Both holding midfielders and both forwards stood horizontally very narrow. Moreover, Henrikh Mkhitaryan and Kevin Grosskreutz drifted inwardly and moved up through the half spaces. Consequently, the centre passing routes were blocked and Arsenal was lead outwardly. When an Arsenal player had the ball at his feet on one of the flanks, two or three Dortmund players tried to isolate him.
The most fascinating aspect of Klopp's side was how the midfield line and both strikers created funnels around Arteta as Arsenal seemed to be awkward in that area. Wenger's side could not find any space in the middle of the pitch and Wilshere or Ramsey continuously gave the ball away whenever they found themselves overrun by Dortmund's midfield pressing.
Dortmund's Gegen Pressing Rendered Arsenal Useless
Borussia Dortmund started from the first moment with a very high intensity pressing game. While most Premier League teams try to do the same with Arsenal, it usually is more of a containing job rather than to stop Arsenal from not only playing their game but also to dominate the game entirely. Borussia Dortmund knew exactly what they wanted to do and they did it decisively. The difference between the pressing of other teams and what Dortmund does is that they not only press but also cut off the angles, which means that the opposition does not have the options to pass the ball when a Dortmund player is streaming towards him. At that time, the opposition player either has to show some dribbling skills to get past the charging player or try to make a pass even though almost all the angles are covered. This, in most cases, invariably means that the ball is lost.
In the following image, the Arsenal player does have the ball just outside his own penalty area but whom does he pass it? All the angles are more than well covered. The best part is that this is just the 2nd minute and it did not get any easier as the match went on.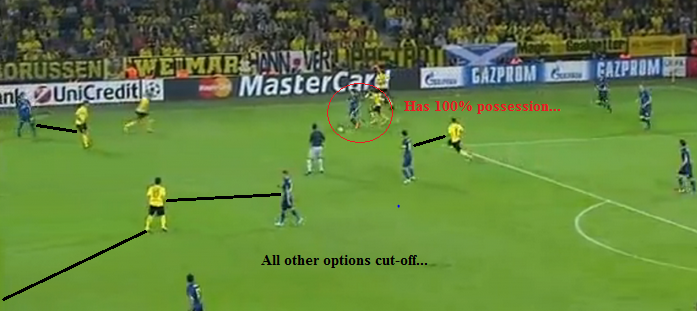 Now have a look at how Borussia Dortmund does not let go of the pressure even from a throw in. In areas that Arsenal usually expect to comfortably nudge the ball around, Dortmund made sure that they did not get the space to even pass the ball back to the goalkeeper without them chasing the ball. It is not without reason to estimate that Dortmund ran a whole 12 miles more than Arsenal did.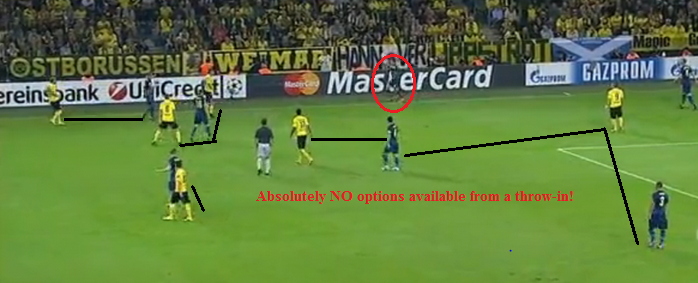 Dortmund = Strong, Arsenal = Weak
If there was one aspect that stifled Arsenal's attacking game, it was their failure to recognize the pressing traps along with not finding the right passing options before or after they encountered a pressing trap. Arsenal fell into these passing traps throughout the game.
Whether it was high up the pitch, in Dortmund's own half, out on the wing or in midfield, Arsenal just kept falling for the same old tricks. It got so bad that you actually had to wonder if Wenger noticed what was going on and why. If he did, it begged the question why he did not do anything about it. If he did not, well……….!
In the following image, Aaron Ramsey has the ball as Arsenal is in transition. The key to this pressing trap working successfully comes from the two Dortmund players closest to Ramsey applying pressure from behind. Hence, it forces him to make a decision quickly (dribbles along the black line) which unknown to him, is dribbling right into a pressing trap (yellow circle and notice Mkhitaryan positioning change in the next image).
As he has Wilshere running alongside him, Ramsey does not realize Mkhitaryan rapidly closing him down and thus Ramsey is now unsure what to do with the ball. At this point, it is too late as Mkhitaryan puts in a tackle resulting in the ball falling to Subotic, who initiates the ensuing Dortmund counter.
Alexis Sanchez is one of the best dribblers in the world and has a good football mind. However even the best players make erratic decisions, especially under pressure.
This next example is a perfect illustration of just that. In Arsenal's half as Arsenal attempt to advance play after regaining possession, Sanchez finds himself in a situation where he has to dribble or lay the ball off to an open teammate due to the mechanics of the pressing trap.
Unfortunately, he chose the former and when the timing of the pressing trap is executed to perfection, there is usually only one winner in that situation (and that is not the ball carrier). Of course, in this situation, Sanchez suffered the same fate as many others do.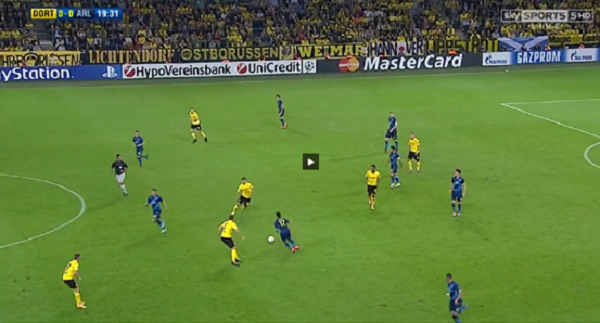 Another aspect Arsenal struggled to deal with was resisting Dortmund's counter press. If you are going to break any pressing scheme, having pressure-resistant players is helpful in doing so. One could argue that Arsenal do have these types of players. However, it does not matter how good you are, if you do not have the available supporting passing options around you and you are not prepared for the oncoming pressure.
Unfortunately, Sanchez fell victim again but this time, he at least did not fall into the pressing trap. He just was not ready for the even more aggressive counter press as seen below.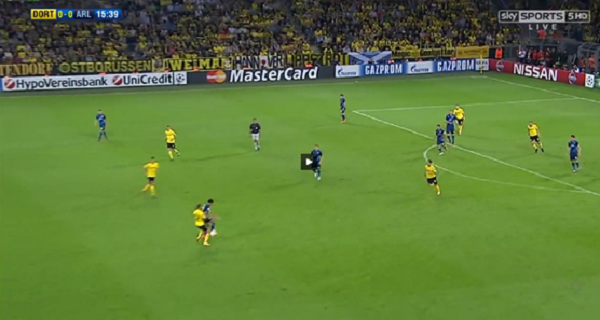 If the counter press breaks (i.e., the immediate effort to recover the ball does not work), it is important for players to maintain their composure and know how to defensively recover the situation.
The two main options here would be to slow down the ball carrier (Sanchez) or retreat defensively into a different defensive structure to try and quickly rectify the situation without giving away too much space, which would further compromise the defence.
Arsenal's Failure to Defend the Half-Spaces/10 Space
From Dortmund's very first attack, a glimpse of this strategy was shown as Aubameyang made a run into the right half-space where he was rewarded with the ball, resulting in a corner shortly thereafter. Part of the reason the half-space is so important is it causes uncertainty in the defence.
In the case of the back 4, the relationship between the defensive midfielder, centre-back and outside back is crucial in deciding which way these situations will play out against an attacker in the half-space. The idea is because so many teams do not defend the half-space, they are not well prepared when players purposefully use that area either to evoke some uncertainty or to further exploit a weakness as part of an attacking strategy.
The 10 space is one of, if not, the most dangerous spaces on the field. The half-spaces are so important; you could also put them in that same category. Essentially using both spaces allows for two dynamic ways of breaking down an opponent's defence. When used in combination, it can be very difficult to stop, as the following images will show.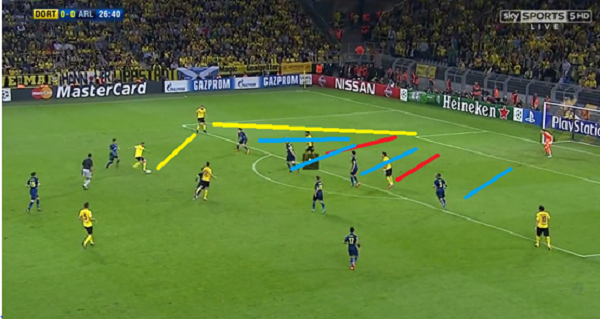 Dortmund's strategic use of 10 space and half-spaces enable them to create quality chances.
At this moment, notice how Grosskreutz and Mkhitaryan are both positioned in the half-spaces. Grosskreutz on the left, with Mkhitaryan on the right. Durm has just made a run through the 10 space, attracting Arteta's attention, before laying off the ball to Bender who looks to pass to Grosskreutz in this moment.
There are two key points we are looking to establish here:
1) Due to Arsenal not defending the half-spaces, Grosskreutz is allowed to stand in space, waiting for the pass that will ultimately break Arsenal's backline structure as someone has to commit and not all the other subsequent spaces will be covered.
2) Due to the way Arsenal is defending in this situation, they can be opened up in multiple ways. Bellerín (Arsenal's right back) seemed unsure whether to step up out on Grosskreutz or continue to hold the defensive line. It is exactly this type of hesitation that can occur by simply occupying the half-space.
Furthermore, the yellow lines indicate how this passing move ends up going. After Grosskreutz receives the ball, he finds Aubameyang who makes near post run who then has a chance in front of Szczesny but does not convert the chance into a goal.
Another way Dortmund could have broken through Arsenal's backline, instead of Bender playing the ball directly to Grosskreutz, was to play a through ball between the gap of Bellerín and Mertesacker for Grosskreutz to run into which could have also led to a goal-scoring opportunity.
In the next image, is another example of Arsenal not defending the half-space and passively defending the 10 space with the ensuing result.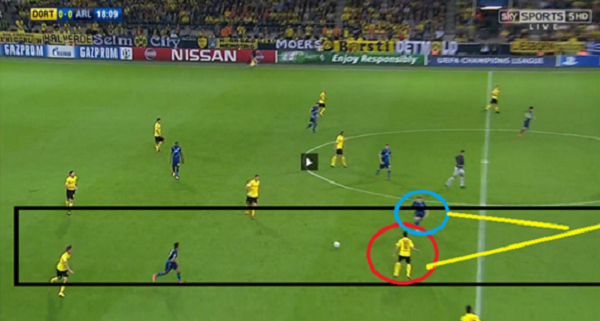 Mkhitaryan receives the ball in half-space with room to turn and run at Arsenal's defense.
In the image above, Mkhitaryan is positioned well in the half-space. His positioning allows him to:
1) See who is coming towards him
2) See who is going away from him
3) See what is ahead of him
4) See what is across from him
5) See what is behind him
Strategically, this is the closest a player can get to 180 degrees in their field of vision while also being close enough to central zones to quickly exploit any apparent weaknesses.
Essentially, it puts more emphasis on Mkhitaryan taking advantage of the situation in the same amount of time as he could have done it if he was positioned in the half-space.
Therefore, by being positioned in the half-space, Mkhitaryan not only has the same relative field of vision he would have closer to the wings, but he also has a much greater chance of exploiting whatever weakness he detects in Arsenal's defensive organization.
On this occasion, Wilshere is late to engage Mkhitaryan and the gaps in Arsenal's midfield allows him to have an easy route to dribble into the 10 space where finally Dortmund produce a shot, albeit, off target.
If we imagine Mkhitaryan positioned closer to the wings, one could argue Wilshere would travel a longer distance to engage him, although, Mkhitaryan also has a longer diagonal dribble to make (assuming he makes the same choice as pictured above), which in a way, cancels out the extra work Wilshere has to do.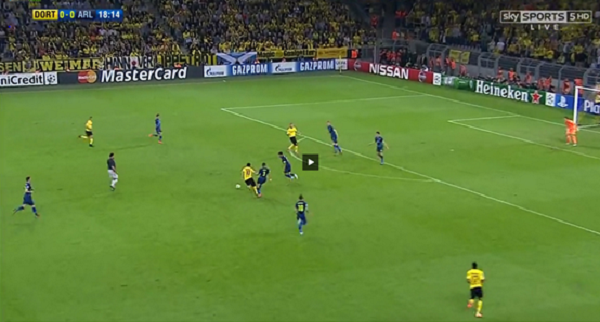 After beginning his dribble from the half-space, Mkhitaryan makes his way into the 10 space.
One damaging trend for Arsenal in this match was neglecting to adequately defend the 10 space. To be fair to Arteta, he was more or less left to do this himself. When your other midfielders are too far apart to support you, it can be a daunting task. The only respite for Arsenal was Dortmund were not very efficient in their chance conversion.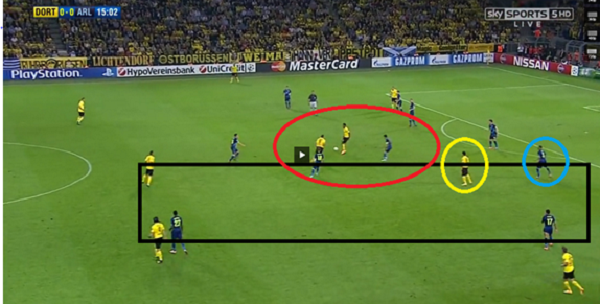 Arsenal neglecting to defend the 10 space.
…It was Dortmund's pressing and counter-pressing, combined with their superiority in the two most important zones of the pitch; the half spaces and the 10 spaces that is How The Match Was Won!
What do you think?
I would love to hear your thoughts about this or other tactics of the match that were an important factor in its outcome. Let's discuss it below in the comments section.
HOW THE MATCH WAS WON by Keith Scarlett, Assistant Women's Football Coach – Perth Glory FC, Australia, former U.S. Soccer National Staff, follow him on Twitter @keithscarlett and catch his personal blog, "An American Coach Down Under:" http://keithscarlett.blogspot.com