HOW THE MATCH WAS WON by Keith Scarlett
Bundesliga
December 19, 2014 
Coface Arena
Mainz 05 1 v 2 Bayern Munich
Bayern Munich may well have put out their weakest showing to date against Mainz. They were uninspiring when on the attack and at times lacking coverage defensively. Let us see if we can single in on some of the specifics that affected the outcome of this match.
Here is what I thought were the key tactical aspects that played into the outcome of this match. What are your thoughts? Please let me know what you think and what other tactics you think were a factor in this match in the comments section below.
The match began with Mainz applying intense pressure on Bayern. They knew that earning points against Bayern would be difficult, even at home, but they still put forth a decent effort. They would send three to five players forward to apply pressure on the Bayern back-line trying to either force a mistake or to just simply buy some time. In the following image, note how the target of a pass has four players converging on him: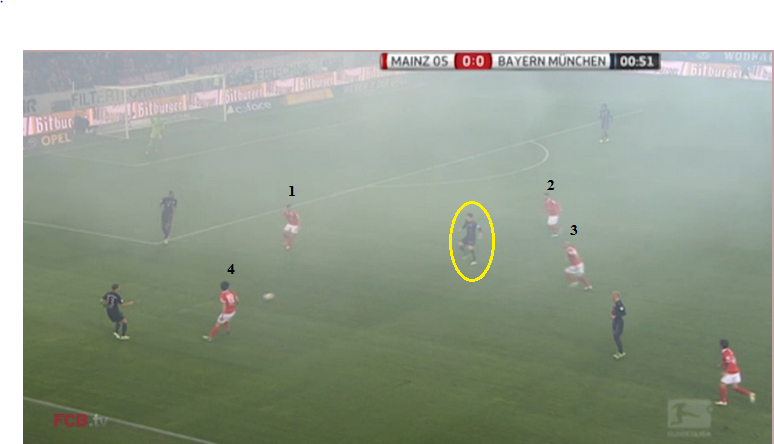 Without the option to use Xabi Alonso as a holding midfielder and ball distributor, Pep Guardiola went ahead with a double pivot in the midfield. Bastian Schweinsteiger was the attacking-minded central midfielder, while Pierre-Emile Hojbjerg provided support. He was not entirely dedicated to defensive tasks, however.
Some said that Bayern played a 4-2-3-1, although there are no fixed positions under Pep. However, it did look a bit more like a 4-2-3-1 than anything Bayern has shown in recent outings. This was especially the case with Juan Bernat and Rafinha going forward aggressively, Franck Ribery and Arjen Robben on their respective wings and Thomas Muller at striker.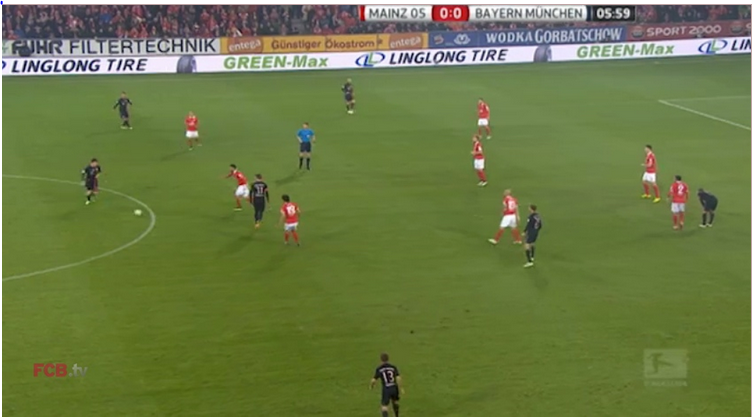 …with a twist, of course. When building from the back, Bayern would quickly revert to their back three.
Mainz was rather effective at bottling up the attack for long phases. They often had four players pressuring the ball and Bayern did not always use their passing options. In the next image, we see Rafinha waiting too long and thus losing the chance to play the ball to five different options on his left.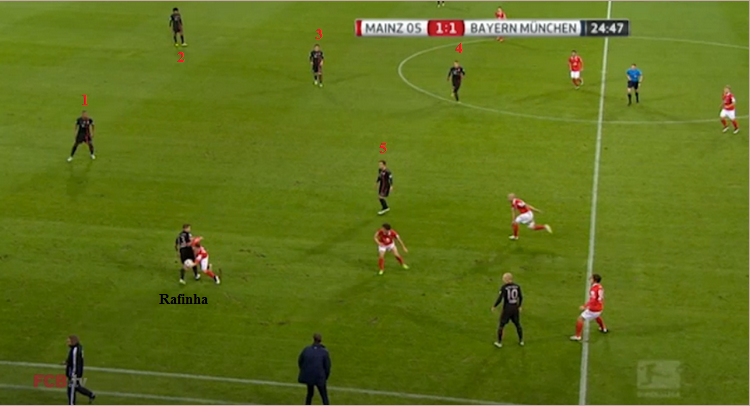 After trading goals with Mainz, Bayern became a little more cautious, bringing in a fourth defender to add to the back-line. This would be Hojbjerg, who would get involved in the buildup when launching a fresh attack.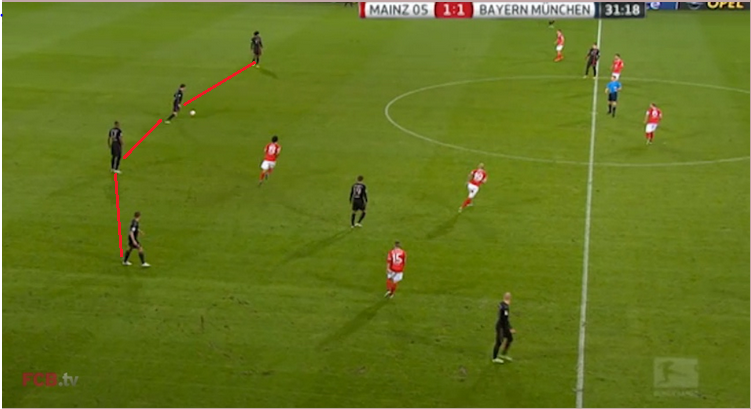 Never the less, the game plan for Mainz was not going to change: If you carried the ball, you would have many players coming at you!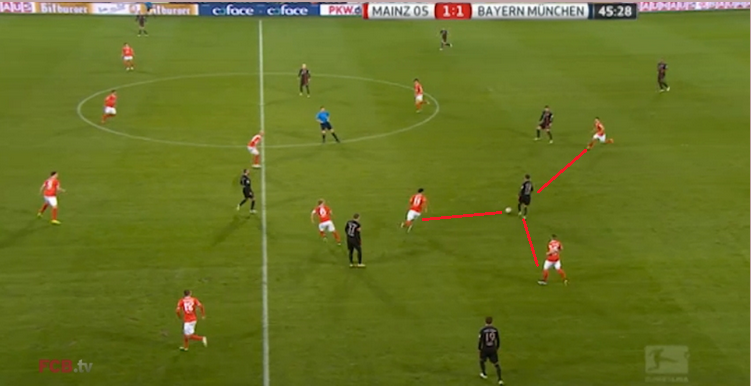 That is not exactly a problem if your players or your formation is dynamic. Unfortunately for Bayern, they were both just that not that. They were flat and static throughout this entire match. Their runs were not decisive and there was too much hesitation before the final decision in choosing to make passes. This hesitation gave Mainz the extra time they needed to settle in defensively.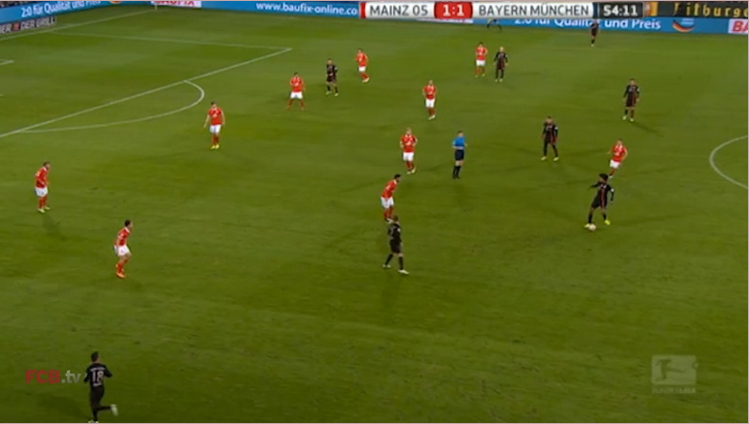 After having scored on a free kick, Bayern still struggled to find tactics that would work. In the second half, they resorted to the long-ball, winning it in the midfield and knocking it forward to Ribery and Robben, who created scoring chances.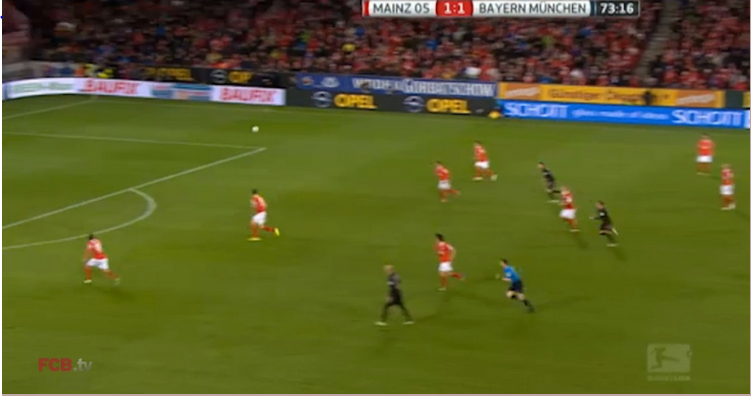 …it was not pretty, but that was How The Match Was Won!
I would love to hear your thoughts about this or other tactics of the match that were an important factor in its outcome. Let us discuss it below in the comments section.
What do you think?
I would love to hear your thoughts about this or other tactics of the match that were an important factor in its outcome. Let's discuss it below in the comments section.
HOW THE MATCH WAS WON by Keith Scarlett, Assistant Women's Football Coach – Perth Glory FC, Australia, former U.S. Soccer National Staff, follow him on Twitter @keithscarlett and catch his personal blog, "An American Coach Down Under:" http://keithscarlett.blogspot.com