By Stevie Grieve
In the recent Champions League match between Bayern Munich and Manchester United, Bayern needed to draw 0-0, win 1-0 or 2-1 to go through, while Manchester United needed an away goal at least keep themselves in the tie, and they got the away goal early into the 2nd half via a fantastic strike from Patrice Evra from 30 yards. There were scenes of jubilation as all United players, subs and even coaches were almost celebrating victory, but the joy was shortlived as Evra was at fault for 2 of Bayerns 3 goals within the next 15 minutes. I will look at the 1st goal and in particular how he lost Mandzukic to allow him to make it 1-1 within 3 minutes of the Evra goal.
Bayern forwards movement to choose marker and attack the front side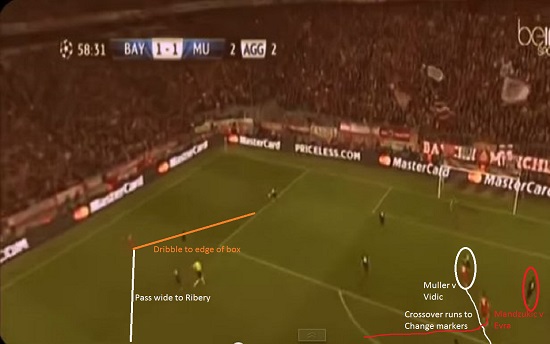 As the ball is passed wide, Muller and Mandzukic crossover and change who their markers will be, Mandzukic v Evra at the far side is a clear mis-match, and one that Bayern would look to exploit. Muller has more dynamic and can lose a more traditional man-marker like Vidic quite easily as he watches the movement of others around him to pick his space to score from ( the goal v Arsenal). Mandzukic is very powerful and could win a battle v Vidic himself, but playing him against Evra would make it much easier for him to score, given the height and power advantage, while also being isolated 1v1 at the far post would allow Bayern to play a longer cross and avoid playing to where De Gea would be able to collect a central zone cross.
Mandzukic v Evra at the back post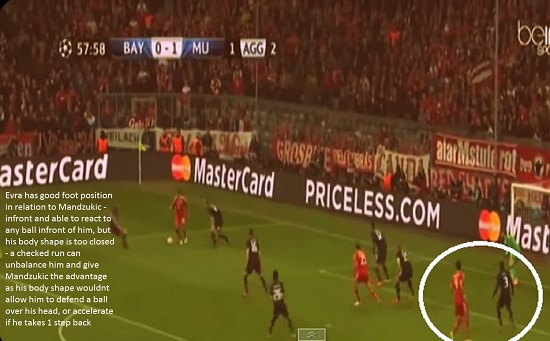 We can see that Evra's body shape isn't good, his foot position is fine – inside the far post, little space between himself and Vidic. If Mandzukic checks a run to go behind Evra, his body shape will cause him problems in terms of how he can re-accelerate to go forward if Mandzukic does.
The check run behind Evra creates the space to attack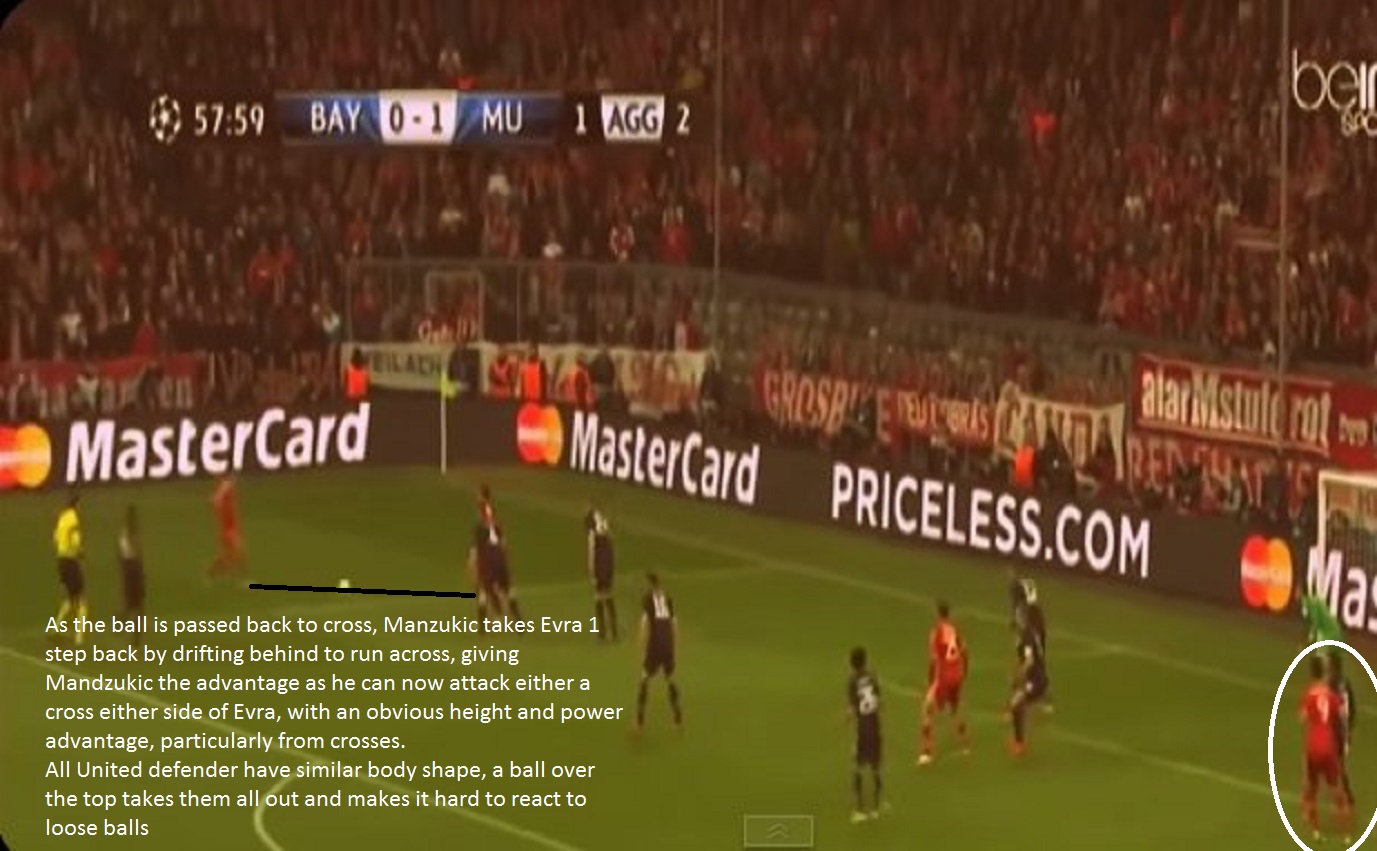 As the ball is passed back to cross, Mandzukic makes a little movement behind Evra, close enough to make him move backwards to create the half yard of space he needs to get across the front, but also so he can use his strength to physically move Evra out of the way if he reads the run and tries to get infront of Mandzukic.
Note the little movement from Muller to come out – this takes Vidic a yard further out, and stops him from dropping back 2 steps to defend the cross to Mandzukic – a training ground practice?
Mandzukic accelerates across Evra to attack the space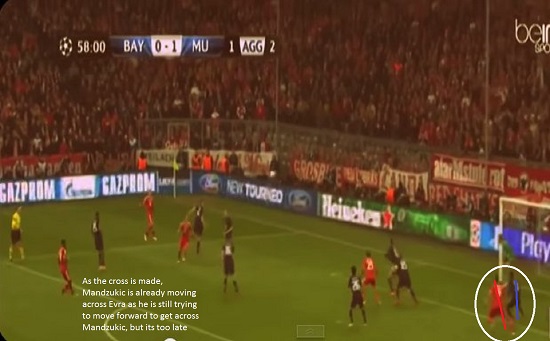 As Mandzukic took Evra 1 yard back and created the space he needed to get across him, his body shape shows that he is now able to get infront of Evra, who isn't strong enough to move Mandzukic with his body to put him off from attacking the cross.
[wpsharely id="2988"][/wpsharely]
Mandzukic scores with little pressure from Evra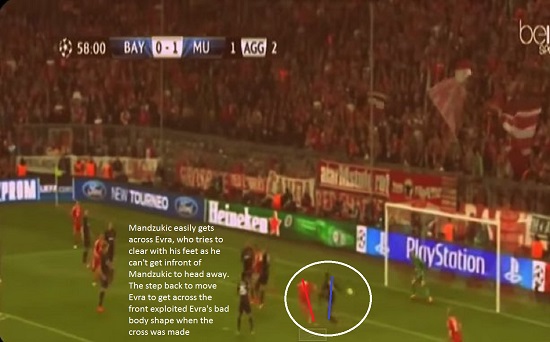 As we can see, Evra is now unable to get across Mandzukic, and is only able to swing a leg at the ball, in an effort to put Mandzukic off, who is brave and scores with a great diving header from the space he created by moving Evra away from that space with the checked run and dart across.
It's a simple way to score a goal, but the body shape of Evra contributed to this – he cannot adjust because he is too flat, he needs to be more on the half turn to see the half step behind him and decide quickly if he needs to step back with him or not. If he does need to deal with a cross over his head, he can adjust for this, similarly if he needs to go forward towards the ball, he should be able to see Mandzukic to get across him before Mandzukic makes his move, and clear it.
By Stevie Grieve. (Follow on Twitter @steviegrieve)  Stevie is also the author Coaching the 4-2-3-1 and Coaching the 4-2-3-1 Advanced Tactics