HOW THE MATCH WAS WON by Keith Scarlett
Bundesliga
November 8, 2014
Commerzbank-Arena; Frankfurt
Bayern Munich 4 v 0 Frankfurt
Bayern Munich went for the jugular when they faced Frankfurt. Frankfurt tried to keep up the pace with aggressive pressing, but the Eagles had their wings sliced off, as they were caught ball watching excessively often and dearly paid the price.
Here is what I thought were the key tactical aspects that played into the outcome of this match. What are your thoughts? Please let me know what you think and what other tactics you think were a factor in this match in the comments section below.
Pep Guardiola's boys timed both their runs and passes superbly to take advantage of this glaring weakness of Frankfurt.
Frankfurt was so inept in the area that it only took 15 seconds for Bayern to send a ball through the defense as Thomas Muller and Robert Lewandowski surged forward to take it. Caught flat-footed, the Frankfurt defensive line was too high. Bayern did not score, but they certainly set the tone.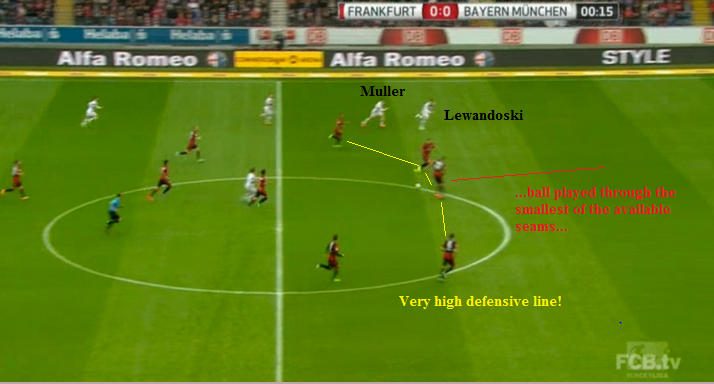 Thomas Schaaf, however, came out of the tunnel with a clear game plan. He wanted his charges to press Bayern to death. They did so and it worked…at least for a while.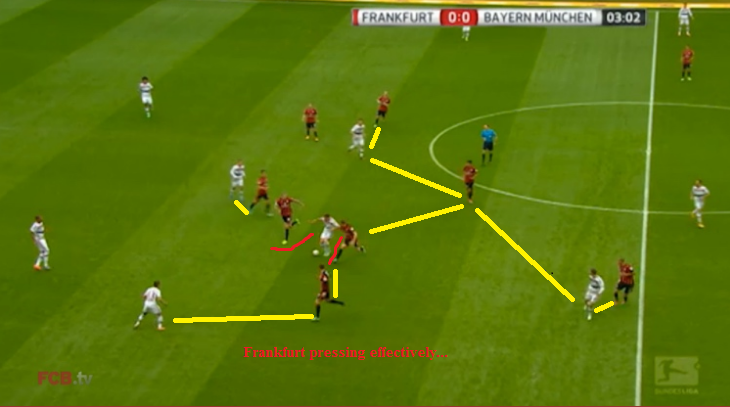 Despite their courage and high work rate, Frankfurt is not exactly a Real Madrid or Chelsea type of club. There will eventually be a chink in the armor.
Frankfurt's biggest weakness is defending against the through ball and Bayern knew it. Their well-timed runs turned into quality chances.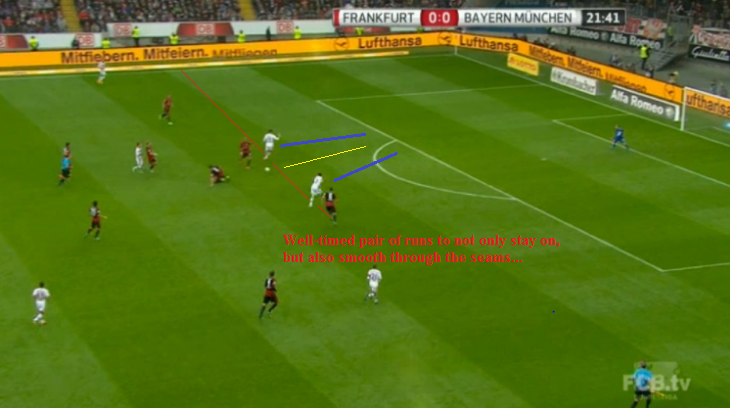 Take a look at the following image: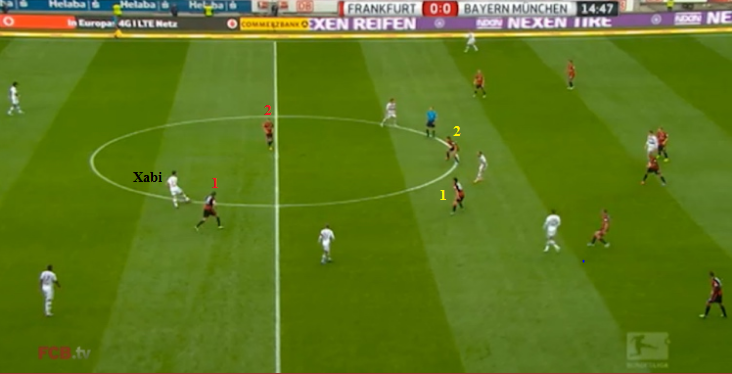 Upon first glance, it looks as if Frankfurt has things in control. Two players are in front of Xabi Alonso, the master passer. There are also a second pair of holding players laid back to try to make sure that nothing gets through. It would be quite tempting for anyone to pass back or even turn and play it wide.
Now, take a second look at the same image. Do you see the three open passing lanes in the middle? What about the opportunity for a vertical relay straight to the striker position?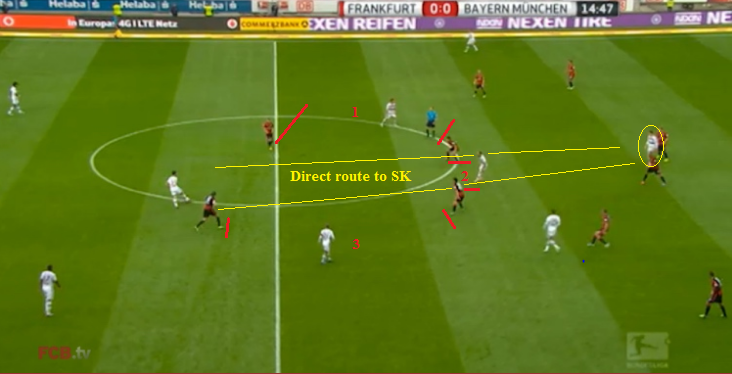 Frankfurt's defense was so reckless in this match. In the following image look at how high they have chosen to draw their defensive line. Three Bayern players could actually make runs and go for goal.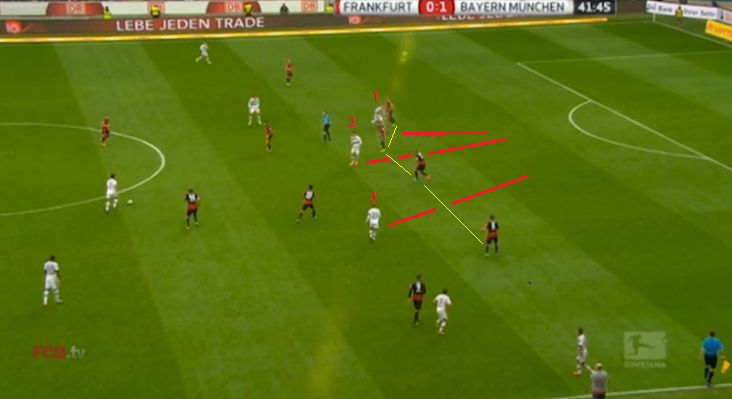 Now, to be honest, Bayern did not always use these gaping seams in Frankfurt's back-line, but boy the lanes were available…and…when they did use them, it was deadly.
Still talking about how easily Bayern was able to go through Frankfurt's defense; the 17th minute brought on a tremendous scoring chance when Xabi sent a nicely weighted ball into the area. For some odd reason, the Frankfurt defenders just did not seem to care about covering the Bayern strikers as all they did was just look at the ball (see the following image).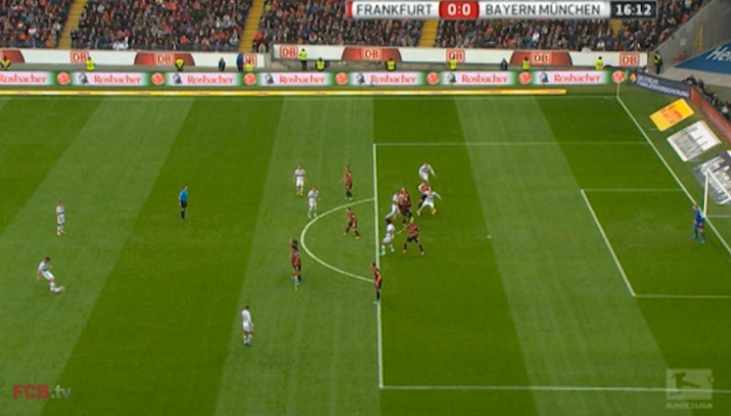 We have spent all of this time talking about Bayern's offensive superiority. Well, it was a shutout win, you know. So, how did their defense fare? Pretty well, I would say. They pressed, minimized the number of passing options, closed down space and maintained their posture quite well throughout.
…Bayern taking advantage of Frankfurt's defensive frailties while staying sharp on the defensive end themselves was all that was needed to determine How The Match Was Won!
What do you think?
I would love to hear your thoughts about this or other tactics of the match that were an important factor in its outcome. Let us discuss it below in the comments section.
What do you think?
I would love to hear your thoughts about this or other tactics of the match that were an important factor in its outcome. Let's discuss it below in the comments section.
HOW THE MATCH WAS WON by Keith Scarlett, Assistant Women's Football Coach – Perth Glory FC, Australia, former U.S. Soccer National Staff, follow him on Twitter @keithscarlett and catch his personal blog, "An American Coach Down Under:" http://keithscarlett.blogspot.com