HOW THE MATCH WAS WON by Keith Scarlett
Bundesliga
November 29, 2014
Olympiastadion Berlin
Berlin 1 v 0 Bayern Munich
This was not the match of the year, but Bayern once again made their case as an efficient vertical attacking side.
When they took to the pitch Hertha Berlin knew that their defense was weak, especially inside of the penalty area. That is why they tried so hard to make up for it with such a relentless team effort.
Here is what I thought were the key tactical aspects that played into the outcome of this match. What are your thoughts? Please let me know what you think and what other tactics you think were a factor in this match in the comments section below.
Pep Guardiola pulled another trick out of his four-something bag. Just look at how he deployed his charges for this particular outing. Dante and Boateng in central defense with Juan Bernat and Rafinha out wide. Mario Gotze sometimes pulling back next to Xabi Alonso with Franck Ribery in the middle, Muller on the right, Robben in front of Ribery and Lewandoski out on the left flank.
Even though players keep moving and interchanging throughout, the following image reflects the formation accurately.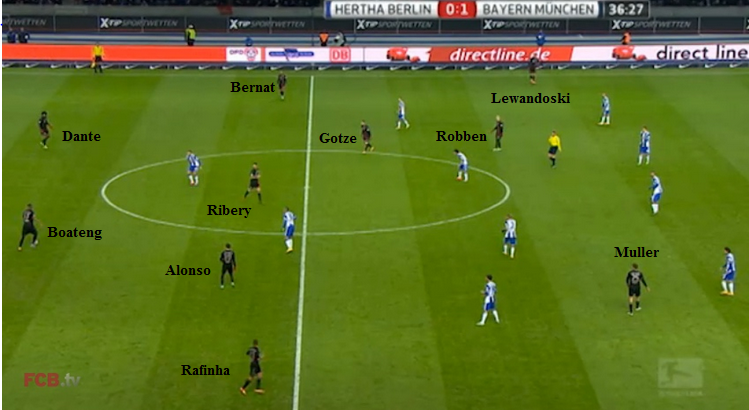 Did you notice anything else? What about Hertha's defensive shape? Did you notice how they were forming a pocket as Bayern were going forward to attack? Look at the next image and tell me if you can see it?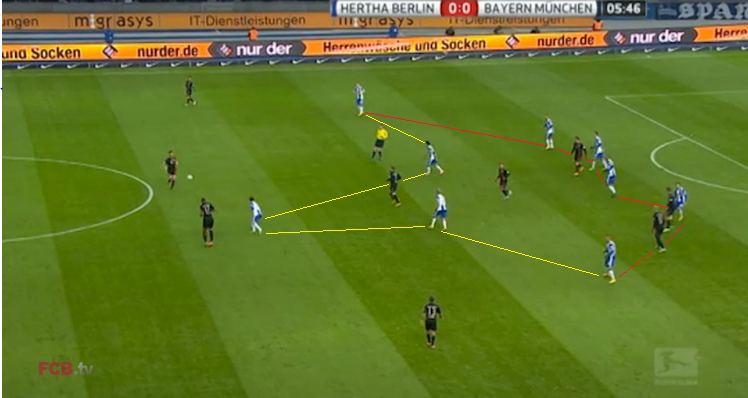 Hertha had two or three players applying weak pressure on the ball in the middle of the park, which left a little space between themselves and their back four. With just a little movement, Bayern was able to pick apart that pocket, finding the space needed to play the ball either wide or deeper inside the heart of Hertha's defense.
As I mentioned earlier, Hertha Berlin does not defend very well in the penalty area. In this match, their weak spot proved to be low, in the center and to the left, from the attacker's perspective.
This is where I will introduce "vertical passes" into this conversation. A weapon that Bayern used to inflict damage, even though their lack of finishing prevented them from scoring more than once.
Franck Ribery was sharp in the passing department, often feeding balls to Juan Bernat, Arjen Robben, Robert Lewandoski or Thomas Muller.
The following image illustrates precisely where Bayern had the opportunity to make their passes go through the defense. We see Ribery spot Robben on his left, ready to make a run. He will then lay it forward for Robben to chase down and create an opportunity.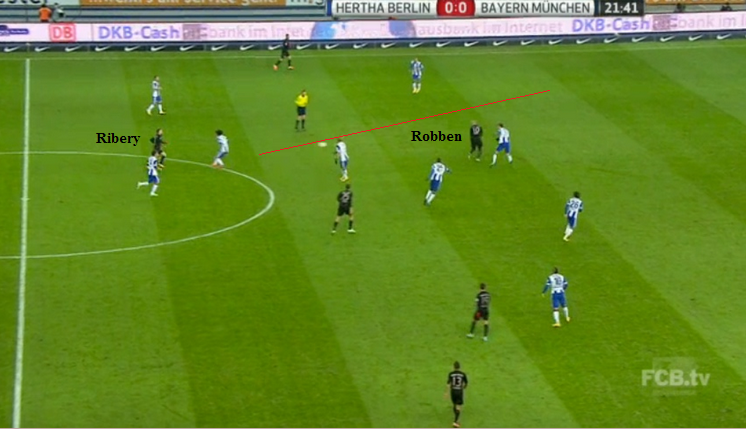 Next, we will see almost the same exact pattern with Bernat, although this time it will be executed lower in the final third. Ribery sees Bernat running through and finds him in stride where he can have a crack on frame.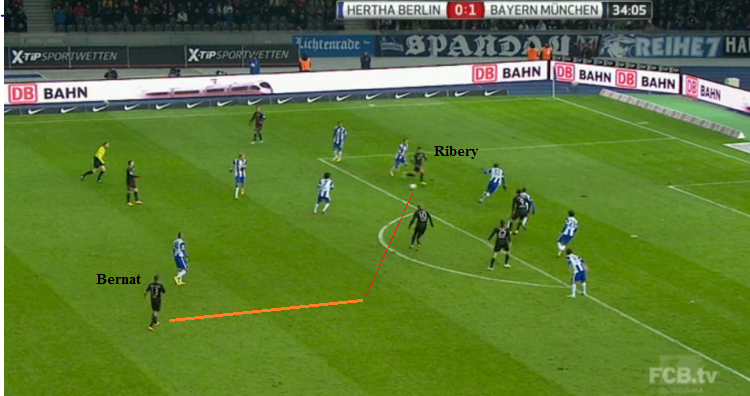 Another option for Bayern was to actually use the middle of Berlin's pocket, as we see Jerome Boateng do in the next image.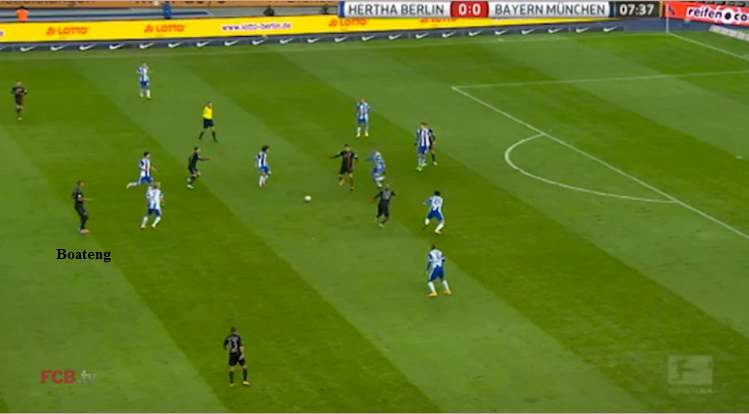 Of course, there is nothing wrong with allowing the opponent to have the ball, if you are going to counter effectively. Here, we see Arjen Robben threatening: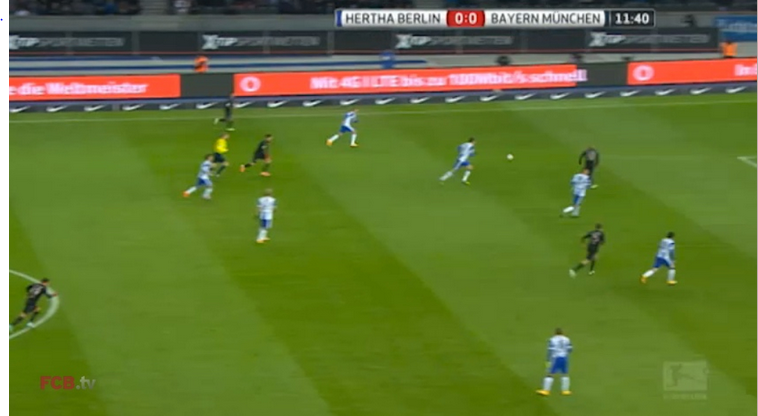 …this time it is Ribery to Muller…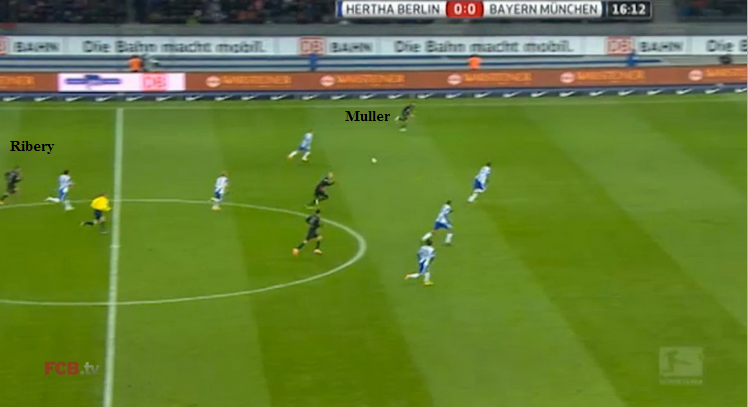 Here is an example from shorter range: Ribery holds off two defenders, finds and then unloads a pass to Muller…who in turn misses…
Bayern likes to play this high-line of defense. The tactic is risky, but it can pay dividends. Why?
Let us look at the risks. For one, the risks become only obvious if you stop running back to defend. You may pay the price for it on the counterattack. Here we see what happens when Bayern is caught watching the ball carrier instead of covering attackers.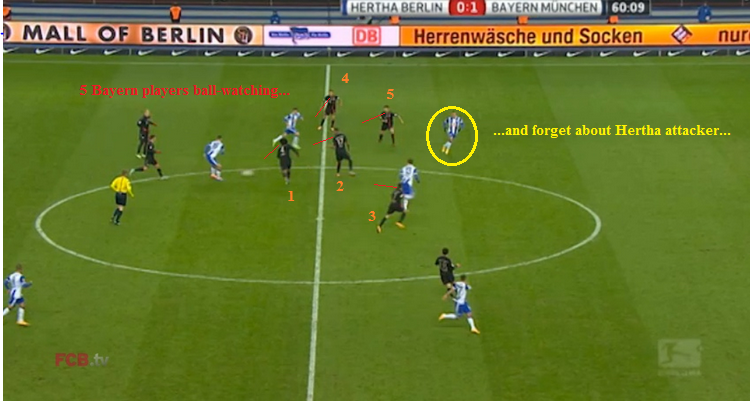 However, what a disciplined high-line can do is cause a team to be offside. Even in small area situations, the tactic can be effective, as seen in the following image. The Bayern defense and Muller do their jobs well, preventing a goal with an "offside trap," of sorts.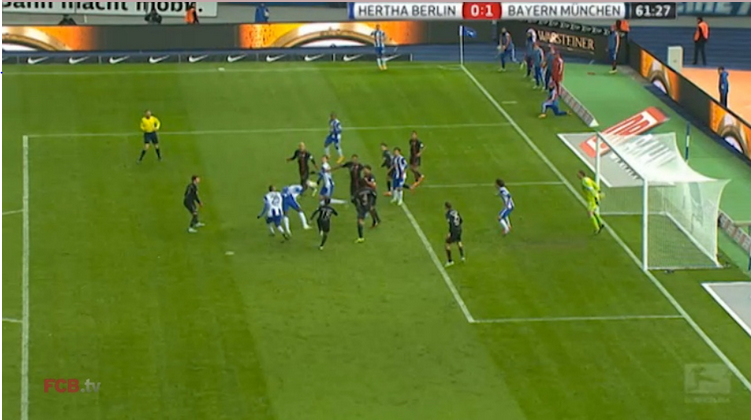 It is best pulled on the counter-attack, if you have the stomach for it. A perfectly timed "step" and Berlin's frustrations continue to mount.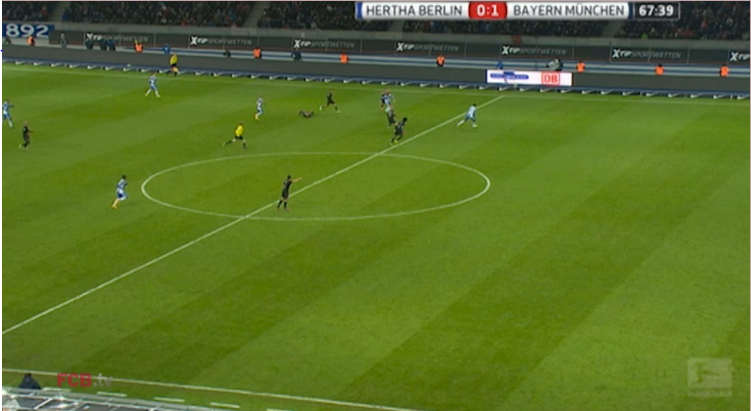 Finally, look at the following image of Bayern's team shape when in possession. Don't you think there are advantages when a team uses this type of shape when in possession of the ball?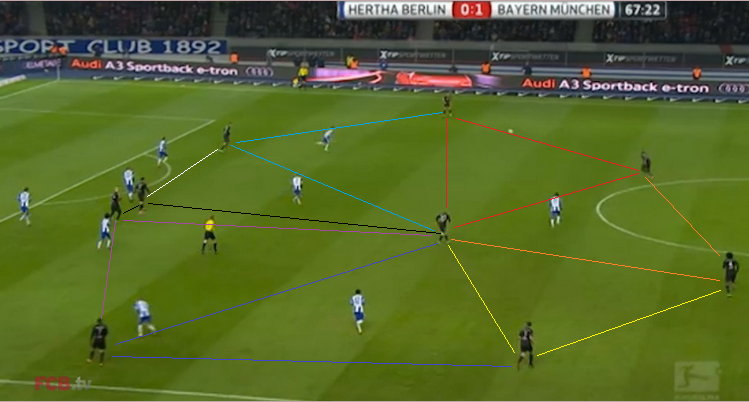 …Berlin's weak defending combined with Bayern's tactical formation, verticality and their possession-based team-shape…not helped, however, by their high defensive line, was none-the-less, How The Match Was Won!
I would love to hear your thoughts about this or other tactics of the match that were an important factor in its outcome. Let us discuss it below in the comments section.
What do you think?
I would love to hear your thoughts about this or other tactics of the match that were an important factor in its outcome. Let's discuss it below in the comments section.
HOW THE MATCH WAS WON by Keith Scarlett, Assistant Women's Football Coach – Perth Glory FC, Australia, former U.S. Soccer National Staff, follow him on Twitter @keithscarlett and catch his personal blog, "An American Coach Down Under:" http://keithscarlett.blogspot.com