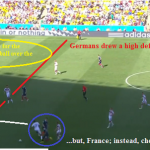 By Renato Lopez Moreira - 
These exercises are based on Dutch training methods. The Dutch are considered one of the most technical in the world.
The exercise is a 4+2 player's game.
The focus on this exercise is on maintenance of ball possession, player's movement and exchange of quick passes.
The exercise is completed in a 15 x 12 yard area. Each player is limited to two touches on the
Continue reading