By Stevie Grieve author of, Attacking in the 4-2-3-1  (Read Part One here and Part Two here)
We have also seen Real Madrid over the last 12 months being able to stop Barcelona in La Liga, and win in the Nou Camp, and Bayern Munich destroy Barcelona 7-0 over 2 legs in the Champions League semi-final, that a totally possession based game can be beaten if you set 'traps' for the possession team, and win the ball when they enter specific areas of the field. Once the ball is won, the counter attacking team can then exploit the fact that they defend deeper and have more space to play in on the counter attack behind the defense and between the lines to build the attack quickly.
The trap is set by, for example, showing a certain space and leaving it open for an opponent to move into, and when the pass or dribble is made into that zone, the defense quickly 'flood' the zone with players, forcing a turnover of possession via an overload. From the trap, 3 or 4 player will know where and when to run, where the ball will be played and attack quickly to the opposition goal.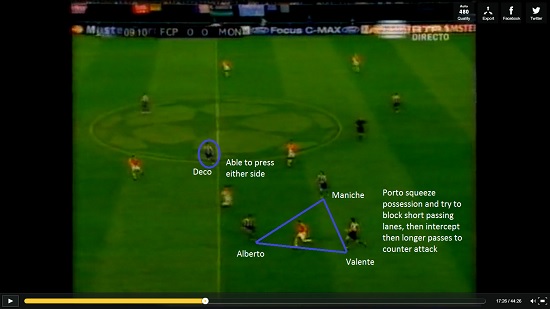 If we look at Borussia Dortmund, they have bought wisely in the past 2-3 years to ensure they can perform this style effectively – they have a solid back 4 in Piszczek, Hummels, Subotic and Schemmel, with 2 very effective holding midfielders in Bender and Gundogan – who normally controls the pace of the game when Dortmund play a more direct form of a possession game. Ahead of them, they have 4 quick, interchangeable players who all have a variety of skills between them.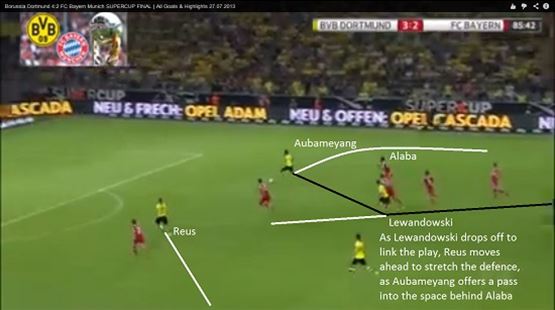 Unfortunately, Dortmund lost Mario Goetze to Bayern Munich but bought well and replaced him with Pierre Aubameyang who reportedly covers 60m faster than Usain Bolt. In football, that 60m may be the longest sprint a player does so you could argue that they have signed the perfect player to play wide in a counter attacking or counter pressing style to nullify and beat a team like Barcelona. There were other players available on the market at that time, but Aubameyang was the player they needed for the wide position that Reus has left to play the #10 role that Goetze played in.
Reus is an interesting player in this type of system as he can play both sides, #10 or as a striker, and another feature of Dortmund's play is that Lewandowski will drop into the #10 area to receive a chipped pass over the opposition midfield, particularly from a full back, Reus will move behind him and either exploit the space left by Lewandowski, or push the defensive line deeper, making more space for Dortmund to play in.
Commonly, Dortmund will go through phases in a game of playing a controlled, possession game with more directness than Barcelona, but with more variety than Real Madrid under Jose Mourinho who played a similar style, but often had problems breaking down a tight, compact defence, instead relying on counter attacks – when teams gave Real Madrid the ball and forced them to be broken down, Real Madrid struggled and often dropped points – this style was suited to playing against Barcelona but not suited to playing against a team like Borussia Dortmund as shown in the Champions League Semi-Final where they lost 4-1, and 4-3 on aggregate (the 2-0 win in Spain for Real Madrid doesn't reflect the whole story of the match, which Dortmund had several counter attacks and possible chances to score from both counter attacks and breaking down Real Madrid's defense).
When we analyse teams like Bayern Munich, Borussia Dortmund and Real Madrid, they are all completely different to the now "idealistic" idea of tiki-taka of Spain and Barcelona, they play with a more transition-based style than Barcelona, who are able to do what Jose Mourinho said was most difficult – to score against an organised defence. Bayern Munich, Borussia Dortmund and Real Madrid all are able to take advantage of an 'unorganised defense' – the transition from attacking to defending phase – whereas Barcelona score more of their goals from the 'Attacking' phase of "Attacking an organised defense".
[wpsharely id="2988"][/wpsharely]
When we look at Barcelona's 4-3-3, under Guardiola it regularly changed to a 3-1-3-3 when Pique moved into midfield, to allow Busquets, Xavi and Iniesta to play closer to the front 3, but against Santos in the World Club Cup Final, the Santos manager remarked that it was the first time he saw a team play 3-7-0, such was the midfield domination and flexibility of movement.
The 'false 9' position has opened up a world of options in attack, and allows for a variety of flexibility in the movement from midfield and wide positions to fill in the space left by the striker dropping into the position of a number 10.
When Craig Levein played with a 4-6-0 (really, a back 4, 2 defensive, 2 attacking and 2 wide midfielders) it may not have been a bad idea had it been played with World Class players. Instead, with Scotland's players, there was no real threat of scoring as there was a lack of diagonal wide-central runs, lack of dribbling to penetrate from the defensive midfielders and no real quality in delivery from the 2 deep lying midfielders, which stopped the formation being a success in attack.
The lack of creative movement ahead of the ball, lack of penetration options on the ball via passing or dribbling, and the lack of creativity of the players in the system ultimately stopped Levein from being heralded a tactical genius, and instead, being labelled an idiot, for playing with no recognized striker.
As teams like Chile, Bayern Munich, Borussia Dortmund and Real Madrid have shown, possession is not everything, and as Jose Mourinho stated previously, the transitions are more important in the goal scoring moments of a game than set pieces.
To have effective possession, fast transitions and effective counter attacks, and possibly even counter counter-attacks, a formation I believe will become one of the future, is one with a flexible 4- 6 man midfield, either a 3-3-3-1, 3-4-2-1, or a 3-3-1-3, which has a solid central defense, a holding midfielder for ball possession and transitions, width in attack, and players in positions to press quickly in all areas in both the transition to unorganized defending, and when the transition is completed to organised defending.
Defending to counter attack, or turning over possession to set a trap and re-attack in transition may well become the new way of controlling a game, and the earlier we can start devising transition scenario based training sessions, the earlier we can start producing footballers for the future game.
Next week in Part Three, Grieve takes a look at how the tactics Real Madrid used were successful against Barcelona.  (Read Part One here and Part Two here)
By Stevie Grieve, author of our new book, Attacking in the 4-2-3-1