By Stevie Grieve author of, Attacking in the 4-2-3-1

Coaches nowadays are always looking to find a way to take advantage of the spaces left by each formation that is commonly used in football, whether it is 4-2-3-1, 4-3-3, 4-4-2, 3-5-2 or 4-5-1. I feel that the way the game is going, the next major 'trend' in football may well be the utilisation of a flexible 4-6 man midfield/attack, in the form of a 3-3-3-1, 3-3-1-3 or a 3-2-4-1 or 3-4-2-1.
Most teams play with a lone striker and the space made around the centre backs made by forcing full backs to defend from wider positions means that they either allow more space for flexibility centrally, specifically around zone 14 (the zone UEFA studies suggested most goals are scored from), or they defend narrower, allowing the attack to pass the ball wide and then draw out full backs and wide midfielders, and try to exploit the space in the spaces they have just left to press the ball.
If we analyse Barcelona under Pep Guardiola, when Busquets drops deep, Alves and Abidal pushed into midfield, creating a flat 3-4-3 with Xavi and Iniesta in midfield, Pedro and Villa wide with Messi in the fairly new 'False 9' position between midfield and attack – playing as a center forward in a more withdrawn role to play between the lines and either bring out a center back, or pull deeper a central midfielder to pick him up.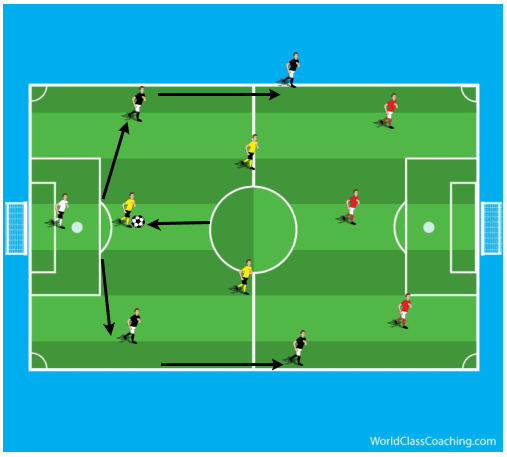 If neither happens, he finds himself able to receive and turn with Pedro and Villa making diagonal inside runs from wide to center, while Abidal and Alves continued to push forward into the spaces left, effectively making a 3-2-1-4 formation in attack.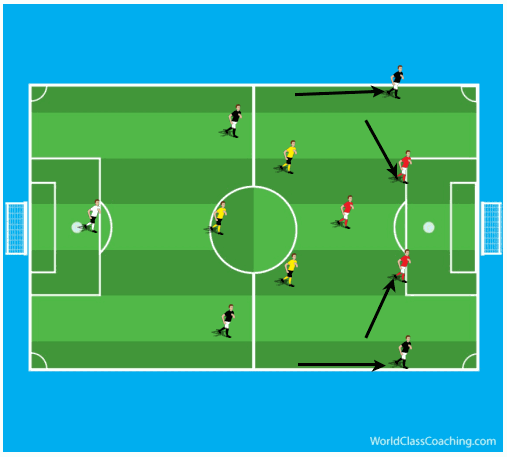 If Barcelona couldn't penetrate quickly, Busquets would move into midfield and offer an extra passing option to make a 2-3-1-4 or 2-3-5 formation (an inverted Triangle like in old style football).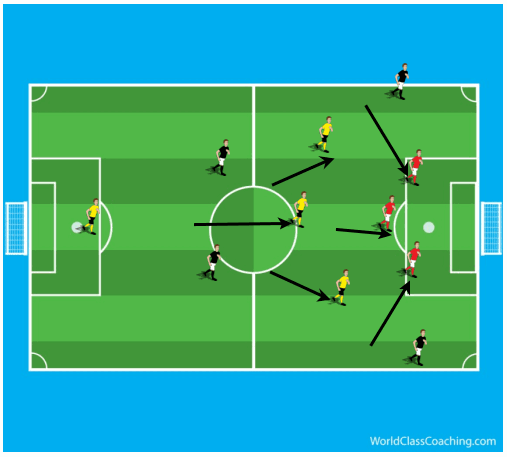 If we analyse another facet of this Barcelona style, when Abidal has tucked in to help play against 2 center forwards as Alves pushes forward, Busquets would sit in the space between the lines, Xavi and Iniesta would stay in central midfield roles to dictate play while Messi would drop off, and Pedro and Villa would move centrally, making a 3-1-3-3 role with Alves wide right, Villa central and Pedro left.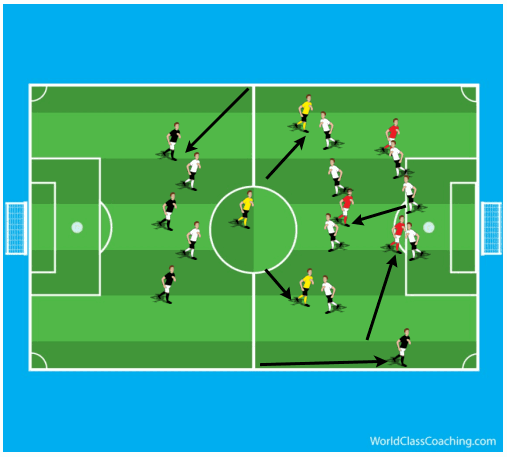 [wpsharely id="2988"][/wpsharely]
Barcelona were often weak in transition but with 3 central defenders and a holding central midfielder, they were able to deal with quick counter attacks, while the 6 attackers had enough intelligence and co-ordination between the players that they knew how to rotate positions and open up spaces to exploit through quick passing around the box. If they couldn't penetrate, they passed back to Busquets who would start over again and they would often dominate possession of over 66%.
If we now look at how football coaches are dealing with the threat of teams like Barcelona and Spain playing with a false 9, and turning into counter attacking sides, or as some call it "counter pressing", meaning that they will quickly counter attack, and squeeze the play so that if they lose possession, they press high and win the ball close to the opposition goal, or as we see from Borussia Dortmund and their famous "Gegenpressen" system, they have all 11 players inside the opposition half after the counter attack and then force the opposition into surrendering possession and they can dominate the game from there.
Next week in Part Two, Grieve takes a look at Chile and the use of their wingbacks.
By Stevie Grieve, author of our new book, Attacking in the 4-2-3-1