By Stevie Grieve, Author of Coaching the 4-2-3-1, Modern Soccer Tactics and Winning Soccer Tactics.  Check out his new book, Coaching the 4-2-3-1 Advanced Tactics here.
Barcelona v Bayern Munich (0-3) Champions League Semi-Final 2nd Leg, April 2013
Bayern Target Barcelona's Full Backs to Create Goal Scoring Chances
Robben Goal – Alaba's long pass opens up the space on the far side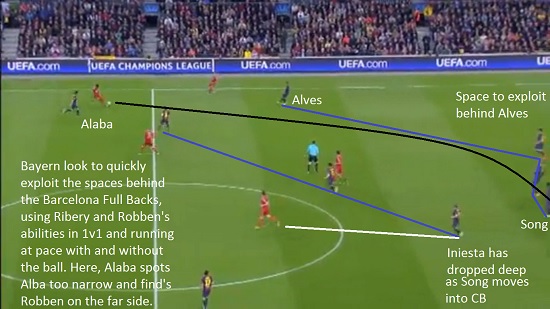 Alaba has possession and can see that Alba is too narrow (out of picture) and Robben will be able to receive on the far side. He drills the long pass to ensure that Robben has time to receive and settle the ball to play 1v1 on the far side.
Robben play 1v1 against Alba who tries to block the dribble inside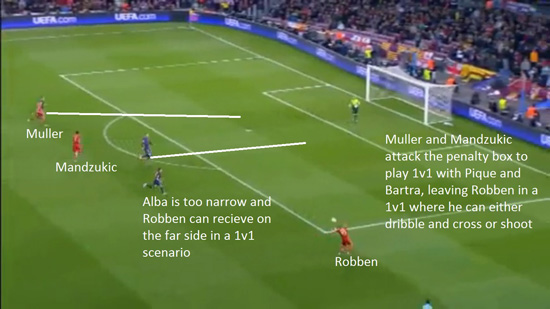 Robben has plenty of time to receive the ball and look for a way to make a final action, to cross, pass or shoot. Muller and Mandzukic attack the penalty box to play 1v1 with Pique and Bartra.
Robben looks to create the space to find a way to shoot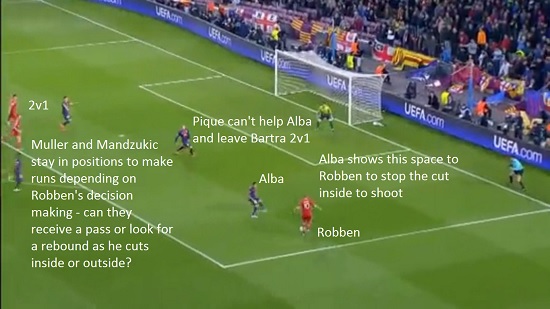 Alba has a good foot position and is blocking Robben's dribbling line to cut inside and shoot, which is something he likes to do often. Muller and Mandzukic have pulled away from Pique and play 2v1 against Bartra. They're next movements will be based on the decision that Robben makes.
Pique has a difficult scenario – he needs to help Alba but can't leave Bartra 2v1.
[wpsharely id="2988"][/wpsharely]
Robben makes Alba change his foot position and creates the space to score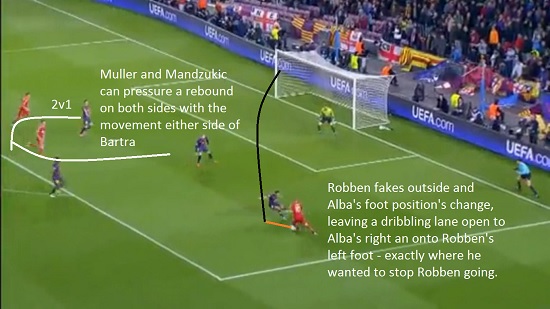 Robben knows he is being forced to his right, and makes a fake to go to that side, making Alba change his foot position, opening the space Robben wants to attack to allow him to shoot.
Mandzukic and Muller have made clever movements – one player on each side to allow them to cover a rebound to either side of Bartra.
Central to Wide Penetration behind Alves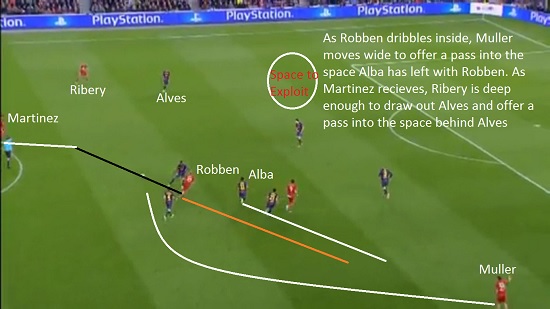 As Robben dribbles inside, he takes Alba with him. Robben passes to Martinez who has a passing lane available between Alves and Bartra once Ribery makes the run.
On the other side, Muller has arced wide and filled the space that both Robben and Alba have left, to offer a different option from Martinez if he wants to use it.
Martinez and Ribery exploit the space behind Alves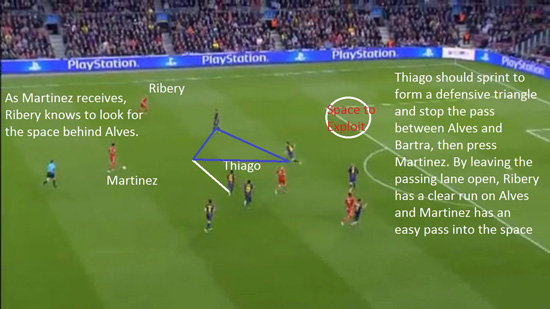 As Martinez receives, Thiago needs to sprint to cover the passing lane and form a defensive triangle infront of Bartra and Alves. As Thiago doesn't close off that passing lane, Martinez has an easy pass into the run of Ribery.
Ribery runs earlier than Alves and reaches the pass from Martinez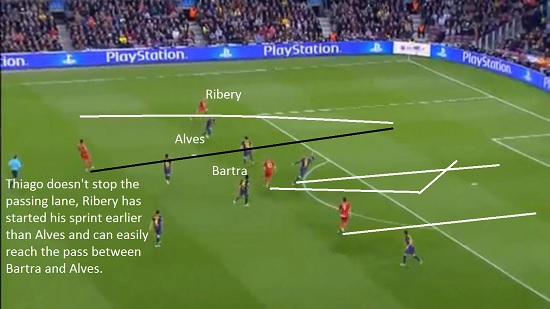 As Martinez shifts the ball onto his left foot, Ribery starts his run behind Alves. Alves must turn and accelerate and as he starts too late, Ribery will always reach the ball first in the space behind the defence.
Ribery crosses but although Pique recovers into position, he volleys the ball into his own net.
Barcelona makes a block in the centre and force Bayern wide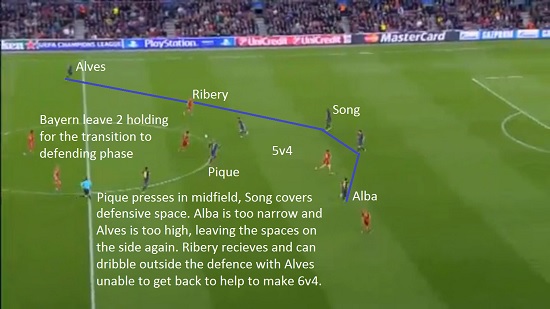 Pique comes out of defence to press Martinez, as Song covers the defensive space. Barcelona play very narrow and leave the spaces on the wide again. As Ribery receives, he is forced wide into the space on the side.
Ribery uses the space on the outside to get around the Barcelona defence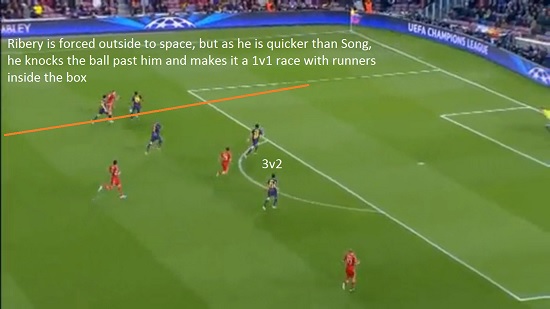 When Ribery is forced outside, he uses his speed advantage over Song brilliantly, knocking the ball past Song and making it a race to the ball. He knows he has runners when he reaches the ball.
Ribery wins the race and delivers a perfect cross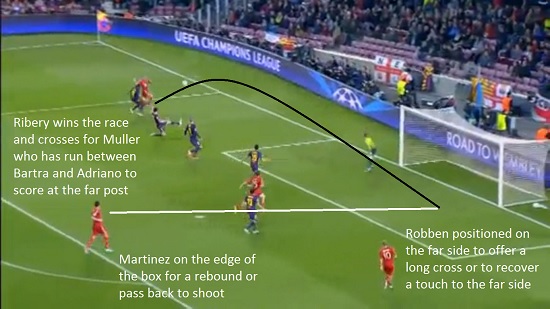 Barcelona have 4 players outside the front post, so Muller makes a clever run between the far side defenders and gives himself the best chance of reaching a far post cross. Robben and Martinez are cleverly positioned to keep the attack alive should the ball be touched to the far side to the edge of the box.
Bayern's tactics over the 2 legs were to give Barcelona no space, exploit the full backs when in possession and attack directly using running with the ball and quick forward passing as often as possible, using Robben and Ribery on the outside and Muller's movement to good effect.
By Stevie Grieve, Author of Coaching the 4-2-3-1, Modern Soccer Tactics and Winning Soccer Tactics.  Check out his new book, Coaching the 4-2-3-1 Advanced Tactics here.