HOW THE MATCH WAS WON by Keith Scarlett
German Cup Final
Saturday, 17 May, 2014
Dortmund 2v0 Bayern Munich
This match was one that Bayern Munich needed to really establish themselves at the top of German football. Borussia Dortmund, on the other hand, needed to prevent them from doing so because they themselves were in dire need of salvaging something of substance from a season chalk full of disappointment.
Even though both sides had something of quality to play for, this final really struggled to get going, especially over the course of the first 45'. Yes, there was good pace and tempo on display, but the play was spastic, erratic, careless and error-riddled; at least until the second-stanza, when it finally opened-up and exploded with complete end-to-end action. As if that wasn't enough, both clubs failed to find the back of the net and thus forced extra-time. It was deep into these additional minutes that Robben would finally sneak in at the far post after a host of individual errors and put Guardiola's side up 1-nil. Now, with Dortmund pressing forward for the equalizer, seams began to open up and then Muller added a second one just before the extra-time break to complete the double in Germany.
It Was a One-Way Street
Bayern actually played a system against Dortmund that didn't involve as many passes as normal but was rather a more direct approach. Bayern were seen playing more long balls than usual to a fluid attacking third.
This initial image shows just that; as there are at least six different viable options for the Bayern player with the ball to efficiently find, yet he instead decides to go long and direct from 65 metre away with very little pressure on him: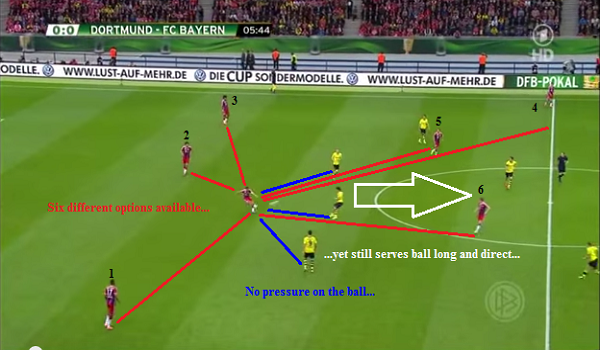 A lot of Bayern's chances were created through this direct approach; a system where they basically countered Dortmund's counter with a quick ball in.
We see that here when Bayern is able to intercept Dortmund on the counter and instead of maintaining possession with the available options, the ball is quickly turned and played into forward space for the Bayern front-line to get their feet on: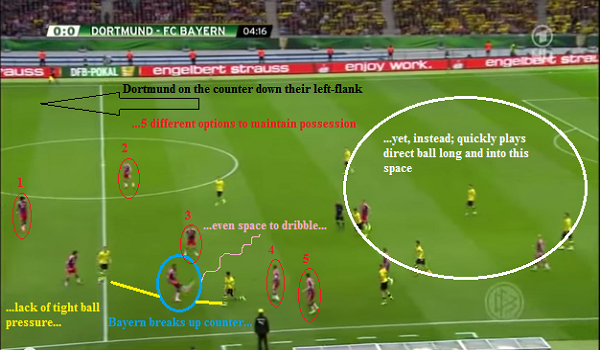 The fluidity of Bayern's attacking third was a display of organized chaos as it was difficult even for football minds watching the match to fully grasp whether or not there was actually any real functional system to the Munich attack.
In the following images, Bayern's front-three work their attack from a starting position that has Robben on the right, Muller in the middle and Gotze to Muller's left.
In this first image we can see the three Bayern high players set-up as such; Robben beginning to break wide on the right…Muller preparing to receive the insertion pass and Gotze holding himself up to Muller's left: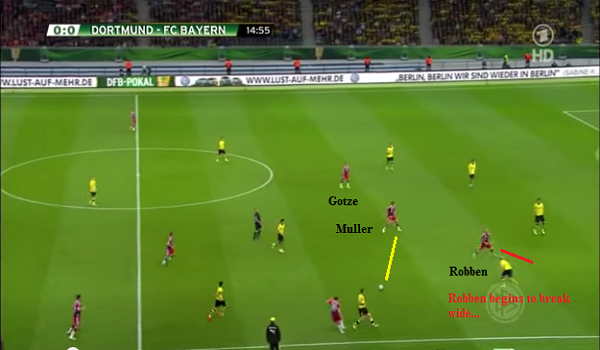 …as we advance a few frames further we begin to see both Robben and Gotze interact based upon how and where Muller is receiving the insertion pass: Robben is preparing to bend his run wide from width and then back in behind the last Dortmund defender ending up in a central role. We can also see Gotze beginning to read Robben's run and make his accordingly: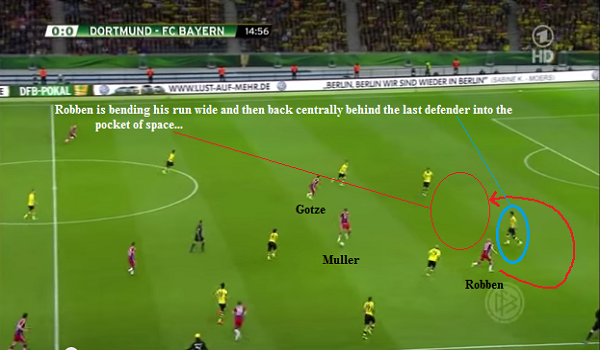 In the next visual we begin to see the effect that Robben's dynamic movement has on the Dortmund defenders as they scramble to stay with him. The defender is getting turned and being forced to chase both Robben and the play as Muller is being pressured from behind: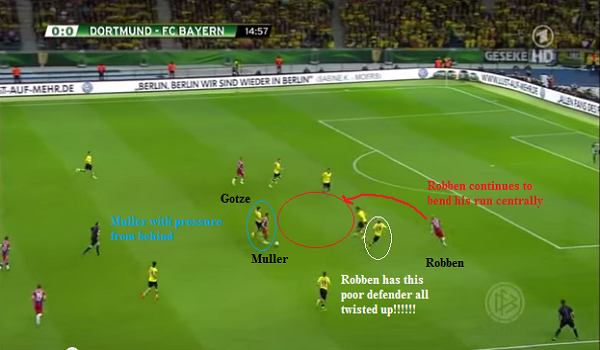 Now we can see fully how the three front-runners movement causes so many issues as Robben is now moving into the middle, Muller is turning to move wide right with the ball and Gotze is starting to stretch the play even wider to the left. *NOTICE THAT INITIALLY THERE WERE ONLY THREE DORTMUND DEFENDERS, BUT NOW THERE ARE TWICE AS MANY ENGAGED: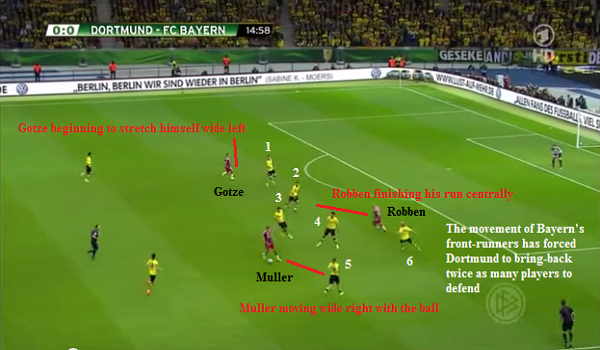 Gotze, Muller and Robben were the front-runners and the Dutchman dictated play via his movement and pace which caused problems for the Dortmund defenders.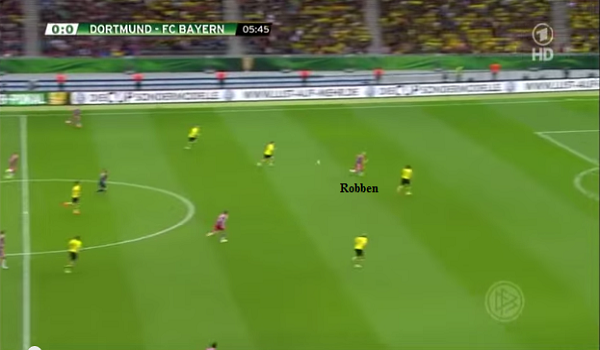 With all the Bayern front men interchanging with each other not just in the expected and typical two-dimensional, east-west, longitudinal, centre to width and vice-versa rotational pattern, but they were also very dynamic in how they interchanged between themselves at the third-level; latitudinal (or north-south). With Robben sliding inside and out and attracting much attention in the central role at times, it was Muller who would often add this extra dimension to the attack by drifting both back and wide, which in turn would allow Gotze to slide in between and fill-in any seams many times uncollected by the Dortmund defenders.
The next image shows this quite well with Robben in an advanced position centrally; Muller retracted back, also centrally and Gotze surprisingly wide-open on the left flank: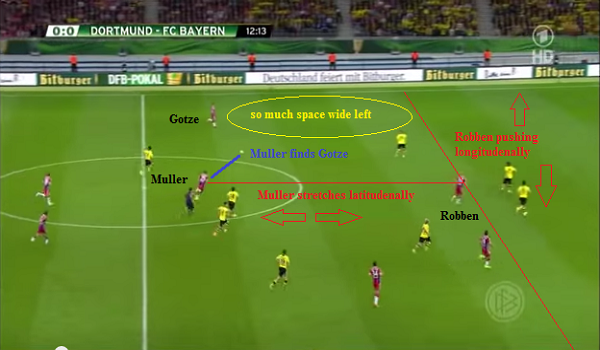 Three up Front, So Just Three at the Back
Guardiola made another tactical adjustment, but this time it was defensive in nature and one to prevent Dortmund from getting much benefit in their attacking third. He decided to play with three at the back. Boateng and Dante were the usual backs, but on this night Guardiola retracted Martinez deeper than usual.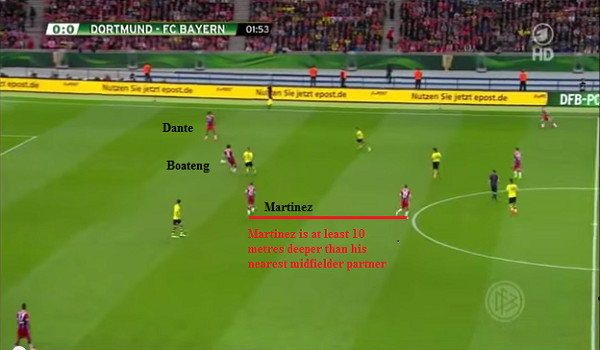 In fact, Martinez was so deep that his starting position was in the same line as the double-back duo.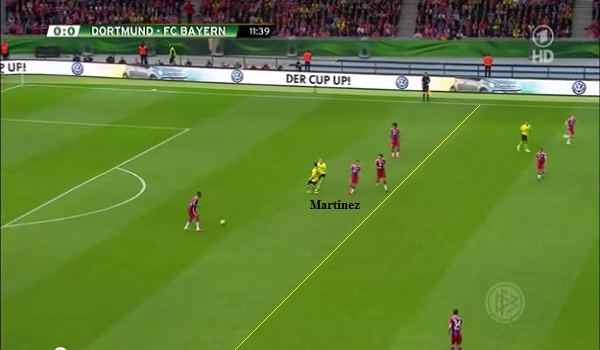 This was done in order to prevent Robert Lewandowski and Marco Reus from combining easily when attacking.
Martinez was to directly battle Reus and in turn completely shut down the creative wheel of Klopp's club.
Here we see Martinez going up to challenge Reus and in-turn blowing-up the play; stopping Dortmund's forward progress: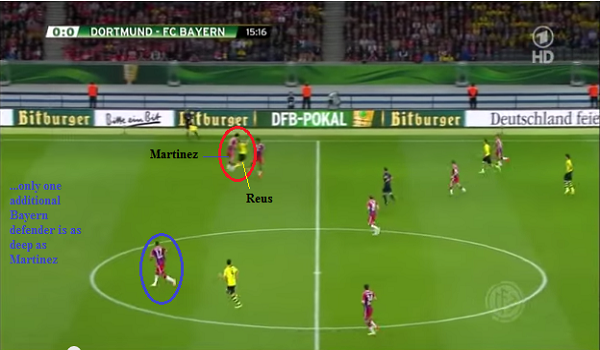 Even though blame does need to be placed on Dortmund for their plethora of missed chances, Martinez did have a large part to play in preventing them from finding any real clean and clear looks.
Never-the-less, it was these two tactical adjustments; more direct and three in the back that was How The Match Was Won!
HOW THE MATCH WAS WON by Keith Scarlett, Assistant Women's Football Coach – Perth Glory FC, Australia, U.S. Soccer National Staff