HOW THE MATCH WAS WON by Keith Scarlett
German Bundesliga
6 September, 2014
Bayern Munich 1 v 1 FC Schalke
Ranging from quite impressive all the way to plain poor, Schalke forced Bayern into quite the "transition" over the duration of the match of which they finished level in Gelsenkirchen. What happened to cause such a drastic range in performance from Bayern Munich? The answer to that will tell How The Match Was Won!
Here is what I thought were the key tactical aspects that played into the outcome of this match. What are your thoughts? Please let me know what you think and what other tactics you think were a factor in this match in the comments section below.
Bayern opened up with an unusual 3-3-3-1 formation. Alonso was the sweeper and Holger Badstuber and Jerome Boateng flanked him. Juan Bernat, Philipp Lahm and Sebastian Rode were the "second three," while Mario Gotze, Thomas Muller and Xheridan Shaqiri were the "third three." Robert Lewandowski was all alone up high.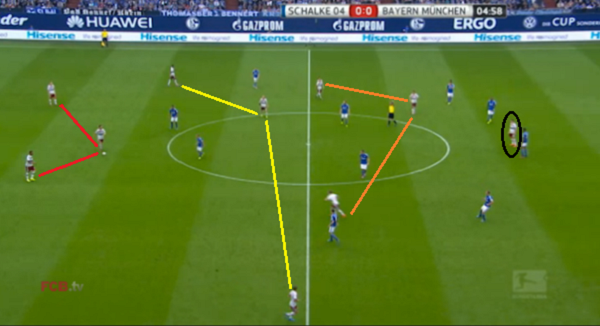 It did not take much time for Bayern to put their game plan into effect. Schalke's defense had two major weaknesses: conceding space in the middle and conceding the same out wide.
Here we see Boateng spot Lewandowski, whose run cuts inside the Schalke defense, which leads to a scoring opportunity for Muller after the ball is centered.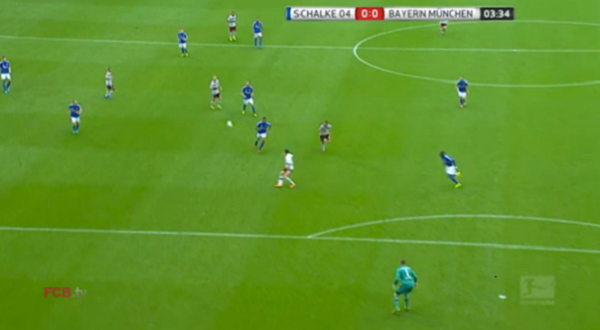 Bayern would also attack Schalke wide. Here we will see Lahm starting an effective attack down the right flank using the space to find Lewandowski who is all alone in the penalty area and able to crack a shot on Fahrman. It was a brilliant insertion ball from Lahm that just kept on rolling and rolling in to the striker.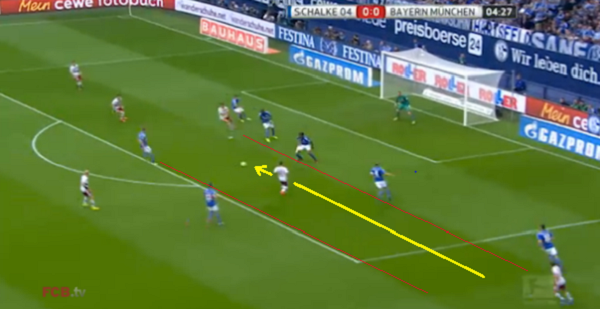 Cutting Schalke's defense open was not that difficult in the first 25 minutes of the match. Simple passes combined with small runs through the center of the park did not give the Blues much time to react. They always seemed to be just a split second too late, which was more than enough time for Bayern to create more chances.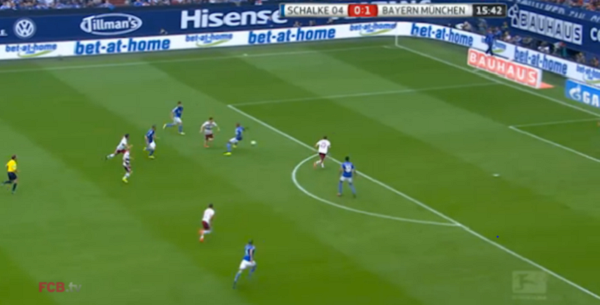 Xabi Alonso's influence from the back was instrumental. His passes were accurate and here we see a long one finding Gotze who is unable to handle the first-touch.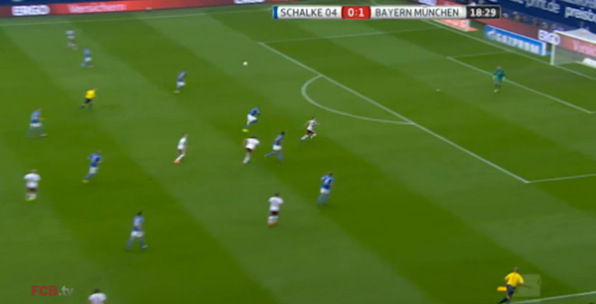 Gotze was not the only player who had a difficult time handling the ball on this day. Xherdan Shaqiri had a difficult outing as well. However, he did try to exploit the space that Schalke was so generously giving away. Here we see his try just go begging wide of the far post: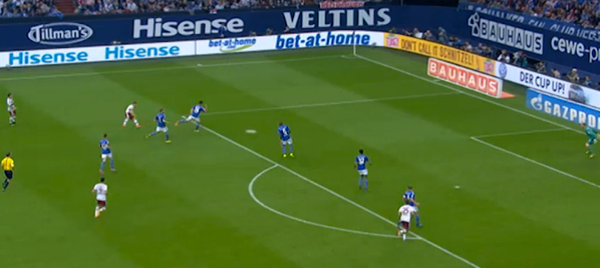 While Bayern's offense is busy slicing Schalke's defense to pieces their own defense is holding up quite well. They zone-out Schalke players and back up quickly which makes it easy to win the final challenge.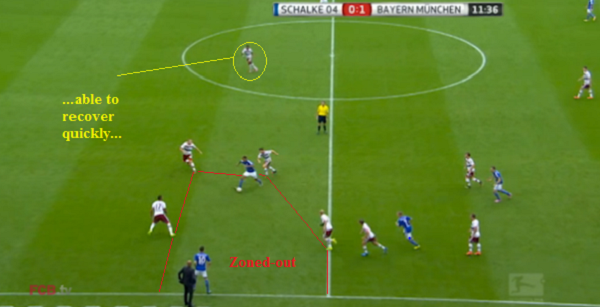 The amount of defensive coverage Bayern is able to achieve is tremendous. Whether it is man-coverage or zone-coverage, they leave so few options for Schalke to find available to pass, but several options for Bayern players to regroup and then converge as needed.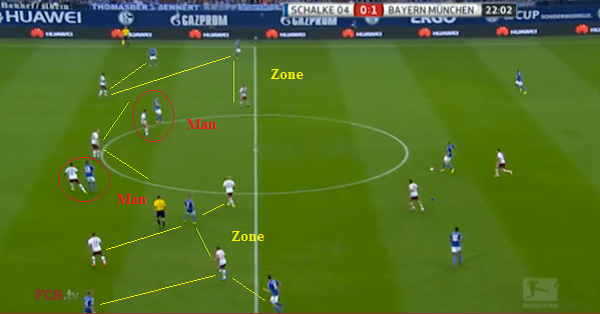 Throughout the first half, Bayern forced Schalke to attack up the center of the pitch. They prevented them from really creating anything on either flank and had players ready to reset and stop their forward progress once they were funneled to the middle.
Eventually, Jens Keller made the needed adjustments to Bayern's tactics in the middle by increasing pressure and taking valuable space away. They are able to cut Bayern off from their suppliers and Bayern stops running around…in fact, Bayern ceases running the show entirely.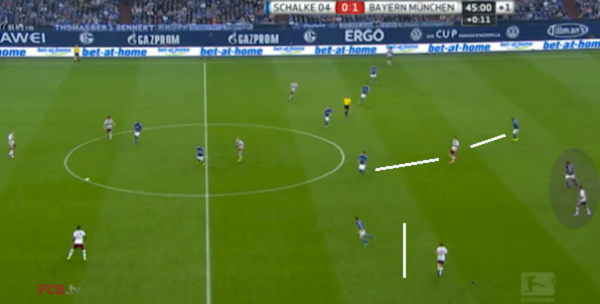 As the match progressed, Schalke commits more to the back and to the middle while Bayern does nothing to tweak its game plan to stretch the play and make it a wider game.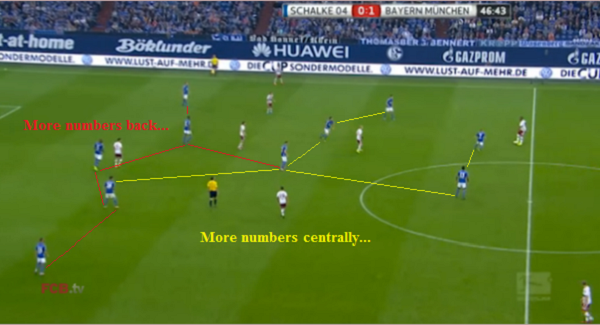 Winning the key air battles is a no-brainer in football and Bayern just failed to do this well during this match. Here we see an example of this, as well as a clear scoring chance for Julian Drexler: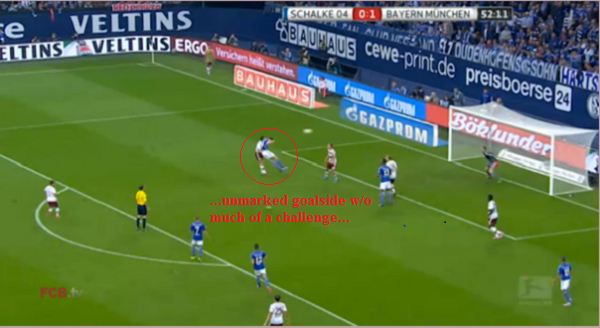 It was not that Bayern was bad tactically; it was more that they lost focus and were just not getting the work done. For example, here we will see Holger Badstuber let the ball just slip away and give Schalke a great chance to attack. Fortunately, in the end, Boateng saves his teammates lackadaisical play by taking the ball from Choupo-Moting.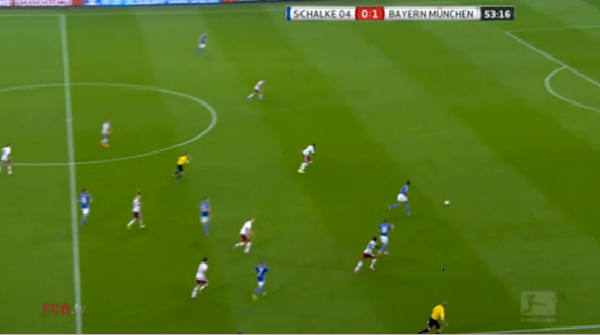 Schalke becomes more and more aggressive, taking the game to the Reds and Bayern just seems content with watching instead of challenging for the ball.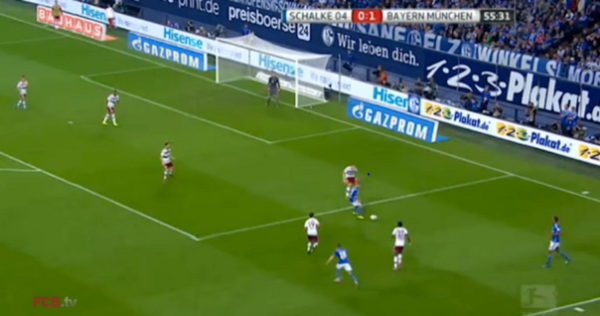 What began as a mature defensive display for Bayern quickly turned into a poor one. An example follows with Dante being schooled by Choupo-Moting's speed.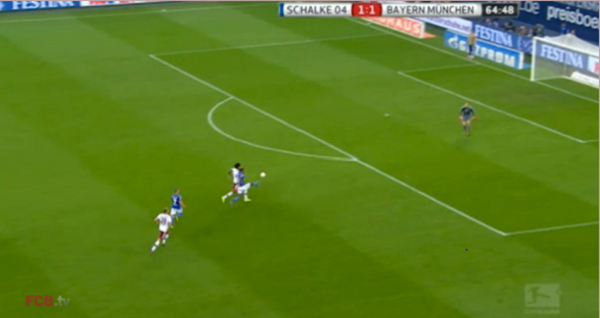 …From a brilliant 25 minutes all the way to a complete slumber is how Schalke turned what began as a probable loss into a quality draw and was thus, How The Match Was Won!
What do you think?
I would love to hear your thoughts about this or other tactics of the match that were an important factor in its outcome. Let's discuss it below in the comments section.
HOW THE MATCH WAS WON by Keith Scarlett, Assistant Women's Football Coach – Perth Glory FC, Australia, former U.S. Soccer National Staff, follow him on Twitter @keithscarlett and catch his personal blog, "An American Coach Down Under:" http://keithscarlett.blogspot.com