HOW THE MATCH WAS WON by Keith Scarlett
German Bundesliga
Saturday, 30 August, 2014
Bayern Munich 3 v 0 Hamburg
The former Barcelona manager had a couple of surprises up his sleeve for his first outing with his new charges against Hamburg. Even if the formation seen was usual for a Pep Guardiola team, how he used several players struck a chord of unfamiliarity.
Frank Ribéry started as a left central midfielder alongside Toni Kroos. Thiago Alcantara made his début as an anchorman and Mario Mandzukic played in between the right wing and the lone striker position, which was occupied by Claudio Pizarro.
Here is what I thought were the key tactical aspects that led to Bayern's win. What are your thoughts? Please let me know what you think and what other tactics you think were a factor in this match in the comments section below.
Bayern quickly got in control of possession. Last season, Jupp Henyckes' 4-2-3-1 kept the principles of a good distribution from the back with Schweinsteiger dropping in between the two centre backs. Guardiola's arrival means that this pattern will be kept, without much surprise. In the extreme, Boateng and Van Buyten were even forced to leave the penalty area to get close to the touchlines at times.
Then Thiago made himself available for Tom Starke's distribution. If he was tracked by an opponent, then it was Kroos' time to drop as Xavi used to when Busquets was closely marked. Ribéry and Pizarro were the next options in the pecking order in case both midfielders were closed tightly by their opponents. However, the more the opponents did follow Bayern players dropping deep, the more they were likely to be caught out of position if Bayern broke out in transition.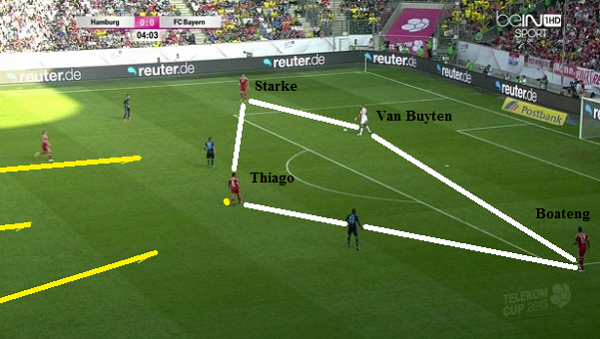 Bayern's distribution with a diamond formed by Thiago, Boateng, Van Buyten and Starke. A second one can be formed for transition purposes with Thiago, Kroos, Ribery and Pizarro.
Even when Hamburg did monitor Thiago and Kroos' runs, Stark would chose a short passing option; even if that meant he put his defenders in awkward positions. Several times Bayern formed squares in the channels thanks to the goalkeeper, a defender, an outside back and a midfielder in order to get the ball out despite being under pressure. One of those situations led to a splendid sequence when Bayern scored their third against Hamburg.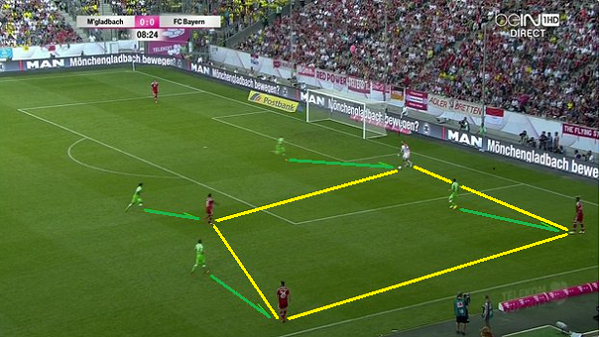 From diamond to rectangle: when Bayern's distribution is pushed towards the channels, the outside backs add their conrtributions to allow the ball to be played out.
Useless while at Barcelona, the long distribution should still be used in Bavaria thanks to Mandzukic, Pizarro or Muller's dominance in the air. Shall Mandzukic win an aerial challenge; it can be a real threat for opponents if midfielders in support come out quicker than opponents fall back to get onto second balls. Nevertheless, that option will arguably be the last resort as it is noticeable how much Bayern wants to emphasize playing on the ground.
Bayern's build up tended to sway towards the left side in part because of Ribéry's activity. Able to interchange positions with Shaqiri and Alaba against Hamburg, the left side was logically prioritized by Kroos and Thiago. Lahm was the only player able to get himself available on the other side. The German outside back did offer passing options, most of which were to the inside of the field, however (Mandzukic, Kroos).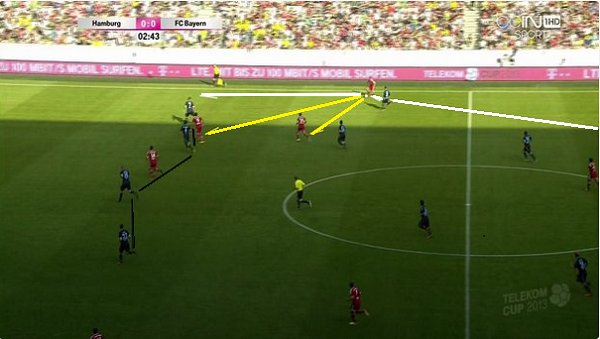 Having received the ball from Van Buyten, Lahm has no options but to play the ball to the inside of the park.
Now, let us get back to the most interesting point: Bayern's left side featuring Shaqiri, Ribéry and Abala. Based on principles already used at Barcelona, the first one was asked to play the "out and out" role down his channel in order to pull the outside back. At the start of the match, Bayern managed to find easily the Swiss international. Before being closed down by his direct opponent, Shaqiri had enough time to find Ribéry who drifted inside in between the opponents' outside back and center back.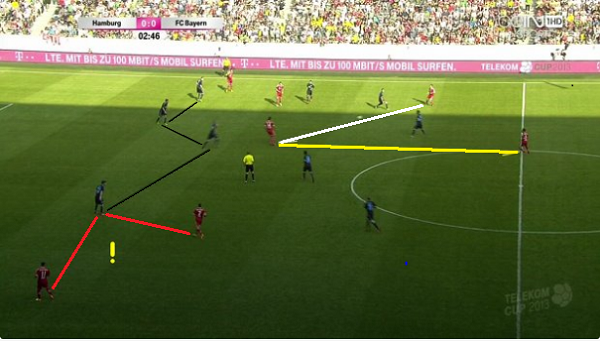 Lahm has found an option with Pizarro having dropped in the hole, the Peruvian international pulls a defender with him and lays it back for Thiago. The former Barcelona midfielder then switches the play towards Ribery and Shaqiri who face a 2v1 situation.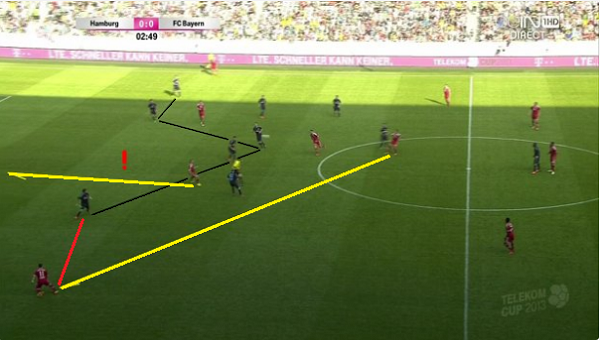 No midfielder has fallen back so Hamburg's right back has to choose between Shaqiri and Ribery. He chooses the former whom gets the ball. So, then Ribery has a massive seam he can work through.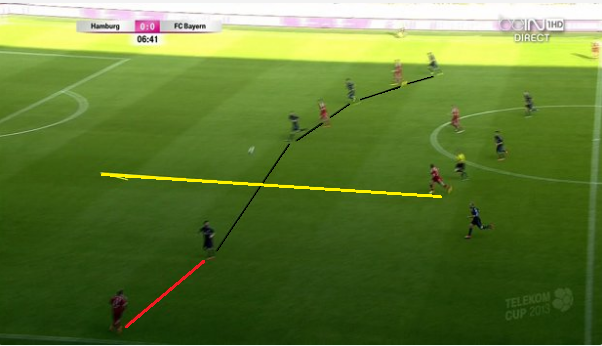 Another example of a much quicker transition: Shaqiri gets the ball and pulls the right back. Both centre backs are miles away and are bothered as much with Pizarro than Mandzukic. Quicker than Hamburg's midfielders, Ribery can attack space yet again.
After several similar dangerous situations, Hamburg adjusted; the right back kept Shaqiri tighter in order to reduce his space and time available to control the ball. Bayern then relied on Alaba to lead the play on the right flank. In case of a positional attack on the left side, Pizarro and Mandzukic weighed on the defence. The Peruvian international offered options to interplay with Ribéry and Shaqiri in order to allow them to get into the box more easily. On the weak side, Kroos (as well as Lahm) got into positions to be the 3rd option to deal with possible chances.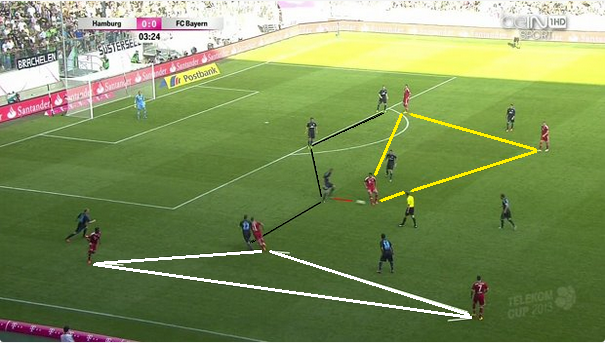 Alaba, Ribery and Shaqiri link up before finally unbalancing the defense and finding a teammate available in a central zone in order to penetrate the penalty area. Pizarro makes himself available in the hole and pulls the centre back, which in turn opens up space for Shaqiri.
The left triumvirate's weight and the options offered forced the opponent's block to slide ball side. At best, Lahm did find Kroos or his strikers at the heart of the defense. Otherwise, he could attack space ahead of him to put the ball into the box from deep positions.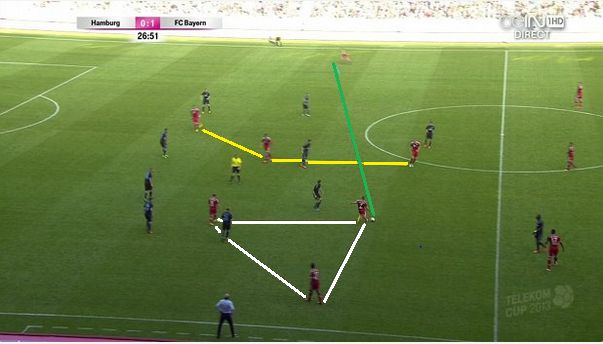 After a short link up play in the left channel, Ribery gets out of the zone that Hamburg's monitoring and switches play toward Lahm.
Whether on the right or on the left, the Bavarians never were shy to pick the direct option when the opponent left too much space. Muller scored thanks to Lahm and Ribéry's service without Bayern having worked to exploit their opponent's approximations to slide by serving in deep penetrating crosses and winning these balls in the box.
One thing Bayern did do well and quite successfully was play the ball negatively and use Thiago, who always seemed to be available in the central zones, to dictate play and keep it flowing. He made himself available in support on the full width of the pitch and was charged with switching the point of attack, either with a diagonal ball or via Van Buyten and Boateng. Both central defenders made themselves available on level if needed.
Interestingly, Thiago joyfully outplayed that restricted anchorman role previously held by Busquets at Barcelona when there was enough space to attack ahead of him. As much as his team mates in the channels, he was not shy to look for Shaqiri or Ribéry's runs from depth. In fact, he was involved in Bayern's second goal as his pass found Ribéry who laid the goal out on a silver plate for Mandzukic.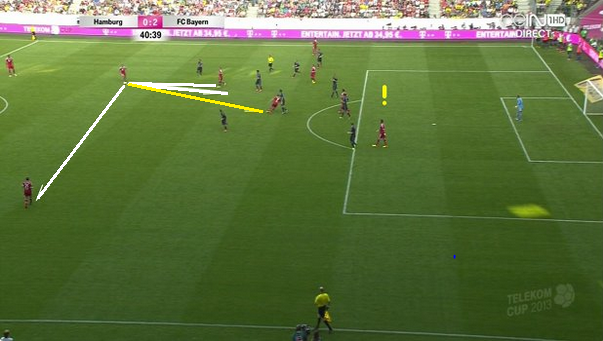 Thiago recovers possession without pressure. He has options to his right with Lahm or by attacking Hamburg's defensive block in front of him. He instead chooses to search a probing ball for Ribery over the top.
His technical ease coupled with the options offered by Kroos, Ribéry, Mandzukic and Pizarro in central zones allowed him to burst out and break past the initial line. In order to keep their shape balanced, Kroos did take a few steps back to compensate on those sequences.
If they were not successful (in terms of goals or assists), the Spaniard bursting forward could be another string to Guardiola's bow. Despite the lack of a false nine (such as Messi) able to drop into midfield and run at opponents, Guardiola could make do with a "false 6,″ someone able to accelerate whenever he wants with plenty of options ahead of him. Thus, we are left to see if it is a choice due to Schweinsteiger's absence or a genuine try early in the new season.
Bayern outplayed Hamburg and were not threatened defensively. They did a sufficient job when the ball was lost in order to make things easier for themselves and the attackers work rate was high-enough to bother the opponent's distribution from the back and allow themselves to recover the ball quickly and press up the field. As he used to do at Barcelona, Guardiola relied on his five most advanced players (Mandzukic, Pizarro, Shaqiri, Ribéry and Kroos) to occupy the attacking half and pressure opponents.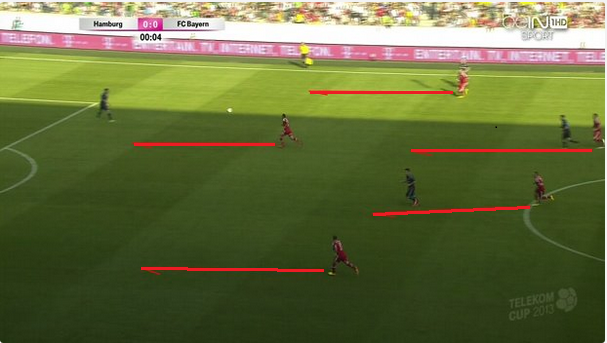 After a Hamburg kick-off, five Bayern players push forward to quickly get into pressure zones in their attacking half.
When Hamburg got the ball out through the channels, the two central midfielders would slide simultaneously in order to form an oppressive enough pressing shape. A few steps behind them was Thiago holding his position in front of a compact defense. The Spaniard only dropped back level with Ribéry or Kroos if one of those advanced forward, closer to the lone striker.
In the same manner, the outside backs only left the back four when the ball was played wide. The rest of the defense (Boateng and Van Buyten to cover respectively Alaba and Lahm, with Thiago not far away if needed) covered them.
Guardiola has not been in charge much longer than a month and yet he still has managed to implement his style on the Champions League winners from 2013. Beyond the system used, the emphasis on building from the back and the wide men's positioning and pressing were not without recalling his day's at FC Barcelona. However, the Catalan did also take into consideration some of his new team's distinguishing features: attacking sequences are primarily set-up on the channels and are primed for crosses from deep positions or penetrative play through space in order to take advantage of runs or the even the muscular dominance of his attackers.
…on this day…it was Bayern's distribution, pressing, Ribery's work on the left and Thiago's shift that was How The Match Was Won!
What do you think?
I would love to hear your thoughts about this or other tactics of the match that were an important factor in its outcome. Let's discuss it below in the comments section.
HOW THE MATCH WAS WON by Keith Scarlett, Assistant Women's Football Coach – Perth Glory FC, Australia, former U.S. Soccer National Staff, follow him on Twitter @keithscarlett and catch his personal blog, "An American Coach Down Under:" http://keithscarlett.blogspot.com