HOW THE MATCH WAS WON by Keith Scarlett
English Premier League
25 August, 2014
Man City 3 v 1 Liverpool
Manchester City made their first big statement of the new season with a punishing display against a Liverpool side who were gutsy but failed to take their chances, ultimately suffering from individual errors; a common theme from last season.
Here is what I thought were the key tactical aspects that played into the outcome of this match. What are your thoughts? Please let me know what you think and what other tactics you think were a factor in this match in the comments section below.
Manchester City made a couple of changes to their back line, with Gael Clichy at left back and Pablo Zabaleta at right back. Otherwise, they remained the same as their opening weekend, keeping with the 4-4-1-1 with Stevan Jovetic playing in behind Edin Dzeko up front.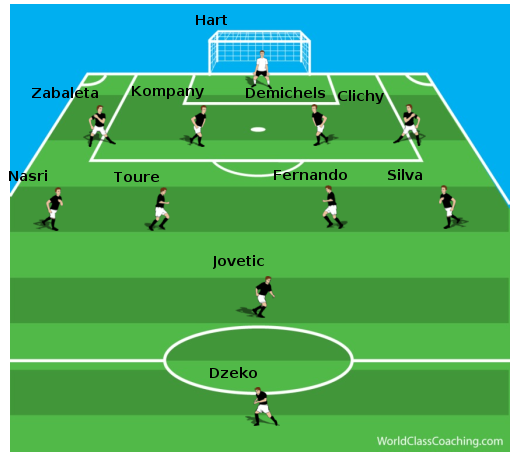 Manchester City's Line-up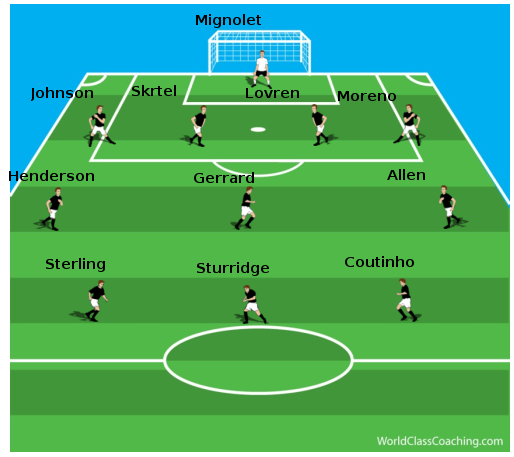 Liverpool's Line-up
The midfield duo of Fernando and Yaya Toure meant less dovetailing. It was more Fernando taking the bulk of responsibility protecting the back four and Toure with more of a licence to get forward; however, his positioning seemed slightly reserved despite this freedom to roam. As for Nasri and Silva on the right and left, respectively, they both drifted centrally to get involved in the short build up play. This all makes their system looks increasingly like a 4-2-2-2.
There was only one real question mark over Brendan Rodgers line up which focused around the outside-backs. Javier Manquillo did not do much wrong against Southampton; however, he made way for Alberto Moreno to make his debut at left back, with Glen Johnson switching to right-back.
The rest of the line-up was as expected, a 4-3-3, with a midfield triangle of Gerrard, Henderson and Allen. This system seems to be Rodgers' favoured defensive tool. Joe Allen is Rodgers go-to midfielder for away matches, he seems to be able to get all of his tactical instructions spot on and along with Henderson provides the energy required to carry out the pressing game smartly.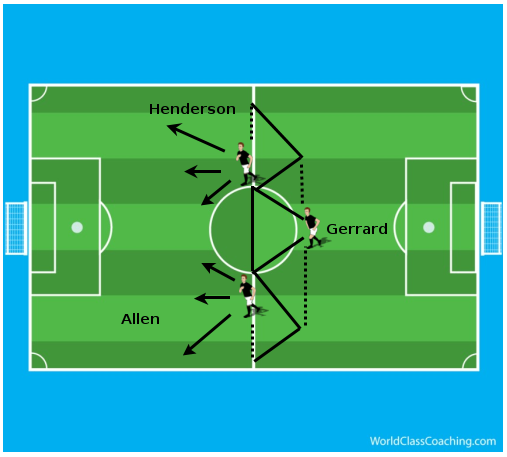 The shape of the midfield three as shown in the following diagram is difficult to penetrate (which proved as so for much of the first half) compared to a midfield 2 with a number 10 like Liverpool displayed the previous week against Southampton. The 4-2-3-1 leaves the defensive two flat and exposed if you are able to penetrate past the number 10: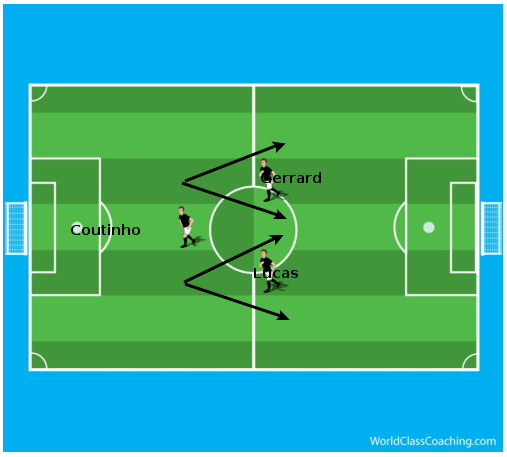 Below, you can see how this set-up was intended to make Liverpool: 1) difficult to break down, 2) able to dominate the ball in midfield and 3) able to press without it:
These tactics were not enough as the game unfolded, with Liverpool undone by some crucial defensive errors and brutal finishing from Manchester City, who were the worthy winners. A lapse in concentration from newbie Alberto Moreno, an unnecessary step out of defensive position from Lovren and a suicidal high line after the introduction of Aguero left Liverpool cursing their finishing which could have sealed the game early on for them.
Having said all of that, they still looked worth a punt for pulling it back to a draw after the introduction of Lazar Markovic. Coutinho on the left was understandably not at his sharpest at an uncomfortable outside-back position when Liverpool was defending deep. After City introduced Jesus Navas, it became obvious they no longer wanted a player to break down the defence, but rather someone to counter. They were happy to sit a bit deeper and break into the spaces behind.
City tightened things up at the back by introducing Fernandinho to sit alongside Fernando, which in turn pushed Yaya Toure higher up the pitch. However, Liverpool briefly stepped it up and maintained some fight until the final whistle, despite finishing with 10 men due to injury and also suffering set-backs to Johnson and Moreno (who battled on until the conclusion rather than reducing Liverpool to 9).
City, appear to be one of the teams to beat based upon what they have shown from these early rounds. They have the power required in all areas, total strength in depth and the finishing to blow teams away. Liverpool, however, should not be disheartened, as their performance for the majority of the match outlined them as organised, dynamic, creative and capable. A few tweaks for Brendan Rodgers and some strong players yet to come into his side should be keeping his spirits high. After all, there may only be 1 or 2 teams, who go to the Etihad this season and win.
…Manchester City's overall dominance, combined with some bad luck for Liverpool ended up being the ingredients for How The Match Was Won!
What do you think?
I would love to hear your thoughts about this or other tactics of the match that were an important factor in its outcome. Let's discuss it below in the comments section.
HOW THE MATCH WAS WON by Keith Scarlett, Assistant Women's Football Coach – Perth Glory FC, Australia, former U.S. Soccer National Staff, follow him on Twitter @keithscarlett and catch his personal blog, "An American Coach Down Under:" http://keithscarlett.blogspot.com