By Justin Cresser
Pattern play involves rehearsing specific patterns to simulate situations that are likely to occur during the game. It does not usually incorporate opposition and can be integrated into phase of play training for a specific element of the game such as wing play or counter attacking. In addition to developing position-specific skills and role awareness, pattern play can also be used for conditioning.
Consider the following pattern play exercise to improve the anaerobic capacity of your central striker (number 9), the right or left wingers (numbers 7 and 11) as well as the central playmaker (number 10).
The starting positions are shown in Figure 1. Play is initiated by the number 10 who dribbles at speed for a few yards and then plays a pass into the feet of the number 9 who has faked a forward run, turned sharply and checked back diagonally into space.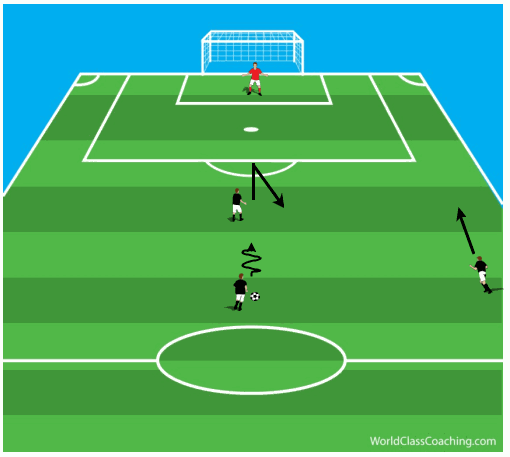 The number 9 plays a 1-touch pass back to the number 10 who then plays a ball into the path of the number 7 who is running at full speed (Figure 2).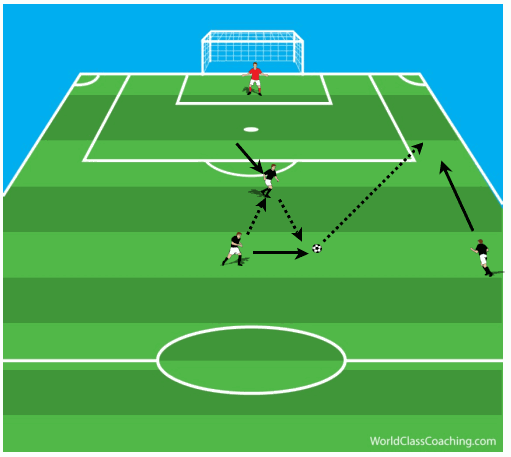 The winger is only allowed 1 touch before playing a cross into the box for either 9 or 10 to finish who have made make near- and far-post runs respectively (Figure 3). (The runs from the #9 and #10 should be at full speed!)
Coaching Points:
Encourage the winger to deliver balls to both the near and far post, and ensure the entire play is done at game speed. Although the runs are at full speed, the #9 and #10 need to time these runs. After each attempt, have the players jog back to the starting position and then repeat the play for a total of 7 to 10 repetitions. Switch wings every few plays.
The play should last approximately 7 seconds and jogging back into place should take no more than 35 seconds. This gives a work-to-rest ratio of 1:5. This exercise should elevate your heart rate to about 90% of its maximum value.
This exercise emphasizes finishing (#9 and #10) and crossing (#7 and #11) ability as well as position-specific movement and first touch from all positions.
Justin Cresser - Has coached soccer at various levels both in North America and abroad (Hong Kong and Africa). His most recent position was as the Assistant Technical Director at the Soccer Club of Toronto. He has his National Diploma from the NSCAA and is also a certified strength and conditioning coach.