By Anthony Hazelwood
The following activity has individual players working on their soccer specific muscle tension movements. A 4 x 4 yd. squared zone is marked with each cone being a different color. This activity must be done in pairs with a coach or a teammate. The Pele Box activity targets muscle tension and reactive/thinking skills. Players must perform activities at a high rate.
When preparing the activity, if needed, concentration and difficulty levels may be increased by having players execute something extra unique by setting more restrictions. Every activity may be modified, and it is up to the coach to be creative. However, it is important to respect the parameters of the exercise time, the rest, the types of actions used and the weekly periodization of the activity.
Additionally, it is beneficial to train a soccer team and its players with all the elements of the game being present in the session. By doing so, it will promote soccer specific adaptations to the player's body, mind, and emotional triad. Ultimately, these adjustments will enhance their real-time game performances on a physical, emotional, conscious, and subconscious mental level.
Area Size: 4 x 4yd. Box.
Total Activity Time: 18 Minutes.
Sets: 1.
Activity Time: 30 seconds.
Recovery Interval Time: 30 seconds.
Intensity: High.
Objectives:
• Tactical: Quick decision-making actions.
• Fitness: Maintain high intense corporal actions.
• Technique: Proper fitness and off/on the ball execution/techniques.
• Mental-Emotional: Players fully engaged and concentration is high.
• Concentration Level: High.
Setup:
• One working players is put in the squared area and a partner is facing him/her with the ball.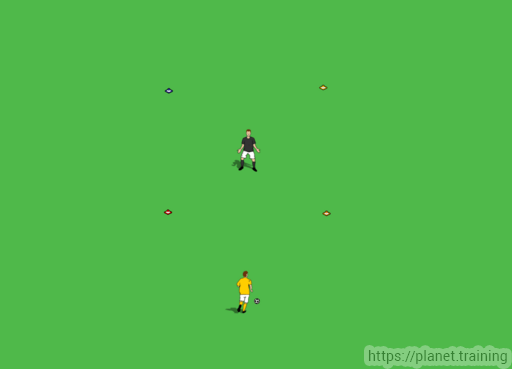 • At the start, the player with ball will pass to the boxed in player.
• The Boxed player passes the ball back one touch.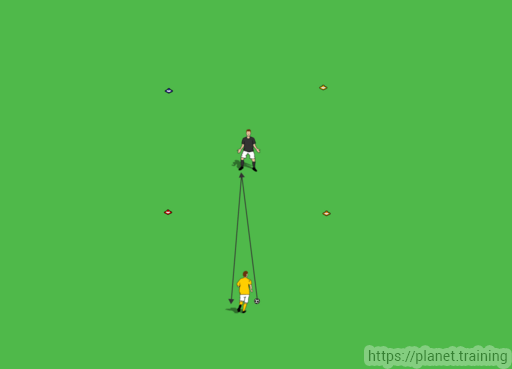 • After this, he quickly goes to the first cone and goes back to the middle.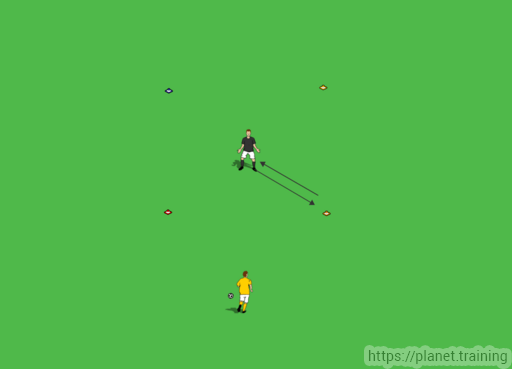 • Once he returns to the middle, receives, and passes back, he can go to any other three cones left.
• Alternative: Player with the ball calls out color cone sequence to go to and then plays the ball.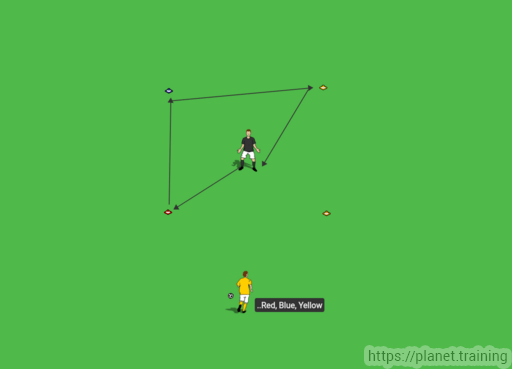 • Alternative: Cones are assigned numbers – Player with the ball calls out number sequence for middle player to run to.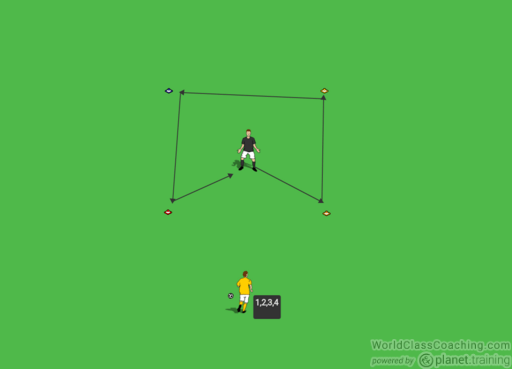 Coaching Points:
• Attentiveness.
• This session is continuous, make sure to keep moving.
• Proper technique and Proper Exercise Movement.
• Proper exercise movements when attacking players are idle.
By Anthony Hazelwood
Current Seattle Sounders Academy Performance Coach with previous European academy coaching experience as an assistant fitness and strength/conditioning soccer coach with Levante U.D. (2013-2014) and Getafe SAD CF (2015-2016) in Valencia and Madrid, Spain respectively. A USSF "A" licensed coach with a BSc in Physical Education and an MSc in Sports Training and Nutrition.