By Anthony Hazelwood
The following activity has the defending players working on their soccer specific muscle strength, while targeting their anaerobic energy system. Four grids are created in a half field environment. A four vs. two activity is played in each grid – with each grid measuring 15 x 15 yds.
The four attacking players are shaped as a diamond and possess the ball with good supporting actions and proper ball speed. The two defending players will be restricted to a grid and will try to disrupt as many passes as they can.
During the activity, intensity will be increased by having the players on defense react to a certain rule when the whistle is blown.
When preparing the activity, if needed, concentration and difficulty levels may be increased by having players execute something extra unique by setting more restrictions. Every activity may be modified, and it is up to the coach to be creative. However, it is important to respect the parameters of the exercise time, the rest, the types of actions used and the weekly periodization of the activity.
Additionally, it is beneficial to train a soccer team and its players with all the elements of the game being present in the session. By doing so, it will promote soccer specific adaptations to the player's body, mind, and emotional triad. Ultimately, these adjustments will enhance their real-time game performances on a physical, emotional, conscious, and subconscious mental level.
Area Size: Half Field – Includes four activity box measuring 15 x 15 yds.
Total Activity Time: 25 Minutes.
Sets: 3
Repetitions in One Set: 3 reps – 2 minutes each round.
Recovery Interval Time: 30 seconds (coaching points and rotation of players).
Recovery between Sets: 30 seconds.
Intensity: High.
Objectives:
• Tactical: Attack – Support in Diamond Shape, Ball Speed; Defense – Pressure/Cover, Disrupt Passing sequence.
• Fitness: Maintain high intense corporal and mental/emotional actions.
• Technique: Proper fitness and off/on the ball execution/techniques.
• Mental-Emotional: Players fully engaged and concentration is high.
Setup:
• Half Field – w/ Four playing grids measuring 15 x 15 yds.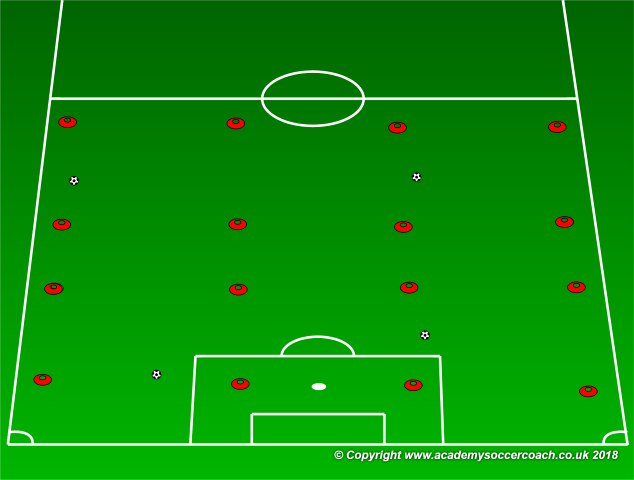 • Four attacking vs. two defending players in each area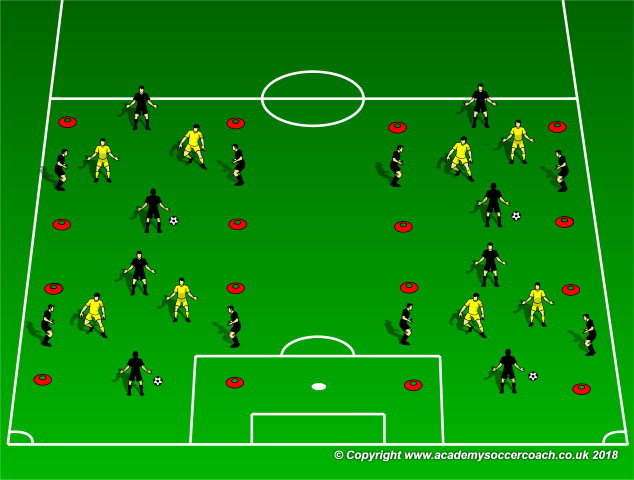 • Play for two minutes.
• During the two minutes, the coach will blow his/her whistle and the defending players will perform the following rules:
• On whistle command, two defending players will run to the next grid clockwise or counter clockwise.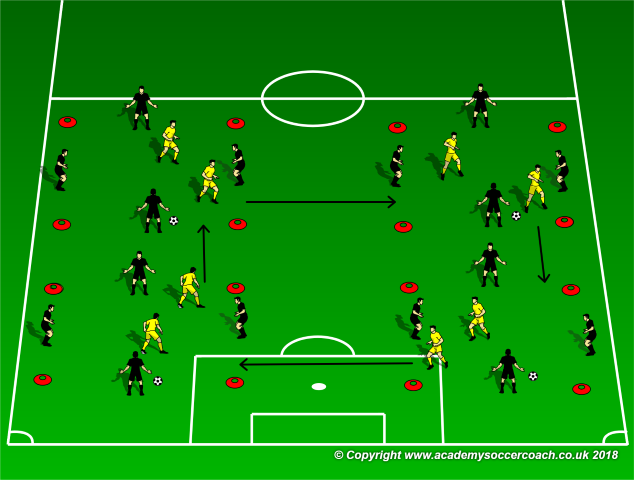 • On whistle, defending players will run diagonally to the opposite grid.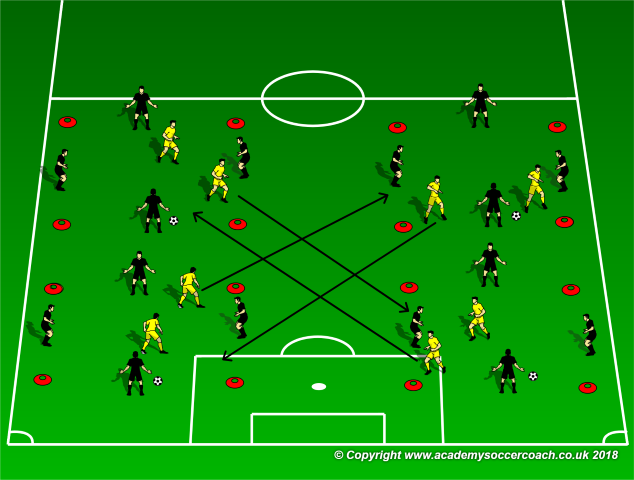 • Various other rules applied.
• After two minutes of play, rotate defending players with two attacking players.
• Players in attack offer good ball movement at speed and proper supporting angles.
By Anthony Hazelwood
Current Seattle Sounders Academy Performance Coach with previous European academy coaching experience as an assistant fitness and strength/conditioning soccer coach with Levante U.D. (2013-2014) and Getafe SAD CF (2015-2016) in Valencia and Madrid, Spain respectively. A USSF "A" licensed coach with a BSc in Physical Education and an MSc in Sports Training and Nutrition.