By Matt Riley
Remarkably, Newcastle did not complete a single cross in the entire ninety minutes despite twelve attempts. Not only was Ba without the support of Papiss Cisse, his role became that of holding the ball up for Ben Arfa and Obertan rather than rampaging into the box.
Newcastle chose a cautious set up, understandably with Arsenal in search of their fifth win in a row ( three of those after going one nil down.) With four defenders and two deep lying midfielders in Tiote and Cabaye, Obertan was always going to find any linking play difficult with only Ba up front and Ben Arfa playing on the left of midfield to start but moving right to look  in vain for some meaningful possession.
Walcott attacks Whilst Obertan Back Tracks.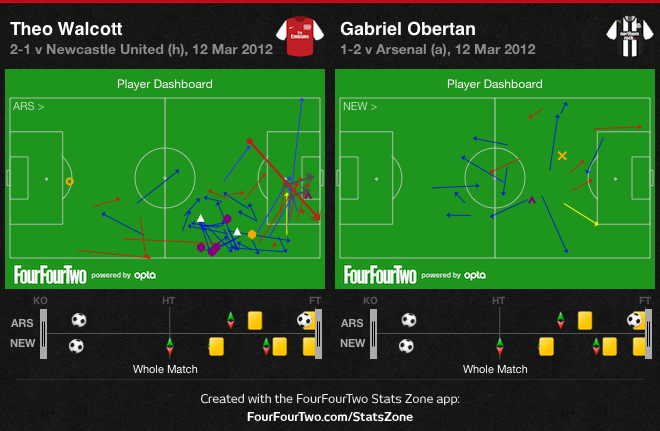 Obertan's isolation and eventual substitution in the sixty first minute contrasted hugely with the performance of Walcott. Not only were six of Obertan's twelve successful passes completed in his own half, but five of them went backwards. The only completed pass in the opposition penalty area was to pass back out of it and a mere 5 of his successful passes were in the attacking third.
Walcott completed only one of his 29 successful passes in his own half  with 24 of them in the attacking third and his passing patterns showed a huge density in areas designed to stretch the Newcastle defence. His consistently astute decision making ( an area of his game often criticised) made him menacing right up to the 95th minute when his excellent cross was turned in by Vermaelen.
Struggling Santon.Only lasting the fist half, Santon struggled badly to cope with Walcott. Managing only four passes of which only one went forward, one unsuccessful attempt at winning a header and no tackles, he became an increasingly confused figure. His replacement Perch faired a little better, but only three of his 12 completed passes finished in the Arsenal half and he became pinned back into purely defensive duties.
Van Persie Feasts Whilst Ba Lives on Scraps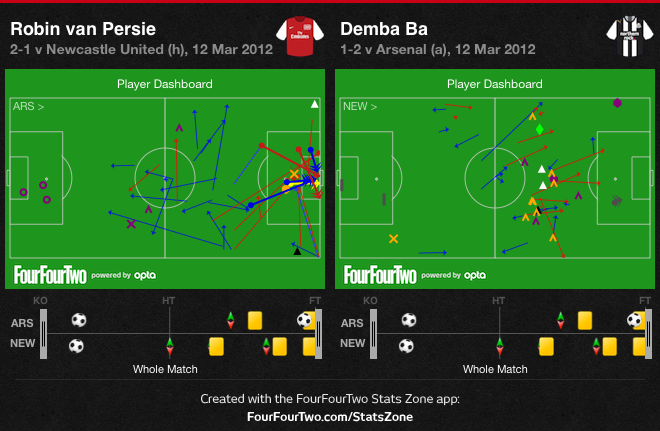 Van Persie orchestrated moves with long, accurate passes to players attacking striking positions, whilst Ba searched for possession and had to be content with shoveling the ball short whilst being harried by Arsenal defenders. With one (unsuccessful)  attempt on goal, Ba only completed 55% of his 29 passes whilst Van Persie scored with one of his six attempts on goal and completed 74% of his 23 passes. Tellingly, both Van Persie and Ba received 34 passes but 20 of Newcastle's successful connections with their striker started in their own half, whilst only 6 of Arsenal's did, illustrating the controlled Arsenal connections compared to the long and hopeful punts adopted by the away side.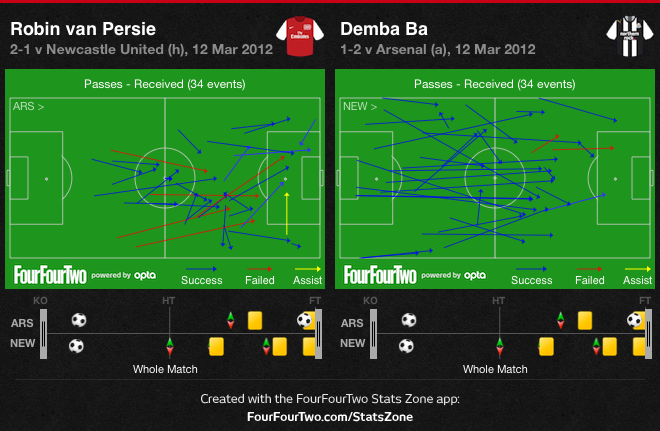 By Matt Riley – You can read more of Matt's articles on his website www.thaileaguefootball.com