By Rico Chan
It is not uncommon that teams (especially youth teams) fail to take full advantage of fast-break attacks due to poor decision making. Of course it is the players who are responsible for making those decisions on the pitch; but, as coaches, we can lay down some principles to guide such decisions. During Newcastle's 3-1 win against West Brom, Newcastle's Ben Arfa, Papiss Cisse and Demba Ba demonstrated some quick and accurate decisions that sealed 3-points for Newcastle as they push for a Europa League spot.
Newcastle's 2nd goal: creating a 1v1 situation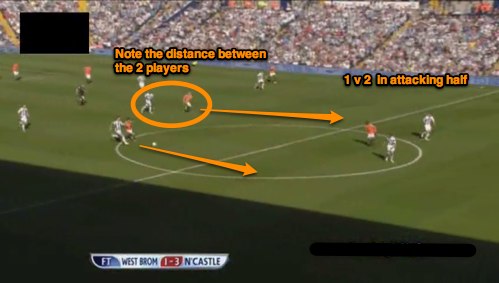 It started with Ben Arfa advancing the ball under pressure with a 1 v 2 situation in the attacking half. I've highlighted the 3rd Newcastle attacker as his determination and pace in joining the attack was crucial in creating more problem for West Brom's defenders.
Ben Arfa lost control of the ball under immense pressure but Cisse dropped from his CF position to collect the loose ball which allowed the attack to go on. To be fair, West Brom's defenders were right to retreat in an attempt to delay Newcastle's attack and wait for help.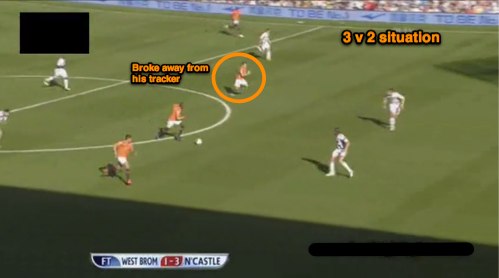 Cisse then passed the ball back to Ben Arfa and kept running a bit to the left which took a West Brom defender (the highlighted one) away from Ben Arfa. This defender was, however, right to protect that area because 2 Newcastle attackers were lurking there. By then, a 1 v 1 situation was created between Ben Arfa and his marker, with huge space on Ben Arfa's left side (he has a very strong left foot). It is worth mentioning that Newcastle's trio's quick decisions left West Brom's trackers with no chance as we can see from above that it was still 3 v 2 to Newcastle's advantage.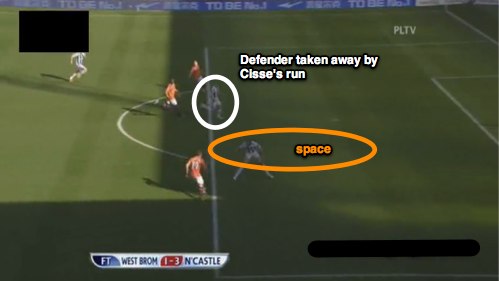 Because of Cisse's run, the highlighted West Brom defender never had a realistic chance of affecting Ben Arfa, who comfortably beat his marker and curled the ball beautifully into the goal.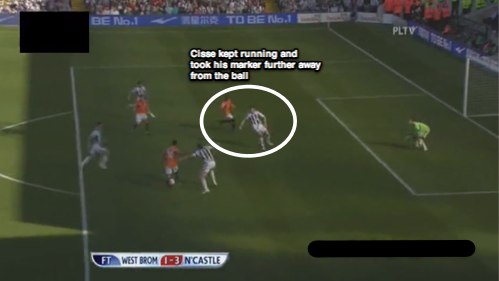 Newcastle's 3rd goal: more defenders, same damage
Once again, Newcastle beat West Brom's defense with 3 players. This time, West Brom had more defenders in their half and managed to slow down the attack a bit.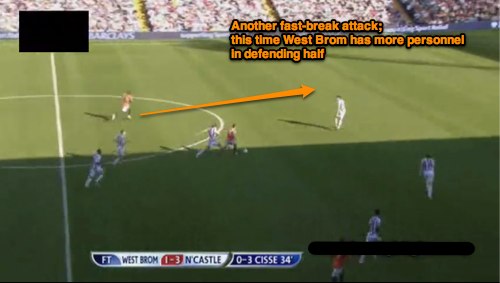 As Bemba Ba received the ball from Ben Arfa and advanced towards the edge of the box, West Brom has 3 defenders in that area that forced Ba to slow down. Should no Newcastle player do anything here, the fast-break attack would be dead and they might have to recycle the ball again. However, Ben Arfa would not let that happen: he decided to drift from his CF position to make an overlap run behind Ba.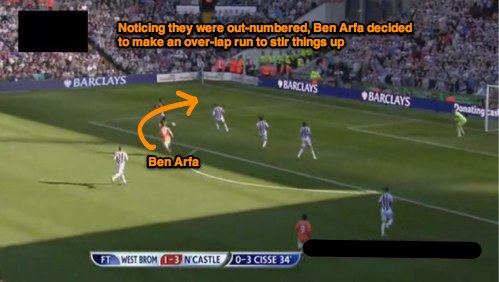 From the snapshot above, it is clear that the overlap run caused such an impact on West Brom's defense. Not only were 3 defenders (the ones in orange circle) taken out of the game; but the other 3 (the ones in white circles) were all in poor body stance, turing their backs to the eventual scorer Cisse. Ben Arfa then cut-back the ball to Cisse, who was unmarked, to finish off this beautiful quick-break move.
Conclusion
Newcastle scored 2 goals from fast-break attack facing 2 different situations: numerical superiority and inferiority. During the 1st goal, the key was to take advantage of having more personnel and create space for a 1 v 1 situation for Ben Arfa to utilize his skills and his strong-foot. For the 2nd goal, the key was to use an overlap run to ruin the defensive set-up and overturn the numerical disadvantage.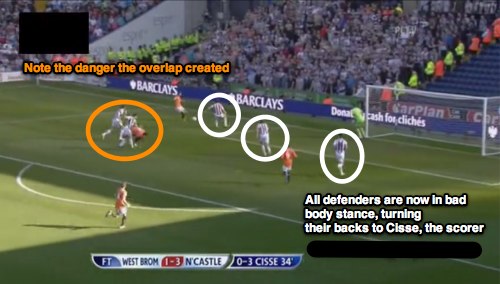 Rico Chan is a UEFA B License coach based in Hong Kong.  You can check out his blog here.