By Stevie Grieve, author of Coaching the 4-2-3-1 and Attacking in the 4-2-3-1.  This is the final part of this article.  Part One can be seen here and Part Two here and Part Three here.
Dortmund Counter-Press Goal v Arsenal

Ramsey wins possession from a loose pass by Reus, but this is where Ramsey finds himself in danger, as Lewandowski has already transitioned to defense, and is pressing Arteta, blocking a forward pass and forcing the ball into Ramsey if he wants to play 1st time. Kuba has also transitioned and is in line with Reus and Lewandowski, able to cover Ozil or Gibbs if the ball gets out of pressure.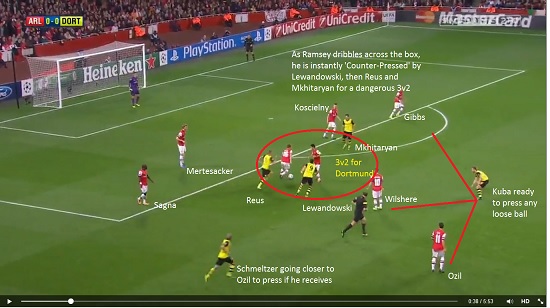 Initially, Arsenal had a 2v1, now Dortmund have a 3v2 in roughly the same area, as Ramsey dribbles infield. If either Reus or Lewandowski win possession, Mkhitaryan is in position to receive and link into the space between Mertesacker and Koscielny, or shoot himself.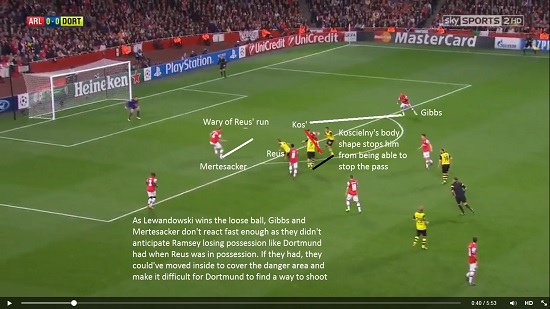 Gibbs doesn't react to Ramsey losing possession and is too wide to be able to double up on Mkhitaryan as Koscielny dives in to tackle. All of his body weight is on one side and he can't stop the pass, and is taken out of the game by a fake return pass. Reus is already on his way to the space left by Mertesacker as he tucks inside, giving Mkhitaryan the choice of both sides as Mertesacker covers.
[wpsharely id="2988"][/wpsharely]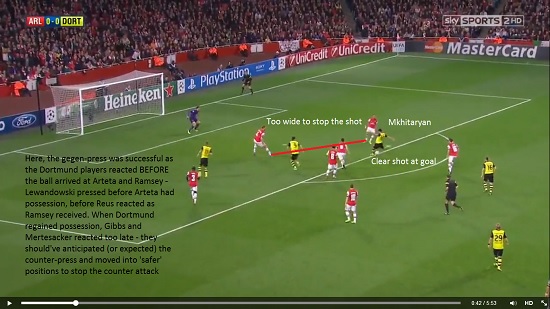 Mkhitaryan fakes the shot, lets the ball run across his body before driving low into the net. There is too much space between Mertesacker and Gibbs, mainly due to Gibbs' slow reaction to losing possession. This attack was successful as Dortmund's attackers reacted before the ball was won. When the ball is won, Dortmund's players are ahead of the opponent and break quickly.
We can see that from only a few games, that Dortmund have continuously used the counter-attack method to attack an unorganized defense from an organised position, and use the counter-press method to attack from an unorganized attack position, both against an unorganized defense.
By Stevie Grieve, author of Coaching the 4-2-3-1 and Attacking in the 4-2-3-1.