By Stevie Grieve, Author of Coaching the 4-2-3-1, Modern Soccer Tactics and Winning Soccer Tactics.
Dortmund gain a point with well worked direct play
Borussia Dortmund are Bundesliga Champions, and showed one of the reasons why against Real Madrid. They can mix their play up well and some games require a different style to win, and Jürgen Klopp decided that this game would require a solid base defensively, and a direct approach, specifically through Lewandowski using the speed of Reus, Goetze and Grossenkrautz to get the ball into dangerous positions behind the Real Madrid defence. Both goals came from this approach and all 3 players mentioned contributed to the goals.
Reus loses him marker to give Lewandowski a passing option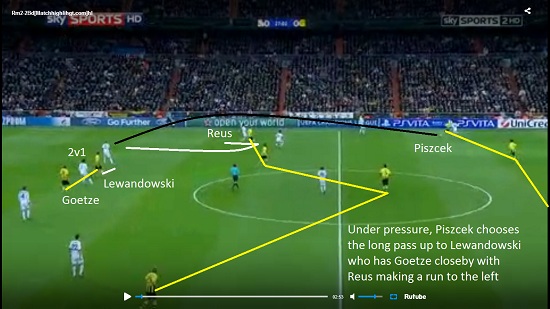 As Piszczek has the ball, Reus drops off to offer a pass, but as he is pressured, Reus spins behind his marker and Piszczek plays the long pass to Lewandowski. Goetze is close to Lewandowski making a 2v1 on Ramos, now Pepe will have to attack the ball unbalanced as Ramos is needed to run with Goetze.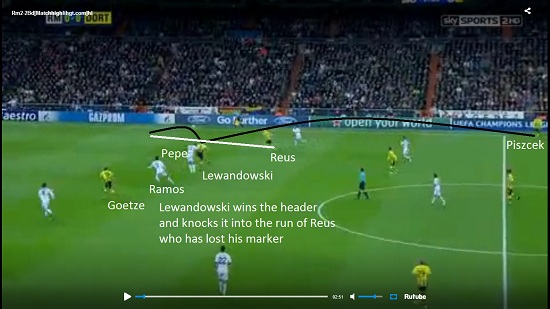 Lewandowski heads into the run of Reus who is away from his marker and touches calmly into space and looks to see his options with Goetze and Lewandowski supporting.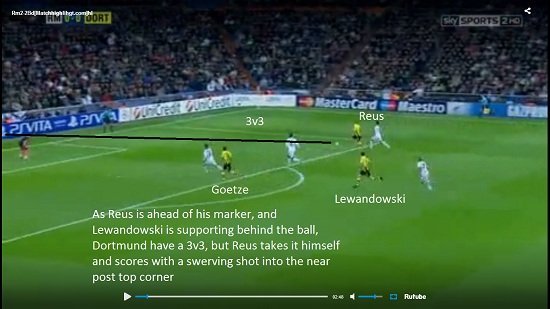 Reus decides that shooting is the best option and smashes a swerving volley past Casillas from just inside the box for 1-0 Dortmund from a simple but effective attack.
The goal comes from Reus recognising he needs to lose his marker and Lewandowski's accurate headed pass.
Dortmund's 2nd goal – Goetze and Grossenkrautz support ahead of Lewandowski to finish the attack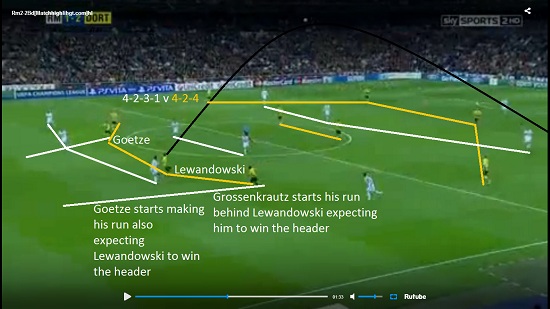 As we can see from the image, Dortmund have been instructed to be direct and have 2 players protect the defence as Real Madrid are fast on the counter attack. The front 4 know that any touch that takes the ball behind the defence gives them the advantage around the goal, so Reus, Goetze and Grossenkrautz all make early runs behind Lewandowski, the target man.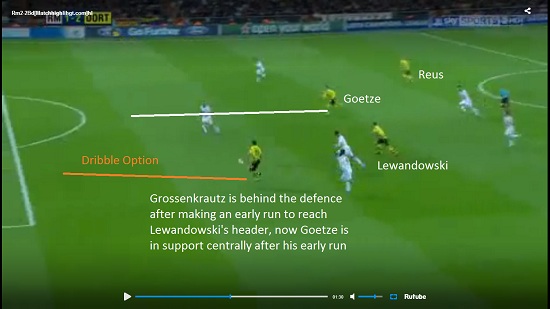 As Lewandowski again wins the header, Grossenkrautz is behind the defence and can dribble to the goal, knowing he will have Goetze in support centrally if he needs to use him. This is effectively a 2v2 against Pepe, the last defender.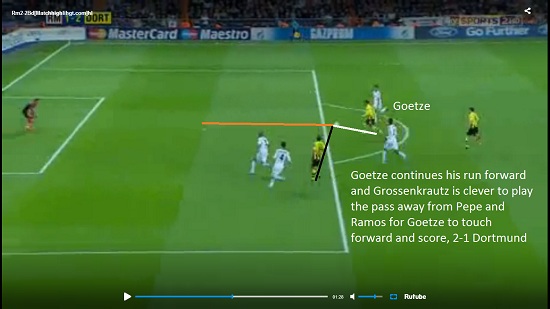 As Ramos and Pepe both press the ball, Grossenkrautz lifts the pass away from the two defenders and gives Goetze a 1v1 against Casillas, he takes a touch forward before knocking the ball past Casillas for 2-1 Dortmund.
This goal comes from early movements ahead of the target man with the expectation that he will win the header. Also, with multiple players supporting this long pass and flick on game plan, there is more chance of success, especially with fast, decisive players like Reus, Goetze and Grossenkrautz.
The game ended 2-2 Real Madrid scoring a late free kick through Mesut Ozil.
By Stevie Grieve, Author of Coaching the 4-2-3-1, Modern Soccer Tactics and Winning Soccer Tactics.