HOW THE MATCH WAS WON by Keith Scarlett
UEFA Champions League
February 24, 2015
Juventus Stadium
Juventus 2 - 1 Borussia Dortmund
Juventus is once again able to breathe in the atmosphere of the Champions League and prepare for the second leg. In or out in two matches, it's not a League Season that is played in 38 games or even an NBA Finals series. It's just two games and Borussia Dortmund knows this so well from their experience two years ago in the final where they eliminated Mourinho's Real.
Here is what I thought were the key tactical aspects that played into the outcome of this match. What are your thoughts? Please let me know what you think and what other tactics you think were a factor in this match in the comments section below.
Juventus has a particular and very odd relationship with the Champions League. The desire to win, to get out of their own garden in hopes that the grass may be greener next-door, in proving to be a top team outside of Italy is all combined in a mixture that can prove to be lethal. A mixture of anxiety, adrenaline and panic all brought onto the pitch by the players. Allegri will try and ask for tranquility, but fear will only dissipate when you realize that you don't have to have it. It's a little like when you're terrified of swimming and you don't push yourself beyond the area where you're able to touch the ground. Then comes along your father, or maybe a friend, who convinces you to try to push out just a little bit further. They tell you that if you shake and squirm you will drown, so it's better not to panic and just move your arms and legs a little and magically you remain afloat. However, the public is an environment that does not have your same desire to swim and instead they shake you.
However, Borussia Dortmund does not have these fears. When it comes to the Champions League, they are more experienced, know how to win and they know their value.
When it comes to Klopp's team you think you know everything, but then again, the surprises still come and Dortmund's starting lineup showed just as much. Immobile is playing and then there's Mxit'aryan, preferred to the more vertical Kagawa. Allegri, instead, gives certainty and no experimentation with his line-up. Morata and Tevez the focus in attack.
Not even after a minute of the match had passed comes the first shot from Immobile. It is the action that is expected from Dortmund. Everything stems from pressure on Pirlo who turns it over. Mxit'aryan recovers it high and a series of quick combinations finds a free striker just outside the box. A signal is sent to Juventus immediately: we are ready!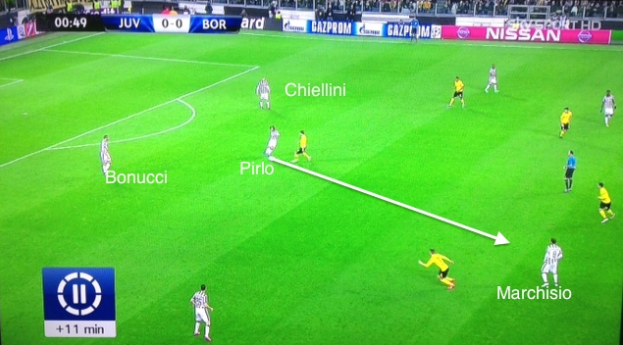 The tactical game-plan by Klopp is clear and they do not deviate from the philosophy. They wanted to press up and attempt to retrieve the ball immediately by attacking the more technically insecure Juventus defenders such as Lichtsteiner and Chiellini. If the central defenders are able to set up, then their attention turns to the midfielders to prevent Juventus to easily play the ball out.
Allegri asks a lot from his midfielders, calling on them to offer a substantial contribution during build-up. Their production grows more centrally and then opens the field once the first line of pressure is broken. They use short, quick passes to speed up the action, aware that leading too much with the ball will pull them into Dortmund's trap.
Most of the early individual skirmishes ended up with Klopp's team in possession of the ball. However, actually having control of the ball under pressure in these negative positions is not what Dortmund would prefer. Not because they're unable to develop any worthy offensive maneuvers, but rather because their position to transition out is not acceptable.
This is because Juventus instead monitors the spaces and closes up Dortmund from behind. Failure in these minutes to recover the ball in high positions, forces Dortmund's two central pairs; defenders and midfielders, to recover back, one wide and the other centrally. Juventus presses with three offensive players (the playmaker and the two strikers) and thus is obsolete.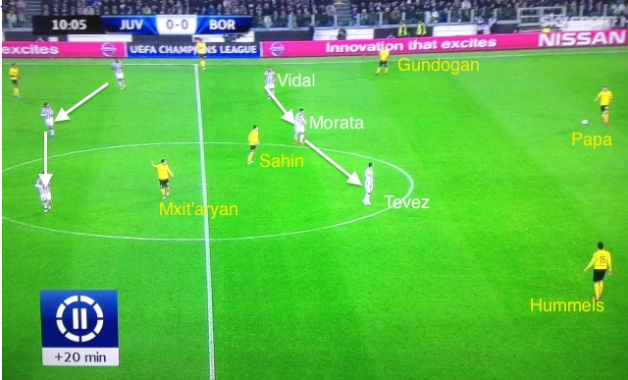 The amount of pressure is dictated by the outside-backs. In the image above, if Morata steps to the ball carrier then he'll leave Sahin free.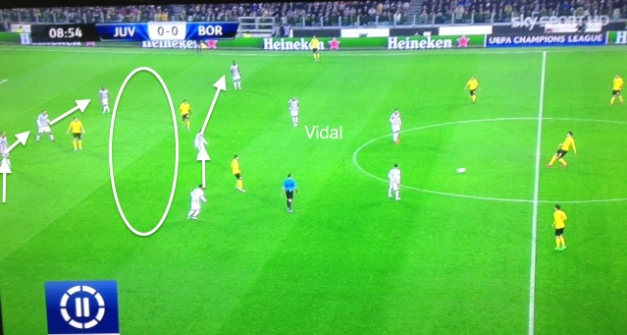 Klopp attacks the space behind Pirlo, searching for Reus cutting between the lines, but the Bianconeri's defense is careful.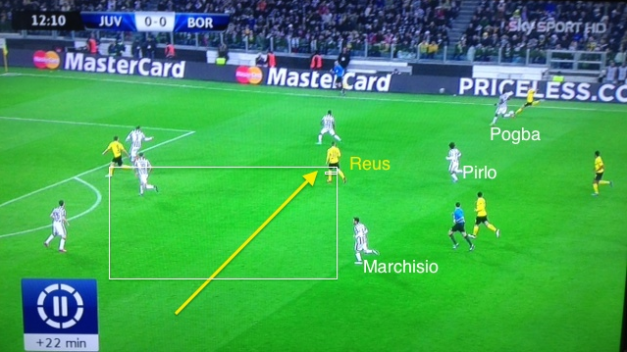 Klopp attacks the space behind Pirlo, searching for Reus cutting between the lines, but the Bianconeri's defense is careful.
The first goal came off a long pass from Bonucci created by the technical and tactical ability of Morata and Tevez. The Spaniard first tames the ball with a light touch pass to the Argentinian and then sprints away while pointing to Papastathopoulos. Morata takes the ball to the left, shooting low, which is repelled by Weidenfeller but then pounced on by Tevez. Dortmund's defensive responsibilities are quite obvious and in a situation of three against two, the Juventus players are lost. However, a particularly lazy Hummels is so poorly positioned that it doesn't matter.
Just 13 minutes in and Juventus is already ahead. The tension has dissolved, except maybe for a little shake, but there is still plenty of time remaining.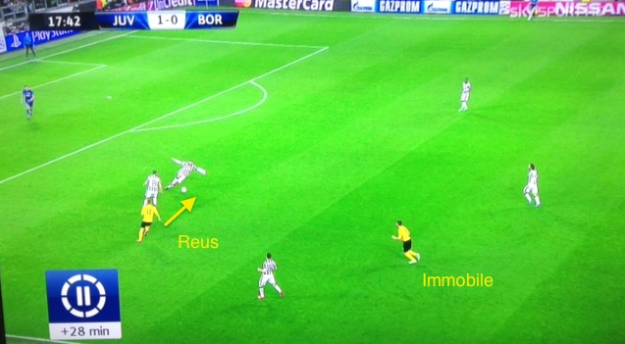 As previously mentioned, Dortmund wanted to put pressure on the less technically-skilled defenders of Juventus. Being pressed every time you receive the ball effects your confidence. It is not easy to play knowing that you can't make a mistake, but Chiellini did well for himself, especially in recovery, helped at times of difficulty by Bonucci.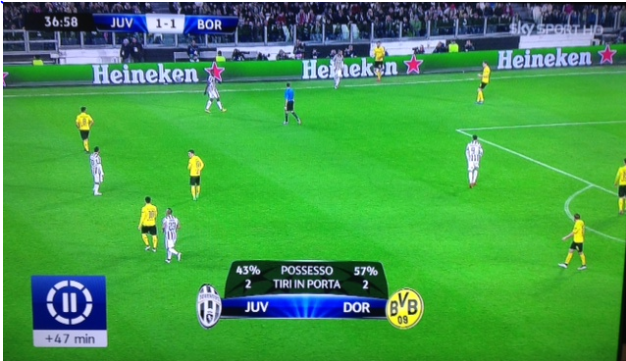 Chiellini slips and Reus is incredibly responsive in seizing the opportunity.
The way this match began to play-out, Juventus couldn't be blamed if there were convinced that some curse was placing unexpected obstacles on their Champions League path. The negative karma, the anxiety, the fear of not making it, it all begins to creep back in during a twenty minute period where the guests control the match. However, it's a deceitful time-frame and Juventus displays mental and defensive strength yielding only a single shot to Dortmund. Dortmund does have possession, but they are not dangerous, despite such. They lack the ability to cause the final blow. It is a limit of Klopp's team, its DNA has in it the transition but not the capability to maneuver in the attack; the counter-attack, but not through possession.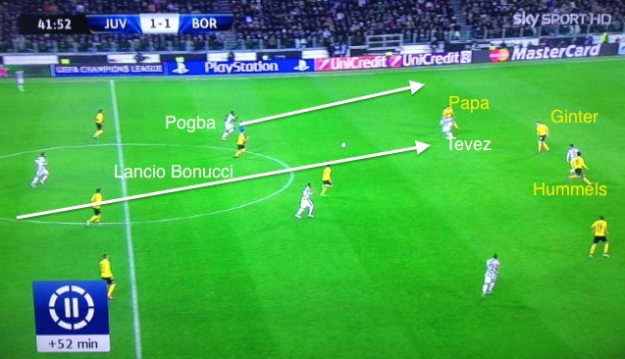 Juventus applied pressure but failed to weaken the possession of Dortmund. Instead of moving in relation to the position of the ball and their teammates, they too often found themselves moving in relation to the opponent. In addition to running more, this is also often ineffective and allows the formation of gaps between lines and seams within each respective line, as Juventus discovered.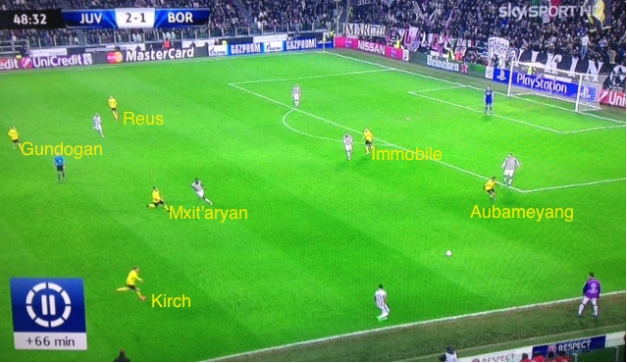 The solution comes almost immediately with a single change. Kirch for Papastathopoulos. Juventus still continues to leave the task of controlling the ball to Dortmund, but now work for the spaces, trying to recover quicker and higher up the park. This forces Klopp's team to increase the pace and exert pressure based more on a man against man mentality which they do for the first few minutes, but are unable to maintain it over time lending to more wary, less extreme pressure.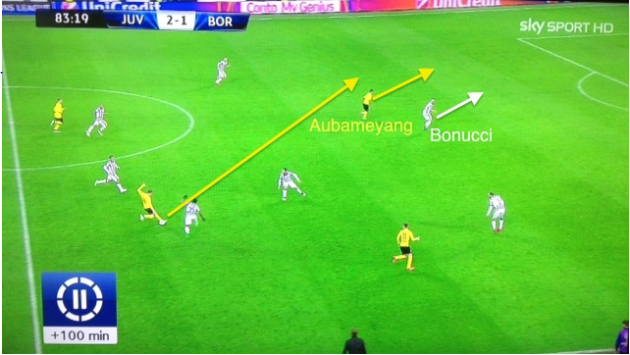 This defensive transition from Juventus proves effective and even more-so when combined with the re-energized and dynamism offered by their four midfielders to shorten the field and immediately deny Dortmund the chance to hit.
Even though Juve had begun to right the ship defensively, they still have some work to do on the offensive end. Just some simple things such as; players making wrong readings, making movements without the proper changes of direction, not making the right cuts to take advantage of the clear difficulties of the BVB defenders.
See, Klopp's team were missing marks and lacking proper coverage, leaving attackers in wide-open positions.
The Bianconeri's defence, on the other hand, was now playing excellent. Bonucci led the back-line with authority, the positioning of the outside-backs was precise. The entire line was aggressive and each player covered well.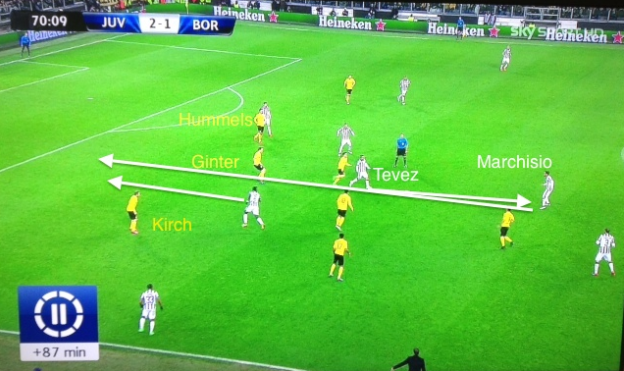 How to break Borussia: a vertical pass from a Defender to a Striker.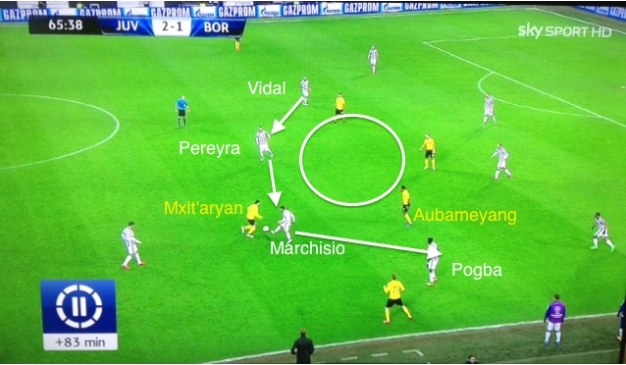 What shouldn't be done. Stepping to the ball and abandoning your position. Here Marchisio steps to the ball carrier. When he does so, the midfield diagonal should then be overturned: the two central midfielders to protect the defense without creating that highlighted hole.
…Juventus' adjustments were How The Match Was Won!
What do you think?
I would love to hear your thoughts about this or other tactics of the match that were an important factor in its outcome. Let us discuss it below in the comments section.
What do you think?
HOW THE MATCH WAS WON by Keith Scarlett, Assistant Women's Football Coach – Perth Glory FC, Australia, former U.S. Soccer National Staff, follow him on Twitter @keithscarlett and catch his personal blog, "An American Coach Down Under:" http://keithscarlett.blogspot.com