By Stevie Grieve, author of Coaching the 4-2-3-1 and Attacking in the 4-2-3-1.  Part One can be seen here.  Part Three will be posted next week.
Dortmund Scoring Chance
Dortmund have just regained possession, and try to attack quickly. Sahin teases a pass into Bender and Reus, tempting pressure from the opponent v Bender, which will open up space if possession is regained again.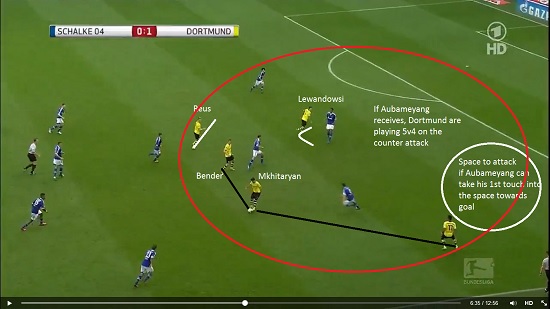 As Bender wins the tackle, he finds Mkhitaryan who uses Aubameyang who is behind the full back who is pressing the ball, leaving space to attack into, with Reus and Lewandowski already on the move to attack.
Aubameyang gets into a crossing position, and picks out Reus from the 4 crossing options he has available. Reus makes a good header which is saved.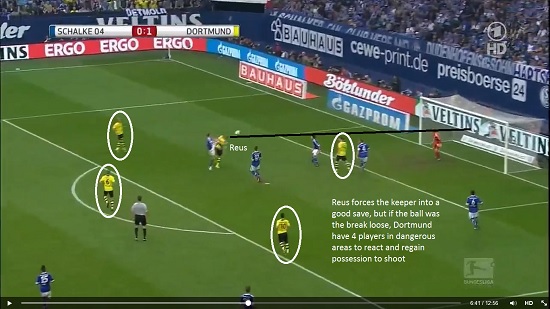 Reus's header is saved, but Dortmund's positioning around the box shows the balance that they emphasise in both attacking and defensive phases – the positioning to pick up loose balls, or pressure them in groups, which provides attacking possibilities via the counter-press.
Dortmund Forcing Schalke To Play Predictably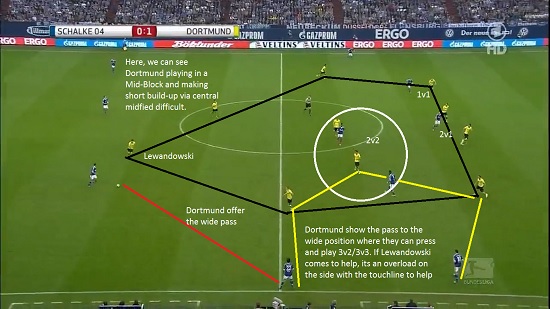 Dortmund set-up to force play into areas that they can win the ball. Here, they make it difficult to play into midfield and want Schalke to play the easy pass to the touchline.
Schalke stretch the play and open up spaces between the lines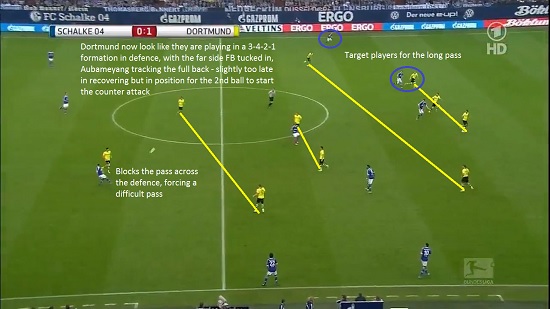 As the long pass is played, Dortmund have 5 lines of defence, which will allow them to deal with the long pass, then recover the loose ball quickly, regardless of which line it lands on. If we look at the lines, we could say that Dortmund have moved from a 4-2-3-1 to almost a 3-4-3, the far side full back tucks in to help deal with the long pass and ensure of a defensive overload.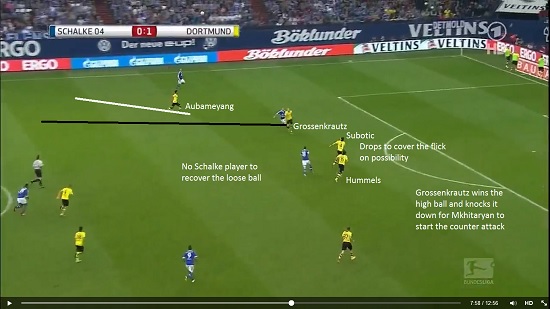 As Grossenkrautz deals with the long pass, Subotic moves deep to cover the flick-on as Hummels loses his man who moves inside. There is nobody in the spaces between the lines, with Bender reacting quickest to the long pass, and probably able to recover the ball if it drops between the lines.
[wpsharely id="2988"][/wpsharely]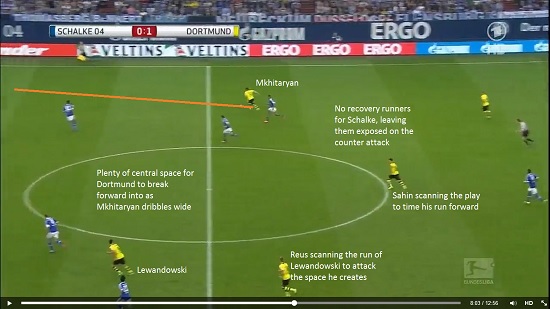 The ball is headed out to Mkhitaryan, who turns and runs with the ball, stretching Schalke and taking the ball wide which opens up the space for Sahin, Lewandowski and Reus to assess their options of where they will move.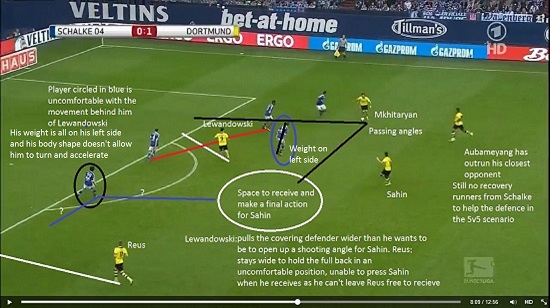 As Mkhitaryan cuts inside, Lewandowski makes a run to help clear the central space, as Reus stays wide to keep the defence wide, make it more difficult to press Sahin if he receives, and give him more options for a final decision.
As Mkhitaryan passes inside, the holding midfielder has all of his weight on his left, making it more difficult to move forward to press and/or intercept the pass to Sahin, who receives and scores from 22 yards.
The full back has a decision to make, does hoe come out to reduce Sahin's space and maybe offer a lofted diagonal pass to Reus, or on the floor via Sahin, or stay with Reus and leave Sahin.
In Part Three Grieve looks at some of Dortmund's counter-attacking and pressing that creates goal chances.
By Stevie Grieve, author of Coaching the 4-2-3-1 and Attacking in the 4-2-3-1.