By Stevie Grieve, author of Coaching the 4-2-3-1 and Attacking in the 4-2-3-1.  Part One can be seen here and Part Two here.  Part Four will be posted next week.
Dortmund Counter-Attack and score from the Low-Block Defensive System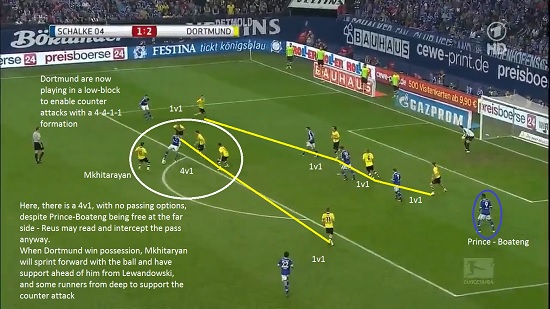 Dortmund have 2 clear lines of 4 with Mkhitaryan supporting the pressure. The pass is forced into the 4v1 scenario on the edge of the box (it was 1v1 when the ball was passed), and now Dortmund are capable of winning the ball and counter-attacking with 8 Schalke players inside the final 3rd.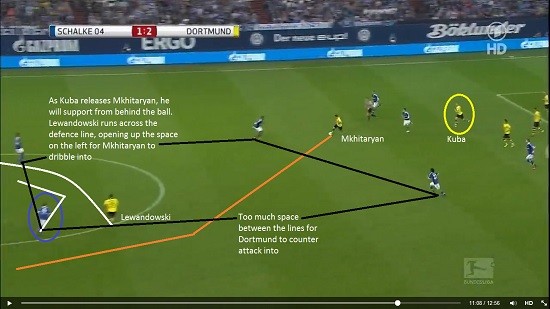 Of the 4 players won won possession back, Kuba and Lewandowski are the ones expected to break free and support. Mkhitaryan dribbles the ball of the left into the space, as Lewandowski pulls away to the other side, dragging his marker with him, making more space for Mkhitaryan.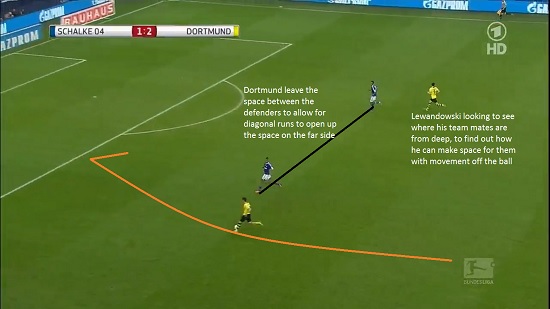 As Mkhitaryan drives towards the edge of the box, Lewandowski stays wide to allow a 2nd run, from wide-centre, which will offer a 2v1 if he gets goal side of his marker, and a passing lane to score, but also make space on the far side for any deep support runners.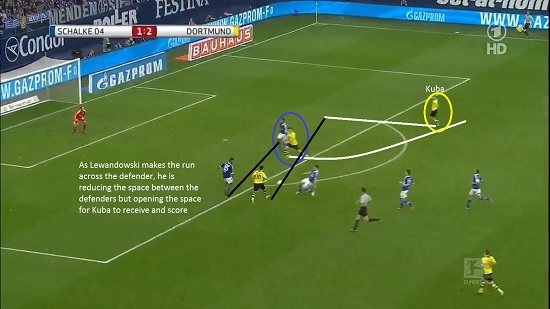 As Lewandowski makes his 2nd run between the centre backs, the marker doesn't want to let him run between them, so makes sure he tracks his run all the way. Kuba has anticipated this movement from Lewandowski and leaves the space open to allow an open passing lane from Mkhitaryan to the space on the far side, where he takes a touch and scores.
In Part Four Grieve looks at some of Dortmund's counter-press goal v Arsenal.
By Stevie Grieve, author of Coaching the 4-2-3-1 and Attacking in the 4-2-3-1.
[wpsharely id="2988"][/wpsharely]