By Stevie Grieve
Juventus v Barcelona
In what proved to be a fantastic game of football both technically and tactically, the team with the most flair in attack proved to be the winners, but it was a game of defensive organisation in both teams, particularly in defensive transitions where both teams were incredibly quick to get back into position form an attacking phase, then become organised. Some clever tactical implementations where used, such as Ivan Rakitic and Dani Alves rotating positions defensively when the right back zone needed covered, and Gerard Pique playing as a single 'defensive target' when Barcelona defended.
We also saw Massimiliano Allegri block the influence of Lionel Messi in a penetrative way, not stopping his influence completely as he was able to open up the play with his range of passing and be a danger even 40m from goal, instead of the position we have become accustomed to seeing him in recent years as a false 9 and being the main central outlet in attacking phases.
Line Ups
Both teams played the expected starting 11 with the exception of Andrea Barzaghli in place of the injured Giorgio Chiellini at left centre back. Pogba was orientated close to the zone of Messi while Arturo Vidal was to play between LCM/AM and CF/ during various defensive phases.
Ivan Rakitic and Dani Alves were free to rotate between RW, RCM and RB depending on the position of Messi and if they could create space for Messi to dribble inside.
Juventus Defensive Analysis
Defensive shape in a Low Block 4-4-2
To help the full backs against the inside and outside runs of Messi/Neymar & Rakitic/Alves & Alba with Marchisio/Pogba & Liechtsteiner/Evra able to defend with equality on the sides.
Normally Juventus have 3 'pressing' systems designed to close down the space of the deepest midfielder who can play direct forward passes, while the midfield diamond can change to a flat 3 with the narrow positioning of Marchisio and Pogba around Pirlo, allowing Vidal to move forward and press high.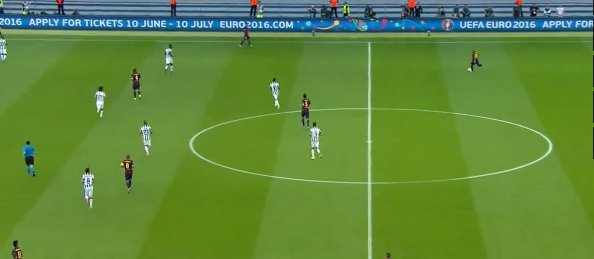 Here, the Juventus defensive block retreat to inside their own half into an organised 4-4-2, with Pogba on the same zone as Messi as he drops deep; this is part of Pogba's individual responsibility to stop Messi dribbling past him and attacking the defence from right – centre.
Vidal pressing out of line to close down space of Busquets to form a situational front 3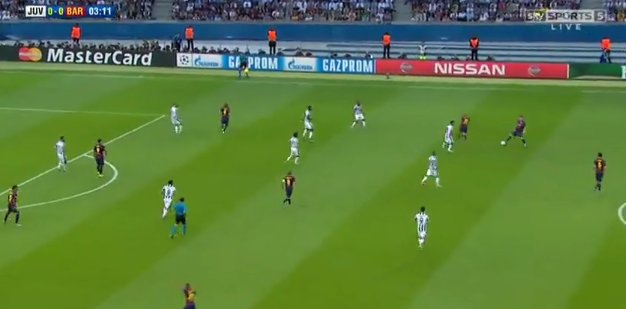 Here, Vidal can stay deep bit this would give Busquets enough space to choose a pass through the Juventus press and force them deeper, so Vidal is tasked with playing high and close to Busquets to disrupt his impact in the game from his deep midfield zone.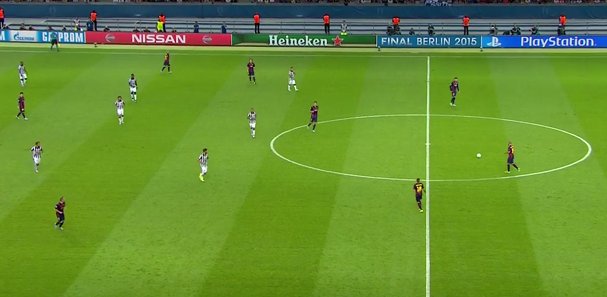 Again, Vidal is high and close to Busquets moving ahead of his position, leaving 3 of the Barcelona back 4 on their own with no pressing against them, leaving 10 v 7 in the Juventus half.
Tevez and Morata are to cover the channel and block any forward passes through the midfield line and prevent Barcelona from gaining control of the most strategically important area of the field and instead force the play wide into areas where Juventus can control.
Mid-Block 4-4-2 diamond when blocking central access and forcing wide passes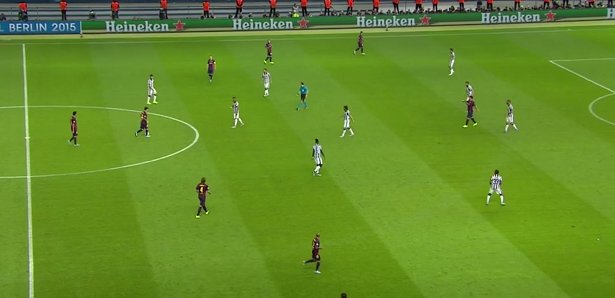 In the 2nd half, Barcelona started to play in more transitional phases as Juventus opened up and started attacking, but often we would see Juventus withdraw into a diamond midfield to block central access and force Barcelona wider where Marchisio and Pogba could drift over to protect the full back, delaying the speed and organisation of the Barcelona attack and allowing Juventus time to form a defensive shape.
High press when Ter Stegen in possession
When Barcelona are allowed to pass the ball from GK an open defensive shape, they can quickly start to dominate possession from the back and move the attacking block closer to the opponent goal and pin them in, making counter attacks difficult to come by and often into areas which Barcelona press them into.
To prevent the organised possession phase from the GK, Juventus played very aggressively when the ball was in transit back to Marc-Andre Ter Stegen or at goal kicks, often playing 1v1 across the line with the midfield pushed up against Busquets, Rakitic and Iniesta.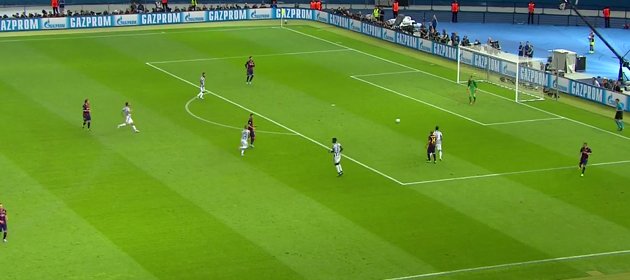 Here, we can see that Busquets has passed back to Ter Stegen but Juve are already pressed against every short outball which Barcelona prefer. Despite the accuracy and range of passing Ter Stegen has, Juventus have very aggressive players when attacking high balls or loose passes, so even a diagonal pass from Ter Stegen was at the risk of a turnover in a position where Juventus could flood the box from a wide attack.
[wpsharely id="2988"][/wpsharely]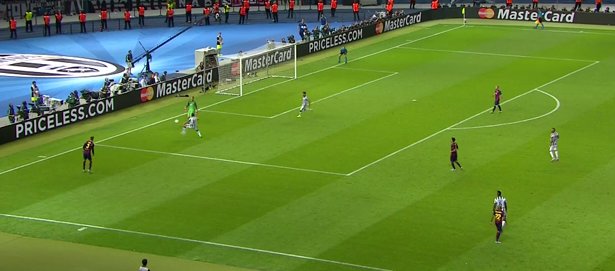 In this clip, both Morata and Tevez press Ter Stegen with Pogba and Vidal able to cover the passing lanes of Mascherano, Alves and Busquets and then press Pique which forces a Barcelona throw in which leads to the equalizing goal.
By Stevie Grieve. (Follow on Twitter @steviegrieve)  Stevie is also the author Coaching the 4-2-3-1, Coaching the 4-2-3-1 Advanced Tactics and From Futsal to Soccer