By Stevie Grieve author of, Attacking in the 4-2-3-1  (Read Part One here)
Recently, Chile played against Spain, and deployed a 3-4-1-2 formation, with Arturo Vidal as the number 10, which performed 2 duties.
He was the outlet for central penetration as he is capable of creating and scoring goals
He has a great engine and works hard defensively, show in his performances for Juventus
Vidal's role was to stop Spain from gaining easy possession in the build-up and consolidation phases of play, giving the defence time to reset into shape.
As Spain played with their usual tiki-taka game, and with a mixture of a 4-3-3 and 4-2-3-1 formations (both with a false 9), Chile's 3 central defenders could afford to make sure that one can go out to mark the false 9, as there were no players to mark centrally, only wide. The Chile wing backs were asked to mark the attacking full backs of Spain if they came forward, but often they came back to help the defence and mark the wingers, allowing the near side centre forward to play against the full back and stop him from being an outball, or commonly, not moving forward ahead of the ball as Chile would be left 2v2 against the Spain centre backs.
Chile's attacking wing backs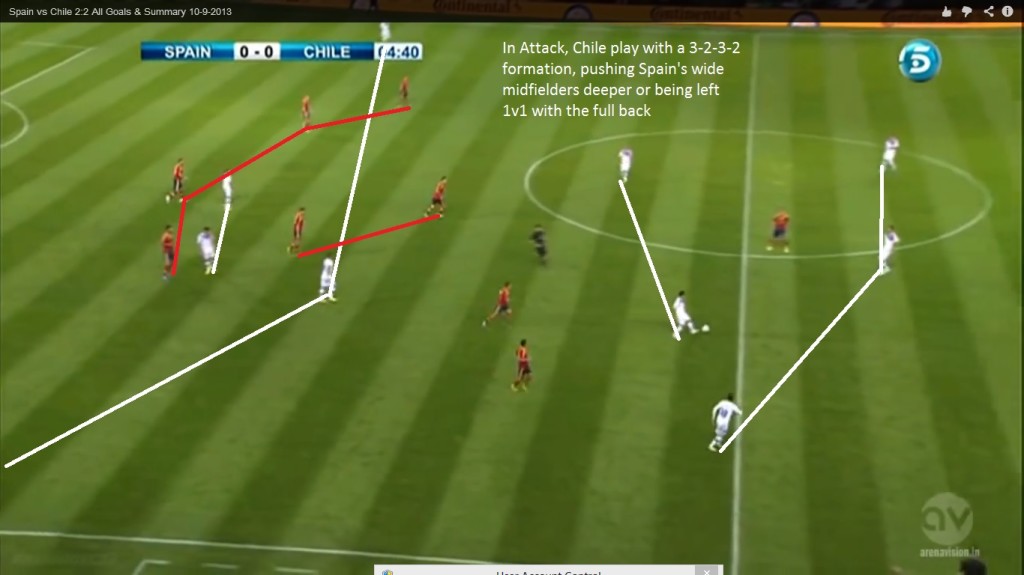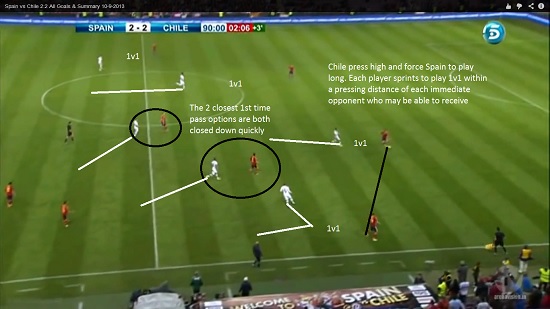 The 3-4-1-2 worked to an extent as Chile play a risky, attacking game and although exciting to watch, must be a nerve wracking experience for the Chilean fans, and the coaching staff! They caused Spain problems through attacking bravery and a well-executed game plan to stop Spain from having an easy time on the ball.
Next week in Part Three, Grieve takes a look at how the tactics Real Madrid used were successful against Barcelona.  (Read Part One here)
By Stevie Grieve, author of our new book, Attacking in the 4-2-3-1