By Scott Housden -
Explosive power is a key aspect in goalkeeping. It is essential for 1 v 1 situations, dealing with high balls, shot stopping and recovery and movement around the goal. The drill below can be used as part of a diving technique session or as part of a pre-season conditioning session.
Set Up
4 – 6 hurdles (depending on age and ability) need to be set up in a line approximately 2 meters apart.
Two servers are required to shoot, one towards each pole.
Goalkeeper starts behind the line of hurdles and jumps (2 foot jump) over the first hurdle.
As soon as the goalkeeper lands the first server shoot towards the pole (keeping the shots below waist height) with the goalkeeper attempting the make the save.
The goalkeeper then recovers quickly and moves directly to the second hurdle and jumps over that with the second server shooting as soon as the goalkeeper lands.
This is repeated until the goalkeeper has jumped over all of the hurdles.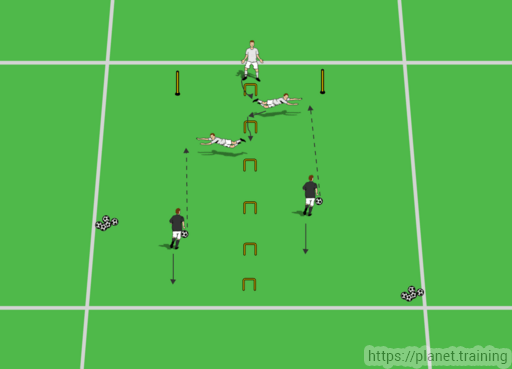 Coaching Points
• It is vital that the goalkeepers 'set' position is good (i.e. low 'set' position height, nose over toes and hands active with palms facing each other) when landing from jumping over each hurdle. This will allow the goalkeeper to attack the ball quickly when diving to make a save from each server.
• It is essential that the goalkeeper focus on each part of the drill, undertaking each part to their best ability before focusing on to the next part of the drill.
• When diving always use the leg nearest the ball when stepping into the save on a slight angle towards the ball, taking a small step.
• Leading with the hands moving towards the ball, the goalkeeper's body weight will shift to the nearest leg moving towards the ball. This, the goalkeeper uses to drive towards the ball.
• Lead the dive with both hands and attack the ball as early as possible, diving across and forwards (on an angle).
• Quick recovery after making a diving save using your top 'pendulum' leg or 'salmon' technique and forward moving top shoulder motion.
• Try to encourage consistency throughout the drill (quick balanced movement, 'set' position and diving technique).
Progression 1
The drill is repeated. However, this time the servers firstly shoot towards the pole. After making this initial save the goalkeeper must recover and get 'in line' with the server a make a second 'simple save' (i.e. the server volleys straight to the goalkeeper for a mid-height save.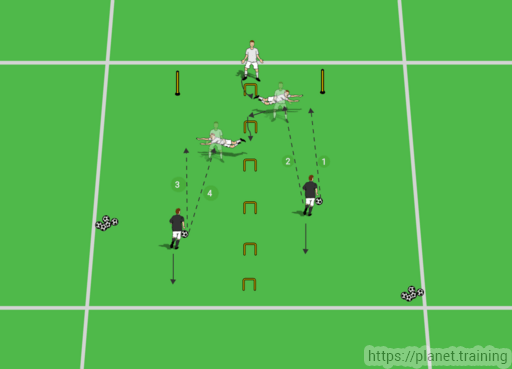 By Scott Housden
Scott is both a UEFA 'B' and UEFA 'B' Goalkeeping Coach and holds a Masters in Sports Management.  He has been a goalkeeper coach in professional football in the UK and Australia at First Team, Academy and Women's levels.  He currently runs a Goalkeeper Academy in the Western Suburbs of Brisbane, Australia.